In fact, he says 9/11 may not have happened on his watch, but did happen on George W. Bush's watch.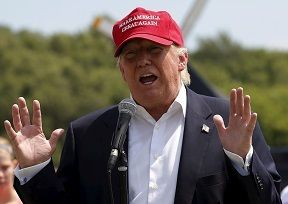 Daily Commentary – Wednesday, October 21, 2015
Download
MISS HIM YET?
According to a recent CNN/ORC poll, former President George W. Bush has a greater favorability rating than both Barack Obama and 2016 Democrat wannabe president Hillary Clinton. GWB has a 52% favorably and 43 unfavorable … Obama has a 49% favorable and 49% unfavorable rating and a job approval of 45% approve, 52% disapprove. George W. Bush even polls better than the presumptive Democrat 2016 presidential nominee Hillary Clinton.
The complete poll can be read HERE.
Click on pic to enlarge
President Barack Obama's job approval numbers are sinking as American attitudes about the nation's progress have taken a turn for the worse, according to a new CNN/ORC poll.

A majority of the public once again say things in the U.S. are going pretty badly and disapproval of Obama's job performance has climbed back above 50% as well.

In fact, former President George W. Bush is more popular than Obama.

According to the poll, 52% of adults had a favorable impression of George W. Bush, 43% unfavorable. When Bush left office in 2009, only about one-third of Americans said they had a positive opinion of him. This new poll presents a notable shift as Bush's overall favorability has remained well below 50% for much of his time as a presidential alum.
Overall, 47% say things in the country are going well, 52% that they're going badly. That's a reversal from March, when 53% said things were going well, the highest share to say so during Obama's presidency. The shift comes across partisan and demographic lines, with no one group's opinions driving the overall change.

Obama's approval rating has suffered a similar blow.

While it's dropped since April, going from a near-even 48% approve to 47% disapprove split to a negative-tilting 52% disapprove to 45% approve, the rising disapproval ratings come across party lines, from both men and women, from whites and non-whites.
Posted June 4, 2015 by

Scared Monkeys 2016 Elections

,

Approval Rating

,

Barack Obama

,

CNN Opinion Research

,

Epic Fail

,

Former Presidents

,

George W. Bush

,

Hillary Clinton

,

Polls

,

President George W. Bush

|

3 comments
JUST HIS INITIAL RESPONSE JEB?
Former Florida Governor and noncommittal 2016 GOP presidential candidate Jeb Bush is calling our Barack Obama saying that his initial response to Ebola was "incompetent". Jeb Bush made this comment as he was speaking in Nashville, TN at Vanderbilt University on Tuesday. One might first say, what response? Second, one would say, just his initial response Jeb, Obama continues to act incompetently when it comes to Ebola and the risk he is putting America and Americans at. Third, isn't it par for the course, pardon the pun, for Barack Obama to act incompetently? That has been the theme to his presidency.
Why was there no policy or plan in place to deal with Ebola?
Former Florida Gov. Jeb Bush is calling President Barack Obama's initial response to Ebola "incompetent."

"It looked very incompetent to begin with, and that fueled fears that may not be justified," Bush said during a discussion at Vanderbilt University, according to The Tennessean. "And now you have states that are legitimately acting on their concerns, creating a lot more confusion than is necessary."

Bush said the president was not "clear and concise" about his plans to combat Ebola, and described an incident in which anthrax was mailed in 2001 to a Florida-based tabloid, The National Equirer, during his time in office as an example of a better approach to addressing public fears.

"We gave people a sense of calm, what the plan was," Bush said. "We talked in plainspoken English. We were totally engaged."
EXIT COMMENT: Who finds it ironic that Jeb Bush is calling Obama "incompetent" when for years it was Democrats who called Jeb's brother, President George W. Bush stupid?
Posted October 29, 2014 by

Scared Monkeys Barack Obama

,

Divider in Chief

,

Ebola

,

Epic Fail

,

George W. Bush

,

Jeb Bush

,

Leading from Behind

,

Misleader

,

Obamanation

,

Politics

,

President George W. Bush

,

United States

,

West Africa

,

WTF

|

one comment
Never has America needed a president more who was a true leader and statesman who cared more about the United States of America and "We the People" than they do about themselves, their own power and their agenda. How far have we come from a first president who feared the impression that he would have the appearance of a king and had to be talked into a second term. George Washington left office on his own after two terms, there was no legislation that told him to do so. Compare that to today's power grabs by presidents and their purposeful and willful ignoring of the US Constitution.
Please America, you have one more chance to get it right in 2016 and follow the path of the great presidents of our past and what America was intended to be.
1. President George Washington – George Washington Speech – First Inaugural Address, April 30, 1789
Fellow-Citizens of the Senate and of the House of Representatives:

Among the vicissitudes incident to life no event could have filled me with greater anxieties than that of which the notification was transmitted by your order, and received on the 14th day of the present month. On the one hand, I was summoned by my Country, whose voice I can never hear but with veneration and love, from a retreat which I had chosen with the fondest predilection, and, in my flattering hopes, with an immutable decision, as the asylum of my declining years–a retreat which was rendered every day more necessary as well as more dear to me by the addition of habit to inclination, and of frequent interruptions in my health to the gradual waste committed on it by time. On the other hand, the magnitude and difficulty of the trust to which the voice of my country called me, being sufficient to awaken in the wisest and most experienced of her citizens a distrustful scrutiny into his qualifications, could not but overwhelm with despondence one who (inheriting inferior endowments from nature and unpracticed in the duties of civil administration) ought to be peculiarly conscious of his own deficiencies. In this conflict of emotions all I dare aver is that it has been my faithful study to collect my duty from a just appreciation of every circumstance by which it might be affected. All I dare hope is that if, in executing this task, I have been too much swayed by a grateful remembrance of former instances, or by an affectionate sensibility to this transcendent proof of the confidence of my fellow-citizens, and have thence too little consulted my incapacity as well as disinclination for the weighty and untried cares before me, my error will be palliated by the motives which mislead me, and its consequences be judged by my country with some share of the partiality in which they originated.

Such being the impressions under which I have, in obedience to the public summons, repaired to the present station, it would be peculiarly improper to omit in this first official act my fervent supplications to that Almighty Being who rules over the universe, who presides in the councils of nations, and whose providential aids can supply every human defect, that His benediction may consecrate to the liberties and happiness of the people of the United States a Government instituted by themselves for these essential purposes, and may enable every instrument employed in its administration to execute with success the functions allotted to his charge. In tendering this homage to the Great Author of every public and private good, I assure myself that it expresses your sentiments not less than my own, nor those of my fellow- citizens at large less than either. No people can be bound to acknowledge and adore the Invisible Hand which conducts the affairs of men more than those of the United States. Every step by which they have advanced to the character of an independent nation seems to have been distinguished by some token of providential agency; and in the important revolution just accomplished in the system of their united government the tranquil deliberations and voluntary consent of so many distinct communities from which the event has resulted can not be compared with the means by which most governments have been established without some return of pious gratitude, along with an humble anticipation of the future blessings which the past seem to presage. These reflections, arising out of the present crisis, have forced themselves too strongly on my mind to be suppressed. You will join with me, I trust, in thinking that there are none under the influence of which the proceedings of a new and free government can more auspiciously commence. (more)
Also read Washington's Farewell Address, September 17, 1796.
2. President Ronald W. Reagan – 'Tear Down This Wall' speech from  June 12, 1987 in West Berlin, Germany at the base of the Brandenburg Gate.
General Secretary Gorbachev, if you seek peace, if you seek prosperity for the Soviet Union and Eastern Europe, if you seek liberalization: Come here to this gate! Mr. Gorbachev, open this gate! Mr. Gorbachev, tear down this wall!

I understand the fear of war and the pain of division that afflict this continent– and I pledge to you my country's efforts to help overcome these burdens. To be sure, we in the West must resist Soviet expansion. So we must maintain defenses of unassailable strength. Yet we seek peace; so we must strive to reduce arms on both sides.
Government is not the solution, Government is the problem
There are just so many great and historic moments from the Reagan years, go HERE to watch and listen to many of them from the space shuttle Challenger tragedy to his Evil Empire speech.
3. President Abraham Lincoln – Lincoln's Gettysburg Address, November 19. 1863
Four score and seven years ago our fathers brought forth on this continent, a new nation, conceived in Liberty, and dedicated to the proposition that all men are created equal.

Now we are engaged in a great civil war, testing whether that nation, or any nation so conceived and so dedicated, can long endure. We are met on a great battle-field of that war. We have come to dedicate a portion of that field, as a final resting place for those who here gave their lives that that nation might live. It is altogether fitting and proper that we should do this.

But, in a larger sense, we can not dedicate— we can not consecrate—we can not hallow— this ground. The brave men, living and dead, who struggled here, have consecrated it, far above our poor power to add or detract. The world will little note, nor long remember what we say here, but it can never forget what they did here. It is for us the living, rather, to be dedicated here to the unfinished work which they who fought here have thus far so nobly advanced. It is rather for us to be here dedicated to the great task remaining before us— that from these honored dead we take increased devotion to that cause for which they gave the last full measure of devotion— that we here highly resolve that these dead shall not have died in vain — that this nation, under God, shall have a new birth of free- dom—and that government of the people, by the people, for the people, shall not perish from the earth.
4. President John F. Kennedy – "I am a Berliner – Ich Bin Ein Berliner" … read Text HERE.
Freedom is indivisible, and when one man is enslaved, all are not free.

When all are free, then we can look forward to that day when this city will be joined as one and this country and this great continent of Europe in a peaceful and hopeful globe.

When that day finally comes, as it will, the people of West Berlin can take sober satisfaction in the fact that they were in the front lines for almost two decades.

All free men, wherever they may live, are citizens of Berlin, and, therefore, as a free man, I take pride in the words "Ich bin ein Berliner".
Ask Not What your Country can do for you, Ask what you can do for your Country
And then we have those presidents who no matter what they had and have said during their terms in office will forever be known for the following comments and speeches. One inspirational and two, not so much.
President George W. Bush -Bull Horn speech at Ground Zero following 911 terror attack ... "I can hear you, the rest of the world hears you, and the people who knocked these buildings down will hear all of us soon."
President Bill Clinton -  I did not have sexual relations with that woman. Could also have used, "it all depends on what is, is".
President Barack Obama – "If you like your doctor, you can keep your doctor, period! If you like your healthcare plan, you can keep your healthcare plan, period!"
Posted February 17, 2014 by

Scared Monkeys Abraham Lincoln

,

Barack Obama

,

Former Presidents

,

Freedom - Liberty

,

George W. Bush

,

George Washington

,

John F. Kennedy (JFK)

,

President George W. Bush

,

Ronald Wilson Reagan

,

You Tube - VIDEO

|

8 comments
Congratulations to Jenna Bush Hager and her husband Henry Hager on the birth of their daughter, Margaret Laura 'Mila' Hager.  The baby was named after her two grandmothers and already has a nickname — "Mila."  It would appear that this is a Bush family tradition, as Jenna and twin Barbara were named after their grandmothers, too. 31  year old Jenna Bush Hager, wow, I cannot believe she is 31, where have the years gone, gave birth to her first child last night, April 13, at 8:43pm in New York City and an undisclosed NYC hospital.
Former first couple George W. and Laura Bush said Sunday they were "elated" at the news their daughter Jenna had given birth to a girl.

"Laura and I are thrilled to announce the birth of our grandchild, Margaret Laura 'Mila' Hager," the first-time grandparents wrote in a statement, noting the new addition to the Bush family was named for her grandmothers.

"She was born last night, April 13, at 8:43pm in New York City. We met our beautiful granddaughter today. Jenna and Mila are healthy. And our family is elated," they continued.

Jenna Bush Hager, 31, announced in December that she was expecting her first child, who is also the first grandchild for the former president and his wife. At the time, she said she was "nervous and so excited" about the pregnancy.
Scared Monkeys has had some fun in the past with our favorite GWB first daughter, Jenna … our  first caption contest.