In a desperate act to rid himself of his addiction. China has a huge "web junkie" problem.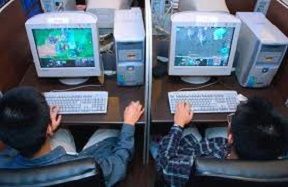 Daily Commentary – Friday, February 6, 2015
Download
BARACK O'BOW"MA: WHAT WOULD YOU EXPECT FROM A COMMUNITY AGITATOR …
Once again Barack Obama bows to the Chinese leader, this time it was Chinese President Xi Jinping and his wife Peng Liyuan at the APEC Economic Leaders' Meeting in China yesterday. GOOD GRIEF. But of course, it is not the first time the President of the United States, Barack Hussein Obama, has bowed to others. Remember this one, and this one, and this one, and this one.  But nothing was quite like his bow, that the WH claims wasn't.
Obama likes embarrassing the United States.
BARACK OBAMA, THE WORST PRESIDENT EVER!!!
According to the most recent Gallup poll, three day rolling average, Barack Obama has tied his all-time low for job approval at 38%. At some point though, Obama's job approval numbers have to sink even lower as we look around and nothing, I mean nothing is positive for the United states or Americans, both in domestic and foreign policy, in the disastrous Obama presidency. As Obama's poll numbers continue to shrink, the MSM-Democrat state run media complex refuses to report the news.
U.S. Economy added a pathetic 142,000 jobs in August, 2014
The July payroll number was revised up from plus 209,000 jobs to plus 212,000 but June's count was revised down from 298,000 jobs added to 267,000. Total employment gains those months were therefore 28,000 lower than what BLS originally reported.
Labor Force; Participation Rate Matches 36-Year Low, 92,269,000 not in work force.
ISIS on the move creating a caliphate, murdering innocents and beheading two Americans with a muddled, dithering and weak response from Obama.
Obama, a disastrous conclusion that ISIS was the Jayvee, turns out it was Obama who is the rank amateur.
Putin on the move … China on the move … ISIS on the move … Iran's nuclear capability on the move  Thanks to a weak Ditherer in Chief and the world no longer fears the US because of Obama.
Obamacare is to a costly joke.
Afghanistan and Iraq all but lost after the loss of so many brave American military souls.
Amnesty for illegals.
The below average polling for Obama's job approval is at 40.25% Approve and 54.25% Disapprove.
Reuters/Ipsos – 8/30 – 9/3:  38% Approve – 56% Disapprove (-18)
Gallup – 9/2 – 9/5 :  38% Approve – 54% Disapprove  (-16)
The Economist/YouGov – 8/30 – 9/1:  41% Approve - 56% Disapprove  (-15)
GWU/Battleground – 8/23 – 8/28: 44% Approve - 51 Disapprove   (-7)
USA Today/Pew Research – 8/20 – 8/24: 42% Approve -  50% Disapprove  (-8)
Posted September 6, 2014 by

Scared Monkeys Act of War

,

Afghanistan

,

Amnesty

,

Barack Obama

,

Benghazi-Gate

,

Blacks

,

Bystander in Chief

,

China

,

Corruption

,

Cover-Up

,

Divider in Chief

,

Economy

,

Epic Fail

,

Foreign Policy

,

Gallup

,

Illegal Immigration

,

Iran

,

IRS-gate

,

ISIS

,

Islamist

,

Jihad

,

Job Approval

,

Jobs

,

Labor Force

,

Latinos/Hispanic

,

Leading from Behind

,

Libya

,

Lost in Smallness

,

Media Bias

,

Middle East

,

Misleader

,

Obamacare

,

Obamanation

,

Obamanomics

,

Polls

,

Radical Islam

,

Russia

,

Scandal

,

Syria

,

Terrorism

,

The Lying King

,

Unemployment

,

Vladimir Putin

,

War on Terror

|

3 comments
Could this finally be the break that searchers needed to find Malaysia Airlines Flight MH370.
A Chinese patrol ship, Haixun 01, searching for the missing Malaysian passenger jet MH370 has detected a pulse signal or ping with a frequency of 37.5kHz per second in southern Indian Ocean waters Saturday. This is the similar frequency to that of the pinging emitted by a planes black box. The black box detector deployed by the Haixun 01 picked up the signal at around 25 degrees south latitude and 101 degrees east longitude. However, it is yet to be verified whether this new discovery is related to missing Malaysia Airlines Flight MH370.
Also on Saturday, a Chinese air force plane searching for missing Malaysian passenger jet MH370 spotted a number of white floating objects in the search area.
In what may turn out to be a major breakthrough in the month long search for Malaysia Airlines flight 370, a Chinese patrol ship searching the southern Indian Ocean discovered Saturday the pulse signal used by so-called black boxes, state news agency Xinhua reported.

But the pulse signal has not been confirmed, China's Maritime Search and Rescue Center reported, according to China Communications News, which is the Ministry of Transport's official newspaper.

Xinhua said a detector deployed by the Haixun 01 patrol ship picked up the signal around 25 degrees south latitude and 101 degrees east longitude. "It is yet to be established whether it is related to the missing jet," it said.

"It's not the prime search area, but it's not out of the question that this could possibly be from the black box," said David Gallo, who is with the Woods Hole Oceanographic Institution.
UPDATE I: Washington Post – Chinese ship hears pulse, possibly from missing Malaysia Airlines flight's black box.
China's state-run Xinhua news agency, which has a reporter aboard the Haixun 01 ship, reported that a black box locator heard the signal Saturday at around 25 degrees south latitude and 101 degrees east longitude — broadly in the same area where the search effort has been concentrated in recent weeks, in the Indian Ocean around 1,000 miles northwest of the Australian city of Perth.

The signal was measured at a frequency of 37.5 kilohertz and was repeating at one-second intervals, Xinhua reported.

Anish Patel, president of Florida-based pinger manufacturer Dukane Seacom, told CNN that was the correct frequency for the two emergency location beacons that are built into the plane's black box flight data recorder and its cockpit voice recorder. He added that it was not a frequency that "readily occurs in nature."
There is so little news as to where Malaysia Airlines Flight MH370 is and what happened to the missing plane that has seemed to have all but disappeared.
However, one of the few pieces of information that came out early into the airliner investigation was the disturbing news that two individuals aboard the plane had boarded it with stolen passports. In a post-911 world, how is something so simple to check on happen? Interpol is now not only reviewing those individuals with the stolen passports, they are probing more suspect passports from individuals used to board the plane.
Authorities later confirmed the two men – Austrian Christian Kozel and Italian Luigi Maraldi – were not on the plane, and their passports had been stolen in Thailand within the last two years.

An Interpol spokeswoman said a check of all documents used to board the plane had revealed more "suspect passports" that were being further investigated.

She was unable to give further information on the number of documents or the country they related to.
ABC News 3 WEAR is now reporting that that Malaysia officials state, the identity of one of the two suspects has been confirmed. Malaysia's Inspector General of Police said, that the identity of one of the two suspects has been confirmed, "He is not a Malaysian, but I cannot divulge which country he is from yet."

ABC Entertainment News | ABC Business News
Two suspects on Malaysia Airlines Flight MH370 who used stolen passports had no record of entering Malaysia legally, officials say.

Malaysia's Inspector General of Police, Tan Sri Khalid Abu Bakar, said Monday that the identity of one of the two suspects has been confirmed.

"He is not a Malaysian, but I cannot divulge which country he is from yet," he said.

Two passengers managed to board the ill-fated aircraft using passports reported stolen in Thailand in recent years, booking their tickets at the same time. The passports belonged to Italian and Austrian residents.
Amazingly, an entire 777 plane and all aboard are still missing without a trace …
The search continues for missing Malaysia Airlines Flight MH370 that seems to have just vanished. Two hours after the Boeing 777 departed from Kuala Lumpur and was scheduled to land in Beijing, the plane disappeared from radar. The searches so far have yet to find any signs of the missing airline. Malaysian military officials said at a news conference on Sunday that the flight may have changed course and turned back toward Kuala Lumpur. However, the pilot appears to have given no signal to flight control that he was turning around attributing the change of course to indications from radar data. A mystery indeed. Terrorism is still not being ruled out. Sadly, Malaysian Airlines 'fear the worst' as missing plane mystery deepens.
Thailand's navy is shifting its focus in the search for Malaysia Airlines Flight 370 away from the Gulf of Thailand and the South China Sea, Thai Navy Rear Adm. Karn Dee-ubon told CNN on Sunday.The shift came at the request of the Malaysians who are looking into possibilities the plane turned around and possibly went down in the Andaman Sea, near Thailand's border, Karn said.
Some are comparing the disappearance of Malaysia Airlines Flight MH370 to the Air France flight, an Airbus A330, from Rio de Janeiro to Paris that crashed in the Atlantic midway through the flight without sending a distress signal. In that incident, all 228 aboard were killed.
UPDATE I: 9 nations join hunt for missing Malaysian aircraft.
A total of nine nations have so far joined the multinational efforts in search for a Malaysian Airlines jetliner that went missing Saturday morning on its way to Beijing from Kuala Lumpur with 239 people on board.

Over 40 hours after Flight MH370, a Boeing 777-200ER carrying 227 passengers and 12 crew, vanished over the South China Sea, Thai navy on Sunday night sent a vessel to help find the missing plane, Thai Prime Minister's Secretary General Suranand Vejjajiva said.

Earlier in the day, Australia announced its air force will send two P-3C aircraft to join the hunt for the missing aircraft.

Currently, a total of 34 aircraft and 40 ships are in hunt for the missing plane, with which the contact was lost along with radar signal at 1:20 a.m. local time on Saturday when it was flying over the Ho Chi Minh air traffic control area in Vietnam, said Director General of Malaysian Department of Civil Aviation Azharuddin Abdul Rahman at a press conference Sunday evening.

Among them are those sent by Malaysia, Singapore, the Philippines, Vietnam and China.
UPDATE II: Missing Malaysia plane possibly 'disintegrated' mid-air.
Officials investigating the disappearance of a Malaysian airliner with 239 people on board are narrowing the focus of their inquiries on the possibility that it disintegrated in mid-flight, a senior source said on Sunday.

Malaysia Airlines flight 370 vanished after climbing to a cruising altitude of 35,000 feet between Kuala Lumpur and Beijing in the early hours of Saturday, but search teams have still not been able to make any confirmed discovery of wreckage in seas beneath the plane's flight path almost 48 hours after it took off.

"The fact that we are unable to find any debris so far appears to indicate that the aircraft is likely to have disintegrated at around 35,000 feet," said the source, who is involved in the investigations in Malaysia.
UPDATE III: The Pentagon reviewed initial surveillance data from the location where the plane disappeared and did not find evidence of an explosion.
Using a system that looks for flashes around the world, the Pentagon reviewed preliminary surveillance data from the area where the plane disappeared and saw no evidence of an explosion, said an American government official who spoke on the condition of anonymity because the subject matter was classified. A team of aviation experts led by the National Transportation Safety Board was on its way to the area.
UPDATE IV: Door of Malaysia Flight MH370 Possibly Found.
Vietnamese authorities searching waters for the missing Malaysia Airlines Boeing 777 jetliner spotted an object on Sunday that they suspected was one of the plane's doors, as international intelligence agencies joined the investigation into two passengers who boarded the aircraft with stolen passports.
UPDATE V: Plane-Debris Searchers Find Suspected Aircraft Window Piece.
Vietnamese searchers looking for a missing Malaysian Airline Boeing Co. 777-200 said they found a suspected window or door fragment as efforts to learn the plane's fate extended to scrutiny of security camera images of two passengers using stolen passports.

Le Van Minh, a Vietnamese coast guard commander, said in a telephone interview today that the fragment is suspected to be part of a plane's emergency door or window, and that rough seas and darkness were preventing crews from retrieving it. Ships are still searching the area for the piece, which was spotted by helicopter 90 kilometers (56 miles) south of Vietnam's Tho Chu Island, Minh said.
UPDATE VI: 'Yellow Object' Spotted in Sea Wasn't Life Raft.
Helicopters were scrambled on Monday to a floating "yellow object" that rescue teams believed could be a life raft from the missing Malaysian Airlines plane – but it turned out to be a false alarm.

Pham Quy Tieu, Vietnam's vice transport minister and deputy head of the its rescue committee, said that a search plane had initially been unable to get close enough to determine what it was.

However, officials later said it was a "moss-covered cap of a cable reel."
UPDATE VII: ABC News reporting that Oil Slick Samples, Debris Not Connected to Missing Jetliner.
Clues in the disappearance of Malaysia Airlines Flight MH370 remain elusive, with authorities unable to connect debris or oil slick samples to the missing jetliner.

An orange object spotted this morning — originally thought to be a life raft — had nothing to do with the plane wreckage, Vietnam's National Committee for Search and Rescue told ABC News. The item turned out to be an orange circular side cover of an industrial cable reel. Reports of a different suspicious floating object emerged Sunday, but that object was later ruled out as being connected to the missing jet by Vietnam and Malaysian authorities.

Additionally, oil slick samples found about 100 nautical miles from Malaysia's east coast of Kelantan, just south of the point of last contact, turned out to have no connection to the missing plane after analysis by Malaysian authorities.
An entire Malaysia Airlines 777 goes missing …
ABC News is reporting that a Malaysia Airlines 777, Flight MH370 departed from Kuala Lumpur at 12:55 a.m., and was scheduled to land in Beijing at 6:30 a.m has gone missing two hours after take-off. Flight MH370 simply vanished from the radar.  There are a total of 239 aboard, that includes 227 passengers and 12 crew members on board the Boeing 777-200 aircraft. including three Americans.
A Malaysia Airlines flight with 227 passengers on board – including two adult Americans and an infant – has gone missing and a search and rescue team has been deployed to locate the aircraft, a spokeswoman has confirmed to ABC News.

Flight MH370 departed Kuala Lumpur at 12:55 a.m., and was scheduled to land in Beijing at 6:30 a.m., the airline said. It went missing two hours into the flight and disappeared off the radar at 065515 North (longitude) and 1033443 East (latitude).

The airline said there are 227 passengers, including two infants, and 12 crew members on board the Boeing 777-200 aircraft.
Malaysia Airlines MH370 Flight Incident :
Media Statement – MH370 Incident released at 7.24am: Sepang, 8 March 2014: Malaysia Airlines confirms that flight MH370 has lost contact with Subang Air Traffic Control at 2.40am, today (8 March 2014). Flight MH370, operated on the B777-200 aircraft, departed Kuala Lumpur at 12.41am on 8 March 2014. MH370 was expected to land in Beijing at 6.30am the same day. The flight was carrying a total number of 227 passengers (including 2 infants), 12 crew members.
2nd Media Statement: We deeply regret that we have lost all contacts with flight MH370 which departed Kuala Lumpur at 12.41 am earlier this morning bound for Beijing. The aircraft was scheduled to land at Beijing International Airport at 6.30am local Beijing time. Subang Air Traffic Control reported that it lost contact at 2.40am (local Malaysia time) today.
5th Media Statement: Sepang, 8 March 2014:  The families of all passengers on board MH370 are being informed. The flight was carrying a total number of 239 passengers and crew – comprising 227 passengers (including 2 infants) and 12 crew members.
An international search and rescue mission was mobilized this morning. At this stage, our search and rescue teams from Malaysia, Singapore and Vietnam have failed to find evidence of any wreckage.
The sea mission will continue while the air mission will recommence at daylight.
For the passenger manifest of MH370, click here.
The passengers are of 14 different nationalities. All crew on-board are Malaysians.
 The plane last had contact with air traffic controllers two hours after it took off 120 nautical miles off the east coast of the Malaysian town of Kota Bharu, the airline said on Saturday
UPDATE I: Planes spot oil slicks in search for missing flight.
Vietnamese air force planes on Saturday spotted two large oil slicks close to where a Malaysia Airlines Boeing 777 went missing earlier in the day, the first sign that the aircraft carrying 239 people had crashed.

The oil slicks were spotted late Saturday off the southern tip of Vietnam and were each between 6 miles and 9 miles long, the Vietnamese government said in a statement. There was no confirmation that the slicks were related to the missing plane, but the statement said they were consistent with the kinds that would be produced by the two fuel tanks of a crashed jetliner.
UPDATE II: Terrorism not ruled out in disappearance of Malaysia Airlines jet.
Malaysian officials investigating the disappearance of a Malaysia Airlines plane Saturday said they were not ruling out terrorism — or any other causes — as reports emerged that two Europeans listed on the passenger manifest were not aboard and may have had their passports stolen.

Malaysia's director general of civil aviation told a news conference Saturday night that authorities had reviewed closed-circuit TV footage of passengers and their luggage and hadn't seen anything of concern. But Prime Minister Najib Razak cautioned that it was "too early" to come to any conclusions, and other officials said nothing was being ruled out of consideration at this point.
CNN VIDEO – Odd to lose contact while cruising
UPDATE III: Full manifest published online by the Malaysia airline listed the American passengers aboard Flight MH370 as 51 year old Philip Wood, 4 year old Nicole Meng, and 2 year old Yan Zhang.
CNN VIDEO – Plane loses contact with airline, Tim Tilman, Aviation Expert … This Sounds Bad.
UPDATE IV: Austrian Ministry: Passenger on Malaysia Flight Used Stolen Austria Passport
A passenger on the missing Malaysia Airlines flight was traveling with a stolen Austrian passport, Austria's Foreign Ministry said Saturday.

A 30-year Austrian whose name was on the passenger list for the flight wasn't on board. His passport was stolen in Thailand in 2012, a ministry spokesman said, confirming a report in German newspaper Die Welt.

The airline contacted the Austrian embassy in Kuala Lumpur about the one Austrian listed as a passenger, but an embassy check showed the man's passport as stolen. The man is currently in Austria.
From NBC News, Stolen Passports Prompt Terror Concerns in Missing Jet, Officials Say
A terrorism analysts stated, "It is unusual for one person to board a plane with a stolen passport and very rare for two to do it."
U.S. officials told NBC News on Saturday they are investigating terrorism concerns after two people listed as passengers on the missing Malaysia Airlines jet turned out not to be on the plane and had reported their passports stolen.

The officials said that they had found no clear link to terrorism, and that there are other criminal reasons, for example drug smuggling, that stolen passports might be used to board a plane.

But the revelations, hours after the jet disappeared over the South China Sea without sending a distress signal, significantly changed how U.S. officials looked at the disaster. U.S. officials said they were checking into passenger manifests and going back through intelligence.

"We are aware of the reporting on the two stolen passports," one senior official said. "We have not determined a nexus to terrorism yet, although it's still very early, and that's by no means definitive."
UPDATE V: Time line if events for missing Malaysia Airlines flight MH370:
12:41 a.m. – The Boeing 777-200, carrying 227 passengers from 14 countries along with 12 crew members, takes off from Kuala Lumpur.
2:40 a.m. – Air traffic control in Subang, a suburb of Kuala Lumpur, loses contact with the plane about two hours after takeoff. According to the Vietnamese military officials, the plane was just about to enter Vietnam's airspace when its communications systems went silent.
6:30 a.m. Saturday – The flight is scheduled to land in Beijing.
7:24 a.m. – Malaysia Airlines announces it had lost contact five hours earlier with the flight.
11:14 a.m. — Malaysia Airlines holds a news conference confirming the loss of contact with its aircraft.
UPDATE VI: Passenger list adds to questions – Two men whose names appear on the Malaysia Airlines Flight 370 manifest had reported their passports stolen.
Uncertainly over the fate of missing Malaysia Airlines Flight 370 was further compounded Saturday by reports that two men whose names matched those on the passenger manifest had reported their passports stolen.

Malaysian authorities apparently did not check the stolen documents on an international law enforcement agency database, CNN has learned.

After the airline released a manifest of the 239 people on the plane, Austria denied that one of its citizens was on the flight as the list had stated. The Austrian citizen was safe and sound, and his passport had been stolen two years ago, Austrian Foreign Ministry spokesman Martin Weiss said.

Similarly, Italy's foreign ministry confirmed that no Italians were on the flight, even though an Italian was listed on the manifest. Malaysian officials said they were aware of reports that the Italian's passport was also stolen but had not confirmed it.
UPDATE VII: Malaysia says debris spotted off Vietnam not from missing plane.
The debris spotted by a Singapore search team about 100km south-southwest of Vietnam's Tho Chu island was not that of the missing Malaysia Airlines (MAS) flight MH370, said Malaysia's Department of Civil Aviation (DCA) director-general Azharuddin Abdul Rahman.

Azharuddin however, said that though oil spills were found but there has been no confirmation yet.

"There was oil spill found but we are in the verification process now as to whether the oil spill came from the missing aircraft. However, we have not received a report yet," he said during the press conference in Sepang on Sunday.
My name is Barack Obama, "Welcome to Fantasy Island" …
A scorching OPED from the not so conservative Washington Post … President Obama's foreign policy is based on Fantasy. What, you mean its a bad thing to have a foreign and domestic policy based on Unicorns and Pixie dust? Hey Barack, how are those rose-colored glasses fitting these days?
FOR FIVE YEARS, President Obama has led a foreign policy based more on how he thinks the world should operate than on reality. It was a world in which "the tide of war is receding" and the United States could, without much risk, radically reduce the size of its armed forces. Other leaders, in this vision, would behave rationally and in the interest of their people and the world. Invasions, brute force, great-power games and shifting alliances — these were things of the past. Secretary of State John F. Kerry displayed this mindset on ABC's "This Week" Sunday when he said, of Russia's invasion of neighboring Ukraine, "It's a 19th century act in the 21st century."

That's a nice thought, and we all know what he means. A country's standing is no longer measured in throw-weight or battalions. The world is too interconnected to break into blocs. A small country that plugs into cyberspace can deliver more prosperity to its people (think Singapore or Estonia) than a giant with natural resources and standing armies.

Unfortunately, Russian President Vladimir Putin has not received the memo on 21st-century behavior. Neither has China's president, Xi Jinping, who is engaging in gunboat diplomacy against Japan and the weaker nations of Southeast Asia. Syrian president Bashar al-Assad is waging a very 20th-century war against his own people, sending helicopters to drop exploding barrels full of screws, nails and other shrapnel onto apartment buildings where families cower in basements. These men will not be deterred by the disapproval of their peers, the weight of world opinion or even disinvestment by Silicon Valley companies. They are concerned primarily with maintaining their holds on power.
The Heritage Foundation reminds us that this is exactly what Heritage's James Carafano and Kim Holmes warned about early in the Obama presidency.
"The tenets of the Obama Doctrine… do not reflect history or the threats we face," said Carafano, the E. W. Richardson Fellow, and Holmes, author of Liberty's Best Hope: American Leadership for the 21st Century. "They will serve to undermine America's strengths and make it more difficult for friends and allies to figure out where we stand or how we might act in critical times."

Carafano and Holmes predicted in 2010: "The Obama Doctrine, by seeking to remake America to please others, will fail because, in the end, no one will like the instability, vulnerability, and economic stagnation that follow from a weaker America."
As the Jawa Report opines, "When you've lost the Washington Post, you've pretty much lost all foreign policy credibility."
Posted March 3, 2014 by

Scared Monkeys Barack Obama

,

China

,

Epic Fail

,

Foreign Policy

,

Lost in Smallness

,

Misleader

,

Obama in Wonderland

,

Obamanation

,

Russia

,

United States

,

Vladimir Putin

,

World

,

WTF

|

one comment
Don't look for the union label, Team USA Olympic mittens for the masses … MADE IN CHINA.
One of these days the manufacturers will get this right. After having been criticized two years ago for having U.S. Olympic team's uniforms made in China, it appears they have not quite fixed the issue entirely.  Don't look now but we have an America with two sets of mittens. There are those made for the Olympic athletes and that you can buy for $98 a pair on the Ralph Lauren website or the knockoffs for $14 a pair at the USOC's official online shop, made in China. Wouldn't you just love to know what the labor and material costs are for the $98 mittens as opposed to the ones made in China?
Its kind of like the 'This is Spinal Tap' of Olympic Mittens … 'Smell the Glove Mittens'
This is what you wanted … Ralph Lauren, made in USA
This is What You Got, Made in China
The outside of the mittens say "Go USA." The insides say "Made in China."

Less than two years after being criticized for having the U.S. Olympic team's uniforms made in China, the U.S. Olympic Committee has another wardrobe malfunction on its hands.

The red-white-and-blue mittens it's selling to raise funds for winter athletes were produced in China.

It says so right on the tag on the inside.

The USOC is charging $14 a pair for the blue hand-warmers that have the word "Go" embroidered in red on the left mitten and "USA" on the right. Also part of that left mitten is the tag, which says the gloves are "100% acrylic," "One Size Fits Most" and "Made in China."

USOC spokesman Patrick Sandusky said the "official" mittens being worn by the athletes at the opening ceremony are made in the USA. They're also available to the public for $98 a pair on the Ralph Lauren website, which proudly proclaims its products are "Made in America" almost everywhere you look on the page for its official Team USA collection.

But the federation, which receives no government funding and is always trying to find new ways to raise money for its athletes, was going for a lower price point for its fundraiser. With the games more than a month away, it has raised $500,000 from the mitten sales.

"We wanted to create a fundraising opportunity where almost anyone could support Team USA," Sandusky said.

The foreign-made mittens are available at the USOC's official online shop of the U.S. Olympic Team.
Posted December 17, 2013 by

Scared Monkeys America - United States

,

Business

,

Capitaism

,

China

,

Economy

,

Jobs

,

Olympics

,

Unions

,

United States

,

WTF

|

3 comments
OH DEAR GOD … From the President who gave us Obamacare and promised Americans that if they liked their insurance and doctors, they could keep them, PERIOD! comes the following promised deal.
The WAPO is reporting that an agreement was reached over night between Iran and six world powers, the United States, Britain, Russia, China, France and German, that will freeze key parts of Iran's nuclear program in exchange for temporary relief on some economic sanctions. What does this mean? For the next six months Iran is supposedly going to freeze or reverse progress at all of it's major nuclear facilities and is supposed to halt the installation of new centrifuges used to enrich uranium and caps the amount and type of enriched uranium that Iran is allowed to produce. For this Iran will some relief of trade sanctions and access to some of its frozen currency accounts overseas, concessions said to be valued at less than $7 billion over the six month term of the deal.
Iran and six major powers agreed early Sunday on a historic deal that freezes key parts of Iran's nuclear program in exchange for temporary relief on some economic sanctions.

The agreement, sealed at a 3 a.m. signing ceremony in Geneva's Palace of Nations, requires Iran to halt or scale back parts of its nuclear infrastructure, the first such pause in more than a decade.

Iranian Foreign Minister Mohammad Javad Zarif hailed the deal, which was reached after four days of hard bargaining, including an eleventh-hour intervention by Secretary of State John F. Kerry and foreign ministers from Europe, Russia and China.

"It is important that we all of us see the opportunity to end an unnecessary crisis and open new horizons based on respect, based on the rights of the Iranian people and removing any doubts about the exclusively peaceful nature of Iran's nuclear program," Zarif told reporters in English. "This is a process of attempting to restore confidence."
Hmm, and we are supposed to trust Iran why exactly? Well at this point very few Americans trust the Obama administration. As anyone knows, an agreement is only as good as those signing it. The fact that Iran has never kept its word means nothing to Neville Chamberlain Barack Obama.
Just mere hours after the nuclear deal was reached, the Associated Press reported that Iran's President Hassan Rouhani said the deal recognizes Tehran's "rights" to maintain an atomic program.
As part of the deal, according to Zarif, Iran retains the right to nuclear technology, including the enriching of uranium under the terms of the Treaty on the Non-Proliferation of Nuclear Weapons — which requires it not to create nuclear weapons or enable other countries to obtain them.

Iran has agreed to what U.S. Secretary of State John Kerry described as "unprecedented international monitoring" of its nuclear program.
Check out at the 3:40 mark in the video above and also reported on by the Gateway Pundit that Neville Chamberlain Barack Obama says, "Iran should be able to access 'Peaceful' nuclear energy. Are you kidding me. This would be a kin to the Russian village of Oymyakon, that has the coldest recorded temperatures of any permanently inhabited location should have access to peaceful air conditioning. Exactly how could one be this clueless and trusting, unless you are Charlie Brown thinking that this is the one time Lucy will not pull the ball away before you kick it? In the very sentence that Obama claims Iran should have access to nuclear energy, he comments they have a record of violating its obligations. Um, and it is going to be different this time, how exactly?
"Iran should be able to access peaceful nuclear energy, but because of its record of violating its obligations, Iran must accept strict limitations on its nuclear program."
The NRO opines, that this is a  "Foreign-Policy Disaster".  Yeah, how did that piece of paper signed by Adolph Hitler and peace in our time work for Britain and Europe?
This wretched deal offers one of those rare occasions when comparison with Neville Chamberlain in Munich in 1938 is valid. An overeager Western government, blind to the evil cunning of the regime it so much wants to work with, appeases it with concessions that will come back to haunt it. Geneva and Nov. 24 will be remembered along with Munich and Sep. 29.

Barack Obama has made many foreign-policy errors in the past five years, but this is the first to rank as a disaster. Along with the health-care law, it is one of his worst-ever steps. John Kerry is a too-eager puppy looking for a deal at any price.

With the U.S. government forfeiting its leadership role, the Israelis, Saudis, and perhaps others are left to cope with a bad situation made worse.
UPDATE I: Iran's new president, Hassan Rouhani, said in a statement broadcast live on television Sunday morning: "Trust is, of course, a two-way street, and we must also find this trust in others. The first step in creating that trust has been taken."  But then again, who has proved they cannot be trusted?
One of the achievements of Sunday's agreement, according to Rouhani, is that "the sanctions will be broken. The cracks in the sanctions started began last night, and in future those gaps will be grow."

Iran's supreme leader, Ayatollah Ali Khamenei, who has long doubted the sincerity of Western leaders, expressed guarded approval of the agreement.

Responding to a letter from Rouhani, Khamenei thanked the efforts of Iran's negotiating team, led by foreign minister Mohammad Javad Zarif, but asked them to continue their vigilance in dealing with old enemies.

"God willing, standing against the arrogant powers is and will be the main criteria on the path forward for those in charge of this issue," Khamenei wrote.
UPDATE II: Israeli Leader Calls Iran Deal 'Historic Mistake' … I think they would know better than John Kerry or Barack Obama seeing that it is Israel that is in the cross-hairs of Iran.
Because why would the Obama administration not get the OK from its greatest ally in the Middle East and the target of Iran's offensive nuclear capability? PM Netanyahu said, "What was reached last night in Geneva is not a historic agreement, it is a historic mistake. Today the world became a much more dangerous place because the most dangerous regime in the world made a significant step in obtaining the most dangerous weapons in the world."
Israel's prime minister harshly condemned the international community's nuclear deal with Iran on Sunday, calling it a "historic mistake" and saying he was not bound by the agreement.

Speaking to his Cabinet, Prime Minister Benjamin Netanyahu said the world had become a "more dangerous place" as a result of the deal and reiterated a long-standing threat to use military action against Iran if needed, declaring that Israel "has the right and the duty to defend itself by itself."

Israel believes Iran is trying to develop a nuclear weapon, and in the weeks leading up to Sunday's agreement, Netanyahu had warned the emerging deal was insufficient.

He had called for increased pressure on Iran, and warned that any relief from economic sanctions would make Iran less willing to compromise during a coming, six-month period aimed at reaching a final agreement.

Netanyahu told his Cabinet that Sunday's deal gave Iran much-needed relief from the sanctions, but left most of Iran's nuclear infrastructure intact. In particular, he cited Iran's continued ability to enrich uranium, a key step in making a nuclear bomb.
Posted November 24, 2013 by

Scared Monkeys America - United States

,

Barack Obama

,

Bystander in Chief

,

China

,

Epic Fail

,

Foreign Policy

,

France

,

Germany

,

Government

,

Great Britain

,

Iran

,

Islam/Muslims

,

Islamofascist

,

Israel

,

Israel/Palestine

,

Jihad

,

Leading from Behind

,

Middle East

,

Obama in Wonderland

,

Obamanation

,

Radical Islam

,

Russia

,

Saudi Arabia

,

Terrorism

,

The Dodger in Chief

,

War on Terror

,

World

,

WTF

,

You Tube - VIDEO

|

3 comments