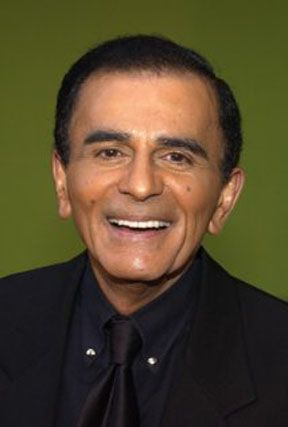 Daily Commentary – Tuesday, June 17, 2014
Download
AMERICAN RADIO ICON CASEY KASEM DEAD AT THE AGE OF 82 …
Casey Kasem, the man who entertained radio listeners for decades as the host of his weekly countdown shows such as "American Top 40″ and "Casey's Top 40," and let us not forget the voice of Shaggy from Scooby-Doo, died early Sunday morning. Long before the days of internet music downloads and CD's there was Casey Kasem counting down the hits, doing long distance dedications and telling us at the end of each broadcast to ""Keep your feet on the ground and keep reaching for the stars". The announcement of Kasem's death came from his children. Kasem died Sunday surrounded by family and friends of Lewy body disease, a common form of progressive dementia.
 (April 27, 1932 – June 15, 2014)
"Early this Father's Day morning, our dad Casey Kasem passed away surrounded by family and friends," Kasem's children — Kerri, Mike and Julie — wrote in a statement released by Kasem's representative, Danny Deraney.

"Even though we know he is in a better place and no longer suffering, we are heartbroken … The world will miss Casey Kasem, an incredible talent and humanitarian; we will miss our Dad."

Casey Kasem had been suffering from Lewy body disease, the most common type of progressive dementia after Alzheimer's.
Casey Kasem was the voice of so many cartoon characters, the most famous being Shaggy Rogers of Scooby-Doo fame. Buts he was also the the voice of Mark from 'Battle of the Planets', Robin, the Boy Wonder from 'The Super Friends', Jana of the Jungle, Hong Kong Phooey and Josie and the Pussy Cats in Outer Space.
The son of Lebanese immigrants, Kasem was active in speaking out for greater understanding of Arab-Americans – both on political issues involving the Mideast and on arts and media issues.

"Arab-Americans are coming out of the closet," Kasem told The Associated Press in 1990. "They are more outspoken now than ever before. People are beginning to realize who they really are, that they are not the people who yell and scream on their nightly newscast."

Kasem was born Kemal Amin Kasem in 1932 in Detroit. He began his broadcasting career in the radio club at Detroit's Northwestern High School and was soon a disc jockey on WJBK radio in Detroit, initially calling himself Kemal Kasem.

In a 1997 visit with high school students in Dearborn, Michigan., home to a large Arab-American community, he was asked why he changed his name to Casey.

"It didn't sound like a deejay; it wasn't hip. So we decided I'd be `Casey at the Mike' – and I have been since," Kasem said.
America's Top 10 June 21, 1981 Casey Kasem Stars On 45 # 1
45 records … remember those America!
Sadly at the end of his life. Casey Kasem had been the subject of a bitter court battle involving three of his children by a previous marriage and his wife, Jean. Casey is obviously in a better place where he can truly "reach for the stars".
On a person note, the death of Casey Kasem does feel like of personal loss of my childhood days. I can remember tuning in weekly for American Top 40 and listing to the countdown of the top songs of record sales and air play. If you couldn't listen to it live, you would tape it on a cassette or dare I say 8-track tape. For the youth of today who only know of iPods, you might want to Google 8-tracks
.  For a generation of kids, in days gone past, we made sure we were near a radio for Casey Kasem and his countdown. You will be missed Casey and thank you so much for everything you did and the enjoyment you gave to so many. God Bless and Rest in Peace.
WOW, JUST WOW!!!
Radio Hosts Opie and Anthony let loose on Obamacare and what Democrats and Barack Obama did to the American people. Actually they said publicly, what many people wish they could say and be heard and what people say to their self every day regarding this train-wreck called Obamacare. This is a must listen to rant by Opie and Anthony, but just be careful there is a lot of adult language. This is classic Opie and Anthony and the amazing part about this rant from the two shock jocks is that they are 100% correct.
"I don't know why we're not having a revolution at this point," Hughes said.

"We should!" Anthony Cumia, the show's co-host, replied.

Cumia also sarcastically called Hughes out for pushing lies being created by the Republican Party.

"You're lying though, because this didn't happen to anybody," he joked.

The notion caused Hughes to launch into a fiery tirade on how "millions" of people are being called liars for pointing out that Obamacare has forced them to lose their health insurance. So why would they all be lying?

"Because they can't f***ing grasp that Obama lied to the American people when he said you can keep your insurance," Cumia answered.

Cumia also blasted people who are always shouting for the wealthy to pay their "fair share," saying they have "no f***ing clue" how much people in higher income brackets are actually paying.

"Let me come over and take over half of your money and see how you feel about it," he added.
WARNING: VERY STRONG, STRONG LANGUAGE, INCLUDING F-BOMB
The hosts of popular Sirius/XM radio show 'The Opie and Anthony Show' exploded in frustration Thursday morning over the cancellation of their health plans under Obamacare.

"I was fighting an imaginary person in my apartment," exclaimed co-host Greg "Opie" Hughes when describing his frustration with filling out the voluminous paperwork that accompanied the cancellation of his previous health plan.

"Finally, after all these years, I had perfect health insurance and now I have to re-do the whole thing, it's ridiculous!" Hughes exclaimed.
Posted April 4, 2014 by

Scared Monkeys Barack Obama

,

Epic Fail

,

Government

,

Healthcare

,

Healthcare Canceled

,

Healthcare.gov

,

Insurance Canceled

,

IRS

,

Media

,

Misleader

,

Misrepresentation

,

Obamacare

,

Obamanation

,

Radio

,

The Lying King

,

Transparency

,

You Can Keep Your Insurance

,

You Tube - VIDEO

|

one comment
LISTEN TO THE DANA PRETZER SHOW ON SCARED MONKEYS RADIO AT 9 PM ET
LISTEN TONIGHT LIVE AT 9 PM ET
The Dana Pretzer Show – Friday, March 7, 2014 Download Podcast
On Friday Rush Limbaugh said what many have been thinking, … "If I had a father, he would look like "Shorty" Delbert Belton, and, if I had a son, he'd look like Chris Lane." And there is literally no outrage by the two senseless murders of 89 year old Shorty" Delbert Belton or Aussie baseball player Chris Lane by Barack Obama. No mention, no calls, no nothing. But the liberal MSM was all a flutter over a rodeo clown wearing an Obama mask. There was outrage over the shooting death of Trayvon Martin at the hands of a "white" Hispanic, George Zimmerman. However, Chicago is a killing filed of black on black crime, Chris Lane was killed by three thug, bored teens and 'Shorty' was beaten to death by two black teens. Where is the equivalent moral outrage?
A full transcript can be found at Rush Limbaugh's website.
"You know, if I had a father, he would look like "Shorty" Delbert Belton, and, if I had a son, he'd look like Chris Lane. Nobody's gonna say that. Obama has not called the parents of Chris Lane. I don't know if Obama has called anybody related to "Shorty" Delbert Belton, but these two were people killed by bored, thug-wannabe African-Americans.  There still has been more outrage over a rodeo clown wearing an Obama mask than either of these two events combined. It's this kind of thing — this cultural rot, this decay — that you can't even address without being called a racist"
Posted August 26, 2013 by

Scared Monkeys Barack Obama

,

Community Agitator

,

Crime

,

Divider in Chief

,

Epic Fail

,

Lost in Smallness

,

Media

,

Murder

,

Obamanation

,

Radio

,

Rush Limbaugh

,

WTF

,

You Tube - VIDEO

|

one comment
Conservative talk radio host fires Cumulus.
As reported by Inside Music Media, after months of bitter negotiations, Sean Hannity, the #2 rated radio host, has rejected an offer to extend his contract. In essence, Hannity beat Cumulus CEO Lew Dickey to the punch and gave his a taste of his own medicine. Hannity fired Cumulus. It is also being reported that sources close to Hannity feels Cumulus treats its employees "like dirt…sub-human." Rumors have it that Michael Savage will replace Hannity for afternoon drive time. Pardon the laughter, oh yea, that's going to work. This is only half of the story. The liberals foaming at the mouth that Hannity, and Rush, were going to be silenced could not be more wrong.
Johnny Paycheck – 'Take this Job and Shove It'
In the end as the Daily Caller reports, Hannity told Cumulus to 'Take this Job and Shove It'.
But as NewsBusters reports, that Michael Savage could replace Hannity. More importantly they are reporting that the LIBS have got the entire Hannity being fired from radio 100% wrong. Sean Hannity is not going to be silenced from the radio waves. BOT EVEN CLOSE. According to Del Colliano, Clear Channel is "100% behind Hannity and will replace 80% of the Cumulus stations as soon as the current deal is up."
Sean Hannity, the popular conservative radio and TV talk show host, turns down a recent Cumulus offer to renew his contract to continue aitring [sic] his show on 40 of their stations.

And now Lew "Trickey" Dickey has apparently seized the low road again.

He allowed Michael "I hope you get AIDS and die, you pig" Savage to go on Cumulus stations and predict that he – the 71-year-old talker – will replace Hannity in afternoon drive. [...]

Sources close to the situation who wish to remain anonymous in my witness protection program say it's the other way around.

I have known for weeks that the opposite is true.
More from NewsBusters on the Libs getting it wrong again. SM had stated earlier as negotiations were going on between Rush and Hannity with Cumulus that LIBS best be careful. don't ask fro things they might just come true. Sorry LIBS, this is not the worst thing that could happen to Hannity … it was the best thing for the #2
Just how wrong were liberal media members on this?

According to Del Colliano, Clear Channel is "100% behind Hannity and will replace 80% of the Cumulus stations as soon as the current deal is up."

This will allow Hannity to stay on 500-plus stations carried through Premiere.

For the record, sources close to Hannity told me Friday that Del Colliano's gotten it 100 percent correct. Another prominent, independent source also confirmed this moments ago.

This also squares nicely with what Alan Colmes predicted back in July.
Much more interesting thoughts as to what is the driving force behind this breakup at The American Spectator.
Posted August 17, 2013 by

Scared Monkeys Conservatives

,

Jobs

,

Liberals

,

Media

,

Moonbats

,

Progressives

,

Radio

,

Rush Limbaugh

,

Sean Hannity

,

You Tube - VIDEO

|

no comments
Daily Commentary – Wednesday, July 31, 2013
Download
Could this really be good for business? A note to the LEFT, I wouldn't get too giddy …

The Politico is reporting that Cumulus Media is planning on dropping both top conservative radio talk show hosts Rush Limbaugh and Sean Hannity from its stations. Yea that's the ticket, lose your two biggest talents and think that you can go forward without a gaping hole in your earnings or listener-ship.  According to the reports, some industry sources said that Cumulus is also expected to move some of its existing talent,  which includes Mike Huckabee, Mark Levin, and Michael Savage into one of the slots. With all due respect to these folks, especially Mark Levin, they are not el Rushbo or Hannity, nor do they garner the audience that these two individuals have. Rush and Hannity are by far the two biggest radio draws, its not even close.
In a major shakeup for the radio industry, Cumulus Media, the second-biggest broadcaster in the country, is planning to drop both Rush Limbaugh and Sean Hannity from its stations at the end of the year, an industry source told POLITICO on Sunday.

Cumulus has decided that it will not renew its contracts with either host, the source said, a move that would remove the two most highly rated conservative talk personalities from more than 40 Cumulus channels in major markets.

The decision comes after negotiations between Cumulus and Premiere Networks, the division of Clear Channel that distributes Limbaugh and Hannity's shows, broke down due to disagreements over the cost of the distribution rights, the source said. Cumulus is known to drive a hard bargain on costs, and Clear Channel is known to seek top dollar for big names.
Over at Twichy, they show that Media Matters, Eric Boehlert pretty excited about it. The comical and ironic aspect of his tweets is when he refers to Rush as "hate" programming. Really, Media Matters accusing others of "hate" marketing is like the Obamacare call centers put in place to answer questions and add people to Obamacare working part time and not able to be eligible for insurance.
The Top Talk Radio Audiences from Talkers.com
A note to the LEFT, don't get too giddy and don't ask for things they might just come true. Read the article at 'The Week' that makes the most sense regarding the potential parting of the ways of Rush and Hannity from Cumulus. The article asks, Who's dumping Who? Here are the facts and if Sean Hannity and Rush Limbaugh both leave Cumulus, they will be replaced with more conservative talk radio host. This opens up a potential of more local talent or other B name hosts. It is not like Cumulus is going to replace the #1 and #2 radio audience talk show hosts with elevator music or NPR. Thus, it will add more conservative talent to the air waves. Then, it is not like Rush and Sean are not going to find new homes on the radio and their legions of fans are just going to change their preset radio button to a new station. Those that listen on line will just add a new app. So in the long run, the LEFT who think this is a bad thing, may rue the day that this shake up happens because it just will provide even more conservative talent on the air waves. Oh the horror.
That's an important distinction, says Hinckley. And if Limbaugh goes to Clear Channel, it's not like he'll be off the airwaves. His legions of fans would just have to change the presets on their radios.

And Cumulus wouldn't drop conservative talk radio altogether — it would just switch personalities, says Byers. In recent weeks, "Cumulus has been quietly reaching out to radio talent agents and political insiders about new local and regional station hosts to fill some of the airtime that will be left vacant by Limbaugh and Hannity," he says. "Cumulus is also expected to move some of its existing talent — which includes Mike Huckabee, Mark Levin, and Michael Savage — into one of the slots."

"Cumulus has already tried to position Huckabee as a 'safe' alternative to Limbaugh," says Adam Martin at New York: "A conservative commentator who wouldn't call people 'sluts' on air." Huckabee doesn't have a huge following, according to Talkers magazine's most recent analysis, but Savage and Levin do.