WINNING!!! YOU KNOW ITS BAD WHEN CHARLIE SHEEN CRITICIZES BARACK OBAMA ..
You know Barack Obama is a total political screw-up and joke f a president when Charlie Sheen become the voice of reason. Charlie Sheen sent this tweet on Thursday asking why Obama didn't attend a funeral for soldiers but he could fill out a bracket. The tweet was in Ebonics of which as predictable as the sun rises in the East and sets in the West, Sheen was called a racist.  The economy still stinks in the US, record number of people are on food stamps, record number of Americans have left the work force, the Middle East is on fire, ISIS is growing and attacking innocents everywhere, Libya, Syria, Yemen and Iraq are falling to terrorists … but Barack Obama has the time for bracketology.
Although, if it meant the difference between Barack Obama spending time on this terrible and foolish nuclear deal with Iran and the NCAA College Basketball brackets, I say let Obama pick as many brackets as he can until he gets it right.
Posted March 21, 2015 by

Scared Monkeys Barack Obama

,

Basketball

,

Bystander in Chief

,

Charlie Sheen

,

Comedian in Chief

,

Community Agitator

,

Epic Fail

,

Lost in Smallness

,

Misleader

,

Sports

,

WTF

,

You Tube - VIDEO

|

one comment
A LONG TIME AGO WE COINED THE PHRASE, "KEY BOARD COWARDS".
ALL-STAR DAD ... Curt Schilling, Boston Red Sox, "bloody sock" baseball pitching great, is doubling down on going Dad protective of his daughter in the face of recent cyber bullying attacks. Take a look at Schilling's blog, 38 Pitches and check out the vile attacks on his daughter and a father's response. Folks, cyber bullying is no laughing matter. There are some true psychos out there and piling on in a form of cyber wilding hardly makes you cool. All of this occurred after Schilling tweeted a congratulatory message about his 17 year old daughter being accepted to Salve Regina University. Then the disgusting, crude and vile tweets came from the underbelly and low-lifes of the internet.
I am all for free speech, sorry, this type of speech should be a crime. The intent is to cause harm. Such cowards need to be prosecuted or better yet, be put in a room for 20 minutes with Curt Schilling and let him dish out some dad justice.
Curt Schilling goes Liam Neeson on Trolls
Ladies? If any of these guys is your boyfriend you're in for a real rude awakening.

Lastly? Not one of these gutless clowns would even think of saying a word of ANY of this in person.

Curt

P.S. Gabby I know you're likely embarrassed and for that I apologize. But as we have talked about, there is no situation ever in your life, where it's ok for any 'man' to talk about you, or any other woman this way (and truth be told no real man would ever talk this way anyway). It truly is time this stopped. I don't know where it started because it sure as hell didn't happen much when we were growing up. Like any dad reading this the only thing I need you to leave this home with when you head to college is the knowledge that I love you more than life itself and there is NOTHING I would not do to protect you. And while it may sound corny, it's nothing I'd ever be shy about saying in public, ever.
Schilling elaborated and doubles down:
Some have told Curt to ignore the tweets and the vile and disgusting comments regarding his daughter. There is a long standing rule on the internet, actually its more of a guideline, don't feed the trolls. However, that rule only goes so far and at some point you have to do what Curt Shilling did and say, HELL NO" … "I CAN AND WILL FIND YOU!!!"
I look at it like this. If someone walked into your house and punched your daughter square in the face, what would your reaction be? You and I probably are thinking the very same thing. How is that different than what happened to my amazing Daughter?

Here's how.

Those bruises on your daughters face? They'll heal over time and go away. My daughter? She was bruised and battered every bit as bad as that punch. Her scars are there forever.

For you "men" trying to somehow side with these guys? Go for it. You don't have far to go in life, in fact you may already be at your finish line.

Ladies? I don't care if you're 7 or 70. There is no time, no place, no reason in your lives ever that anyone, most especially a man, is allowed to talk to you, or treat you, this way.

[...]

I grew up in a world where women were treated with respect and dignity. When did that become out of date? Obsolete? How? Why?
UPDATE I: Yankees fire ticket taker after vulgar tweets about Curt Schilling's daughter.
The other man — the VP of Theta Xi at Montclair State — has since been identified as Sean MacDonald. MacDonald was hired by the Yankees as a part-time ticket taker at the end of January, the team confirmed, and he has since been fired.
35 years ago today, February 22, 1980 … DO YOU BELIEVE IN MIRACLES … YES!!!
It is hard to believe that it has been 35 years since "Miracle on Ice," it seems like just yesterday in some respects and in others it seems so long ago. In a time that many today under the age of 45 could never comprehend. There was no social media, no Twitter, no Facebook and no Internet to follow the game live. To show just how far back we reminisce, ESPN had just started operations in September 1979.  As a matter of fact, that was probably a good thing as they game was scheduled to be played in the afternoon, but not to be shown on TV until later that night in prime time. As it turned out, the Russians refused to change the time of the game so it could be televised in America live. Imagine that from the USSR. Do you remember where you were, when you watched the one any only DREAM TEAM? Watching highlights of this game always puts a smile on my face and a tear to my eye.
Remember back to 1980, the game was more than just a hockey game, it was us against them, it was freedom vs. communism. It was a piece of the Cold War played out in an arena, of a sheet of ice in Lake Placid, NY during the 1980 Winter Olympics. It was the fresh faced college kids from America taking on the the paid athletes of so-called amateurs of the big bad Soviet bear. As Al Michaels would later say, the confluence of events was so extraordinary, it could never happen again. Who knew that a bunch of college kids over a two week period would become the essence and the vehicle to make Americans proud again? That is exactly what 'Miracle on Ice' was and did and the game will forever be remembered as the greatest sports moment in US history, EVER!
Final minutes of Miracle on Ice: Do you believe in Miracles … YES!!!
For events that take place, we sadly remember where we were when terrible ones occur. Everyone remembers where they were when JFK was assassinated, when the Challenger Space shuttle blew up in 1986 (VIDEO) and when on 9-11 terrorists flew planes into the World Trade Center, the Pentagon and a field in Shanksville, PA. However, for those that were alive and were old enough to watch the medal round game between the USA and USSR, you remember like it was yesterday where you were and the feeling of incredible patriotism and pride that you had as a bunch of college kids coached by the dearly departed Herb Brooks pulled off the greatest upset in sports history.
Over the weekend, all of the living members of the 1980 US Hockey team came together in Lake Placid, NY to reunite and fondly remember that heroic day and the weekend that the Americans brought home the gold medal, first defeating the Russians 4-3 and then beat Finland 4-2.
The ovation wasn't quite as deafening as it was 35 years ago. It was riveting, nonetheless, for Dave Christian and his old Olympic buddies, together again to celebrate their Miracle on Ice.

"It feels exactly the same," Christian said Saturday night as the members of the 1980 U.S. Olympic hockey team returned to the rink they made famous with their triumph over the Soviet Union. "You could feel the electricity in the (locker) room. It's still there."

The "Relive the Miracle" reunion at Herb Brooks Arena attracted more than 5,000 fans for a two-hour celebration of one of the most memorable upsets in sports history. Every surviving player from the team made the trip, including Mark Pavelich, who drove from his Oregon home with two dogs. It was the first time the team had all been together since that memorable night.
However, let's go back and fondly remember the greatest sporting event in American history and the greatest upset victory ever. It was Friday, February 22, 1980 and the United States hockey team was slated to play the invincible, mighty Soviet Union in the 1980 Winter Olympics in Lake Placid, New York.  The Soviet Union hockey team was a machine, who had not lost the Olympic gold medal since the 1960 Squaw Valley Olympic Games. The Soviet team was basically a professional hockey team, playing the United States, made up of a collection of armature college hockey players. Many of those kids would go onto to greatness in the NHL, but that was down the road.
On a personal level, I can remember like it was yesterday. I had been discharged from the hospital earlier in the day after spending almost all of the Olympics in the hospital after suffering from an acute appendicitis, emergency surgery and complications following the surgery. I finally made it home around 5 pm to prepare and watch the game later that night. The irony being that the hockey game actually began live at that time, America on the East coast would not see the tape delay of the game until 8 PM. I can remember waiting in my bedroom in anticipation, trying to get caught up on school work as I had missed two weeks of school having been in the hospital. My father came up to my room and asked my if I wanted to know the score, he had heard it on the news, I said … NOOOOO!!! I had watched all of the games that were televised from my hospital room and there was no way I wanted to know the outcome in advance after all this.
The 1980′s were a different time, the Soviet Union had invaded Afghanistan, US hostages were being held in Iran, the United States was in the midst of a terrible recession, marked by what many remember as the misery index (double digit inflation, unemployment and inflation rate), high gas prices and a disastrous Jimmy Carter presidency. The mood in America was grim, patriotism was down and nothing seemed to be going good. Wait a minute, did I just describe the Barack Obama presidency? But I digress, back to the story at hand. As previously stated, the 80′s were a different time, from my home TV in New England we got 3 channels, ABC, CBS and NBC. Well actually 5 if you consider those 2 UHF channels that you had to maneuver that pesky antenna to have them viable. Oh yes, and then there were the rabbit ear antenna on the TV that had to be at just such in order to view anything. What, you don't remember rabbit ears? It is kind of comical when one tries to describe this stuff to a 20-30 year old, what you mean there was no digital TV, no HD TV, no cable … 3 channels, are you kidding!!!
Prior to the game between the USA and USSR, United States head coach Herb Brooks gave Team USA one of the greatest motivational speeches in sports history. The speech was made famous by the 2004 movie 'Miracle', however, word for word, Brooks gave the speech to the wide eyed college kids. A plaque exists today in Lake Placid at the aptly named the 1980 Rink -Herb Brooks Arena.
Herb Brooks Miracle Speech from the move 'Miracle' – "Tonight, WE are the greatest hockey team in the world. You were born to be hockey players. Every one of you."
"Great moments … are born from great opportunity. And that's what you have here, tonight, boys.
That's what you've earned here tonight. One game. If we played 'em ten times, they might win nine.
But not this game. Not tonight. Tonight, we skate with them. Tonight, we stay with them. And we shut them down because we can!
Tonight, WE are the greatest hockey team in the world. You were born to be hockey players. Every one of you.
And you were meant to be here tonight. This is your time. Their time is done. It's over.
I'm sick and tired of hearing about what a great hockey team the Soviets have. Screw 'em. This is your time.
Now go out there and take it!" (Herb Brooks)
20 Things You Might Not Know About the "Miracle on Ice". I think the only one I was not aware of what the Jammie Farr, who played Klinger on M*A*S*H, was the only celebrity in attendance. Hmm, can we really refer to Jammie Farr as a celebrity?
For your viewing pleasure, below is the full VIDEO version of the 1980 Olympic medal round game between the United States hockey team vs. the original evil empire, the Soviet Unions, the USSR. Every February 22 I make sure that I find time during the day to watch the full game and remember back in time those incredible moments of the feeling of pride and admiration of that game.  As we now know and knew at the time, it was more than just a hockey game. It was a proxy war fought on a sheet of ice where the United States of America defeated the invincible Soviet Union and gave a county a rallying point that thrust us into the 1980′s, Ronald Regan and the fall of the Soviet Union.
Full game via ESPN Classic, and it was the classic of all-time
TEAM USA – 1980 Olympic Hockey Team Roster
PERIOD 1:
When the USA fell behind early in the game 1-0, I remember going, "rut-oh" please do not tell me we are about to get steam-rolled by the Soviets. After all this, after all the USA hockey team had accomplished, they did not deserve to get embarrassed. The Soviets Union had stormed through their opposition during group play by destroying the opposition as they defeated Japan 16–0, the Netherlands 17–4, Poland 8–1, Finland 4–2, and Canada 6–4 and advanced to the medal round. Would the USA be next? However,  after giving up the early goal the USA seemed to settle down a bit, although you could tell they were tight, the crowd was tight, something good had to happen to releave the nerves. Then at the 14:03 Buzz Schneider scored, with an assist from Mark Pavelich, coming down the left wing at quite an angle, putting one past goalie Vladislav Tretiak, tying the score at 1-1.
20:00 minute mark of the VIDEO above, Buzz Schneider ties the game 1-1
The goal was huge. Why, because it was the first one, it tied the score and it was a precursor of things to come as it was an unusual goal to the best goal tender in the world to give up. Not going down by multiple goals was a big motivational advantage for the USA as it played into Brooks' speech … "Tonight, we skate with them. Tonight, we stay with them. And we shut them down because we can!" However, the USSR scored again with 2:20 remaining in period #1 as they skated in so easily thru the USA defense and one of the Russian "ov's" scored. I can remember thinking, "eesh, that was way to easy". The CCCP was ahead 2-1. The Soviet's kept putting so much pressure on in the USA end as goalie Jim Craig had to make amazing save after amazing save. I thought to myself, "Craig was playing the game of his life, could this kid keep it up." Ha, I call him a kid now, I was younger than all of those playing for USA at the time.
At the 30:40 minute mark of the video above, Johnson scores past Tretiak with 1 second left.
Then it happened, out of no where. With 5 seconds left in the period,  Dave Christian fired a slap shot from 100 feet away from beyond the center line on goal, Tretiak made the save but misplayed the rebound, and Mark Johnson split the defense got the rebound and scored with 1 second on the clock to tie the game at 2-2. The crowd erupted at the arena and I can remember jumping off my bed in excitement and damn near pulling my stitches. For one brief moment, the Soviet hockey machine let their guard down thinking the period was all but over and it cost them dearly.
What was interesting in retrospect as I never remembered it at the time was that because there was 1 second left in the period, the referee needed by rule to drop the puck at center ice. It was goalie Vladimir Myshkin that came back from the dressing room to be in goal, not Tretiak, as following the American goal the entire Soviet team had left the ice and went to the locker room. This would be an interesting omen. Interesting indeed.
PERIOD 2:
The start of the second period began with the unthinkable, the USSR National team coach, Viktor Tikhonov, pulled the best goalie in the world, Vladislav Tretiak, and replaced him with Vladimir Myshkin. What? I remember thinking back at the time, wow, they pulled their best goalie because of one shaky period, unreal. Even in the eyes of a 14 year old who had played team sports his entire life, knew this was big and a knee-jerk, emotional reaction.  Russians acting emotionally? That was akin to Mr. Spock from 'Star Trek' fame acting like a human. Russian coach Tikhonov would later say that this move was the "turning point of the game" and called it "the biggest mistake of his career".
48:17 minute mark of above video
That being said, the second period was tough to watch as the USA was dominated by the Soviet Union being out shot 12-2. In the process the Russians scored another goal in the onslaught of Jim Craig as the USSR went ahead 3-2. Thanks to Craig, the Russians only scored 1 goal, which turned out to be huge. It looked bleak for the Americans as the Russians crashed into goalie Jim Craig and appeared to have knocked him out as he lay horizontal on the ice. The period ended with the Soviet Union leading the USA 3-2.
PERIOD 3:
1:01:24 minute mark in above video Johnson scores and it was all tied up 3-3
After being outplayed most of the beginning of the third period and able to muster very little offense, USA got a power play. I thought to myself, finally, a chance to maybe go on offense. As the power play was running out and the Americans had done little to nothing in taking advantage of the man advantage … it happened. In the final rush of the power play opportunity with 13 seconds left in the penalty, Mark Johnson fired off a shot that went under Myshkin into the net at  8:39, tying the game at 3-3. The crowd went crazy. I remember again jumping out of my chair, popcorn flying everywhere, and when going OMG, did I just pull my stitches again. I did not care.  The goal came out of no where and energized the American crowd.
This was exactly what coach Herb Brooks had wanted, the Americans had a chance to win in the third period. The building was alive. Brooks pre-game words were coming to fruition, "And you were meant to be here tonight. This is your time. Their time is done. It's over … Now go out there and take it!""
THEN IT HAPPENED … THE SECOND SHOT HEARD ROUND THE WORLD. Almost like it was scripted out of a Hollywood movie, Ken Dryden,  one of the announcers and former Montreal Canadian goaltender said,"the US team is depending just a little too much now on Jim Craig" and then it happened, oh boy it happened. USA captain Mike Eruzione, who had just come onto the ice, fired a shot past Myshkin, and Team USA had the lead on the Soviet Union for the first of the game, 4-3. ALL PANDEMONIUM BROKE OUT!!!
At that moment 35 years ago I can remember thinking to myself, Oh my God they are going to do it. We are going to beat the Soviet Union, those bastards! Why would ABC sports being showing this game in tape delay if the USA was not going to pull this off? You see folks, back then the MSM actually showed some sort of patriotism for a beleaguered country. They were not a bunch of socialists like today that seem to revel in bad things, all the time. The crowd went mental, USA teammates mauled each other on the boards after the goal and the Soviets were in disbelief. I can remember the look on coach Herb Brooks face, the smile, the look of … my boys are going to do this, this truly is "your time" and they did "go out there and take it!" Brooks reactive was priceless, a smile. A smile? Brooks never smiles! As Al Michaels' said, "now we have bedlam".
The score was USA 4 – USSR 3, but there were were exactly 10:00 minutes to go, half a period.
Then came the next 10 minutes that seemed like 30. The clock could not countdown fast enough as the Soviet hockey team made offensive rush after offensive rush. I remember Herb Brooks telling Team USA, "play your game boys, play your game." Then there was 5 minutes left. Then there was 3 minutes left and no one was breathing.
I can remember thinking with about 1:20 minutes left in the game, I think we have this. Because the Soviet Union always blew their opponents out, they had no idea how to play a close game and it was showing. It was hard to believe after having seen the Soviet Red Army team and Wing team defeat NHL teams and NHL All-Star teams, the Soviets were in disarray and panicking. I thought to myself as the USSR cleared the puck from their zone, why aren't they pulling their goalie? Why are they not putting another attacker on the ice, it was obvious at this point all the USA was trying to do was clear their defensive zone, not score. But the Soviet coach never pulled the trigger.
THEN THERE WAS LESS THAN A MINUTE …
And when there was 33 seconds left, I had a smile ear to ear. It was over, the puck was cleared from the USA end and the Soviet Union was in complete and total disarray. They were now playing a game they did not now. The Soviet bear had cracked under the pressure.
Final Minute of the "Miracle on Ice"
Then those words from Al Michaels that still bring a chill down my spine, a smile to my face and overwhelm me with pride … "You have 11 seconds, you've got 10 seconds,  the countdown is going on right now. Morrow up to Silk. 5 seconds left in the game, DO YOU BELIEVE IN MIRACLES … YES!!!"
I can remember just welling up with emotion and crying with pure joy. The chants of USA, USA, USA rang out throughout the arena and across the United States.
The United States Hockey team had shocked the Soviet Union and the world. The invincible commies had been taken down by America's youth. The pure emotion of the USA college kids was priceless and so pure and honest. This is what winning the gold medal looked like when no one gave them a chance. The average age of the USA hockey team was 22. They had done the unthinkable and much, much more. They had beaten the Russians. But what these kids really did not realize, is that they energized a nation.
The USA had not won the gold medal, at least not yet. However, they had done something that no one had even dreamed of, they beat the Soviet Union 4-3 and went down not only in sports history, but in the annuls of American history as the symbol of hope, dreams and all things are possible.
Posted February 22, 2015 by

Scared Monkeys Afghanistan

,

America - United States

,

Good & Evil

,

Hockey

,

Olympics

,

Olympics

,

Personal

,

Restoring America

,

Russia

,

Sports

,

We the People

,

You Tube - VIDEO

|

one comment
Hmm, before any criminal charges have been made, NASCAR has suspended Kurt Busch indefinitely ahead of Daytona 500 … I guess it does not help when your nickname is "The Outlaw".

Ahead of NASCAR's biggest race, The Daytona 500, NASCAR has suspended driver Kurt Busch indefinitely, effectively immediately.  The suspension is in the wake of a Family Court of the State of Delaware granting  Kurt Busch's ex-girlfriend, Patricia Driscoll, a protective order, stemming from an alleged domestic violence incident that occurred on September 26, 2014 where Busch is accused of choking her. Kurt Busch and his legal team have denied the allegations and have put forth that notion that Patricia Driscoll is woman scorned, who has set out on a path to destroy Busch. It is a case of she said, he said, with a twist, a bizarre twist. Kurt Busch says his ex is a "trained assassin".
NASCAR has suspended driver Kurt Busch for an indefinite period of time, which means he will not be in Sunday's Daytona 500, pending an appeal.

"Given the serious nature of the findings and conclusions made by the Commissioner of the Family Court of the State of Delaware, NASCAR has indefinitely suspended Kurt Busch, effective immediately," NASCAR said in a statement. "He will not be allowed to race nor participate in any NASCAR activities until further notice."

Busch will appeal the decision, but Regan Smith has been named his official replacement and will fill Busch's seat on Sunday.

"We are extremely disappointed that NASCAR has suspended Kurt Busch and we plan an immediate appeal," Busch's attorney Rusty Hardin said in a statement. "We assure everyone, including NASCAR, that this action against Mr. Busch will turn out to be a travesty of justice, apparent to all, as this story continues to unfold."

The former champion and current driver for Stewart-Haas has spent the last six months embroiled in a dispute with his former girlfriend Patricia Driscoll. The precipitating event was an incident at Dover, Del., last fall in which Busch allegedly choked Driscoll. During that Sept. 26 incident at Busch's motor home, Busch claimed he simply "cupped her head" and she struck her head by accident, while Driscoll claimed she was choked and thrown into a wall.
NASCAR has indefinitely suspended driver Kurt Busch for actions detrimental to stock car racing following the release today of a supplemental disposition setting forth the findings and conclusions that formed the basis for the Family Court of the State of Delaware's decision on Monday to issue an Order of Protection from Abuse against him.
Busch, driver of the No. 41 car, was found to be in violation of:
• Section 12.1.a: Actions detrimental to stock car racing
• Section 12.8: Behavioral Penalty
"Given the serious nature of the findings and conclusions made by the Commissioner of the Family Court of the State of Delaware, NASCAR has indefinitely suspended driver Kurt Busch, effective immediately. He will not be allowed to race nor participate in any NASCAR activities until further notice.
"Kurt Busch and his Stewart-Haas Racing team are fully aware of our position and why this decision was made. We will continue to respect the process and timetable of the authorities involved."
This is the first driver that NASCAR has ever suspended for domestic violence. It appears the NFL has spread to NASCAR. Obviously NASCAR felt the need to get ahead of this issue, having seen how badly NFL Roger Goodell handled the Ray Rice knock out of his girlfriend in a hotel elevator last year. Even before criminal charges were filed, NASCAR has decided to put the brakes on Kurt Busch.
It's important to note that Busch has not yet been charged with any crime in the alleged incident — that is still an open investigation with the Delaware Attorney General's office.

And let's be clear: There are plenty of people in the NASCAR garage area who have their own opinions about Driscoll, her motives and her credibility.

But Jones' ruling regarding the protective order was worded so strongly in Driscoll's favor that it left NASCAR with no choice but to suspend Busch — especially in light of recent high-profile cases of domestic abuse or assault involving athletes, particularly NFL players Ray Rice, Greg Hardy and Adrian Peterson.

The American public appears to have a zero-tolerance policy when it comes to public figures and domestic abuse.
Patricia Driscoll Granted Restraining Order Against Kurt Busch
UPDATE I: Kurt Busch's suspension upheld by panel.
An appeals panel upheld NASCAR's indefinite suspension of driver Kurt Busch on Saturday, one day after the sanctioning body handed down punishment based on the findings of a Delaware family court.

NASCAR announced the decision from its headquarters at the International Motorsports Center, where Busch's appeal was heard by a three-member panel consisting of Mr. Paul Brooks, Ms. Lyn St. James and Mr. Kevin Whitaker.

Busch will file a final appeal to the National Motorsports Final Appeals Officer, Bryan Moss.
WITH JESSE JACKSON, ITS NOT ABOUT BASEBALL CARDS, ITS ALWAYS ABOUT THE RACE CARD ...
This should be a learning lesson for kids, instead it has been highjacked by race-bating smear merchants. This should be a lesson to young kids that there are rules and when some one breaks them, there are consequences. Sadly, those that only want to keep black and white against each other have another vehicle to preach their hate. It is predictable as the sun coming up in the east and setting in the West, it is as certain as death and taxes … Jesse Jackson playing the race card.
The Reverend Jesse Jackson cries "no championship, no peace" with regards to the Jackie Robinson West Little League baseball team being striped of their US Championship because of cheating. The Reverend Jackson is upset that the first all-black Little League baseball team US champion has been stripped of their title due to breaking rules. But Jackson says, its not like they broke age rules, it was just ones of boundaries. WHAT!!! Jackson stated, "boundary and residence issues — when parents have dealt with housing difficulties and are trying to find decent schools for their children — can't really be compared to other cheating, such as lying about their ages." HUH, why not? What a joke, Jesse Jackson, Mayor Rahm Emanuel and the rest of the pathetic and corrupt Chicago politicians want to teach a new group of youth, the Chicago way.
Little League Baseball decision to follow rules is racist
"I was upset to the point of tears this morning," Jackson said, adding that he already had spoken to some of the parents of the players and was distressed to learn they had heard the news through the media.

Their children already have been harassed over the controversy, Jackson said, and "it's not like the children are cheating."

Boundary and residence issues — when parents have dealt with housing difficulties and are trying to find decent schools for their children — can't really be compared to other cheating, such as lying about their ages.

"There's nothing these kids have done to have their championship erased," Jackson said. "I hope the Las Vegas team will have the strength of character not to accept."
THEN CAME WHAT WE WERE WAITING FOR … JESSE JACKSON PLAYING THE RACE CARD.
Later, Jackson spoke at a press conference with members of the Jackie Robinson West team and Chicago pastor Michael Pfleger, who joined Jackson in telling Little League International to reverse its decision. They had no problem bringing up the issue of race. Jackson asked, "Is this boundaries or race?" while Pfleger (who is white) said, "I definitely believe racism is a part of this."
Little League cheating call raises allegations of racism.
At an afternoon press conference, the Rev. Jesse Jackson asked, "Is this about boundaries or race?"

"This decision's untimely and inappropriate at this time," Jackson told reporters. "It should not take six months after a team has played a championship game to determine eligibility to play the game in the first place."

The league's decision came after teams from Illinois and Nevada complained that Jackie Robinson West's roster was rigged.

The Rev. Michael Pfleger called the complaints from the Illinois team "mean-spirited" and "personal."

"When you're going over to voter registration and going to birth certificates and doing all this time of hunting and a witch hunt that's been going on for the last number of months, I can't help but wonder the question if the same thing would have been done with another team from another place, another race," Pfleger said.
JUST WHEN YOU THOUGHT THE STORY WAS TOO GOOD TO BE TRUE … IT WAS.
The Little League feel good story of this past summer turns out to be another hoax and scandal. The Jackie Robinson West team, the first all-African-American team to win the US championship, has been stripped the U.S. championship. As reported at WGN9  Little League International has stripped Chicago's Jackie Robinson West of its national title after finding the team falsified its boundary map.
The league made the announcement Wednesday morning, saying the Chicago team violated regulations by placing players on the team who didn't qualify because they lived outside the team's boundaries. Little League International also suspended Jackie Robinson West manager Darold Butler from league activity.

The announcement comes after an investigation that started when a suburban coach alleged the Jackie Robinson West team violated rules by poaching top players from nearby suburbs.

Little League had said in December that an investigation into the Chicago team found no violations.

Jackie Robinson West's championship run captured the attention of the nation and turned the all-black team into heroes in their hometown.
Click HERE or on PIC to watch ESPN VIDEO
Little League Baseball has stripped the U.S. championship from the Chicago-based Jackie Robinson West team and has suspended the coach for violating a rule prohibiting the use of players who live outside the geographic area that the team represents, it was announced Wednesday.

The Jackie Robinson West team, the first all-African-American team to win the championship, must vacate wins from the 2014 Little League Baseball International Tournament — including its Great Lakes Regional and United States championships.

The team's manager, Darold Butler, has been suspended from Little League activity, and Illinois District 4 Administrator Michael Kelly has been removed from his position.

The organization found that the Jackie Robinson team used a falsified boundary map, and that team officials met with neighboring Little League districts in Illinois to claim players and build what amounts to a superteam.

As a result, the United States championship has been awarded to Mountain Ridge Little League from Las Vegas.
COLLEGE BASKETBALL HAS LOST A LEGEND, DEAN SMITH PASSES AWAY …
Dean Smith, the former legendary head men's basketball coach at the University of North Carolina died Saturday night at the age of 83. Dean Smith passed away "peacefully" at his home in Chapel Hill surrounded by his wife and five children. Smith's family said in the statement, "We are grateful for all the thoughts and prayers, and appreciate the continued respect for our privacy as arrangements are made available to the public. Thank you." It is just amazing how many people's lives this man touched, how innovative he was within the game and just how many of the greatest players this man coached in his career. Dean Smith was a phenomenal coach, a tremendous competitor and a humble man of such incredible character. College basketball has lost a legend.
Dean Smith, Rest in Peace
Former University of North Carolina head men's basketball coach Dean Smith died Saturday night in Chapel Hill, according to the university. He was 83 years old.

"Coach Dean Smith passed away peacefully the evening of February 7 at his home in Chapel Hill, and surrounded by his wife and five children," the Smith family said in a statement. "We are grateful for all the thoughts and prayers, and appreciate the continued respect for our privacy as arrangements are made available to the public. Thank you."

Smith was the head coach of the Tar Heels from 1961 to 1997, retiring as the winningest coach in college basketball. He led the Tar Heels to national championships in 1982 (VIDEO – UNC vs. Georgetown) and 1993 (VIDEO – NC vs. Michigan) , to 13 ACC Tournament titles, 11 Final Fours, and an NIT championship, and directed the United States Olympic Team to a gold medal at the 1976 Summer Games.
Click HERE or on pic to watch VIDEO
ESPN – Dean Smith dies at age of 83.
Dean Smith taught team work, he taught that no one person was bigger than the team. Sounds profound and easy, right? But try doing it when you have the likes of James Worthy, James Perkins, Michael Jordan and a who's who of Carolina Blue greats. I can remember the joke of the time when Michael Jordan was at Chapel Hill, of Dean Smith's coaching career: Who  was the only person ever to hold Michael Jordan under 20 points a game. Of course the answer is, Dean Smith. Some would use this as a punch line or something to hold against Smith, I, personally think it is the sign of remarkable character and coaching. The reason was because team meant more than an individual. Passing the ball and playing defense was just as important as scoring. As Smith once told Jordan during his freshman year at UNC, if you cannot pass the ball, you cannot play. Try attempting to do that in today's college game. Maybe that is what is wrong with college basketball today.
Smith coached the Tar Heels from 1961 to 1997, going 879-254 and retiring as the winningest coach (VIDEO) in college basketball history. North Carolina won NCAA championships in 1982 and 1993 and reached the Final Four 11 times under Smith.

"It's such a great loss for North Carolina — our state, the University, of course the Tar Heel basketball program, but really the entire basketball world," said current Tar Heels coach Roy Williams, who spent 10 years as an assistant under Smith. "We lost one of our greatest ambassadors for college basketball for the way in which a program should be run. We lost a man of the highest integrity who did so many things off the court to help make the world a better place to live in.

"He set the standard for loyalty and concern for every one of his players, not just the games won or lost."

Smith coached Hall of Fame players Michael Jordan, James Worthy, Bob McAdoo and Billy Cunningham, won 13 Atlantic Coast Conference tournament titles and coached the U.S. Olympic team to the gold medal in 1976.

"He was the greatest there ever was on the court but far, far better off the court with people," Williams said. "His concern for people will be the legacy I will remember most.
 Coach Dean Smith Tribute Video
UPDATE I: Friends, players and colleagues mourn the loss of former UNC coach Dean Smith.
Following the announcement of his passing, several of his former players, friends, colleagues and even current players weighed in with their support and memories of the great coach.
UPDATE II: Reaction to the passing of former North Carolina head coach Dean Smith.
North Carolina head coach Roy Williams released a statement on the passing of Smith.

"It's such a great loss for North Carolina – our state, the University, of course the Tar Heel basketball program, but really the entire basketball world. We lost one of our greatest ambassadors for college basketball for the way in which a program should be run. We lost a man of the highest integrity who did so many things off the court to help make the world a better place to live in.

"He set the standard for loyalty and concern for every one of his players, not just the games won or lost.

"He was the greatest there ever was on the court but far, far better off the court with people. His concern for people will be the legacy I will remember most.

"He was a mentor to so many people; he was my mentor. He gave me a chance but, more importantly, he shared with me his knowledge, which is the greatest gift you can give someone.

"I'm 64 years old and everything I do with our basketball program and the way I deal with the University is driven by my desire to make Coach Smith proud. When I came back to Carolina, the driving force was to make him proud and I still think that today.

"I'd like to say on behalf of all our players and coaches, past and present, that Dean Smith was the perfect picture of what a college basketball coach should have been. We love him and we will miss him."
Dean Smith – Sports Century
UPDATE III: North Carolina coaching icon Dean Smith passes away at 83 … If there's a Mount Rushmore of basketball, Dean Smith is on it."
In recent years, Smith had rarely made public appearances as he battled a progressive neurocognitive disorder that affected his memory. The last time fans saw him in the building that bears his name was during a reunion for the program's 100th anniversary in 2010. Three years earlier, UNC alum Michael Jordan memorably kissed Smith's head during a celebration of the school's 1957 and 1982 national championships.

"Dean Smith is one of the great coaches in the history of sport, not just basketball," ESPN analyst and Duke alum Jay Bilas told The Fayetteville Observer recently. "I think his legacy goes beyond just the wins and losses. He built the program there and a culture. There's only been a few programs that have been in that rarefied air, and he set a standard that few have been able to reach, not just on the floor, with basketball, but he showed such a social conscience when it wasn't easy to do so.

"That's why his legacy is doing the right thing and standing for something, both in basketball and outside of that. If there's a Mount Rushmore of basketball, Dean Smith is on it."
UPDATE IV: Michael Jordan Comments on the death of Dea Smith … He was 'second father' to me.
"He was more than a coach," Jordan said in a statement. "He was my mentor, my teacher, my second father."
It was the most watched TV show ever! Now that the NFL has our attention, it's time to focus on improving it's image.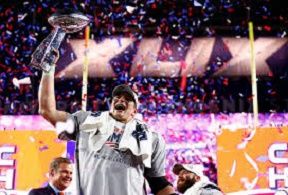 Daily Commentary – Wednesday, February 4, 2015
Download
JOHNNY FOOTBALL OFF TO REHAB …
ESPN is reporting that Cleveland Brown's QB Johnny Manziel entered treatment on Wednesday; however, it was not said for what he entered rehab for.
ESPN's Skip Bayless is owed an apology from many in the media and elsewhere. Bayless called Johnny Football's issues a while ago, when many others in the media had the asme information, but were too afraid to say it. Skip Bayless said on 'First Take,' "I am so proud of you, Johnny Manziel, for having the guts to do this. It's not easy."
Browns quarterback Johnny Manziel entered treatment on Wednesday, adviser Brad Beckworth told ESPN.com on Monday.

"Johnny knows there are areas in which he needs to improve in order to be a better family member, friend and teammate, and he thought the offseason was the right time to take this step," Beckworth said.

"On behalf of Johnny and his family, we're asking for privacy until he rejoins the team in Cleveland."

Manziel is expected to be in rehab at least a few weeks, but the amount of time depends largely on what doctors recommend, according to a source close to Manziel.

A source said the Browns are tentatively expecting Manziel to participate in training camp but are not placing any timetables on other offseason activities as he works through the treatment process.

The quarterback is voluntarily entering treatment as a direct result of his lifestyle away from the field, and he informed people in his circle last week that he wants to "figure out his value system," a source said.
Remember when Johnny Football arrogantly said, "I am not changing who I am." Hmm, really … you better and you better be serious out rehab. The world is filled with failed NFL players who washed out and did not take their job or the unique position they have been afforded seriously.
"I'm not gonna go to change who I am for anybody. I'm growing up and continuing to learn from my mistakes and trying not to make the same ones over and over again," Manziel said. "But am I gonnna live in a shell, or am I just going to hide from everybody and not do anything? I don't think that's the way I should live my life and I'm not going to do it. I am here, I am very committed to football, I'm committed to my job, but on the weekends I'm going to enjoy my time off. I mean, I think I deserve it."
Johnny Manziel: 'I'm not going to change who I am'
Now the NFL should concentrate on their PR problem and on the image the players and teams have on children
Daily Commentary – Tuesday, February 3, 2015
Download