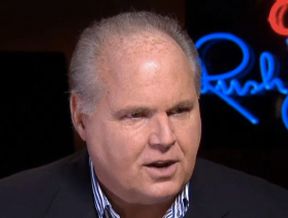 Daily Commentary – Wednesday, November 12, 2014
Download
According to The Daily Caller, Conservative Radio host Rush Limbaugh has threatened to sue the Democratic Congressional Campaign Committee (DCCC) for defamation and interference. According to accounts, El Rushbo has retained the services of attorney Patty Glaser, who reportedly delivered a letter to the DCCC on Monday notifying the committee of the possibility of a lawsuit demanding a retraction and apology for intentionally misleading the public. Limbaugh is stating that the DCCC defamed him when they made statements attributed to Rush out of context by Democrat fundraising letters trying to ignite the liberal base. The PJ Tatler is spot on when they say, it is extremely difficult for a public figure to win a defamation case and there is none more public than Rush. However, Democrats have made a cottage industry out of try to defame Rush Limbaugh in the past, why would this be any different?
Limbaugh retained the services of lawyer Patty Glaser and demanded that the DCCC "preserve all records in anticipation of a lawsuit for defamation and interference" after the Democratic Party group led a campaign against Limbaugh based on out-of-context statements the host made about sexual assault. Limbaugh's legal team delivered a letter to DCCC representatives Monday informing them of the legal threat. Limbaugh has also demanded a public retraction and apology.

The Limbaugh team is currently proceeding from the standpoint of litigating and has not yet made a decision as to whether the DCCC could make any concessions at this point to prevent the lawsuit.

The DCCC "has intentionally disseminated demonstrably false statements concerning Rush Limbaugh in a concerted effort to harm Mr. Limbaugh, and with reckless disregard for the resulting impact to small businesses across America that choose to advertise on his radio program" according to the GlaserWeil law firm's letter to the DCCC, which was obtained by TheDC. "Mr. Limbaugh clearly, unambiguously, and emphatically condemned the notion that 'no' means 'yes.'"

"Let's be clear: Rush Limbaugh is advocating for the tolerance of rape" the DCCC stated in a September fundraising email after Limbaugh mocked Ohio State's new mandatory sexual consent guidelines.
This is one law suit I very much hope goes forward.
On Friday Rush Limbaugh said what many have been thinking, … "If I had a father, he would look like "Shorty" Delbert Belton, and, if I had a son, he'd look like Chris Lane." And there is literally no outrage by the two senseless murders of 89 year old Shorty" Delbert Belton or Aussie baseball player Chris Lane by Barack Obama. No mention, no calls, no nothing. But the liberal MSM was all a flutter over a rodeo clown wearing an Obama mask. There was outrage over the shooting death of Trayvon Martin at the hands of a "white" Hispanic, George Zimmerman. However, Chicago is a killing filed of black on black crime, Chris Lane was killed by three thug, bored teens and 'Shorty' was beaten to death by two black teens. Where is the equivalent moral outrage?
A full transcript can be found at Rush Limbaugh's website.
"You know, if I had a father, he would look like "Shorty" Delbert Belton, and, if I had a son, he'd look like Chris Lane. Nobody's gonna say that. Obama has not called the parents of Chris Lane. I don't know if Obama has called anybody related to "Shorty" Delbert Belton, but these two were people killed by bored, thug-wannabe African-Americans.  There still has been more outrage over a rodeo clown wearing an Obama mask than either of these two events combined. It's this kind of thing — this cultural rot, this decay — that you can't even address without being called a racist"
Posted August 26, 2013 by

Scared Monkeys Barack Obama

,

Community Agitator

,

Crime

,

Divider in Chief

,

Epic Fail

,

Lost in Smallness

,

Media

,

Murder

,

Obamanation

,

Radio

,

Rush Limbaugh

,

WTF

,

You Tube - VIDEO

|

one comment
Conservative talk radio host fires Cumulus.
As reported by Inside Music Media, after months of bitter negotiations, Sean Hannity, the #2 rated radio host, has rejected an offer to extend his contract. In essence, Hannity beat Cumulus CEO Lew Dickey to the punch and gave his a taste of his own medicine. Hannity fired Cumulus. It is also being reported that sources close to Hannity feels Cumulus treats its employees "like dirt…sub-human." Rumors have it that Michael Savage will replace Hannity for afternoon drive time. Pardon the laughter, oh yea, that's going to work. This is only half of the story. The liberals foaming at the mouth that Hannity, and Rush, were going to be silenced could not be more wrong.
Johnny Paycheck – 'Take this Job and Shove It'
In the end as the Daily Caller reports, Hannity told Cumulus to 'Take this Job and Shove It'.
But as NewsBusters reports, that Michael Savage could replace Hannity. More importantly they are reporting that the LIBS have got the entire Hannity being fired from radio 100% wrong. Sean Hannity is not going to be silenced from the radio waves. BOT EVEN CLOSE. According to Del Colliano, Clear Channel is "100% behind Hannity and will replace 80% of the Cumulus stations as soon as the current deal is up."
Sean Hannity, the popular conservative radio and TV talk show host, turns down a recent Cumulus offer to renew his contract to continue aitring [sic] his show on 40 of their stations.

And now Lew "Trickey" Dickey has apparently seized the low road again.

He allowed Michael "I hope you get AIDS and die, you pig" Savage to go on Cumulus stations and predict that he – the 71-year-old talker – will replace Hannity in afternoon drive. [...]

Sources close to the situation who wish to remain anonymous in my witness protection program say it's the other way around.

I have known for weeks that the opposite is true.
More from NewsBusters on the Libs getting it wrong again. SM had stated earlier as negotiations were going on between Rush and Hannity with Cumulus that LIBS best be careful. don't ask fro things they might just come true. Sorry LIBS, this is not the worst thing that could happen to Hannity … it was the best thing for the #2
Just how wrong were liberal media members on this?

According to Del Colliano, Clear Channel is "100% behind Hannity and will replace 80% of the Cumulus stations as soon as the current deal is up."

This will allow Hannity to stay on 500-plus stations carried through Premiere.

For the record, sources close to Hannity told me Friday that Del Colliano's gotten it 100 percent correct. Another prominent, independent source also confirmed this moments ago.

This also squares nicely with what Alan Colmes predicted back in July.
Much more interesting thoughts as to what is the driving force behind this breakup at The American Spectator.
Posted August 17, 2013 by

Scared Monkeys Conservatives

,

Jobs

,

Liberals

,

Media

,

Moonbats

,

Progressives

,

Radio

,

Rush Limbaugh

,

Sean Hannity

,

You Tube - VIDEO

|

no comments
Daily Commentary – Wednesday, July 31, 2013
Download
Could this really be good for business? A note to the LEFT, I wouldn't get too giddy …

The Politico is reporting that Cumulus Media is planning on dropping both top conservative radio talk show hosts Rush Limbaugh and Sean Hannity from its stations. Yea that's the ticket, lose your two biggest talents and think that you can go forward without a gaping hole in your earnings or listener-ship.  According to the reports, some industry sources said that Cumulus is also expected to move some of its existing talent,  which includes Mike Huckabee, Mark Levin, and Michael Savage into one of the slots. With all due respect to these folks, especially Mark Levin, they are not el Rushbo or Hannity, nor do they garner the audience that these two individuals have. Rush and Hannity are by far the two biggest radio draws, its not even close.
In a major shakeup for the radio industry, Cumulus Media, the second-biggest broadcaster in the country, is planning to drop both Rush Limbaugh and Sean Hannity from its stations at the end of the year, an industry source told POLITICO on Sunday.

Cumulus has decided that it will not renew its contracts with either host, the source said, a move that would remove the two most highly rated conservative talk personalities from more than 40 Cumulus channels in major markets.

The decision comes after negotiations between Cumulus and Premiere Networks, the division of Clear Channel that distributes Limbaugh and Hannity's shows, broke down due to disagreements over the cost of the distribution rights, the source said. Cumulus is known to drive a hard bargain on costs, and Clear Channel is known to seek top dollar for big names.
Over at Twichy, they show that Media Matters, Eric Boehlert pretty excited about it. The comical and ironic aspect of his tweets is when he refers to Rush as "hate" programming. Really, Media Matters accusing others of "hate" marketing is like the Obamacare call centers put in place to answer questions and add people to Obamacare working part time and not able to be eligible for insurance.
The Top Talk Radio Audiences from Talkers.com
A note to the LEFT, don't get too giddy and don't ask for things they might just come true. Read the article at 'The Week' that makes the most sense regarding the potential parting of the ways of Rush and Hannity from Cumulus. The article asks, Who's dumping Who? Here are the facts and if Sean Hannity and Rush Limbaugh both leave Cumulus, they will be replaced with more conservative talk radio host. This opens up a potential of more local talent or other B name hosts. It is not like Cumulus is going to replace the #1 and #2 radio audience talk show hosts with elevator music or NPR. Thus, it will add more conservative talent to the air waves. Then, it is not like Rush and Sean are not going to find new homes on the radio and their legions of fans are just going to change their preset radio button to a new station. Those that listen on line will just add a new app. So in the long run, the LEFT who think this is a bad thing, may rue the day that this shake up happens because it just will provide even more conservative talent on the air waves. Oh the horror.
That's an important distinction, says Hinckley. And if Limbaugh goes to Clear Channel, it's not like he'll be off the airwaves. His legions of fans would just have to change the presets on their radios.

And Cumulus wouldn't drop conservative talk radio altogether — it would just switch personalities, says Byers. In recent weeks, "Cumulus has been quietly reaching out to radio talent agents and political insiders about new local and regional station hosts to fill some of the airtime that will be left vacant by Limbaugh and Hannity," he says. "Cumulus is also expected to move some of its existing talent — which includes Mike Huckabee, Mark Levin, and Michael Savage — into one of the slots."

"Cumulus has already tried to position Huckabee as a 'safe' alternative to Limbaugh," says Adam Martin at New York: "A conservative commentator who wouldn't call people 'sluts' on air." Huckabee doesn't have a huge following, according to Talkers magazine's most recent analysis, but Savage and Levin do.
Who here has grown tired of Bill O'Reilly?
Bill O'Reilly and Laura Ingraham went at it last night on 'The O'Reilly Factor' over the "Thump the Bible" controversy. Of course the debate occurred when O'Reilly actually allowed her to speak and was not  acting defensively and like a boorish fool. As stated by the Gateway Pundit, the fire works started almost immediately.
Keep it up O'Reilly and this is how you will lose your audience. After watching the below segment, I am not sure what the difference between O'Reilly and a liberal, blowhard from the MSM who refuses to allow a guest with an opposing point of view? How can anyone expect an honest debate and discussion of an issue if 5 seconds into the debate, you shut down the words?
From Mediaite:
Bill O'Reilly tonight responded to criticisms from the right over his commentary last week that gay marriage opponents need to do more than just "thump the Bible" if they want to win the argument. After a Talking Points Memo largely focused on mocking liberal media attempts to gin up a feud between himself and Rush Limbaugh, O'Reilly brought on Laura Ingraham, who actually told O'Reilly he was wrong in saying what he said. O'Reilly was stunned with Ingraham, shouting over her and telling her "I'm disappointed in you."

Ingraham first surprised O'Reilly by agreeing that there actually is a feud of sorts going on between him and people like Limbaugh, given Limbaugh's harsh condemnation of O'Reilly's commentary. O'Reilly dismissed the idea he and Limbaugh are enemies, saying "I don't care what he says, he can say whatever he wants.
A note to Bill O'Reilly and I say this will all du respect because O'Reilly did great work with Megan's Law; however, The LEFT fear Rush Limbaugh, not you. They fear Rush because he actually stands for something. You are a legend in your own mind.
Conservative radio host Rush Limbaugh told his audience: "For the First Time in My Life I Am Ashamed of My Country".  Limbaugh went on to say that he is tired of the same old politics of fear and the sky is falling fear tactics. Its the same stuff, the same threats, blame and arguments. All we do is just continue to spend more and more and no one wants to talk about the real issue … WE cannot afford to spend any more.
Here's Rush Limbaugh comments from today's show:
"Ladies and gentlemen, for the first time in my life, I am ashamed of my country. To be watching all of this, to be treated like this, to have our common sense and intelligence insulted the way it's being insulted? It just makes me ashamed.

"Seriously man, here we get worked up over 44 billion dollars – that's the total amount of money that will not be spent that was scheduled to be spent this year."

Limbaugh added that the government would continue to spend more money this year than last year in spite of the sequester cuts.

"I've said the same things over and over for 25 years," Limbaugh said, adding that it didn't matter who was in power. "It's the same stuff, it's the same threats, it's the same arguments, over and over nothing ever changes."

"We just keep spending more money, we create more dependency, we get more and more irresponsible one crisis to the next, all of them manufactured," Limbaugh added. "Except for the real crisis that nobody ever addresses

and that is we can't afford it."
Rush Limbaugh's complete comments can be seen and read HERE.
You are not the only one who is ashamed Rush; however, I beat you to the punch … I was ashamed when America reelected this class warfare, community agitator President to a second term.
President Barack Obama and Democrat House Minority leader Nancy Pelosi believe that Washington DC does not have spending problem. However, it is obvious to a majority of Americans that Washington has a severe spending problem.
Posted February 22, 2013 by

Scared Monkeys Budget Deficits

,

Economy

,

Government

,

National Debt

,

Obamanation

,

Out of Control Spending

,

Politics of Fear

,

Rush Limbaugh

,

Tax & Spend Liberals

,

Wasteful Spending

,

You Tube - VIDEO

|

4 comments
THE IMPERIAL PRESIDENT WHO THINKS ALL MUST AGREE WITH HIM OR ELSE …
America, want to know why "We the People" have a First Amendment and there is "Freedom of the Press"? Our Founding Fathers provided us with these liberties to prevent exactly what Barack Obama is attempting to do in bullying the media not to question his policies and agenda. Greta Van Susteren references this very notion as she stated,  "apparently President Obama wants his usual media pass and Fox challenges his policies – which happens to be the media's job." Believe it or not America, it is American to question your leaders.
The ultimate bully
This was in response to President Barack Obama's interview with The New Republic where he called out FOX News and Rush Limbaugh for being the problem with the dysfunction in Washington, DC and the gridlock due to GOP obstruction. Obama claimed that it if FOX News would not punish and bully Republicans when they do compromise, that things would be different. Does some one need to inform Obama that it is the media's role to always question our government, not agree with them? But for Obama, the Imperial president, who seems more comfortable acting as a dictator than he does working under the confines of the US Constitution and our Republic.
President Barack Obama's comments during his interview with the New Republic via Free Republic:
President Obama in response to a question about working with Republicans: "One of the biggest factors is going to be how the media shapes debates. If a Republican member of Congress is not punished on Fox News or by Rush Limbaugh for working with a Democrat on a bill of common interest, then you'll see more of them doing it. I think John Boehner genuinely wanted to get a deal done, but it was hard to do in part because his caucus is more conservative probably than most Republican leaders are, and partly because he is vulnerable to attack for compromising Republican principles and working with Obama.

The same dynamic happens on the Democratic side. I think the difference is just that the more left-leaning media outlets recognize that compromise is not a dirty word. And I think at least leaders like myself—and I include Harry Reid and Nancy Pelosi in this—are willing to buck the more absolutist-wing elements in our party to try to get stuff done.
Greta Van Susteren went on to call out Obama and Democrats for the bullies that they really are. Which plays into the age old adage that we have known all along that if you are accusing some one else of doing something, you yourself are probably the guilty one. Who does not believe that Democrat leadership pressure and intimidate their members not to go on Fox News and if they do are provided pro-Obama talking points?
And do you know what else? Brace yourself for this one! Some Democrats have told me that they want to come on Fox to discuss issues but they get heat from their Leadership for appearing on Fox.  Does President Obama know that? So which Party is intimidating its members? And to say Senator Harry Reid is willing to compromise is just wrong.  He has not allowed a budget to get to the Senate Floor for years to even begin a discussion.  The budget process is where all compromise begins and ends and ended it before it even got started.
This is not the first time that Obama has done this. From the outset that have tried to marginalize and prevent Fox News from having the same access as the rest of the complicit, corrupt media complex. Otherwise known as the Obama propaganda machine.
Posted January 28, 2013 by

Scared Monkeys Barack Obama

,

Divider in Chief

,

FOX NEWS

,

Freedom of Speach

,

Freedom of the Press

,

Hope and Change

,

Imperial President

,

Media

,

Media Bias

,

Obamanation

,

Partisan hack

,

Rush Limbaugh

,

Transparency

,

US Constitution

,

WTF

|

3 comments
David Friend, the CEO of Carbonite has admitted that dropping Rush Limbaugh hurt his companies growth more than expected. Really, this was a shock to him? Any first year non-liberal business school student could have predicted this. But as reported at Legal Insurrection, Carbonite's succumbing to liberal pressure following the Sandra Fluke controversy. Just wondering David Friend, how is Carbonite (CARB) doing as compared to El Rushbo's ratings?
Carbonite famously dropped Rush Limbaugh on a Saturday Night at the height of the Sandra Fluke controversy.  Carbonite became the poster child for the Rush boycott movement organized by Media Matters, which coordinated the effort with so-called independent groups.

At the time I examined Carbonite's SEC filings, and how Carbonite had built its business model based on high growth driven, in significant part, by the promotion of Carbonite by Limbaugh.  I predicted that Carbonite had shot itself in the foot, and put political correctness before the interests of its shareholders.

Since that time the Stop Rush effort has imploded, with backstabbing and accusations among the participants.  Limbaugh has had better numbers than ever, and the hype surrounding Mike Huckabee as a Limbaugh replacement has gone flat.
Yup, paybacks are a bitch.   It really makes one wonder how clueless the LEFT truly is when it comes to business. Then again, should I really be surprised? Just as with Chick-Fil-A, the CEO of Carbonite was just as misguided thinking that the LEFT had the high-ground. Carbonite ignorantly crumbled to the pressure of the Left rather than actually using sound business principles. As NewsBusters stated, "Perhaps Friend would like some Chick-fil-A fries to go with his order of crow meat?"