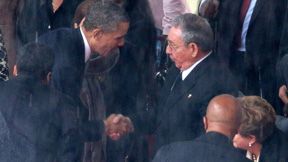 Daily Commentary – Wednesday, December 11, 2013
Download
NOTHING SURPRISES ME ANY MORE FROM THE MANCHURIAN CANDIDATE YURI OBAMA …
This morning in Soweto, Johannesburg President Barack Obama shook hands with Cuban leader Raúl Castro at the memorial for the late President Nelson Mandel. Hmm, I am not quite sure why anyone is surprised, this is the man who has embraced America' enemies and made deals with them, bowed to Saudi princes and other foreign leaders, while treating our closest allies like dirt. What's in a hand shake? A lot.
But like I said, what is a handshake among communist comrades, water does seek its own level now, doesn't it? It would appear that Hot Air agrees as they opine, "One's a communist who's reduced his country to ruins, the other's Raul Castro".
But of course CNN was quick to defend and make excuses for Ovama's actions. Hmm, guess it was a good thing Adolf Hitler was not attending.
Obama knew, of course, that Castro would be on stage. But refusing to shake Castro's hand would not have been in keeping with Mandela's legacy of reconciliation. And it was not the first handshake between American-Cuban leaders. In 2000, at the United Nations, then-President Bill Clinton shook hands with Fidel Castro, the leader of the Cuban Revolution, its first revolutionary president, and Raul's brother.

Obama says he wants to improve relations with Cuba, but disagreements over human rights violations and other issues continue to keep the countries apart.

The handshake came before Obama's speech, in which he made remarks about reconciliation.

"It took a man like Madiba to free not just the prisoner, but the jailer as well – (applause) – to show that you must trust others so that they may trust you; to teach that reconciliation is not a matter of ignoring a cruel past, but a means of confronting it with inclusion and generosity and truth," Obama said.

The President also made sure to include a comment about freedom, which seemed directly aimed at dictatorial regimes.
Posted December 10, 2013 by

Scared Monkeys America - United States

,

Barack Obama

,

Communism

,

Community Agitator

,

Cuba

,

Divider in Chief

,

Epic Fail

,

Government

,

Lost in Smallness

,

Misleader

,

Nanny State - Big Government

,

Obamanation

,

Politics

,

Tyranny

,

Welfare State

,

What Happened to the Country I Grew Up In?

,

WTF

,

You Tube - VIDEO

|

2 comments
The hijacking of Trayvon Martin's memory and the misrepresentation of the George Zimmerman murder trial.
The Rev. Jesse Jackson has called fro the boycott of Florida because of Florida's 'Stand your Ground' laws in the wake of the George Zimmerman "not guilty" jury verdict in the death of Trayvon Martin. Jesse Jackson in his over the top manner has also compared Florida to 'Apartheid' South Africa. Really Mr. Jackson, Florida is like "apartheid" South Africa? Such comments from an old and tired race-baiting messager do a dispersive to those that really struggled in South Africa, to the Zimmerman murder trial jury and to Trayvon Martin. Where to begin? First, when will anyone in the race-baiting industry act responsible and honest in the wake of the not guilty Zimmerman verdict? No where in the defense of George Zimmerman was "Stand your Ground" used. NO WHERE!!! In fact, the Zimmerman defense attorneys purposely decided not to use it and instead simply used common self-defense. Making matters even worse, it is a falsehood that 'stand your ground' is discriminatory. As reported at the Daily Caller, in Florida  blacks benefit from Florida 'Stand Your Ground' law at disproportionate rate. Second, you show yourself to be a fool and trivialize apartheid in South Africa to the death of one individual, in which a jury returned a "not guilty" verdict.
Hard to give Jackson any credibility when he had no problem with Castro's Cuba
Stevie Wonder isn't the only one who wants to boycott Florida over its "stand your ground" law, which served as a backdrop in the recent not guilty verdict for George Zimmerman in the shooting death of Trayvon Martin.

Civil rights activist Rev. Jesse Jackson said Friday he also wanted a boycott of the state.

"We can boycott Florida, cut conventions in Florida, for its 'stand your ground' laws," said Jackson, speaking on a panel at the National Urban League's annual conference in Philadelphia. "If we can boycott South Africa and bring it down, we should boycott Florida and bring it down."

Jackson made the comments less than a week after Florida's governor, Rick Scott, said he wouldn't change the controversial law that allows people to use physical force in self-defense without a duty to retreat.

Benjamin Crump, the attorney for the Martin family, also spoke at the conference Friday, where he said that changing "stand your ground" was the way to "properly honor" the legacy of Trayvon Martin.
The Gateway Pundit reminds us of an important little fact, Jesse Jackson compares Florida to apartheid South Africa; however, Jackson is perfectly ok with Fidel Castro's Cuba. Now which one would be considered more like the oppressive apartheid South Africa, Florida or Cuba?
Oh wait, and then there is Benjamin Crump, the attorney for the Martin family, who says that changing "stand your ground" was the way to "properly honor" the legacy of Trayvon Martin. HOW? Why don't they also change the speeding laws, drunk driving and drug possession laws as well in Florida as a way of honoring Trayvon Martin? All of these laws had as much to do with the George Zimmerman murder trial as did stand your ground!
Posted July 28, 2013 by

Scared Monkeys Black America

,

Cuba

,

Discrimination

,

George Zimmerman

,

Jesse Jackson

,

Legal - Court Room - Trial

,

Misrepresentation

,

Murder

,

Race Card

,

Racism

,

Trayvon Martin

,

WTF

|

7 comments
It appears that Hong Kong thought little of the United States formal request for the extradition of Edward Snowden.
Edward Snowden, the NSA whistleblower, is reported by the Guardian to have left Hong Kong and is on his way to Moscow Russia. According to accounts, Snowden has left on Aeroflot flight to Moscow along with representatives of WikiLeaks. According to the AP, the Hong Kong government said in a statement that Snowden left "on his own accord for a third country through a lawful and normal channel." Talk about having little respect for the United States. Hong Kong just thumbed their nose at the US request for extradition.
The NSA whistleblower Edward Snowden has flown out of Hong Kong, where he had been in hiding since identifying himself as the source of revelations on US surveillance programs, despite a US request for his arrest.

The 30-year-old had previously said he would stay in the city and fight for his freedom in the courts. But the Hong Kong government confirmed that he left on Sunday, two days after the US announced it had charged him with espionage, saying documents filed by the US did not fully comply with legal requirements.

It also said it was requesting clarification from Washington on Snowden's claims that the US had hacked targets in the territory.
Video from Fox & Friends Sunday
The South China Morning Post is reporting that Snowden is bound for Venezuela via Moscow and Cuba.
US whistle-blower Edward Snowden has left Hong Kong and is on a commercial flight to Russia, but Moscow will not be his final destination.

The fugitive whistle-blower boarded the Moscow-bound flight earlier on Sunday and would continue on to another country, possibly Cuba then Venezuela, according to media reports.

The Hong Kong government said in a statement that Snowden had departed "on his own accord for a third country through a lawful and normal channel".

The 30-year-old left from Chep Lap Kok airport on a flight scheduled for 10.55am. He is believed to have boarded Aeroflot Flight SU213, which landed at Moscow's Sheremetyevo International Airport at 5.03pm local time, according to the airport's website.
Wikileaks statement: Wikileaks is claiming that it has assisted Snowden in securing political asylum.
Mr Edward Snowden, the American whistleblower who exposed evidence of a global surveillance regime conducted by US and UK intelligence agencies, has left Hong Kong legally. He is bound for a democratic nation via a safe route for the purposes of asylum, and is being escorted by diplomats and legal advisors from WikiLeaks.

Mr Snowden requested that WikiLeaks use its legal expertise and experience to secure his safety. Once Mr Snowden arrives at his final destination his request will be formally processed.

Former Spanish Judge Mr Baltasar Garzon, legal director of Wikileaks and lawyer for Julian Assange has made the following statement:

"The WikiLeaks legal team and I are interested in preserving Mr Snowden's rights and protecting him as a person. What is being done to Mr Snowden and to Mr Julian Assange – for making or facilitating disclosures in the public interest – is an assault against the people".
UPDATE I: As reported at CNN, Edward Snowden has landed in Moscow.
The global cat-and-mouse hunt for Edward Snowden took a dramatic turn Sunday when the man wanted on U.S. espionage charges fled Hong Kong and reportedly arrived in Russia.

WikiLeaks said in a Twitter post Sunday that Snowden had touched down in Moscow. But the organization, which facilitates the publication of classified information, did not disclose what country would be his final destination.
More transparency from the 1% President …
Barack Obama's the 1% President's Treasury Department approved Beyoncé and Jay-Z's vacation to Cuba. Of course they did. It was educational of course. Of course it was. According to Reuters, a New York-based nonprofit, Academic Arrangements Abroad, organized the trip. , Reuters said. Beyoncé and Jay-Z  went on their fifth wedding anniversary, and visited a dance group, a children's theater company and an arts institute. I guess if Obama feels he can't vacation in Cuba, he will send his peeps instead. No quid pro quo or cronyism here, its not like Beyoncé and Jay-Z have not done fund raisers for Obama. Oh wait, they have.  What a joke, if you filed such a trip like this on your tax returns as a business trip, you would be getting a call from the IRS.
The late John Belushi provides his opinion on Beyoncé and Jay-Z's approval for their anniversary tip to Cuba under the guise it was educational exchange
Beyoncé and Jay-Z's recent controversial trip to Cuba was approved by the Treasury Department in advance of their travel, new documents show.

According to a letter obtained by CNN Tuesday, the Treasury Department wrote to two members of Congress who called for an investigation of the trip and explained the type of travel license obtained by the superstar couple.

"It is our understanding that the travelers in question traveled to Cuba pursuant to an educational exchange trip organized by a group authorized by OFAC [the Office of Foreign Assets Control] to sponsor and organize programs to promote people-to-people contact in Cuba," the letter read.
It is obvious that Barack Obama just does not care and he makes no secret about it. Its good to be King Obama and even better to be one of his homies. If you are in with Obama, you don't just get to stay in the Lincoln bedroom, provided tax payers money for failed green energy businesses or allwed in the White House to party while "We the People" are no allowed tours … you get to go to Cuba for your wedding anniversary under the guise of an educational exchange trip.
Republican Reps. Mario Diaz-Balart and Ileana Ros-Lehtinen of Florida took issue with the trip, and over the weekend asked the U.S. Treasury to investigate.

After receiving the Treasury's response Tuesday, Ros-Lehtinen was not satisfied.

"If the tourist activities undertaken by Beyoncé and Jay-Z in Cuba are classified as an educational exchange trip, then it is clear that the Obama Administration is not serious about denying the Castro regime an economic lifeline that US tourism will extend to it," she said in a statement.

"That was a wedding anniversary vacation that was not even disguised as a cultural program. As more human rights activists engage in hunger strikes, I don't think they will see any evidence of how this scam endeavor will help them become independent of the regime."
Posted April 10, 2013 by

Scared Monkeys Barack Obama

,

Beyoncé and Jay-Z

,

Celebrity

,

class warfare

,

Corruption

,

Crony Capitalism

,

cronyism

,

Cuba

,

Divider in Chief

,

Education

,

Government

,

Liberals

,

Lost in Smallness

,

Progressives

,

Quid Pro Quo

,

The Lying King

,

Transparency

,

Vacationer in Chief

,

WTF

,

You Tube - VIDEO

|

no comments
You just can't make this stuff up. Who would have thought that the missing persons case of Chase and Cole Hakken would wind up in Cuba and be a reverse Elián González story? Although, Joshua Hakken may have wanted to have chose another country that did not have an extradition treaty with the US.
Late Tuesday afternoon,  Cuba said that it would return the Florida couple and the kidnapped bothers, 2 year old Chase and 4 year old Cole Hakken to the United States.  Joshua Michael Hakken and his wife Sharyn Hakken, who had their parental rights taken away from them, abducted their two sons from their grandmother and sailed to Havana, Cuba aboard  Joshua Hakken's new purchased 1972 Morgan, 25 foot sailboat "Salty".  The boat, named "Salty" was spotted at the Hemingway Marina in Havana. No one knew initially what the Cuban government would do with regards to the couple and the kidnapped brothers.  Cuba and the US are hardly pals and Cuba does not have an extradition treaty with the United States. Nor is Cuba a signatory of the Hague Convention on the Civil Aspects of International Child Abduction. Which basically means that is was solely up to Cuba to do the right thing. Who ever thought that when Chase & Cole Hakken first went missing that this would turn into a modern day reverse Elián González story?
Yahoo News reports, The foreign ministry announced the decision in a terse statement saying Joshua Michael Hakken, a fugitive from U.S. justice, would be handed over with wife Sharyn and their children.
The family was located by a CNN reporter Tuesday when he ran into the father, Josh Hakken, Tuesday on a boat named Salty at a Havana marina. Cuban security asked CNN to leave the scene when the family was first spotted.

Foreign Ministry official Johana Tablada told The Associated Press in a written statement Tuesday that Cuba had informed U.S. authorities of the country's decision to turn over Joshua Michael Hakken, his wife Sharyn and their two young boys. She did not say when the handover would occur.
Could there be four better Presidential endorsements for Mitt Romney than the United Nations, Putin, Chavez and Castro endorsing Barack Obama for President of the United States?
As reported at Breitbart, the UN warns Americans not to elect Mitt Romney.Really, the UN is telling us to do something? Who the hell are you people to tell us to do anything? You act as if you are actually relevant. Just curious, when was the last time that the United Nation's had America's best interests at heart?
As stated at the Jawa Report, that is more than enough vote for Romney in itself. Why would any right minded thinking American citizen do what the un-UN wanted?  But of course water-boarding had nothing to do with extracting information from 9/11 mastermind Khalid Sheikh Mohammed, and information from Al Qaeda operative Hassan Ghul in leading to the death of Bin Laden.
The United Nations Special Rapporteur on Counter-Terrorism and Human Rights has warned Americans not to elect Republican Mitt Romney in next month's presidential election, saying that doing so would be "a democratic mandate for torture."

The UN's Ben Emmerson was referring to Romney's refusal to rule out the use of waterboarding in interrogating terror detainees, a practice that President Barack Obama has ended.
But wait, there is more ringing endorsements for Barack Obama. Hugo Chavez, Raul Castro and Vladimir Putin all endorse Obama. So will the Obama campaign make up new bumper stickers, signs and pins, Dictators for Obama? So why would such individuals want to back Barack Obama? Could it be because he is a weak, ineffective US President who likes bowing to foreign leaders?
Posted October 22, 2012 by

Scared Monkeys 2012 Elections

,

Barack Obama

,

Communism

,

Cuba

,

Epic Fail

,

Hugo Chavez

,

Mitt Romney - Paul Ryan 2012

,

Obamanation

,

Presidential Election

,

Russia

,

Socialism

,

Socialist in Chief

,

US National Security

,

Venezuela

,

World

|

5 comments