WHAT KIND OF SICK BASTARD MUST YOU BE TO DO SUCH A THING … I DON'T CARE WHETHER THIS CAT WAS FERAL OR NOT, WHICH IT TURNED OUT TO BE NOT!!!

Kristen Lindsey, a veterinarian in Brenham, Texas, has been fired from the Washington Animal Clinic after having bragged on social media about killing a cat with a bow and arrow. Dr. Kristen Lindsey, DVM posted a picture on her Facebook page (warning, pic is graphic) of her holding an arrow that is sticking through the head of a dead cat as the post read "My first bow kill, lol. The only good feral tomcat is one with an arrow through it's head! Vet of the year award … Gladly accepted." This sadistic fool went on to write in the comment section of her post,  "no I did not lose my job. Lol. Psshh. Like someone would get rid of me. I'm awesome!" As it would turn out what was more awesome was the rage from those who read and saw the post as they rang the phone off the hook of the Washington Animal Clinic and crashed their web sight. And I guess Kristen Lindsey isn't as awesome as she thinks she is, because she was fired.
It turns out that the cat she killed was not a "feral tomcat," but instead a elderly couples missing 6 year old pet named Tiger. However,  losing her job may be the least of Lindsey's problems as Austin County Sheriff Jack Brandes said he is investigating possible criminal charges.
VIDEO – Warning, graphic images
A Texas veterinarian is at the center of a social media firestorm, and could face charges, after bragging about killing a cat with a bow and arrow.

Story Updates: 4:56 p.m.
Austin County Sheriff Jack Brandes says he was disturbed by Dr. Kristen Lindsey's photo.

"This kind of stuff shouldn't happen in our society," Brandes said. "It's a very sad thing. Hopefully we will get to the bottom of it and get the truth, 100% truth, and get it to the DA and put it in his hands if it needs to go any further."

4:45 p.m.
Dr. Kristen Lindsey had been with the Washington Animal Clinic for two years. She graduated from Colorado State University.

4:00 p.m. Alley Cat Allies is offering a $7,500 reward for evidence leading to the arrest and conviction of the person or persons responsible for killing the cat in Austin County.

Anyone with information is asked to contact the Austin County Sheriff's Office at (979)-865-3111.

3:15 p.m. The cat that was killed with a bow and arrow is believed to be Tiger, a 6-year-old orange Tabby. Tiger went missing Wednesday. Kristen Lindsey posted the picture of the arrow through Tiger's head at 8:48 p.m. Wednesday night.

2:32 p.m.
Washington Animal Clinic received more than 500 phone calls Friday morning before they fired Kristen Lindsey, DVM.

Shortly before Noon, the clinic put duct tape over her name on the sign.

"Our goal now is to go on and try to fix our black eye and hope that people are reasonable and understand that those actions don't anyway portray what we're for here at Washington Animal Clinic," said Dr. Bruce Buenger. "We put our heart and soul into this place."
Angela Garcia, 32 was arrested after killing her boyfriends goldfish by pouring bleach into their tank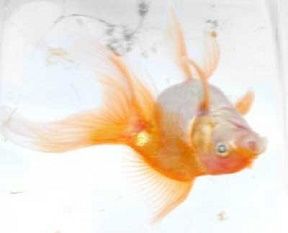 Daily Commentary – Thursday, April 9, 2015 Download
The dirtbag, scumbag, piece of sh*t of the week goes to … Larry McHale.
46 year old Larry McHale was arrested earlier this week for animal cruelty after he threw a little four pound Chihuahua against a Starbucks coffee shop window. WTF!!! The pup suffered a broken back leg,  head injuries and was bleeding from the ears after the attack. It was reported that McHale appeared to be intoxicated. McHale is being held in the Harris County Jail on a $15,000 bond. He was due in court Friday.
Precious Little 'Starbucks'
What kind of a sick bastard does something like this to a defenseless little animal? Mr. McHale, you are very lucky that I was not present when this heinous act occurred as I would has tossed your useless carcass through the Starbucks window.
The dog now suffers from a broken back leg and needs pins and plates to fix it. The surgery is estimated to cost about $1,000. If anyone would like to donate to Starbucks' recovery, you can do so on the Frisky Paws Rescue website. Also, the little 4 pound doglet named "Starbucks" by the techs at the Houston's Animal Shelter and Adoption Facility will also need a forever home after she is healed.
A four pound Chihuahua is now on the mend after police say she was thrown against a Starbucks window.

Witnesses feared the dog would not survive after watching the impact Tuesday night around 9:30 p.m.

The man accused of the cold crime is now charged with animal cruelty.

Larry McHale was arrested outside the Starbucks at 8821 Westheimer after employees called 9-1-1.

Police aren't even sure if the dog even belongs to him.

"It was so loud, the window sounded like it was going to break," said Starbucks manager Jasmine Hyder. "He's like, you don't care about humans. You only care about a dog."

Starbucks manager Jasmine Hyder said McHale has been banned from the southwest Houston Starbucks for the last three months.
POS of the week – Larry McHale