Death toll reaches 141, mostly children, in the aftermath of the Pakistani Taliban attack on a school run by the military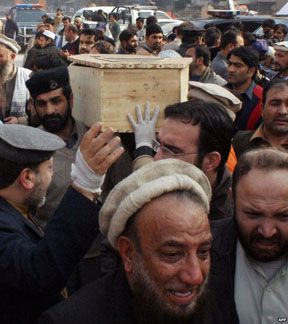 Daily Commentary – Wednesday, December 17, 2014 Play
Download
Posted December 17, 2014 by

Klaasend Child Welfare

,

Dana Pretzer

,

Deceased

,

Education

,

Islamist

,

Jihad

,

Pakistan

,

Radical Islam

,

Scared Monkeys Radio

,

School Shooting

,

School Violence

,

Taliban

,

Terrorism

|

no comments
Yup, you got terrorism is on the run President Obama …
Bahramand Khan, director of information for the regional Chief Minister's Secretariat, said at least 126 people were killed and 122 wounded. A group of Taliban gunman attacked the school and murdered children in response to the Pakistan military launching a military offense against them. This is their justification, slaughtering children?
 At least 126 people, most of them children, were killed on Tuesday when Taliban gunmen stormed a school in the Pakistani city of Peshawar, taking hundreds of students hostage in the bloodiest insurgent attack in the country in years.

Troops surrounded the building and an operation was underway to rescue children still trapped inside, the army said.

Hours into the siege, three explosions were heard inside the military-run high school, and a Reuters journalist at the scene said he heard heavy gunfire.

Outside, as helicopters rumbled overhead, police struggled to hold back distraught parents who were trying to break past a security cordon and get into the school.

Bahramand Khan, director of information for the regional Chief Minister's Secretariat, said at least 126 people were killed and 122 wounded.
BBC – Pakistan Taliban: Peshawar school attack leaves 135 dead.
All six attackers are said by officials to have been killed but the security forces are still checking for bombs they may have left.

Scores of survivors are being treated in hospitals as frantic parents search for news of their children.

The attack is the deadliest ever by the Taliban in Pakistan.

The BBC's Shahzeb Jillani in Karachi says the militants appear to have been intent on killing as many students as possible – rather than taking hostages, as initially thought.
VIDEO – CNN
UPDATE I: Taliban-led attack on Pakistan school leaves 141 dead.
An assault led by the Taliban on a Pakistan military-run school Tuesday left 141 people dead, 132 of which were children, officials say, in the worst attack to hit the country in years.

The horrific attack in Peshawar, carried out by a relatively small number of militants from the Tehreek-e-Taliban group, a Pakistani militant group trying to overthrow the government, also sent dozens of wounded flooding into local hospitals as terrified parents searched for their children.

Pakistani military spokesman Asim Bajwa told a news conference Tuesday that 132 of the dead were children and another nine were staff members.

He said there were seven attackers, who all wore explosive vests.
UPDATE II: Country shuts down today to mourn deaths.
President Mamnoon Hussain and Prime Minister Mian Muhammad Nawaz Sharif and other political leaders and people from all walks of life Tuesday strongly condemned the cowardly terrorist attack on Army Public School in Peshawar in which many precious human lives were lost.

They expressed sorrow and grief over the loss of precious human lives in the attack. They also expressed deep sympathies with the bereaved families and directed the authorities concerned to provide the best medical assistance to the injured. They also reiterated that such coward attacks cannot deter the resolve and morale of Pakistani nation, adding that operation against militants would continue till the elimination of last terrorist.

The prime minister and Khyber Pakhtunkhwa chief minister announced the three-day mourning over the tragedy.The prime minister also called a meeting of all the parliamentary parties at Governor's House today (Wednesday) at 11.00 am to discuss the situation arising out of the terrorist attack at the Army Public School and College.
Posted December 16, 2014 by

Scared Monkeys Child Endangerment

,

Child Welfare

,

Deceased

,

High School

,

Islamist

,

Jihad

,

Pakistan

,

Taliban

,

Terrorism

,

War on Terror

,

You Tube - VIDEO

|

5 comments
The sick and reprehensible irony of radical Islam, killing a doctor who was trying to save others … Doctor loses his live trying to save others.
Mehdi Ali Qamar, an American doctor was killed when two gunmen on motorcycles shot him dead as he was visiting a graveyard in Pakistan. Dr. Mehdi Ali Qamar was a cardiologist and resident of Fairfield, Ohio. The murdered doctor had arrived in the Punjab province of Pakistan just three days ago to provide free medical cardiac care to heart patients. News travels fast in radical Muslim circles. It is reported that Dr. Mehdi Ali Qamar was shot at least ten times at close range. He was killed in front of his wife and son, who thankfully were not harmed.
Warning: graphic image of murdered doctor can be seen HERE.
Doctor Mehdi Ali Qamar
A volunteer American cardiologist of Pakistani origin was shot dead in a remote Pakistani town on Monday, in the latest attack which underscored growing religious hatred across the south Asian country.

Doctor Mehdi Ali Qamar, who a Pakistani official said lived in Columbus, Ohio, and was visiting a family graveyard in the town of Chenab Nagar in Pakistan's Punjab province early morning on Monday, was shot by two gunmen riding a motorcycle.

He belonged to the Ahmadi sect of Muslims whose members were officially declared to be heretics under Pakistan's law in the mid-1970s. Qamar was a naturalized U.S. citizen who moved there about 15 years ago but visited Pakistan occasionally for volunteer work, said a senior police official in Pakistan's city of Lahore, which is the local capital of the Punjab.
So why the senseless killing of a volunteer doctor who was just looking to help others? Does radical Islam really need an excuse to kill?
"The assassination of Dr. Qamar took place apparently because he belonged to the Ahmadi sect," said the police official adding that the doctor was in Pakistan to perform medical procedures as a volunteer.

The Ahmadi movement is regarded by orthodox Muslims as heretical because it does not believe that Mohammed was the final prophet sent to guide mankind.

The U.S. Embassy in Islamabad confirmed the attack and the identity of the victim. Meghan Gregonis, a U.S. Embassy spokeswoman, said in a statement: "We express our deepest condolences to his family and friends. The U.S. Embassy is providing consular assistance. Out of respect for Dr. Qamar's family during this difficult time, we have no further information to share."
Army Sgt. Bowe Bergdahl has been missing since June of 2009 when he was captured and taken prisoner by the Taliban-aligned Haqqani network in Pakistan. Bergdahl was 23 years old when he was captured after finishing a guard shift at a combat outpost in southeastern Paktika province. Now a VIDEO has surfaced obtained by the US military that is dated December 2013 that shows American prisoner of war, Army Sgt. Bowe Bergdahl.
The U.S. military has obtained new video apparently made by those holding the lone American prisoner of war, Army Sgt. Bowe Bergdahl.

A U.S. military official told CNN the clip shows the Wood Valley, Idaho, native in diminished health from the effects of close to five years in captivity.

He was seized in Afghanistan in June 2009 and is believed held by the Taliban-aligned Haqqani network in Pakistan, the official said.

The so-called proof-of-life video, the first of him in nearly three years, has a reference to December 14, 2013.
Stars & Stripes – DOD has new video of US soldier held captive since 2009.
The so-called "proof of life" video of Bergdahl, 27, appears to have been made recently, said the official, who would not specify exactly when the material was received or how it was obtained.

"Sgt. Bowe Bergdahl has been gone far too long, and we continue to call for and work toward his safe and immediate release," said Cmdr. Elissa J. Smith. "We cannot discuss all the details of our efforts, but there should be no doubt that on a daily basis — using our military, intelligence and diplomatic tools — we try to see Sgt. Bergdahl returned home safely. Our hearts are with the Bergdahl family."
CNN: Missing U.S. soldier Bowe Bergdahl seen in video
Posted January 16, 2014 by

Scared Monkeys America - United States

,

Army Sgt. Bowe Bergdahl

,

Hostages

,

Military

,

Missing Persons

,

Pakistan

,

Patriotism

,

Radical Islam

,

Taliban

,

United States

,

US Army

,

You Tube - VIDEO

|

one comment
Because Islam is a religion of Peace …
So where is the outrage that Christan are being killed in Muslim countries? The LA Times is reporting that a pair of suicide bombers detonated their explosives outside a historic church in northwestern Pakistan on Sunday, killing over 60 people in the deadliest-ever attack on the country's Christian minority. The NY Times is reporting  75 people are dead as the cowardly suicide bombers detonated their bombs as  as worshipers left the All Saints Church in the old quarter of the regional capital, Peshawar.
The bombing in Peshawar, which wounded 120 people, underlines the threat posed by Islamic extremists as the government seeks a peace deal with domestic Taliban militants. It will likely intensify criticism from those who believe that negotiating peace with militants is a mistake.

The blasts killed more than 60 people and wounded 120, said Arshad Javed, top health official at the hospital in Peshawar where the victims were being treated. The dead included several women and children, said Sher Ali Khan, another doctor at the hospital.

The number of casualties was so high that the hospital was running out of caskets for the dead and beds for the wounded, said Mian Iftikhar Hussain, a former information minister of surrounding Khyber Pakhtunkhwa province who was on the scene.

"What have we done wrong to these people'" asked one of the wounded, John Tariq, referring to the attackers. "Why are we being killed?"
PESHAWAR: At least 60 people were killed and more than 120 including women and children were injured in twin suicide blasts in Qissa Khawani bazaar of Peshawar, Geo News reported.

Sources said suicide bombers blew themselves up outside Kohati gate near the Pakistan Church.

Law Enforcement Agencies (LEAs) have cordoned off the area after the blast.

Chief Executive Leady Reading Hospital (LRH) has confirmed killing of 56 people in the blasts.

Emergency has been declared in the LRH.

The eyewitnesses said the worshipers were leaving the Church when the blast occurred. More than 500 people were present in the Church at the time of suicide attack.
Posted September 22, 2013 by

Scared Monkeys Christians

,

Deceased

,

Good & Evil

,

Islam/Muslims

,

Islamofascist

,

Jihad

,

Mass Murder

,

Middle East

,

Minorities

,

Murder

,

Pakistan

,

Taliban

,

Terrorism

,

War on Terror

,

You Tube - VIDEO

|

5 comments
My what a difference an Obama presidential reelection year makes … Wasn't Al-Qaeda decimated? … At least this time Obama did not blame Embassy closings on a video tape.

As reported by FOX News, Sen. Saxby Chambliss (R-GA), the top Republican on the Senate Intelligence Committee, said on the Sunday talk show 'Meet the Press' that that the threats are "very reminiscent of what we saw pre-9/11″ and the threats as "the most serious … I've seen in a number of years."
The US State Department has now extended the closings of Embassies across the Middle East and North Africa, , as the terror threat across the region remained high through the final days of Ramadan. So how is it that a decimated Al-Qaeda caused the United States to shut down embassies and go on high alert?
Visit NBCNews.com for breaking news, world news, and news about the economy
Capitol Hill lawmakers, including top-ranking members of intelligence committees, on Sunday described the terror threat that closed 22 U.S. embassies and consulates across the Muslim region as the most serious one since before the 9/11 attacks and related to specific act or plot.

If I had plans to travel to certain places in the Middle East, I would probably go ahead and cancel them," he said.

Rooney's comments followed Georgia Sen. Saxby Chambliss, the top Republican on the Senate Intelligence Committee, telling NBC's "Meet the Press" that the threats are "very reminiscent of what we saw pre-9/11."

He also described the threats as "the most serious … I've seen in a number of years."
But wait … Didn't the Obamamessiah tell us during the 2012 Presidential campaign at stump speech after stump speech that Al-Qaeda was decimated and on the run? Barack Obama tried to portray us as some savior of America and that he had defeated Al-Qaeda. But of course with the Lying King, it was all rhetoric and misrepresentations as to what was really going on in the Middle East and terrorism. Obama told us that Al-Qaeda was on the path to death and yet then Benghazi happened. Obama boasted that Al-Qaeda was on the path to defeat and on the run, yet by the looks of the two dozen US Embassies and Consulates closed, nothing could be further from the truth. Barack Obama, the "Campaigner" in Chief would do and say anything to get reelected no matter what. He knows nothing about leadership, it was about being reelected.
Can we just come out and say the obvious … HE LIED!!!
Posted August 5, 2013 by

Scared Monkeys 2012 Elections

,

9/11

,

Africa

,

al-Qaeda

,

Barack Obama

,

Campaigner in Chief

,

Chicago-Style Politics

,

Egypt

,

Epic Fail

,

Iraq

,

Jihad

,

Leading from Behind

,

Obamanation

,

Pakistan

,

Radical Islam

,

Terrorism

,

The Dodger in Chief

,

The Lying King

,

Transparency

,

US National Security

,

War on Terror

,

World

,

WTF

,

You Tube - VIDEO

|

2 comments
Al Qaeda Deputy Leader Abu Yahya al-Libiwon't be down for breakfast …
A CIA drone strike in Pakistan has taken out yet another top Al Qaeda terrorist. Al Qaeda's deputy leader Abu Yahya al-Libi was killed and has dealt yet another blow to the bad guys. Thankfully Obama inherited the CIA drone program from the Bush Administration.
A Central Intelligence Agency drone strike in Pakistan's tribal belt killed Al Qaeda's deputy leader, Abu Yahya al-Libi, American officials said on Tuesday, dealing another blow to the group in a lawless area that has long been considered the global headquarters of international terrorism but the importance of which may now be slipping.

Mr. Libi's death would be another dramatic moment for an American covert war in Pakistan that has been particularly active over the past year, starting with the death of the group's founder, Osama bin Laden, in May 2011 and followed up by drone strikes against several senior lieutenants, including Atiyah Abd al-Rahman.
NRO brings up an interesting point, "This comes on the tail of concerns about the efficacy of the U.S.'s intense campaign of drone strikes. No one doubts that drones are putting plenty of warheads on foreheads, but questions have arisen about whether the civilian casualties and loss of U.S. reputation .." How often has anyone really heard the MSM questioning the drone attacks or the collateral damage of civilians killed? Almost never. However, that was hardly the case under George W. Bush and even criticism from then Senator Barack Obama. Imagine was GWB could have done without the constant harping from Obama, Democrats and the MSM questioning every drone strike.
The beheaded body of British aid worker Khalil Rasjed Dale was found dumped along a road side in the southern Baluchistan province of Pakistan. A note was discovered with the corpse stating that the Red Cross (ICRC) aid worker had been killed because a ransom had not been paid, courtesy of the Taliban.
The beheaded corpse of a British aid worker has been discovered in the Pakistani city of Quetta almost four months after he was kidnapped.

The body of Khalil Rasjed Dale was discovered on a road outside the city in southern Baluchistan province with a note saying he had been killed because a ransom had not been paid.

Dale, who had been working for the International Committee of the Red Cross (ICRC), was kidnapped in January while driving near the organisation's Quetta office.
What the Jawa Report said, SAVAGES!!!
Because obviously the war on terrorism is over as per the Obama Administration.
So was he or wasn't he?
It is being reported that Pakistan Taliban Leader Hakimullah Mehsud was killed on January 12, 2012 in the North Waziristan tribal area by a US drone strike. Militant radio communications were intercepted indicating that the Taliban leader was recently killed.  However, Pakistani Taliban spokesman Asimullah Mehsud denied the Taliban  leader was killed.
Intercepted militant radio communications indicate the leader of the Pakistani Taliban may have been killed in a recent U.S. drone strike, Pakistani intelligence officials said Sunday. A Taliban official denied that.

The report coincided with sectarian violence — a bomb blast in eastern Pakistan that killed 14 people in a Shiite religious procession.

The claim that the Pakistani Taliban chief was killed came from officials who said they intercepted a number of Taliban radio conversations. In about a half a dozen intercepts, the militants discussed whether their chief, Hakimullah Mehsud, was killed on Jan. 12 in the North Waziristan tribal area. Some militants confirmed Mehsud was dead, and one criticized others for talking about the issue over the radio.
I wonder if this Taliban leader was one of Joe Biden's Taliban that was not our enemy, per se?
Pakistani model and actress Veena Malik has been reported missing by her manager. Veena Malik has been in the middle of a controversy and is suing FHM magazine for what is being said to be doctored nude photos. According to her manager she has not been seen since Friday morning who has received death threats over the photos.
Missing: Veena Malik
The controversial Pakistani model and actress, who is suing FHM magazine after she claimed they doctored photos to make her look nude, has not been seen since yesterday morning.

She had complained of feeling depressed, but also was the subject of death threats over the photos.
Hopefully she is just in hiding and nothing has happened to her as a result of those reasonable radical Muslims who proclaim that Islam is a religion of peace. As the Jawa Report says, And if the "Religion of Perpetual Outrage have gotten to her  … maybe it's time to nuke Pakistan up into the stone age.
She had previously been accused by clerics of immoral behaviour on Bigg Boss for wearing shorts, hugging a male actor and swimming with Pamela Anderson.

She countered by accusing the Pakistan media of having double standards about men and women's behaviour.

She claimed she only posed topless for FHM, but that photos were doctored to make her look completely naked.
UPDATE I: Veena Malik has been found safe in hotel in India.