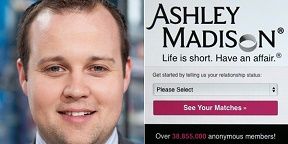 Daily Commentery – Monday, August 24, 2015
Download
OK, IT'S OFFICIAL, JOSH DUGGAR IS JUST A DEGENERATE PERV …
Following the release of members data by hackers from the affair orientated web site, Ashley Madison, former reality TV star Josh Duggar admitted today that he had subscribed to the website and cheated on his wife. Really, you scumbag? If it wasn't bad enough that Josh Duggar skated on molesting his sisters when he was a teen and was never punished for it, now we find out the one time executive director of the Family Research Council, who stepped down in disgrace, was a paying member on the adulterous website Ashley Madison and cheated on his lovely wife. This goes beyond hypocrite, YOU ARE A POS SCUMBAG!!!
Former reality TV star Josh Duggar on Thursday admitted cheating on his wife after reports that he had subscribed to the Ashley Madison affair website, apologizing for being "the biggest hypocrite ever."

"While espousing faith and family values, I have been unfaithful to my wife," Duggar, 27, a former campaigner for family values who appeared on the TLC show "19 Kids and Counting," said in a statement posted on his family's website.

"The last few years, while publicly stating I was fighting against immorality in our country I was hiding my own personal failures," he added, calling himself the "biggest hypocrite ever."

The Discovery Communications-owned network last month cancelled "19 Kids," after disclosures in May that Duggar had sexually abused four of his sisters when he was a teenager, one of whom was under 10 years old at the time.

Duggar apologised in a statement, saying he "acted inexcusably," and resigned from his job at Christian lobbying group Family Research Council.

In an earlier version of Duggar's statement posted on the family's website and reported by People magazine and Buzzfeed, he said "I have secretly over the last several years been viewing pornography on the internet and this became a secret addiction and I became unfaithful to my wife."
Josh Duggar Spent $1000 on Ashley Madison Site?
People can ask for forgiveness and can be forgiven, however, there has to be remorse, true remorse, not the kind that one gets just because they are caught red handed with their hands in the cookie jar.
Posted August 20, 2015 by

Scared Monkeys Celebrity

,

cybersecurity

,

Duggars

,

Hacked/Hacking

,

Internet

,

Liars

,

Scandal

,

Sex Scandal

,

WTF

,

You Tube - VIDEO

|

one comment
WELL ISN'T THIS EMBARRASSING … 15,000 Government email accounts used to register accounts were hosted on government servers.
As reported at The Hill, 15,000 government emails were used to register accounts on the "want to have an affair on your spouse or significant other" website, Ashley Madison. According to reports, the 15,000 of the email addresses used to register accounts were hosted on government and military servers. The Department of Veterans Affairs is the largest, non-military federal user of Ashley Madison; however, also represented on the list includes emails that could be tied to multiple administration agencies, including the State Department and Department of Homeland Security, House, Senate and Obama White House. Hmm … isn't that interesting.  Ashley Madison, whose tagline is "Life is Short, Have an Affair," after the the hacking group called "Impact Team" might now be changing their motto to, hope you got screwed, because now you really are.
Well at least we know none of the .gov email accounts belong to Hillary, so she can avoid at least one scandal.
Thousands of clients using the affair-oriented Ashley Madison website listed email addresses registered to the White House, top federal agencies and military branches, a data dump by hackers revealed.

The detailed data, released Tuesday, will likely put Washington, D.C., on edge. The nation's capital reportedly has the highest rate of membership for the site of any city.

Indeed, more than 15,000 of the email addresses used to register accounts were hosted on government and military servers.

Buried in the list are emails that could be tied to multiple administration agencies, including the State Department and Department of Homeland Security, as well as several tied to both the House and Senate.  

For a month, hackers using the name "Impact Team" have been holding hostage the dating profiles of those who registered on the site. The group threatened to publicly out the potential adulterers if the site's owner, Avid Life Media, didn't take down Ashley Madison, which uses the tagline, "Life is short. Have an affair."

Security researchers said on Wednesday that they believe the data released following the hack at Ashley Madison is authentic.

"This dump appears to be legit," said David Kennedy, CEO of information security company TrustedSec, which monitors cyber attacks, in a blog post. "Very, very legit."
Notes on the Ashley-Madison dump, You can download the data here.
On Twitter, @t0x0 provided Salted Hash with a breakdown of these addresses. A brief example is below; the image contains a larger list of domains. A full list is available here.
Domain  Count
us.army.mil     6788
navy.mil        1665
usmc.mil        809
mail.mil        206
gimail.af.mil   127
va.gov  104
bop.gov 88
ky.gov  73
med.navy.mil    62
usarmy.mil      55
us.af.mil       54
usps.gov        52
uscg.mil        46
dhs.gov 45
whitehouse.gov  44
ssa.gov 42
usdoj.gov 11
irs.gov 6
UPDATE I: Family Values Activist Josh Duggar Had a Paid Ashley Madison Account.
Good grief, seriously? As if Josh didn't have enough issues with inappropriately touching his sisters as a teen. How this? According to The Daily Mail, Josh Duggar revealed as having 'paid almost $1,000 for multiple Ashley Madison accounts' as 37 million would-be love-cheats are named by hackers who stole Ashley Madison accounts.
But data released online in the wake of the hack on Ashley Madison's servers certainly seems to show otherwise. Someone using a credit card belonging to a Joshua J. Duggar, with a billing address that matches the home in Fayetteville, Arkansas owned by his grandmother Mary—a home that was consistently shown on their now-cancelled TV show, and in which Anna Duggar gave birth to her first child—paid a total of $986.76 for two different monthly Ashley Madison subscriptions from February of 2013 until May of 2015.

Family Values Activist Josh Duggar Had a Paid Ashley Madison Account

According to the data, Josh Duggar was paying Ashley Madison in order to find an extramarital partner for the following acts:

"Conventional Sex," Experimenting with Sex Toys," One-Night Stands," "Open to Experimentation," "Gentleness," "Good With Your Hands," Sensual Massage," "Extended Foreplay/Teasing," "Bubble Bath for 2," "Likes to Give Oral Sex," "Likes to Receive Oral Sex," "Someone I Can Teach," "Someone Who Can Teach Me," "Kissing," "Cuddling & Hugging," "Sharing Fantasies," "Sex Talk."
Posted August 20, 2015 by

Scared Monkeys cybersecurity

,

email

,

Government

,

Hacked/Hacking

,

Internet

,

Invassion of Privacy

,

IRS

,

Military

,

Scandal

,

Sex Scandal

,

Social Media

,

Social Security

,

State Department

,

WTF

|

2 comments
Forget Deflate-gate, what about HACK-GATE …
Forget about "Deflate-gate" or "Moneyball" welcome to HACK-BALL. The St. Louis cardinals find themselves in the cross-hairs of an FBI and Justice Department investigation into the allegations that they hacked into the databases of MLB's Houston Astros. This makes Deflategate, Spygate, etc pale in comparison. Why? Because the Feds are involved. This is going to be very interesting as to where this leads. So far no one in the Cardinal organization has been suspended or fired.
MLB needed a new scandal to deal with other than PED.
Front-office personnel for the St. Louis Cardinals, one of the most successful teams in baseball over the past two decades, are under investigation by the F.B.I. and Justice Department prosecutors, accused of hacking into an internal network of the Houston Astros to steal closely guarded information about players.

Investigators have uncovered evidence that Cardinals employees broke into a network of the Astros that housed special databases the team had built, law enforcement officials said. Internal discussions about trades, proprietary statistics and scouting reports were compromised, said the officials, who were not authorized to discuss a continuing investigation.

The officials did not say which employees were the focus of the investigation or whether the team's highest-ranking officials were aware of the hacking or authorized it. The investigation is being led by the F.B.I.'s Houston field office and has progressed to the point that subpoenas have been served on the Cardinals and Major League Baseball for electronic correspondence.

Law enforcement officials believe the hacking was executed by vengeful front-office employees for the Cardinals hoping to wreak havoc on the work of Jeff Luhnow, the Astros' general manager, who had been a successful and polarizing executive with the Cardinals until 2011.
The Office of Personnel Management has been hacked and the records of 4 million past and current federal employees has had their records breached. US officials suspect China was behind the cyber attack. It is being called one of the largest thefts of government data in history. In the video below it is being reported that any federal employees who were victims of identity theft will be notified and will receive free credit monitoring. Free? Its not free, the America tax payers will be paying for that service because the federal government could not properly allocate monies to cyber security. It was just last month that we learned the IRS had been hacked.
U.S. officials suspect that hackers in China stole the personal records of as many as four million people in one of the most far-reaching breaches of government computers.

The Federal Bureau of Investigation is probing the breach, detected in April at the Office of Personnel Management. The agency essentially functions as the federal government's human resources department, managing background checks, pension payments and job training across dozens of federal agencies.

Investigators suspect that hackers based in China are responsible for the attack, though the probe is continuing, according to people familiar with the matter. On Thursday, several U.S. officials described the breach as among the largest known thefts of government data in history.

It isn't clear exactly what was stolen in the hack attack, but officials said the information can be used to facilitate identity theft or fraud. The Department of Homeland Security said it "concluded at the beginning of May" that the records had been taken.

At a Chinese Foreign Ministry briefing on Friday, ministry spokesman Hong Lei said, "Cyberattacks are anonymous, cross-border and hard to trace. If you keep using the words "maybe" or "perhaps" without making a thorough study, this is irresponsible and unscientific." He said China opposes all forms of cyberattacks. "We hope the U.S. side will shed its suspicions."
I hate to say it, maybe Hillary Clinton had the right idea by using a private server housed at her home to store her State Department government emails on as the cyber protections performed by the US government do not seem to work.
In this world nothing can be said to be certain, except death and taxes. Scratch that … IRS HACKED.
Reason number one why I would never use the IRS electronic filing system. The IRS is admitting that they were hacked and the E-thieves stole the tax information of over 100,000 taxpayers. According to reports, the hackers used the website app service called "Get Transcript"to gain access. The IRS states that the hackers used this app to download forms full of personal information between February and May of 2015.
It's only a matter of time before the IRS blames this on their budget that was cut.
Sophisticated criminals used an online service run by the IRS to access personal tax information from more than 100,000 taxpayers, part of an elaborate scheme to steal identities and claim fraudulent tax refunds, the IRS said Tuesday.

The thieves accessed a system called "Get Transcript," where taxpayers can get tax returns and other filings from previous years. In order to access the information, the thieves cleared a security screen that required knowledge about the taxpayer, including Social Security number, date of birth, tax filing status and street address, the IRS said.

"We're confident that these are not amateurs," said IRS Commissioner John Koskinen. "These actually are organized crime syndicates that not only we but everybody in the financial industry are dealing with."

Koskinen wouldn't say whether investigators believe the criminals are based overseas — or where they obtained enough personal information about the taxpayers to access their returns. The IRS has launched a criminal investigation. The agency's inspector general is also investigating.
Barack Obama, YOU GOT MAIL HACKED.
The New York Times is reporting that the that Russians have breached President Barack Obama's White House email account. The claims are that they hackers accessed the White House and State Department's unclassified computer system. Wouldn't it be interesting to read some of those gems?
Maybe they were trying to find Hillary Clinton's emails too.
Some of President Obama's email correspondence was swept up by Russian hackers last year in a breach of the White House's unclassified computer system that was far more intrusive and worrisome than has been publicly acknowledged, according to senior American officials briefed on the investigation.

The hackers, who also got deeply into the State Department's unclassified system, do not appear to have penetrated closely guarded servers that control the message traffic from Mr. Obama's BlackBerry, which he or an aide carries constantly.

But they obtained access to the email archives of people inside the White House, and perhaps some outside, with whom Mr. Obama regularly communicated. From those accounts, they reached emails that the president had sent and received, according to officials briefed on the investigation.

White House officials said that no classified networks had been compromised, and that the hackers had collected no classified information. Many senior officials have two computers in their offices, one operating on a highly secure classified network and another connected to the outside world for unclassified communications.

But officials have conceded that the unclassified system routinely contains much information that is considered highly sensitive: schedules, email exchanges with ambassadors and diplomats, discussions of pending personnel moves and legislation, and, inevitably, some debate about policy.
HOW'S THAT JV TERRORIST GROUP WORKING OUT FOR YOU BARACK OBAMA?
The Islamic State has called for the death of American military personnel as they have reportedly posted the names, addresses and photos of 100 American military service members online and called upon its "brothers residing in America" to kill them.  The self-identified "Islamic State Hacking Division" claimed to have obtained the information by hacking into military servers, databases and emails.  They are claiming the individuals named had participated in efforts to defeat it in Syria, Iraq, Yemen and elsewhere.
Pic Hat Tip: Legal Insurrection
Islamic State has posted online what it says are the names, U.S. addresses and photos of 100 American military service members, and called upon its "brothers residing in America" to kill them.

The Pentagon said after the information was posted on the Internet that it was investigating the matter. "I can't confirm the validity of the information, but we are looking into it," a U.S. defense official, speaking on condition of anonymity, said on Saturday.

"We always encourage our personnel to exercise appropriate OPSEC (operations security) and force protection procedures," the official added.

In the posting, a group referring to itself as the "Islamic State Hacking Division" wrote in English that it had hacked several military servers, databases and emails and made public the information on 100 members of the U.S. military so that "lone wolf" attackers can kill them.
NY Times – ISIS Urges Sympathizers to Kill U.S. Service Members It Identifies on Website.
Defense Department and F.B.I. officials said that they were aware of the website and were investigating the posting.

It does not appear that the information had been hacked from government servers. One Defense Department official, who was not authorized to speak publicly, said that most of the information could be found in public records, residential address search sites and social media.

The officials said the list appears to be drawn from personnel who have appeared in news articles about airstrikes on the militant group.

Some of the names also appear to be drawn from the Defense Department's own official reports on the campaign against the Islamic State, also known as ISIS and ISIL.

"With the huge amount of data we have from various different servers and databases, we have decided to leak 100 addresses so that our brothers in America can deal with you," the Islamic State's so-called Hacking Division said in the web posting.

It added: "And now we have made it easy for you by giving you addresses, all you need to do is take the final step, so what are you waiting for?"

The disclosure by the Islamic State highlights some of the challenges facing the military in balancing how it performs two essential functions: protecting its personnel while providing the American public with information.
UPDATE I: 'Behead them in their own homes': ISIS publishes 'kill list' online of names, photos and addresses of 100 US military members.
The ISHD said it wants 'lone wolf' attackers to go after the military members and 'kill them wherever you find them'.

The list did appear to match up with information which was available online, TheBlaze reported.

The posting read: 'With the huge amount of data we have from various different servers and databases, we have decided to leak 100 addresses so that our brothers in America can deal with you.

'And now we have made it easy for you by giving you addresses, all you need to do is take the final step, so what are you waiting for?

'Kill them in their own lands, behead them in their own homes, stab them to death as they walk their streets thinking that they are safe.'
Posted March 22, 2015 by

Scared Monkeys cybersecurity

,

Hacked/Hacking

,

Internet

,

ISIS

,

Islam/Muslims

,

Islamist

,

Islamofascist

,

Jihad

,

Military

,

Radical Islam

,

Social Media

,

Terrorism

,

War on Terror

|

no comments
LIBERAL DOUBLE STANDARD? IF THESE TWO WERE REPUBLICANS "RACIALLY INSENSITIVE" WOULD HAVE BEEN CHANGED TO "RACIST" … 
Oops, Wanna get away? It would appear that the cyber-attack on Sony has left many "hacked-off" and embarrassed. Hollywood producer Scott Rudin has issued a public apology for the racially insensitive comments he made of hacked private e-mails between him and Sony Pictures Entertainment chairman Amy Pascal. Just an apology, you mean the PC police and MSM did not go after their jobs?  Amy Pascal apologizes for her emails as well.
Producer Scott Rudin has issued a public apology for the racially insensitive comments that surfaced last night in an exchange of hacked private e-mails between him and Sony Pictures Entertainment chairman Amy Pascal. Joking references they made to black-themed films that President Barack Obama might like were not meant for public consumption, but they are hard to defend in the harsh light of a public forum, without context. Rudin made the point in this morning's New York Times about this hacking breach was a criminal act, when he was asked about other hacked e-mails between the producer and Pascal referencing the movie on Apple's Steve Jobs. Here, Rudin said he simply wanted to apologize.
The hacked emails in question came before Pascal attended a breakfast in November 2013 in Hollywood with Barack Obama and other big Hollywood names hosted by DreamWorks Animation CEO Jeffrey Katzenberg.
"What should I ask the president at this stupid Jeffrey breakfast?" Pascal wrote.

"Would he like to finance some movies." Rudin responded.

"I doubt it. Should I ask him if he liked DJANGO?" Pascal wrote.

Rudin replied, "12 YEARS," before Pascal and he suggested other films created by and starring African Americans, "Or the butler. Or think like a man? [sic]"

"Ride-along. I bet he likes Kevin Hart," Rudin wrote.
UPDATE I: Al Sharpton released a statement comparing Amy Pascal to disgraced L.A. Clippers owner Donald Sterling.
Hours after Rev. Al Sharpton released a statement comparing her to disgraced L.A. Clippers owner Donald Sterling, Sony Pictures co-chair Amy Pascal revealed in a Q&A interview with Deadline's Mike Fleming, Jr. that she has spoken to Sharpton on the phone, saying, "I know I screwed up."

Sharpton's condemnation of Pascal came after an email exchange between the Sony exec and movie producer Scott Rudin leaked as part of the larger cyber-attack on Sony Pictures from a possibly-North Korean-connected group. In the conversation, Pascal and Rudin joked about the types of movies President Barack Obama likes, with clear racial overtones.
SAD, JUST PLAIN SAD … SO MUCH FOR A COLLEGE EDUCATION THESE DAYS.
The Young America's Foundation released a VIDEO on Wednesday, a day before the 13th anniversary of 9-11, where George Washington students were asked whether they were aware of the significance of the date and whether they knew the names of the two American journalists who were recently beheaded by the terrorist group ISIS. Pathetically, for the most part, they had no idea. Oh but fear not for the future America, most all could name the celebrities involved in the recent nude pic hacking scandal.
Other than the two co-eds in the beginning of the VIDEO who seem to have a clue and up on current affairs and know their history, perhaps the best answer of anyone in this VIDEO was when asked by the YAF spokeswoman  Ashley Pratte asked about President Obama's strategy for dealing with ISIS. One girl responded, "Does he have one?"
The results of the study:
29 of 30 (97%) students could could name a celebrity involved in the nude hacking scandal.
4 of 30 (13%) could name either of the American journalists, James Foley or Steven Sotloff.
6 in 30 (20%) knew this week was the anniversary of 9-11. What's even more tragic is not only have these kids forgotten, they may never have known.
Maybe we have finally figured out how to get the youth vote … just have all the candidates in their political ads be in their birthday suits?
Posted September 13, 2014 by

Scared Monkeys 9/11

,

America - United States

,

Are You Better Off Today Than You Were 4 Years Ago

,

Celebrity

,

College

,

Education

,

Hacked/Hacking

,

ISIS

,

Islamist

,

Jihad

,

Terrorism

,

War on Terror

,

WTF

,

You Tube - VIDEO

,

Youth Vote

|

one comment