We found out last week that she would create a path to citizenship and that she was ready to use executive action to shield many more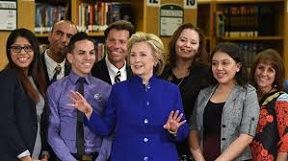 Daily Commentary – Tuesday, May 12, 2015 Download
Posted May 12, 2015 by

Klaasend Amnesty

,

Anchor Babies

,

Dana Pretzer

,

Deportation

,

DREAM Act

,

Hillary Clinton

,

Illegal Immigration

,

Main

,

Open Borders - Border Security

,

Scared Monkeys Radio

|

3 comments
Think its only the cost of a tomato that is affected by illegal immigrants?
A report released this week by the Center for Immigration Studies shows that 70% of illegal immigrants receive welfare assistance. Wonderful. The United States struggles with being able to afford welfare assistance for those in the US legally, do we really need to be paying for those here illegally? The US is in a financial crisis, the Medicaid program is a disaster, yet the powers that be just pretend like nothing is going on.
Thirteen years after Congress overhauled the American welfare system, 57 percent of immigrants with children — those in the country legally or not — use at least one government, welfare program according to a report released Tuesday by the Center for Immigration Studies.

In comparison, 39 percent of native-born Americans with children are signed up for welfare, the report found.

In Texas, 54 percent of legal immigrants and 70 percent of illegal immigrants receive welfare assistance, with illegal immigrants generally receiving benefits on behalf of their U.S.-born children, according to the study, written by a think tank that favors reducing immigration into the U.S.
ANCHOR BABIES AWAY …
Are you serious,60,000 babies of noncitizens, get U.S. birthright in the state of Texas alone. This is hardly what the intent of the 14th Amendment was supposed to do. What a disgrace and slap in the face to the 14th Amendment. An Amendment adopted in 1868 as a way to block state laws that prevented former slaves from becoming citizens and over turn the Dred Scott decision. Why do we continue to benefit those who break the law and spit in the face of the 14th Amendment.
As Republican members of Congress press for changes to the 14th Amendment of the U.S. Constitution, preventing automatic citizenship for babies born to illegal immigrants, opponents insist the debate is not really about babies.
Instead, they say it is about politics and votes – not fixing the immigration system.
Still, the debate could resonate in Texas, where not only 1.5 million illegal immigrants are estimated to reside but at least 60,000 babies are added to their households annually.
State Rep. Leo Berman, R-Tyler stated the following regarding the 14th Amendment and it was not meant to be applied to foreigners.