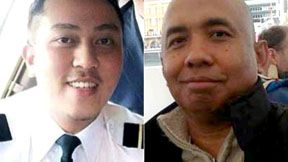 Daily Commentary – Wednesday, March 19, 2014
Download
It is looking more and more like a planned event by the pilot of missing Malaysia Airlines Flight 370 …
Authorities in the investigation into the Malaysia Airlines Flight 370 are saying that some data files from the flight simulator taken from the home of pilot Zaharie Ahmad Shah. The flight simulator was taken from pilot Zaharie Ahmad Shah's home over the weekend as part of police investigation. How on Earth are we just learning about this now? What files were deleted from this pilot's flight simulator, maybe how to fly at low levels across the ocean to avoid radar and land on an undisclosed island?
What good reason would one have to delete data files? Obviously a good forensic computer individual should be able to retrieve such data. Maybe this will hold the important clues as to where this missing Malaysia plane is or at least the general direction it flew to. Officials have determined that a deliberate action was to blame for the disappearance of Flight 370 as the police escalate their investigations of Capt. Zaharie, 52 years old, and his 26-year-old co-pilot, Fariq Abdul Hamid.
Malaysian investigators have found that some data from a flight simulator taken from the home of the missing Malaysia Airlines Flight 370′s pilot was deleted.

"Some data has been deleted from the simulator. Forensic efforts are on to retrieve the data," Hishammuddin Hussein, Malaysia's acting transport minister told reporters on Wednesday.

The flight simulator was taken from pilot Zaharie Ahmad Shah's home over the weekend as part of police investigation. All crew and ground staff who were involved with Flight 370 are currently being investigated, Mr. Hishammuddin said. He added that all crew and personnel are currently being treated as innocent.

The data log of the games on the simulator was cleared on Feb. 3 and experts are looking at what logs were deleted, Malaysian Inspector General of Police Khalid Abu Bakar said at the same news conference. He declined to comment if the experts thought the erasing of the data was unusual.
Malaysia officials are now saying that Malaysia Flight 370 was 'deliberately diverted' and then flown for as long as seven hours toward an unknown destination. Satellites tracked the flight for over 7 hours after the plane lost contact. The planes communications and data systems were intentionally and purposely turned off. However, part of the data system could not be turned off and continued to send pinging to satellites.  But for what purpose and who was involved in this hijacking is still unknown. The search continues, now toward the Indian Ocean … Indian aircraft and ships began fanning out a day ago around the Andaman and Nicobar Islands, a distant Indian territory toward the coast of Myanmar, and across more than 13,000 square miles of open sea.
The mystery of missing Malaysia flight 370 continues.
The search for Flight 370 turned into a criminal investigation on Saturday, after Malaysia declared that the plane had been deliberately diverted and then flown for as long as seven hours toward an unknown point far from its scheduled route from Kuala Lumpur to Beijing.

Prime Minister Najib Razak of Malaysia said on Saturday afternoon that he would seek the help of governments across a large swath of Asia in the search for the plane, which has been missing for a week and had 239 people on board. The Malaysian authorities released a map showing that the last satellite signal received from the plane had been sent from a point somewhere along one of two arcs spanning large distances across Asia.
Missing airliner may have flown on for 7 hours.
In the most comprehensive account to date of the plane's fate, Najib drew an ominous picture of what happened aboard Malaysia Airlines Flight 370, saying investigators had determined there was "deliberate action by someone on the plane."

Najib said the investigation had "refocused" to look at the crew and passengers. A Malaysia Airlines representative, speaking to relatives of passengers in Beijing, said the Malaysian government had opened a criminal investigation into the plane's disappearance.

The plane's whereabouts remain unknown one week after it disappeared from civilian radar shortly after takeoff from Kuala Lumpur. But Najib, citing newly analyzed satellite data, said the plane could have last made contact anywhere along one of two corridors: one stretching from northern Thailand toward the Kazakhstan-Turkmenistan border, the other, more southern path stretching from Indonesia to the remote Indian Ocean.
Posted March 15, 2014 by

Scared Monkeys Bizarre

,

China

,

collusion

,

Conspiracy

,

Crime

,

Hijack

,

Malaysia

,

Malaysia Flight 370

,

Missing Persons

,

Plane Crash

,

Terrorism

,

United States

,

You Tube - VIDEO

|

4 comments