Not sure if any will make a difference in the election though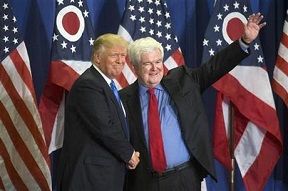 Daily Commentary – Thursday, July 14, 2016
Download
The 5 people who are supposedly on Trumps VP list … YAWN!!!
According to Breitbart.com, the following names were relaeled by Ben Carson as possible Rump VP's … Former Alaska Gov. Sarah Palin, the 2008 VP running mate, Sen. Ted Cruz, Ohio Gov. John Kasich, Sen. Marco Rubio, and New Jersey Gov. Chris Christie. I just don't see it. Sorry, Sarah Palin, been there, done that. Chris Christie, seriously? Which one, he or Trump will insult more people? Sen. Ted Cruz? Hmm, way too much vitriol between Trump and Cruz, talk about your Odd Couple. Sen. Marco Rubio, why? I am not even sure he can deliver Florida. As a matter of fact, Trump destroyed Rubio in FLA, so what does he bring to the ticket except establishment politics? Ohio Gov. John Kasich was only in the race as he was campaigning for the job of VP. Ohio is important, but I just can't stand this mushy middle Republican.
My choice for Trump would be Sen. Jeff Sessions (R-AL).
Dr. Ben Carson confirmed five people on presumptive GOP presidential nominee Donald Trump's list of potential vice presidential running mates in a recent interview.

Former Alaska Gov. Sarah Palin, the 2008 VP running mate to John McCain, was one of the five Carson said was on the list. The rest are all former 2016 GOP presidential candidates: Trump's closest competitor Sen. Ted Cruz, Ohio Gov. John Kasich, Sen. Marco Rubio, and New Jersey Gov. Chris Christie.

Carson named the VP contenders to the Washington Post during a car ride with his wife Candy to a TV interview. Carson has been traveling as a spokesman for Trump. He has also been placed on a committee working on pinning down a running mate for the real estate mogul turned GOP presumptive presidential nominee.

Candy was noted in the backseat exchange as saying Carson was not on the list. They had been discussing a poll which named Carson as a favorable Trump running mate.
AND THEN THERE WERE SIX FOR THE GOP …
Chris Christie and Carly Fiorina have dropped out of the Republican presidential race after a very poor showing in the New Hampshire primaries. Fiorina finished 7th with 4% of the vote and Christie finished 6th with about 7.5% of the vote. Carly Fiorina had a short and meteoric rise as she performed strong at times during the debates, but it just never translated to a rise in the polls. With regards to New Jersey Gov. Chris Christie, to be honest, his run for the GOP presidential nomination was over before it began. Pundits pondered why Christie's campaign never got traction and why even after he knee-capped establishment darling Marco Rubio showing him to be robitoc, Christie gained nada in the polls. Really, is it that hard to understand? With all due respect to Christie, his presidential run ended when he decided to hug Barack Obama during the president's photo-op trip to New Jersey after Hurricane Sandy and what looked like a date between Obama and Christie on the boardwalk at the Jersey shore. Sorry Chris, you were toast after that and no Republican was ever going to for get that image. We had said back in 2013 for Christie to not waste his time. I guess he should have listened.
Really Gov. Christie, did you ever thing the GOP base would ever forget these images?
Chris Christie dropped out of the race for president on Wednesday afternoon, two hours after a rival candidate quit.

Carly Fiorina, one of only two women in the U.S. presidential race, left her quixotic pursuit of the White House on Wednesday after a seventh-place New Hampshire primary finish in a field of eight candidates.

And Christie, the governor of New Jersey, soon followed suit after rumors of his campaign's demise swirled all day.

Spokeswoman Samantha Smith confirmed the news to the Associated Press, saying that Christie broke the news of his decision to staff at his campaign headquarters in Morristown, New Jersey, late in the afternoon.

Christie is also calling donors and supporters to thank them for staying the course as his poll numbers gasped for air.
Before leaving the race Carly Fiorina blasted Democrat candidate Hillary Clinton and her minions for their reprehensible comments regarding feminism and threats of going to hell to women who dared not support Clinton.
Fiorina took one last shot at Democratic contender Hillary Clinton, kicking her while she was down after a stunning defeat in New Hampshire.

'To young girls and women across the country, I say: do not let others define you,' Fiorina wrote. 'Do not listen to anyone who says you have to vote a certain way or for a certain candidate because you're a woman. That is not feminism.'
After Chris Christie's attack on Rubio at the last debate, will Christie move up?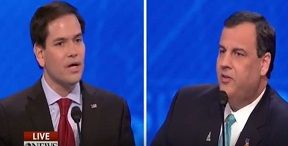 Daily Commentary – Wednesday, February 10, 2016 Download
IT WAS NOT A GOOD NIGHT FOR RUBIO AS CHRISTIE HAMMERED HIM OVER AND OVER …
New Jersey Gov. Chris Christie was in rare form last night as he blasted the new found darling of the GOP establishment candidate Marco Rubio with justified attack after attack. Christie hit Rubio with the label of the Washington establishment insider by saying the following, "that's what Washington D.C., does. The drive-by shot…and then the memorized 25-second speech that is exactly what his advisers gave him."
The Washington Free Beacon opines, a Rattled Rubio Survives New Hampshire Debate, But will he be ready for the next battle? I am not so sure of that. Marco Rubio crumbled under the pressure of being the top dog and being the focus of the attack. Christie did a political hit on him last night in the debate that Tony Soprano would have been proud of. Rubio did not help himself by making matters worse as he obviously became flummoxed. Rubio better learn to do a lot better, because last night was a disaster.
You see, everybody, I want the people at home to think about this. That's what Washington, D.C. Does. The drive-by shot at the beginning with incorrect and incomplete information and then the memorized 25-second speech that is exactly what his advisers gave him.

See Marco — Marco, the thing is this. When you're president of the United States, when you're a governor of a state, the memorized 30-second speech where you talk about how great America is at the end of it doesn't solve one problem for one person. They expect you to plow the snow. They expect you to get the schools open. And when the worst natural disaster in your state's history hits you, they expect you to rebuild their state, which is what I've done.

None of that stuff happens on the floor of the United States Senate. It's a fine job, I'm glad you ran for it, but it does not prepare you for president of the United States