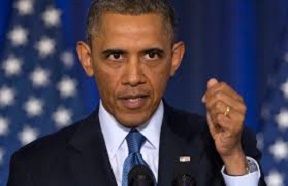 Daily Commentary – Monday, March 2, 2015
Download
OBAMA VETOES US JOBS …
Barack Obama vetoes the Keystone XL Pipeline bill. The bill was passed by a bipartisan vote in both the House and the Senate; however, Obama is driven by his far LEFT agenda and seems to care more about that than providing jobs that pay more to American workers than minimum wage. Following the shellacking that Democrats took in the 2014 elections, Obama called for cooperation and for Democrats and Republicans to work together. We all knew it was BS at the time, but it sounded good from a president who had just lost the Senate. Since then Obama has done nothing to strengthen his words of cooperation, but instead has engaged in confrontation. The veto of the Keystone XL Pipeline bill, going against the will of the people and their elected representatives, is just the latest in Obama's actions that go along with his "imperial' far LEFT agenda of its my way or the highway.
Obama said following his veto, "The presidential power to veto legislation is one I take seriously. But I also take seriously my responsibility to the American people." REALLY, WHO KNEW? Exactly how is Obama taking his responsibility to the American people when the American people are in favor of the Keystone Pipeline? Critics of the bill say will cause environmental damage. Hmm, you mean like the one below in how oil is currently transported in the United States.
I guess Obama would rather have train accidents occur, like the one recently  in West Virginia, that resulted in a fiery explosion. Guess what the train was carrying … that's right, crude oil. The train, which was carrying North Dakota crude to an oil depot in Yorktown, Virginia, derailed in a small town 33 miles southeast of Charleston, causing 20 tank cars to catch fire. The environmentalist wackos seem to be rather quiet. Obama cares nothing about the people, he cares about his far left agenda.
Amid appeals for bipartisanship, President Barack Obama in just three days has provoked Republicans on issues as disparate as immigration, Wall Street and the Keystone XL pipeline — a combative mix of defense and offense that underscores Washington's political realignment.

Sensing a Republican retreat, Obama is headlining a Miami town hall on Wednesday, enlisting his Latino base of support to increase pressure on GOP lawmakers who want to tie spending on the Homeland Security Department to repeal of his immigration executive actions.

On Tuesday, he vetoed GOP legislation that would have forced construction of the Keystone XL oil pipeline. And on Monday he proposed tougher rules on financial brokers who help manage retirement accounts, over Wall Street objections.
Posted February 25, 2015 by

Scared Monkeys Barack Obama

,

Canada

,

Community Agitator

,

Divider in Chief

,

Energy

,

Epic Fail

,

Imperial President

,

Jobs

,

Keystone XL Pipeline

,

Misleader

,

Oil

,

Socialist in Chief

,

Unemployment

,

United States

,

You Tube - VIDEO

|

5 comments
SENATE PASSES BILL APPROVING THE KEYSTONE XL PIPELINE.
On Thursday, the US Senate voted 62-36 passing a bill approving the construction of the XL Keystone pipeline. The House of Representatives passed a similar bill on January  9, for the 10th time. However, since the Senate bill has been amended, the two chambers will have to agree on one version before the bill goes to the president. Barack Obama has already threatened to veto the bill. The bill passed the Senate it a bi-partisan vote; as Democrats like Bennet (D-CO), Carper (D-DE), Casey (D-PA), Donnelly (D-IN), Heitkamp (D-ND), Manchin (D-WV), Tester (D-MT), McCaskill (D-MO) and Warner (D-VA) all voted for the bill that would provide jobs for Americans.
The Senate voted Thursday to build the controversial Keystone XL pipeline, despite a long-standing veto threat from the White House.

After three weeks of debate on 41 amendments, the Senate voted 62-36 to pass a bill approving the north-south pipeline for Canadian oil that Republicans say will create thousands of U.S. jobs. The tally was short of the 67 votes the Senate would need to override a presidential veto.

Nine Democrats joined a unanimous Republican caucus to support the bill: Sens. Michael Bennet of Colorado, Tom Carper of Delaware, Bob Casey of Pennsylvania, Joe Donnelly of Indiana, Heidi Heitkamp of North Dakota, Joe Manchin of West Virginia, Claire McCaskill of Missouri, Jon Tester of Montana and Mark Warner of Virginia.

Thursday morning, Senate Majority Leader Mitch McConnell, R-Ky., urged his colleagues to pass the measure. "Constructing Keystone would pump billions into our economy. It would support thousands of good American jobs," he said. "And as the president's own State Department has indicated, it would do this with minimal environmental impact."

McConnell said the conclusion of myriad studies is: "We need to build it."
JONI ERNST … A STAR IS BORN.
Tonight, Sen. Joni Ernst (R-IA) delivered the Republican response to Barack Obama's SOTU. The freshman Senator nailed it. In a forum that is hardly a comfortable one or easy, she came across well versed, was up to the moment and never once reached for a glass of water. As Barack Obama touted questionable economic numbers and gave the appearance that we have turned the page on the economic tough times, Joni Ernst personalized the current situation that a majority of Americans feel, that Americans are hurting and are demanding answers, not the same old stale same old, same old.
We see our neighbors agonize over stagnant wages and lost jobs. We see the hurt caused by canceled healthcare plans and higher monthly insurance bills. We see too many moms and dads put their own dreams on hold while growing more fearful about the kind of future they'll be able to leave to their children.

"Americans have been hurting, but when we demanded solutions, too often Washington responded with the same stale mindset that led to failed policies like Obamacare. It's a mindset that gave us political talking points, not serious solutions.

"That's why the new Republican majority you elected started by reforming Congress to make it function again. And now, we're working hard to pass the kind of serious job-creation ideas you deserve.
The Weekly Standard – Full Text of Republican Response to State of the Union:
"Good evening.

"I'm Joni Ernst. As a mother, a soldier, and a newly elected senator from the great State of Iowa, I am proud to speak with you tonight.

"A few moments ago, we heard the President lay out his vision for the year to come. Even if we may not always agree, it's important to hear different points of view in this great country. We appreciate the President sharing his.

"Tonight though, rather than respond to a speech, I'd like to talk about your priorities. I'd like to have a conversation about the new Republican Congress you just elected, and how we plan to make Washington focus on your concerns again.

"We heard the message you sent in November — loud and clear. And now we're getting to work to change the direction Washington has been taking our country.

"The new Republican Congress also understands how difficult these past six years have been. For many of us, the sting of the economy and the frustration with Washington's dysfunction, weren't things we had to read about. We felt them every day.

"We felt them in Red Oak — the little town in southwestern Iowa where I grew up, and am still proud to call home today.

"As a young girl, I plowed the fields of our family farm. I worked construction with my dad. To save for college, I worked the morning biscuit line at Hardees.

"We were raised to live simply, not to waste. It was a lesson my mother taught me every rainy morning.

"You see, growing up, I had only one good pair of shoes. So on rainy school days, my mom would slip plastic bread bags over them to keep them dry. (Read the rest HERE)
Posted January 21, 2015 by

Scared Monkeys Barack Obama

,

Divider in Chief

,

Economy

,

Epic Fail

,

Jobs

,

Joni Ernst (R-IA)

,

Keystone XL Pipeline

,

Misleader

,

Senate

,

SOTU

|

2 comments
Shocker, Barack Obama once against doing something against the will of the American people … 
A recent CNN poll shows that a majority of Americans are in favor of the construction of the Keystone XL pipeline. A resounding 57% are in favor of building the 1,179 mile Canada to Texas pipeline, while only 28% oppose. Of course you already know what side of the fence Barack Obama takes on this matter. Obama continues to pander to the environmental wackos and facing no more elections, once again goes against the will of the American people.  No matter how many jobs, permanent ones, part time or otherwise are created by this oil pipeline project, the fact of the matter is that jobs will be created. This is a bad thing how? But Obama will tell you he wants to create jobs for the American people. Really? Even though Americans are overwhelmingly in favor of the building of the Keystone XL pipeline, the House has passed the construction of it, Obama has vowed to veto the bill. Yeah, he really cares about putting people to work.
Poll Question: Based on what you have read or heard, do you favor or oppose building the Keystone XL pipeline?
A majority of Americans favor the construction of the Keystone XL pipeline — a result that could give Republicans a boost as they move toward a showdown with President Barack Obama over the project — a CNN/ORC poll has found.

The 1,179-mile Canada-to-Texas pipeline is backed by 57% of the 1,011 Americans surveyed on Dec. 18-21. Just 28% oppose it, while 15% say they are unsure.

The controversial project has become the subject of a battle between liberal environmentalists who argue it would contribute to global warming and conservatives who say it would create jobs and help the United States break away from Middle Eastern oil.

President Barack Obama has threatened to veto a measure that the Senate is set to vote on as soon as next week, which would end the State Department's six-year-old review of the project and authorize its construction immediately. Obama has said he objects to the decision-making process being removed from the executive branch.
Not only do 57% back the construction of the pipeline, in the same CNN poll, as reported at The Daily Caller, "a majority of those polled, at 57 percent, say global warming will not pose a serious threat to their way of life," and that only 43 percent "expect global warming to threaten them."
Posted January 15, 2015 by

Scared Monkeys Barack Obama

,

Canada

,

CNN Opinion Research

,

Community Agitator

,

Energy

,

Epic Fail

,

Jobs

,

Keystone XL Pipeline

,

Oil

,

Polls

,

United States

|

no comments
On Friday, the House of Representatives passed a bill approving the building on the XL Keystone pipeline 266-153. The long delayed project has been stalled by Barack Obama and his pandering to the Left-wing environmental-wackos was passed by the GOP controlled House along with 28 Democrat votes. It was passed just hours after a court in Nebraska cleared a final legal hurdle.  The Senate is supposed to vote on the Keystone pipeline next week where it will most certainly be passed in the new Republican controlled Senate with some Democrat support as well. However, Barack Obama has already stated that he will veto the bill proving that he never had any intention, nor Democrats of ever passing the it.
Charles Krauthammer on Obama's Veto Threat: Republicans Should Say, "Bring It On, Mr. President."
"There is no better way for the GOP to position itself for the 2016 elections and to show the country two things. One now that it controls the House and the Senate and now that Harry Reid is no longer there as the blocking guard for the president. That's the reason why he didn't have to use the veto. With Harry Reid gone and Mitch McConnell running the Senate, they are able to enact the agenda, they have an agenda. They should be willing to pass whatever they can and dare the president to use the veto."
The Keystone XL pipeline cleared its first hurdle of the new Congress on Friday when the House voted to approve construction of the long-stalled project, just hours after a court in Nebraska cleared a final legal hurdle there.

The 266-153 vote saw 28 Democrats side with the GOP in backing the pipeline, signaling significant though not overwhelming support for the controversial project that would carry crude oil from Canada into the U.S. for refinement.

President Obama has already vowed a veto, and the vote signals there are probably not enough votes to override him if he does follow through.

The House has approved Keystone before, but the project has stalled in the Senate, which was controlled by Democrats. The GOP took control this week, however, and is speeding its own bill through its chamber, with an early test-vote slated for Monday.

"There is no excuse — scientific or otherwise — for the president to continue blocking the pipeline," said House Speaker John A. Boehner. "An overwhelming majority of Americans support this job-creating energy project and President Obama ought to respect their will and stop standing in the way."
John Boehner is re-elected as Speaker of the House. This was the biggest rebellion against a sitting speaker by his own party since 1923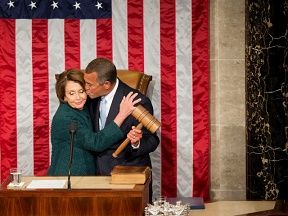 Daily Commentary – Thursday, January 8, 2015
Download
The Harry Reid, Democrat lead Senate has shot down the vote for the passage of Bill (S.2280 ), a bill to approve the XL Keystone pipeline, 59-41. All the begging to save her Louisiana Senate seat was for naught as Se. Mary Landrieu (D-LA) failed in her efforts to get the Democrat support for the passage of the bill. It fell one vote short.  All of the 41  "nay"votes against passage were Democrats or so-called Independents who caucus with Democrats. This was a political vote in a cynical attempt to help Landrieu, where Democrats had no intention of having this bill pass. The bill had been blocked by Democrat Senate Majority Leader Harry Reid for coming up for a vote for years.
The U.S. Senate on Tuesday narrowly failed to pass a bill that would have approved construction of the controversial Keystone XL pipeline, rejecting a measure the House of Representatives approved last week.

The vote count was 59-41 in favor, but 60 "ayes" would have been needed to assure passage. Fourteen Democrats voted for the bill, joining all 45 Republicans who voted to support the pipeline.
Look for the GOP to bring this bill up again in the new year when they have control of the Senate following the 2014 midterm shellacking. Republicans are not done yet with this, but Democrat Sen. Mary Landrieu is. It hardly makes her look influential as she could not get her party to pass the legislation.  This all but seals her fate in her upcoming Louisiana Senate runoff election against Bill Cassidy. Her poll numbers were already bad, now this is a green light for voters to elect a Republican to get this passed in the newly elected US. Senate. Republican leadership have guaranteeing her opponent, Rep. Bill Cassidy, a seat on the energy committee. The House GOP also had him sponsor their own Keystone authorization bill, which was easily approved Friday on a 252-161 vote.
The Senate blocked a measure Tuesday that would have authorized construction of the Keystone XL pipeline as Democrats chose their pro-environment base over an old friend — embattled Louisiana Sen. Mary Landrieu.

The vote could just be a speedbump for the Keystone project, with Republicans ready to try again — with much better odds of success — once they take control of the Senate in January.
"This will be an early item on the agenda in the next Congress," incoming Senate Majority Leader Mitch McConnell, R-Kentucky, said after Tuesday night's vote.
Billionaire liberal and so called climate change activist Tom Steyer, he was for coal, before he was against it.
Define hypocrisy, see Tom Steyer. As reported in the New York Times this weekend, Tom Steyer, the most influential environmentalist in American politics, who has vowed to spend $100 million this year to defeat candidates through his PAC, NextGEN Climate, who oppose policies to combat climate change in fact made his billions by, hold it, hold it … investing in coal. You just can't make this stuff up.  But then again, one does not have to when it comes to the liberal, double standard Left. Steyer has been one of the main opponents of the XL Keystone pipeline.
Talk about a complete loss of credibility. If  Steyer is so strongly opposed to climate change and has basically made his fortune by increasing global warming (this is the Left's philosophy) then why doesn't he give all his money away?
To environmentalists across Australia, it is a baffling anachronism in an era of climate change: the construction of a 4,000-acre mine in New South Wales that will churn out carbon-laden coal for the next 30 years.

The mine's groundbreaking, in a state forest this year, inspired a veteran to stand in front of a bulldozer and a music teacher to chain himself to a piece of excavation equipment.

But the project had an unlikely financial backer in the United States, whose infusion of cash helped set it in motion: Tom Steyer, the most influential environmentalist in American politics, who has vowed to spend $100 million this year to defeat candidates who oppose policies to combat climate change.

Mr. Steyer, a billionaire former hedge fund manager, emerged this election season as the green-minded answer to Charles G. and David H. Koch, the patrons of conservative Republican politics, after vowing that he would sell off his investments in companies that generate fossil fuels like coal.
Much, much more on the hypocrisy of the Left and Tom Steyer from Power Line, who was reporting on this story long before the NY Times decided that the news was fit to print.
Posted July 7, 2014 by

Scared Monkeys Australia

,

Democrats

,

Double Standard

,

Energy

,

Ethics

,

Keystone XL Pipeline

,

Liberals

,

New York Times

,

Progressives

,

War on Coal

,

WTF

|

no comments
Thanks Barack, as Americans are squeezed at the pump this 4th of July.
The current national average price of gas is 23 cents per gallon more expensive than it was on the Fourth of July last year, the highest since 2008. Can no one see the parallel and irony that on this 4th of July gas prices will be at a six year high due dependence on foreign oil and the turmoil and unrest in the Middle East and American Independence Day? When will the United States begin an energy policy in this country of  "energy" independence, instead of a war on oil, coal and any other form of energy that the Obama administration does not deem "green"?
Gas prices are expected to be at the highest level in six years for the Fourth of July holiday. Yes, the gas prices are set to raise on national independence day.

Regular gasoline peaked at a national average of $3.98 a gallon in early May. The current national average price of gas is 23 cents per gallon more expensive than it was on the Fourth of July last year. The highest was seen in 2008. The highest record was $4.11 a gallon in 2008.

"We're going to see the highest July 4th prices since 2008, and we probably wouldn't have, if it weren't for Iraq," said Tom Kloza, chief oil analyst at GasBuddy.com. "I certainly would not rule out if something happens near Basra or south of Baghdad, we would see national prices make a pass at $4…but I just don't see a fuel apocalypse in North America this year."

"Although gas prices in the Southeast remained relatively stable from last week, it wouldn't be surprising to see gas prices inch up slightly before the holiday weekend," said Jessica Brady, AAA spokeswoman with The Auto Club Group. "Even though pump prices are higher than they were this time last year, they are not expected to deter holiday travelers."

Gas prices used to depreciate in the upcoming weeks of the holiday in previous years, but that's not the case this summer.

AAA Travel reports the statewide average price of gas is $3.71 for a gallon of regular unleaded. It was $3.48 last year on the Fourth.
Posted June 29, 2014 by

Scared Monkeys Energy

,

Gas Prices

,

Iraq

,

ISIS

,

Islamist

,

July 4th - Independence Day

,

Middle East

,

Oil

,

Over-Regulation

,

Terrorism

,

United States

,

War on Terror

|

one comment