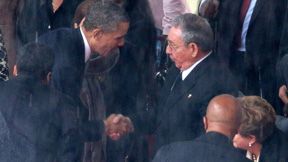 Daily Commentary – Wednesday, December 11, 2013
Download
The father of modern South Africa has passed …
Nelson Mandela, the former President of South Africa and anti-apartheid leader who spent 27 years in a South African prison, , first on Robben Island, and later in Pollsmoor Prison and Victor Verster Prison,has died at the age of 95. Nelson Mandela had been battling several illnesses for quite some time and had been hospitalized. Sadly, current South African President Jacob Zuma announced late Thursday the death of the man who freed his people from an oppressive minority rule and united a country. Nelson Mandela and his one time enemy president F. W. de Klerk, who preceded him, both shared and won the Nobel Peace Prize in 1993.
Mandela is a perfect example that one does not have to be a fan of one's politics in order to admire him as a leader and his leadership skills that brought a completely fragmented and racially divided society back together … ONE TEAM, ONE COUNTRY!!!
Nelson Mandela: July 18, 1918 – December 5, 2013
"I detest racialism, because I regard it as a barbaric thing, whether it comes from a black man or a white man."
"For to be free is not merely to cast off one's chains, but to live in a way that respects and enhances the freedom of others."
Nelson Mandela, the revered statesman who emerged from prison after 27 years to lead South Africa out of decades of apartheid, has died, South African President Jacob Zuma announced late Thursday.

Mandela was 95.

"He is now resting. He is now at peace," Zuma said. "Our nation has lost its greatest son. Our people have lost a father."

"What made Nelson Mandela great was precisely what made him human," the president said in his late-night address. "We saw in him what we seek in ourselves."

Mandela will have a state funeral. Zuma ordered all flags in the nation to be flown at half-staff from Friday through that funeral.

Mandela, a former president, battled health issues in recent months, including a recurring lung infection that led to numerous hospitalizations.

With advancing age and bouts of illness, Mandela retreated to a quiet life at his boyhood home in the nation's Eastern Cape Province, where he said he was most at peace.
Nelson Mandela's Life Story
UPDATE I: NY Times Obit
The question most often asked about Mr. Mandela was how, after whites had systematically humiliated his people, tortured and murdered many of his friends, and cast him into prison for 27 years, he could be so evidently free of spite.

The government he formed when he finally won the chance was an improbable fusion of races and beliefs, including many of his former oppressors. When he became president, he invited one of his white wardens to the inauguration. Mr. Mandela overcame a personal mistrust bordering on loathing to share both power and a Nobel Peace Prize with the white president who preceded him, F. W. de Klerk.

And as president, from 1994 to 1999, he devoted much energy to moderating the bitterness of his black electorate and to reassuring whites against their fears of vengeance.

The explanation for his absence of rancor, at least in part, is that Mr. Mandela was that rarity among revolutionaries and moral dissidents: a capable statesman, comfortable with compromise and impatient with the doctrinaire.

When the question was put to Mr. Mandela in an interview for this obituary in 2007 — after such barbarous torment, how do you keep hatred in check? — his answer was almost dismissive: Hating clouds the mind. It gets in the way of strategy. Leaders cannot afford to hate.
ESPY Awards – Nelson Mandela
A truly amazing video … Like I have previously said, like him or not, Mandela was a leader and knew what it took to bring people together, not tear them further apart.
UPDATE II: NBC News – 7 ways Nelson Mandela changed South Africa.
Mandela's biggest influence on the new South Africa was his personal determination that anger over the crimes of the past, including his 27 years as a political prisoner, should not motivate future laws and actions. Key to this was his 1995 establishment of a Truth and Reconciliation Commission that investigated historic human rights violations and gave vent to grievances.

That same year, South Africa hosted the Rugby World Cup – the first event of its kind to be held there since the end of the apartheid-era sporting boycott. Along with cricket, rugby was a game played and enjoyed almost exclusively by whites, making the event tough for Mandela's fledgling democratic government to "sell" to a wider population.

Despite resistance on both sides, Mandela swung the rainbow nation behind both the team – the Springboks – and the tournament, which South Africa won (VIDEO). That achievement, documented in the 2009 film "Invictus" starring Morgan Freeman and Matt Damon, illustrated the extent of South Africa's rehabilitation and also set the country back on the path of sporting success.
Invictus – Poem That Inspired A Nation
Out of the night that covers me,
Black as the pit from pole to pole,
I thank whatever gods may be
For my unconquerable soul.
In the fell clutch of circumstance
I have not winced nor cried aloud.
Under the bludgeonings of chance
My head is bloody, but unbowed.
Beyond this place of wrath and tears
Looms but the Horror of the shade,
And yet the menace of the years
Finds and shall find me unafraid.
It matters not how strait the gate,
How charged with punishments the scroll,
I am the master of my fate,
I am the captain of my soul.
UPDATE III: Comments from former South African president F.W. de Klerk.
Nelson Mandela's greatest accomplishment was to unify South Africa and push for reconciliation between blacks and whites in the post-apartheid era, F.W. de Klerk, the country's last white president, said on Thursday.

"He was a great unifier and a very, very special man in this regard beyond everything else he did. This emphasis on reconciliation was his biggest legacy," de Klerk said in an interview with CNN after the announcement of Mandela's death.

De Klerk, who released Mandela from prison in 1990 and then negotiated the end of apartheid, called Mandela a "humane" and "compassionate" man who was able to understand the fears of South Africa's white minority in the transition to democracy.
UPDATE IV: South Africans mourn, celebrate life of Nelson Mandela.
As flags were lowered to half mast, people across South Africa commemorated Nelson Mandela with song, tears and prayers on Friday as the government prepared funeral ceremonies that will draw leaders and other dignitaries from around the globe.

A black SUV-type vehicle containing Mandela's coffin, draped in South Africa's flag, pulled away from Mandela's home after midnight, escorted by military motorcycle outriders, to take the body to a military morgue in Pretoria, the capital.

Many South Africans heard the news of his death, which was announced just before midnight, upon waking Friday, and they flocked to his home in Johannesburg's leafy Houghton neighborhood. One woman hugged her two sons over a floral tribute.