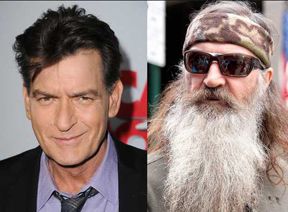 Daily Commentary – Thursday, December 26, 2013
Download
Charlie Sheen, WINNING LOSING … Breaking up is easy to do via text.
Sheen appears to be one less "goddess" as porn actress Bree Olson (Rachel Oberlin) broke up with him via text message. Charlie Sheen opened his lame Violent Torpedo of Truth show in Fort Lauderdale, Fla. Who knew that the former goddess Bree Olson had more brains than most of the individuals buying tickets to Sheen's show by finally getting out of Dodge.
Sheen opened his show in Fort Lauderdale, Florida, by telling the audience that porn actress Bree Olson broke up with him via text message, according to The Hollywood Reporter.
Breaking up by text adds a special "WINNING" LOSING  quality, doesn't it.
In the case of Charlie Sheen, never has WINNING been more about complete and total defeat. It would appear defeat is an option.
Question One … who is more insane and on crack, Charlie Sheen or the people who actually thought it was a good idea to send this unstable and off the wall clown out on stage in a live tour? We are awaiting your answers.
Question Two … who is foolish enough to part with their money and actually pay to see Charlie Sheen in the first place?
As reported by Entertainment Weekly, Charlie Sheen opened his Violent Torpedo of Truth Tour in Detroit, MI at the Fox Theater on Saturday night before an adoring crowd. Needless to say, it did not take long for a adoration to turn to boos, heckling and folks walking out. As people started booing, Sheen responded by saying, "I already got your money, dude!" Let this be a lesson to people thinking about buying tickets in the future.
First the U.S. automaker recession, and now this. Charlie Sheen unleashed his Violent Torpedo of Truth Tour on the Motor City on Saturday night before a crowd that greeted the actor with an adoring standing ovation and concluded with booing and walk-outs. The padded and disjointed show was a hodgepodge of video clips and Sheen-isms that felt hastily assembled and misjudged the patience of even the hardest of hardcore fans.
As the Daily Caller opines, "There's one born every minute, and nobody's more glad than Charlie Sheen."  All I can say after watching the VIDEO's and reading the accounts of the disastrous Sheen exploits, please tell me that no one who actually bought a ticket to watch this mess actually votes.
The reviews of the show were disastrous as seen at Entertainment Weekly. Just a thought, was there ever a doubt that they would not be? Did people who went to see an out of control, drugged on Charlie Sheen drinking Tiger's Blood actually think that what they were going to witness was going to be good?
For those who purchased tickets and continue to, consider yourself lemmings and additional confirmation that there really is a sucker born every minute.
UPDATE I: As reported at Big Hollywood, Charlie Sheen calls Sarah Palin a "whore" in his show. Wow Charlie, call that "winning"? For some one who claims he is so different and outside the mainstream, you appear to be nothing more than a lemming yourself. How original, attacking a wife and mom by calling her a derogatory name. You are losing again.
UPDATE II: What is the over/under on when Live Nation will pull the plug?
How long before Live Nation pulls the plug? I'd say, not long, because what they don't want is an avalanche of ticket refund requests and cancellations in every city. Bad publicity in one city is one thing, but tonight is Chicago and by Friday Sheen is supposed to play Radio City Music Hall.
LISTEN TO THE DANA PRETZER SHOW ON SCARED MONKEYS RADIO
Tonight Dana welcomes special guests:
"While Sheen continues his victory tour, and we keep watching him for all the wrong reasons, it's worth noting the novelty of how one man continues to feel good about making virtually everyone else feel bad."
 The Dana Pretzer Show On Scared Monkeys Radio – Tuesday, March 29th, 2011 – Special Guests: Wendy Murphy, Drew Kesse & Tom Philbin [0:04m]:
Play Now
|
Now I remember why I used to love Andrew Dice Clay …
It started out as a question regarding Gilbert Gottfried who was just recently canned by AFLAC due to his twitter comments he made regarding the Japan earthquake tragedy. However it soon turned to Charlie Sheen and the rest is Dice Man history. The "Dice Man" went on a tirade like only he could and basically told Charleen Sheen .. hey Chuck …  Hickory, Dickory Dock … OH! 
Andrew Dice Clay went after Charlie Sheen and turned it into a quintessential Dice Man comedy routine which Sheen as the focus. However, what came from the profanity laced commenst that may have set a Guinness Book of World Records for censor beeps was many valid and lucid points from Andrew Dice Clay. Although crude. the Dice Man was spot on … Hey Charlie get some f#&$ing help.
This is a must watch VIDEO (warning, profanity).
Dice man said, maybe this (beep) Charlie Sheen should say something nice abhout all these people in Japan and their families while he has the (beep) attention on him? Dice then said, know what gets me about him, no one has the balls to tell him how (beep)ed up he is. 
Then came the "Hey Charlie you think you are winning" part of the video that is a must see … WOW! Do you call it winning that you get your kids taken from you?
GET THE (BEEP) HELP YOU (BEEPING) NEED!
LISTEN TO THE DANA PRETZER SHOW ON SCARED MONKEYS RADIO
Tonight Dana welcomes special guests:
Download Podcast
Posted March 16, 2011 by

Scared Monkeys Blink on Crime

,

Bloggers

,

Casey Anthony

,

Caylee Anthony

,

Celebrity

,

Charlie Sheen

,

Crime

,

Dana Pretzer

,

Missing Persons

,

Scared Monkeys Radio

|

one comment
Winning? Hardly Charlie … any one who hires this guy is us out of their mind … Tiger blood, Goof grief
Charlie Sheen calls the following winning … we call it a train wreck with an unhappy ending.
Charlie Sheen is officially fired from CBS's "Two and a Half Men" and then does what Charlie Sheen does best, threatens a law suit and goes on yet another bizarre and foolish rant. Are you serious Charlie, waiving a machete from TMZ and making mock of Martin Luther King Jr. by "saying free at last" when asked about your firing by CBS. Good grief, my only question in all of this is why you were not fired sooner?
Because we all know he is not bi-polar, he's bi-winning.
Just a note to Charlie Seen and his lunacy rants, tweets and videos … REAL WINNING IS SANTANA, NUFF SAID!!!
Sadly, the only reason why anyone in the media is following this "train wreck" is so they can watch him crash live on TV or the Internet. And here you have it, the real reason why Charlie Sheen gets PR, folks looking to make a dime off of the bizarre rantings of Sheen … now available every where, Tiger Blood cocktail.
You know folks, any of you that actually purchase Sheen's "Winning" merchandise or worse yet wear it … you have issue and might be in need of getting a life.
LISTEN TO THE DANA PRETZER SHOW ON SCARED MONKEYS RADIO
Tonight Dana welcomes special guests:
Child sexual abuse makes billions of dollars every year for pornographers. Why shouldn't reporting it make money, too? As for political benefits, the topic makes most people squeamish, which can backfire in politics, as it does at dinner parties when I talk about my work. It's just not the kind of thing people like to think about – no matter how strongly they may feel about tougher laws and better justice for victims.
Robin Sax - Discussing the Charlie Sheen saga and his rants against and firing at the hands of CBS as well as other "high quality" people.
Posted March 1, 2011 by

Scared Monkeys Celebrity

,

Charlie Sheen

,

child abuse

,

Child Welfare

,

Crime

,

Dana Pretzer

,

Facebook

,

Mass: Scott Brown (R) - Martha Coakley (D)

,

Pornograpghy

,

Scared Monkeys Radio

,

serial killer

,

Sex Offender

|

no comments
It was only a matter of time before Sheen's bizarre behavior came back to haunt him … Two and a Half man and Charlie Sheen has been canceled.
As reported at Deadline, the plug has been pulled on Charlie Sheen and Two and a Half Men after the actor went on a tirade of verbal assaults on the shows creator Chuck Lorre. Oh but wait, Sheen did not stop there, he also went after AA and Thomas Jefferson. What? Listen to the more than bizarre rant HERE or at TMZ. YIKES!!!
Charlie Sheen just launched a nuclear attack on live radio … slamming "Two and a Half Men" creator Chuck Lorre — calling him a turd — and went on to call Thomas Jefferson a "p***y
But wait Charlie Sheen was not done, after the show was canceled Sheen fired off another round of insults attacking the shows co-creator, Chuck Lorre. The letter can be read at TMZ.
Some body better get this guy help before its too late.