After being hit by a car and thought to be dead, Bart was buried. But he wasn't ready to die so he scratched his way out of his shallow grave!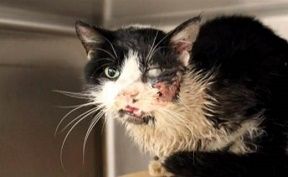 Daily Commentary – Friday, January 30, 2015 Download
A CHRISTMAS MIRACLE … MAN'S BEST FRIEND CREDITED WITH CURING CANCER,

84 year old  Bill Hogencamp of Phenix, Alabama was diagnosed with incurable cancer of the gall bladder, liver, colon and the lining of his abdomen last May. His doctors told him that he would never see Christmas, December 25,  2014. Mr. Hogencamp had accepted his fate as be believed he had led a full life. However, Bill Hogencamp and his wife, Kathy, made the decision to still try and fight the cancer as well. In October he had surgery to remove three large tumors. Following the surgery is when the miracle began. After the surgery, his wife went to pick up her husband from a rehabilitation center, she noticed a dog dangerously wandering down the road. the dog walked past several cars, before it came up to hers and put his paws up on her door. She opened up the door and took in the stray pup. Initially they were not going to keep the dog; however, after not being able to locate its owner, they became attached to the little  Maltese. They named him Mahjong. The dog fell in love with Bill Hogencamp and rarely left his side. The two became inseparable.  Hogencamp underwent chemotherapy. Just before the holiday he received some miraculous news,  Tests showed that Hogencamp was now cancer free.
Pic – ABC News via Mark Hogencamp
"I hadn't had a dog in twenty years and I had no desire to have a dog," he said. "I kept saying we need to find his owner."

Despite an extensive search and nearly a dozen false leads, the Hogencamp's were never able to track down the dog's owner. They learned from a vet they visited during their search that he was a Maltese, probably around 6 years old, fixed but not chipped.

Besides, the dog very quickly won Hogencamp over. They soon became inseparable.

Whenever Hogencamp sat down, the dog — who they named Mahjong after Kathy's favorite card game — would jump in his lap. Whenever Hogencamp napped, Mahjong would curl up next to him. When Hogencamp returned home after being out, Mahjong would hop onto his hind legs and dance with joy.

As he and his wife settled into life with a dog, Hogencamp underwent chemotherapy. Just before the holiday he received some miraculous news: Tests showed that he was now cancer free.
MIRACLE OR HAPPENSTANCE, YOU MAKE THE CALL, BUT DON'T FORGET THAT DOG IS GOD SPELLED BACKWARDS.
Hogencamp's doctors were at a loss for words to explain his miraculous medical turn of events of now being cancer free. However, the Hogencamp's believe that little Mahjong has played a huge part in Bill  Hogencamp's remarkable and miraculous recovery.
The doctors are at a loss to explain this amazing turn of events, Hogencamp's wife said. But she said the family believes that Mahjong has played a huge part in her husband's recovery.

"The dog seemed to know right away that Bill was sick and it was his job to take care of him — and Bill knew it was his job to take care of the dog," she said.

Hogencamp agreed. He said their relationship gave both him and the dog a sense of purpose. Although he knows he owes much of his cure to great medical care and a lot of luck, he said that he is convinced the little white dog was sent to him to help him get better.
THE GREATEST IRON BOWL EVER … TIGERS WIN, TIGERS WIN, TIGERS WIN … WAR EAGLE!!!
It was an Iron Bowl for the ages, the #4 Auburn Tigers stunned #1 Alabama  34-28 on the final play of the game. The Crimson Tide tried a 56 yard field goal with 1 second left on the clock to win the game when another miracle happened on The Plains. The FG was short and the Auburn Tigers' Chris Davis ran the ball back 109 yards for a game winning touch down. The irony of it all was that Alabama coach Nick Saban lobbied for an extra second to be put on the clock to attempt the long FG. Then they set up for the game winning field goal and the rest is Iron Bowl lore.
via Twitter:Auburn Athletics ?@AUAthletics 1h
SCOREBOARD: pic.twitter.com/9wxOA2E4K4
The Auburn Tigers will head to Atlanta, GA and play for the SEC Championship.
Chris Davis returned a missed field-goal attempt more than 100 yards for a touchdown on the final play to lift No. 4 Auburn to a 34-28 victory over No. 1 Alabama on Saturday, upending the two-time defending national champions' BCS hopes and preserving the Tigers' own.

Davis caught the ball about 9 yards deep in the end zone after freshman Adam Griffith's 57-yard attempt fell short. He then sprinted down the left sideline and cut back with nothing but teammates around him in a second straight hard-to-fathom finish for the Tigers (11-1, 7-1 Southeastern Conference).
This is why we love college football!!!
Auburn Tiger fans rush Jordan Hare Field after the stunning War Eagle victory!!!
DESTINY BEATS DYNASTY!!!
Last week it was the "Prayer at Jordan Hare" as the hail Mary pass was tipped by two Georgia defenders on a 4th and 18 play into the hands of Auburn WR Ricardo Louis for a game winning TD! This week it was even more improbable as the game seemed all bust lost after Bama scored on a 99 yard TD pass.
The play of the year in college football … Auburn's Chris Davis runs back the missed Bama FG 100 yards for a game winning Iron Bowl TD!!!
Check out the Bleacher Report for more from the game of the year.
UPDATE I:  I nesver thought it was possible, but Nick Saban got out-coached. On a personal note, I have never really questioned Nick Saban's coaching as he is one of the best in the business, but today he seemed off his game. However, he went for it on 4th down when he was at about the Auburn 20 yard line in the center of the field and failed. Even though his kicker had already missed two FG's, he really should have kicked it there and tried to go up by 10 points. Then on the last play of the game, no what in hell I would have attempted a 56 yard FG with a red-shirt freshman kicker who had only tried 2 all year. Sabin does realize that 'Facing the Giants' was a movie and the last second FG kick by David of 51 yards was a movie as well, right? I am not sure how Saban left his chances of winning a third consecutive BCS Championship to a freshman kicker, rather than his senior QB AJ McCarron in OT.
(VIDEO Go to 1:37:53)
UPDATE II: Twitter erupts over Auburn's stunning victory over Alabama.
Some of the better tweets can be seen here, but check out the rest of them at FOX Sports, some are really good!
Maybe the best Tweet of them all … OUCH, that's going to leave a mark!