And that his cancer has spread to his brain. It's time for the Country and the World to support him in his cause/fight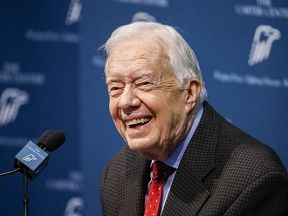 Daily Commentary – Wednesday, August 26, 2015
Download
Jimmy Carter, the former President of the United States, held a press conference yesterday and discussed his bout with cancer, Carter stated, that along with having a cancerous tumor on his liver that has since been operated on, doctors had also found four small spots of melanoma on his brain. The former 90 year old president further went on to detail how the cancer was discovered and his upcoming treatments.
Jimmy Carter spoke plainly when he said Thursday that doctors had found "four spots of melanoma" on his brain. The 90-year-old former president was relaxed and matter-of-fact as he talked about the uncertainty he faces. "I'm perfectly at ease with whatever comes," he said.

Flanked by family members and friends at a news conference at the Carter Center in Atlanta, he detailed the treatments that he has already begun and will continue in coming weeks, including radiation and the IV infusions of a new type of anti-cancer drug that tries to harness the body's immune system to fight the disease.
VIDEO – CNN: Jimmy Carter: Small cancer spots in my brain
All politics aside because trust me, Jimmy Carter was the second worst president in modern times, we with him our prayers and a speedy recovery.
Former President Jimmy Carter has cancer …
90 year old former President of the United States Jimmy Carter has announced that he has cancer. According to a statement from The Carter Center the  disease was discovered during recent liver surgery to remove "a small mass" and that the cancer "is now in other parts of my body." The former 39th president will be undergoing treatment at Emory Healthcare in Atlanta. Although, I may disagree 100% with Carter's politics and would like to forget his disastrous presidency from 1977 to 1981 making him the second worst president in history, however, I commend him for his post presidential work with Habitat for Humanity and wish he well and a fast recovery. Cancer does not discriminate between political ideology, it is a hideous disease that all of us have in one way or another been personally touched by. Get well Mr. President.
Former President Jimmy Carter, who at age 90 still travels the world supporting the humanitarian endeavors that have consumed his time in the decades since he left office, announced Wednesday he has cancer that has spread to other parts of his body

"Recent liver surgery revealed that I have cancer that now is in other parts of my body," Carter said in the statement released by the Carter Center. "I will be rearranging my schedule as necessary so I can undergo treatment by physicians at Emory Healthcare."

The statement makes clear that Carter's cancer is widely spread but not where it originated, or even if that is known at this point. The liver is often a place where cancer spreads and less commonly is the primary source of it. The statement said further information will be provided when more facts are known, "possibly next week."

Carter announced on Aug. 3 that he had surgery to remove a small mass from his liver.

Good wishes poured in on social media after Carter's announcement, while President Barack Obama said he and first lady Michelle Obama wish Carter a fast and full recovery.

"Jimmy, you're as resilient as they come, and along with the rest of America, we are rooting for you," Obama said in a statement.

Carter was the nation's 39th president, defeating Gerald Ford in 1976 with a pledge to always be honest.
JIMMY CARTER SAYS OBAMA HAS HAD MINIMAL SUCCESSES ON THE WORLD STAGE … I GUESS THAT IS A GOOD THING FOR THE WORLD.

Former President Jimmy Carter ripped Barack Obama in a recent interview stating that Obama's successes on the world stage "have been minimal." WOW, that says a lot coming from this disaster of a president on the world stage. Not only did Carter say that Obama's accomplishments were minimal, he also stated that US influence and prestige in the world was lower than it was 6 or 7 years ago. But Carter doesn't want to be called a racist so he says' he doesn't blame Obama for his failures on the world stage. Of course Obama isn't to blame, why would anyone in the Democrat party hold him accountable for his failures?  Um, then who is to blame, GWB? Or would it be Hillary Clinton's fault? After all, Carter proclaimed John Kerry was "one of the best secretaries of state we've ever had."
After proclaiming John Kerry "one of the best secretaries of state we've ever had," Carter dumped cold water on Obama's record abroad.

"On the world stage, I think [Obama's accomplishments] have been minimal," Carter said. "I think he has done some good things domestically, like health reform and so forth. But on the world stage, just to be objective about it, I can't think of many nations in the world where we have a better relationship now than when he took over."

"I would say the U.S.'s influence and prestige and respect in the world is probably lower than it was six or seven years ago," Carter said.
VIDEO – Washington Free Beacon
YOU KNOW YOU HAVE HIT ROCK BOTTOM WHEN JIMMY CARTER CRITICIZES YOUR FOREIGN POLICY!!!
It does not get much worse than this for a sitting president, Jimmy "Peanuts" Carter criticizing your foreign policy in the Middle East. OUCH! Jimmy Carter, the president who brought us the rise of radical Islam in Iran in the 1970′s and the  Ayatollah Khomeini, ripping Obama on his Middle East policy in dealing with ISIS. Carter stated, "[W]e waited too long. You know your presidency has hit rock bottom when Jimmy Carter calls you a failure.
Former President Jimmy Carter is criticizing President Barack Obama's Middle East policy, saying he has shifting policies and waited too long to take action against the Islamic State of Iraq and the Levant.

In an interviewed published Tuesday in the Fort Worth Star-Telegram, the 39th president said the Obama administration, by not acting sooner, allowed ISIL to build up its strength.

"[W]e waited too long. We let the Islamic State build up its money, capability and strength and weapons while it was still in Syria," he said, using an alternate name for the terrorist group. "Then when [ISIL] moved into Iraq, the Sunni Muslims didn't object to their being there and about a third of the territory in Iraq was abandoned."

Carter said Obama's air campaign against ISIL in Iraq has "a possibility of success," provided that some troops are available on the ground. He did not specify whether he meant U.S. or other ground forces.

The former Democratic president and Georgia governor also said the president has shifted his Middle East policy on several occasions.
Posted October 8, 2014 by

Scared Monkeys Barack Obama

,

Epic Fail

,

Former Presidents

,

Iraq

,

ISIS

,

Jimmy Carter

,

Middle East

,

Misleader

,

Radical Islam

,

Syria

,

War on Terror

|

one comment
Former President Jimmy Carter needs to borrow a line from Monty Python and the Holy Grail …  I'm Not Dead Yet!!!
It would appear that Donald Trump was a bit premature in announcing the death of "the late, great Jimmy Carter (VIDEO)." Yesterday at CPAC, The Donald compared the Obama presidency to that of the disastrous, failed presidency of Jimmy Carter. Trump stated that Obama's job approval numbers at 38% were now in Jimmy Carter territory and that he never thought he would see another presidency like the late, great Jimmy Carter. Oops. Make no mistake, Jimmy Carter, 39th President of the United States has not passed away. However, Carter's presidency was.
"We're getting into Jimmy Carter territory, and I never thought I'd see anything like that again," he said as the audience chuckled. "I lived through that time and it was not a good time and we're pretty close – I think maybe by next month we will have surpassed the late, great Jimmy Carter."
 With Barack Obama's failed foreign and domestic policies and adverse impact on America, it would look like from his falling polling number, Obama's presidency is dead as well.
Posted March 7, 2014 by

Scared Monkeys Barack Obama

,

Conservatives

,

CPAC

,

Divider in Chief

,

Donald Trump

,

Economy

,

Epic Fail

,

Federal Deficits

,

Food Stamp President

,

Former Presidents

,

Healthcare

,

Hope and Change

,

Jimmy Carter

,

Misery Index

,

Misleader

,

Nanny State - Big Government

,

Obamacare

,

Obamanation

,

Obamanomics

,

Obamatax

,

The Lying King

,

You Tube - VIDEO

|

no comments
How ironic that Jay Leno has never been funnier and NBC is parting ways with him …
Barack Obama is now the nightly fodder for late night comedy and the other night was no different. Jay Leno just shreds Obama's falling job approval numbers and compares them to that of Ricard Nixon. OUCH! But wait, Jimmy Carter says, that's not fair, if he had a 5th year, he is sure that he would be lower, ha, ha, ha!!! Many feel that Obama's second term is Carter's third term in office.
Obama's Current Approval Rating Is The Ugliest Since Nixon:
President Barack Obama is ending his fifth year in office with the lowest approval ratings at this point in the presidency since President Richard Nixon, according to a new Washington Post/ABC poll released Tuesday.

Obama's approval rating in the poll stands at 43%. By comparison, President George W. Bush had a 47% approval rating at the end of the fifth year of his presidency. And all other Post-World War II presidents had approval ratings above 50% — with the exception of Nixon, who, amid the Watergate scandal, had a dreadful 29% approval rating.
Posted December 19, 2013 by

Scared Monkeys Barack Obama

,

Celebrity

,

Epic Fail

,

Humor

,

Jay Leno

,

Jimmy Carter

,

Job Approval

,

Misleader

,

Obamanation

,

Polls

,

Richard Nixon

,

Transparency

,

You Tube - VIDEO

|

2 comments
And now for something completely different, Jimmy Carter says Zimmerman jury got the verdict right.
As resorted at The Politico, former President Jimmy Carter said in an interview on Atlanta news channel WXIA that the jury in the George Zimmerman murder trail got the verdict right. Well this is not going to go over well with the LEFT, Democrat politicians, Al Sharpton, Jesse Jackson and Attorney General Eric Holder. Holder is seeking to go after Civil Rights charges against Zimmerman as Holder fans the flames when there is no evidence that Zimmerman was ever a racist. Oh, and add to it those marching and rioting in the streets, those attacking others in revenge for the verdict and the prosecutors in Florida who lost and still have sour grapes. I have to give Carter some credit on this one. He is actually being rather responsible in his comments and is basing his comments on the law, not emotion. With the insanity, hateful comments and threats that have come from those opposing the verdict, it's only a matter of time before Carter is referred to as a "creepy ass cracker".
"I think the jury made the right decision based on the evidence presented, because the prosecution inadvertently set the standard so high that the jury had to be convinced that it was a deliberate act by Zimmerman that he was not at all defending himself, and so forth," Carter told Atlanta news channel WXIA. "It's not a moral question, it's a legal question and the American law requires that the jury listens to the evidence presented."
Carter thinks America is moving forward and making progress. I sue hope so.
Barack Obama is the worst United States President ever, surpassing even Jimmy Carter … Obama just does not even pretend to care about Americans.
President Barack "Nero" Obama might as well be playing a fiddle as opposed to golfing as the United States collapses and the world burns. On Friday, we learned that the US created a pathetic 88,000 jobs as the unemployment rate fell to 7.6% thanks to the Labor participation rate falling to 34-Year Low of 63.3%, the lowest since May 1979. We all know who was president then, don't we? More Americans were killed in Afghanistan, the despot dictator of North Korea Kim Jong-un has been threatening nuclear war, the Middle East continues to be a tinderbox, not to mention the record level number of Americans on food stamps and escalated gas and health care prices. All this going on and this clown we call a president goes golfing yet again, for the second weekend in a row.
Shh, don't let anyone know I could care less about 'We the People," it's all about what perks I can get out of this job
President Obama went out for a round of golf Saturday afternoon, his second weekend in a row to hit the links at a course at Joint Base Andrews. The president golfed with White House aides Marvin Nicholson, Joe Paulsen, and Michael Brush.
When will this president ever take his job seriously and actually show one ounce of empathy with the struggling American people? The answer is never, because that is what this 1% president is all about. Sacrifice is your you, not him. It is "We the People" who are supposed to struggle and make it possible for Obama and his family and the Biden's to take multiple vacations, while American families stay home. It is obvious Obama could care less about the American people, and a note to black folks, that means you too. Obama acts like nothing is going wrong, yet everything a catastrophe, down to his all important NCAA basketball brackets.  
EXIT QUESTION: Would the MSM let a Republican president get away with the perception that a president could care less and go on as business as usual as they demand Americans sacrifice and in the middle of sequestration where others are having their life styles cut? Back in 2012, Obama had played four times more golf than George W. Bush did in eight years. Ironically, it sounds all too familiar to Obama's budget spending as well. Remember when President GWB gave up golf because in his words, he did not think it was right as Commander in Chief and it sent the wrong message. It is very unfortunate we have a current president in Obama who does not feel the same as Americans continue to die and millions struggle out of work.
"I don't want some mom whose son may have recently died to see the commander-in-chief playing golf," Bush said. "I feel I owe it to the families to be in solidarity as best as I can with them."

"And I think playing golf during a war just sends the wrong message," Bush said.
Posted April 7, 2013 by

Scared Monkeys Afghanistan

,

Barack Obama

,

class warfare

,

Community Agitator

,

Divider in Chief

,

Economy

,

Epic Fail

,

Food Stamp President

,

Golfer in Chief

,

Jimmy Carter

,

Labor Force

,

Lost in Smallness

,

Obamanation

,

Obamanomics

,

Partisan hack

,

Terrorism

,

The Dodger in Chief

,

Unemployment

,

Vacationer in Chief

,

We the People

,

WTF

|

3 comments
BREAKING NEWS: Venezuela President Hugo Chavez, Dead at Age 58.
Hugo Chavez will not be down for breakfast. The socialist dictator of Venezuela has passed away from cancer. Make room Kim Jung Il, Hell has a new resident. After numerous claims that Chavez was recovering from cancer from his propaganda machine, Chavez succumbed to complication of cancer. His death leaves Venezuela bitterly divided.  But isn't that exactly what a dictator does while in power, divides the people so that they are too busy fighting each other and blaming eash other, than focusing on the real problem, the man in power. Doesn't that sound familiar, but I digress.  Chavez, a devoted enemy of the United States, was praised by his bud, former Democrat President of the United States Jimmy Carter.  How misguided could one possibly be and a glimpse into what Democrat presidents believe in and call help to the people. Other Democrats like Rep. Jose E. Serrano (D-NY) released a statement praising former Venezuelan President Hugo Chavez; however, neglecting the crackdowns of his political opponents. A glimpse into the Democrat party indeed.  According to accounts, elections will be held in 30 days, and Vice President Nicolas Maduro will assume the presidency in the interim.
UPDATE I: As reported by the AP:
We came to know a man who expressed a vision to bring profound changes to his country to benefit especially those people who had felt neglected and marginalized," Carter said in a statement.

Carter noted that while he did not always agree with Chavez's methods, he "never doubted Hugo Chávez's commitment to improving the lives of millions of his fellow countrymen," and said that the former Venezuelan president "will be remembered for his bold assertion of autonomy and independence for Latin American governments and for his formidable communication skills and personal connection with supporters in his country and abroad to whom he gave hope and empowerment."

President Hugo Chavez was a former paratroop commander and self-styled "subversive" who waged continual battle for his socialist ideals. He bedeviled the United States and outsmarted his rivals time and again, while using Venezuela's vast oil wealth to his political advantage.

Chavez led one coup attempt, defeated another and was re-elected three times. Almost the only adversary it seemed he couldn't beat was cancer. He died Tuesday in Caracas at age 58, two years after he was first diagnosed.
UPDATE II:  Hollywood whacko Sean Penn on Hugo Chavez's Death: 'I Lost a Friend'.
Hmm, didn't insanoid, former NBA bad boy and attention whore Dennis Rodman call the socialist dictator of North Korea Kim Jung Un a friend as well? Oh yeah, another enemy of the United States.
"Today the people of the United States lost a friend it never knew it had. And poor people around the world lost a champion," says Penn in a statement to The Hollywood Reporter. "I lost a friend I was blessed to have. My thoughts are with the family of President Chavez and the people of Venezuela."

Penn, who has been a longtime supporter of Chavez, made a surprise appearance in Bolivia in December to attend a candlelight vigil for the health of the leader. Said Penn at the vigil: "He's one of the most important forces we've had on this planet, and I'll wish him nothing but that great strength he has shown over and over again. I do it in love, and I do it in gratitude."
Take a good look how people are treated by pro-Chavez folks who are perceived being apart of the opposition. A news media crew is attacked under the assumption they were working for the opposition media to Chavez.
UPDATE III: More on the statements from former US President Jimmy Carter because this is really important for Americans to understand about a Democrat party that has so lost its way.  How is it possible that we have such prominent Democrats coddling a man who oppressed his people? These are the same people that slam Conservatives, Republicans and the Tea Party … but praise the good of a dictator. As the Gateway Pundit opines, Carter wants you to remember the positive things that Chavez did. Hmm, didn't Hitler make the trains run on time?  Think about that America. Give that one a long good thought. Especially the next time you vote.
Statement From Former U.S. President Jimmy Carter on the Death of Hugo Chavez – Carter Center
Rosalynn and I extend our condolences to the family of Hugo Chávez Frías.  We met Hugo Chávez when he was campaigning for president in 1998 and The Carter Center was invited to observe elections for the first time in Venezuela.  We returned often, for the 2000 elections, and then to facilitate dialogue during the political conflict of 2002-2004.  We came to know a man who expressed a vision to bring profound changes to his country to benefit especially those people who had felt neglected and marginalized.  Although we have not agreed with all of the methods followed by his government, we have never doubted Hugo Chávez's commitment to improving the lives of millions of his fellow countrymen.[...]

At the same time, we recognize the divisions created in the drive towards change in Venezuela and the need for national healing.  We hope that as Venezuelans mourn the passing of President Chávez and recall his positive legacies — especially the gains made for the poor and vulnerable — the political leaders will move the country forward by building a new consensus that ensures equal opportunities for all Venezuelans to participate in every aspect of national life.
UNREAL!!!