And that his cancer has spread to his brain. It's time for the Country and the World to support him in his cause/fight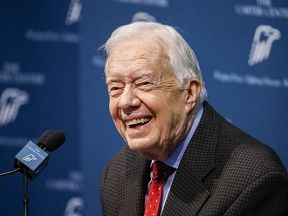 Daily Commentary – Wednesday, August 26, 2015
Download
Jimmy Carter, the former President of the United States, held a press conference yesterday and discussed his bout with cancer, Carter stated, that along with having a cancerous tumor on his liver that has since been operated on, doctors had also found four small spots of melanoma on his brain. The former 90 year old president further went on to detail how the cancer was discovered and his upcoming treatments.
Jimmy Carter spoke plainly when he said Thursday that doctors had found "four spots of melanoma" on his brain. The 90-year-old former president was relaxed and matter-of-fact as he talked about the uncertainty he faces. "I'm perfectly at ease with whatever comes," he said.

Flanked by family members and friends at a news conference at the Carter Center in Atlanta, he detailed the treatments that he has already begun and will continue in coming weeks, including radiation and the IV infusions of a new type of anti-cancer drug that tries to harness the body's immune system to fight the disease.
VIDEO – CNN: Jimmy Carter: Small cancer spots in my brain
All politics aside because trust me, Jimmy Carter was the second worst president in modern times, we with him our prayers and a speedy recovery.
Former President Jimmy Carter has cancer …
90 year old former President of the United States Jimmy Carter has announced that he has cancer. According to a statement from The Carter Center the  disease was discovered during recent liver surgery to remove "a small mass" and that the cancer "is now in other parts of my body." The former 39th president will be undergoing treatment at Emory Healthcare in Atlanta. Although, I may disagree 100% with Carter's politics and would like to forget his disastrous presidency from 1977 to 1981 making him the second worst president in history, however, I commend him for his post presidential work with Habitat for Humanity and wish he well and a fast recovery. Cancer does not discriminate between political ideology, it is a hideous disease that all of us have in one way or another been personally touched by. Get well Mr. President.
Former President Jimmy Carter, who at age 90 still travels the world supporting the humanitarian endeavors that have consumed his time in the decades since he left office, announced Wednesday he has cancer that has spread to other parts of his body

"Recent liver surgery revealed that I have cancer that now is in other parts of my body," Carter said in the statement released by the Carter Center. "I will be rearranging my schedule as necessary so I can undergo treatment by physicians at Emory Healthcare."

The statement makes clear that Carter's cancer is widely spread but not where it originated, or even if that is known at this point. The liver is often a place where cancer spreads and less commonly is the primary source of it. The statement said further information will be provided when more facts are known, "possibly next week."

Carter announced on Aug. 3 that he had surgery to remove a small mass from his liver.

Good wishes poured in on social media after Carter's announcement, while President Barack Obama said he and first lady Michelle Obama wish Carter a fast and full recovery.

"Jimmy, you're as resilient as they come, and along with the rest of America, we are rooting for you," Obama said in a statement.

Carter was the nation's 39th president, defeating Gerald Ford in 1976 with a pledge to always be honest.
JIMMY CARTER SAYS OBAMA HAS HAD MINIMAL SUCCESSES ON THE WORLD STAGE … I GUESS THAT IS A GOOD THING FOR THE WORLD.

Former President Jimmy Carter ripped Barack Obama in a recent interview stating that Obama's successes on the world stage "have been minimal." WOW, that says a lot coming from this disaster of a president on the world stage. Not only did Carter say that Obama's accomplishments were minimal, he also stated that US influence and prestige in the world was lower than it was 6 or 7 years ago. But Carter doesn't want to be called a racist so he says' he doesn't blame Obama for his failures on the world stage. Of course Obama isn't to blame, why would anyone in the Democrat party hold him accountable for his failures?  Um, then who is to blame, GWB? Or would it be Hillary Clinton's fault? After all, Carter proclaimed John Kerry was "one of the best secretaries of state we've ever had."
After proclaiming John Kerry "one of the best secretaries of state we've ever had," Carter dumped cold water on Obama's record abroad.

"On the world stage, I think [Obama's accomplishments] have been minimal," Carter said. "I think he has done some good things domestically, like health reform and so forth. But on the world stage, just to be objective about it, I can't think of many nations in the world where we have a better relationship now than when he took over."

"I would say the U.S.'s influence and prestige and respect in the world is probably lower than it was six or seven years ago," Carter said.
VIDEO – Washington Free Beacon
YOU KNOW YOU HAVE HIT ROCK BOTTOM WHEN JIMMY CARTER CRITICIZES YOUR FOREIGN POLICY!!!
It does not get much worse than this for a sitting president, Jimmy "Peanuts" Carter criticizing your foreign policy in the Middle East. OUCH! Jimmy Carter, the president who brought us the rise of radical Islam in Iran in the 1970′s and the  Ayatollah Khomeini, ripping Obama on his Middle East policy in dealing with ISIS. Carter stated, "[W]e waited too long. You know your presidency has hit rock bottom when Jimmy Carter calls you a failure.
Former President Jimmy Carter is criticizing President Barack Obama's Middle East policy, saying he has shifting policies and waited too long to take action against the Islamic State of Iraq and the Levant.

In an interviewed published Tuesday in the Fort Worth Star-Telegram, the 39th president said the Obama administration, by not acting sooner, allowed ISIL to build up its strength.

"[W]e waited too long. We let the Islamic State build up its money, capability and strength and weapons while it was still in Syria," he said, using an alternate name for the terrorist group. "Then when [ISIL] moved into Iraq, the Sunni Muslims didn't object to their being there and about a third of the territory in Iraq was abandoned."

Carter said Obama's air campaign against ISIL in Iraq has "a possibility of success," provided that some troops are available on the ground. He did not specify whether he meant U.S. or other ground forces.

The former Democratic president and Georgia governor also said the president has shifted his Middle East policy on several occasions.
Posted October 8, 2014 by

Scared Monkeys Barack Obama

,

Epic Fail

,

Former Presidents

,

Iraq

,

ISIS

,

Jimmy Carter

,

Middle East

,

Misleader

,

Radical Islam

,

Syria

,

War on Terror

|

one comment