Not sure if Trump or Clinton will make a difference. One thing you can do is VOTE your concious, vote for either the Democrats who were holding the sit in or the Republicans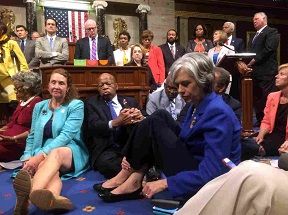 Daily Commentary – Friday, June 24, 2016
Download
Damn, Laura "Half Pint" Ingalls is a Democrat …
51 year old Laura Ingalls is going to run for Congress in 2016 in Michigan's 8th District. Melissa Gilbert is going to run as a Democrat in a district that has lately become a GOP stronghold in recent elections. Although Laura Ingalls has not held political office before, which is probably a good thing in this day and age, but she was president of the Screen Actors Guild serving two terms from 2001 to 2005. However, it appears that Melissa Gilbert's campaign may have difficulties before it begins. In June 2015, the Daily Press & Argus in Livingston County reported that the IRS filed a lien against Gilbert, alleging she owes more than $360,000 in back taxes. Who thinks that Michigan Republicans will use this as political ad fodder and rightfully so. One would think that locals in her district might have an issue with this as well, one would think.
Oh those tax and spend liberals and the hypocrisy of it all.
Actress Melissa Gilbert, best known for her portrayal of Laura Ingalls Wilder on NBC's "Little House on the Prairie" in the 1970s and '80s, said Monday she will run for Congress in Michigan's 8th District — though her campaign will have to tamp down questions about a tax bill.

Gilbert, who lives in Livingston County with her husband, actor Timothy Busfield, is running as a Democrat in a district that has been a Republican stronghold in recent elections: U.S. Rep. Mike Bishop, R-Rochester, won the race to replace former U.S. Rep. Mike Rogers, R-Howell, last year, beating Democrat Eric Schertzing, 54%-42%.

But someone with Gilbert's celebrity could make a splash, especially when it comes to raising funds for her campaign. Bishop was recently added to the Republican's Patriot Program, an effort to help potentially vulnerable incumbents maintain their seats in Congress, though it's unclear why he was marked for such aid.

"I'm running for Congress to make life a little easier for all the families who feel they have fallen through the cracks in today's economy," Gilbert said in a statement released on her website, www.gilbertformichigan.com. "I believe building a new economy is a team effort, and we need to bring fresh voices to the table to get the job done."
US Rep. Alcee Hastings (D-FL) wants a Congressional living wage …
You wonder why Congress has a 15% approval rating? Not only does Congress not do anything, only seem interested in maintaining their own power and when you count up the days work only about 1/2 a year … now US Rep. Alcee Hastings (D-FL) wants a pay raise. Watch the VIDEO below of Hasting whining about his pay and saying that he thinks that Congress deserves a raise. Really? Congress makes $174,000 a year for working far less days than your average American. He thinks that this is not being paid properly. These people have helped destroy this country and now they want to be rewarded? This previously disgraced and impeached judge should be tossed out of office and make to work in the private sector, one he helped ruin. CONGRESS DOES NOT DESERVE A RAISE, THEY DESERVE TO BE THROWN OUT OF OFFICE.
Rep. Alcee L. Hastings made the politically tone-deaf case for raising salaries for members of Congress Monday, pointing to the high cost of living in the District of Columbia.

"Members deserve to be paid, staff deserves to be paid and the cost of living here is causing serious problems for people who are not wealthy to serve in this institution," the Florida Democrat said at a Rules Committee meeting, referring to the average member's $174,000 annual salary. "We aren't being paid properly," he later added.

The committee was considering the fiscal 2016 Legislative Branch appropriations bill, which sets the spending levels for Congress and legislative branch agencies. The bill includes a freeze on member pay, continuing one that has been in place since 2010 — and last year drew the ire of then-Rep. James P. Moran.
Pay raise? You know these people are getting monies that are not apart of their actual salary. They can write books, do speeches, etc.  Sorry Alcee, HOW ABOUT YOU GET A REAL JOB IN THE PRIVATE SECTOR!!! PAY RAISE MY BUTT!!!
Maybe Hastings should go back to taking bribes?
THANKS DOUG, TERRORISTS NOW HAVE A NEW METHOD TO ATTACK WASHINGTON, DC …
Watch the VIDEO below of 61 year old Doug Hughes, a mail man, from Florida explains what his planned mission was and that he had planned it well in advance. Doug says that no sane man would do what he was going to do, ya think? He stated he carefully planned this stunt, and did not want to get hurt. Doug Hughes states that "terrorists don't announce their fights before they take off. Terrorists don't broadcast their flight path. Terrorists don't invite an escort to go along with them." Hmm, thanks to Dough Hughes and the idiotic reaction of the Capital police and Secret Service, I bet they do now.
Dough Hughes did this stunt in order to draw attention to campaign finance reform and most likely probably brought more attention to would-be terrorists and lone-wolfs in how to fly in a no-fly zone without getting blown out of the sky. Hughes says his intent was to deliver 535 letters strapped to the landing gear to give to members of Congress.
Hughes was taken into custody and arrested.
FAA investigating Florida mailman's landing of gyrocopter on U.S. Capitol lawn.
Doug Hughes' close friend and co-worker, Mike Shanahan, said today that the Ruskin mailman is not a terrorist and did not mean any harm with his protest.

And just hours before Hughes landed in Washington, Hughes' friend said he called a Secret Service agent to notify him of the possibility of the gyrocopter flight.

"He's not a suicide bomber, he's a patriot," said Shanahan, 65, of Apollo Beach. The whole stunt centers around Hughes' effort to change campaign finance laws, "or the lack thereof," according to Shanahan.

About a year ago, Shanahan said, Hughes told him of the idea to deliver letters to legislators by gyrocopter. Not long after, they were both questioned by a Secret Service official in Florida, he said. Wednesday morning, Shanahan said, Hughes called his friend and said he was in Washington, ready to take off.
Just curious, didn't I see this same flying contraption in the 1986 movie, Howard the Duck?
UPDATE I: AP Captures VIDEO of Doug Hughes buzzing the Capital area.
How in the hell was this allowed to happen and according to reports, authorities were warned in advance that this would happen and still allowed it to occur. HUH? So it was okay, because Hughes was a LEFT-WING nut-job? ABC7 reports that the small single-man gyrocopter that flew through restricted airspace around the National Mall was undetected by NORAD.
Rep. Bennie Thompson, D-Mississippi, the top minority member on the House Homeland Security Committee, told CNN he had "deep concern" about Wednesday's incident and the fact that the Secret Service knew about the pilot.

"Obviously we should have kept a little closer tabs on him, especially within the prohibited airspace," Thompson said.

"It shows that we still have some areas that are vulnerable and while we can have prohibited airspace it shows that certain kinds of flight patterns are still problematic, and a really bad guy could have caused significant harm if had been armed with explosives or things like that," he said.
UPDATE II: Doug Hughes wrote on his website, The Democracy Club, As I have informed the authorities, I have no violent inclinations or intent."
Who thinks that terrorists hell-bent on attacking the United States would say the same thing.
Posted April 15, 2015 by

Scared Monkeys Bizarre

,

Congress

,

Crime

,

Domestic Terrorism

,

Government

,

Homeland Security

,

Politics

,

Strike/Protest

,

War on Terror

,

WTF

,

You Tube - VIDEO

|

no comments
AMERICANS NAME GOVERNMENT THE #1 PROBLEM FACING THE UNITED STATES …
Americans are fed up with the increasing and oppressive government. In a recent Gallup poll, Americans named the government as the biggest problem facing the United States. For the past 4 months, the government has been named the biggest problem facing "We the People". They are correct.  Even with such issues as terrorism, healthcare, race relations and immigration are extremely important problems facing Americans, the government, the economy and unemployment have been at the top of the list for the past year. In the end, it is our lawless government that refuses to follow the US Constitution,  our government that fails to adequately deal with border security, our government that makes the Middle East worse, our government that continually regulates us in a way that our Founding Fathers never intended and our government that spies on us and treats law-abiding, legal US citizens as a greater threat than terrorists.
Americans have grown weary of a government that could care less about the people and only about their power. Every day we are witness to a Democrat president who shreds the Constitution and a gutless Republican Congress who is too cowardice to defend it.
The government is America's most important problem, according to a new poll.

In a Gallup poll released Thursday, 18 percent of Americans named government as the biggest problem facing the U.S.

The economy trailed closely behind as an important problem with 11 percent, followed by "unemployment/jobs" at 10 percent.

The poll shows a slight increase in those who are dissatisfied with government. In February, 17 percent answered that the government is the most important problem. Americans also seem to be optimistic about the economy. Last month, 16 percent of Americans said that the economy was the most important problem — nearly tying with government. That figure is now down 5 percentage points.
Major survey finds record low confidence in government.
Americans' confidence in all three branches of government is at or near record lows, according to a major survey that has measured attitudes on the subject for 40 years.

The 2014 General Social Survey finds only 23 percent of Americans have a great deal of confidence in the Supreme Court, 11 percent in the executive branch and 5 percent in Congress. By contrast, half have a great deal of confidence in the military.
As Ronald Reagen profoundly stated so many years ago, "Government is not the solution to our problems, government is the problem."
Ronald Reagan also said so many years ago, "We are a nation that has a government. Our government has no power except for that granted by the people. It is time to check and reverse the growth of government, which shows signs of having grown beyond the consent of the governed." WAKE UP AMERICA!!!
Posted March 13, 2015 by

Scared Monkeys Abuse of Power

,

Barack Obama

,

collusion

,

Congress

,

Corruption

,

cronyism

,

Democrats

,

Divider in Chief

,

Epic Fail

,

Ethics

,

Gallup

,

Government

,

Imperial President

,

Liberals

,

Misleader

,

Nanny State - Big Government

,

Out of Control Spending

,

Polls

,

Progressives

,

Republican

,

RINO

,

Tax & Spend Liberals

,

The Lying King

,

Tyranny

,

US Constitution

,

Wasteful Spending

,

Welfare State

|

one comment