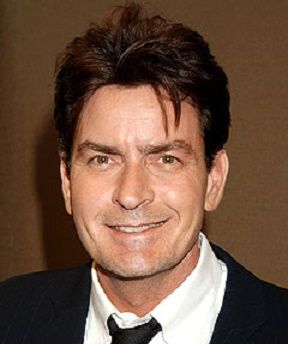 Daily Commentary – Wednesday, November 18, 2015
Download
SO MUCH FOR WINNING …
According to TMZ.com, actor Charlie Sheen is going to disclose publicly on The Today Show that he is HIV-positive.  Sources connected to NBC's "Today" tell TMZ … Sheen will sit down with Matt Lauer on Tuesday morning to make the announcement. The 50 year old actor has long struggled with substance abuse and has admitted to soliciting prostitutes in the past.
Charlie Sheen is going on the Today show to discuss being HIV-positive, sources tell PEOPLE.

According to top Hollywood publicist and crisis manager Howard Bragman, he was approached by people close to Sheen six months ago to deal with the crisis, but never dealt with him directly. "The interview could open up a lot of sympathy for him, but he has to be concerned about a fear of litigation from former sexual partners. You don't take that lightly."

Bragman says he was informed that Sheen "is getting treatment, and a lot of people in his life know about it."

"It's been going on for quite awhile. He's not necessarily comfortable talking about it. It was very hard to get up the courage for him to talk about it."
UPDATE I: TMZ – Charlie Sheen Threats of Lawsuits Unraveled HIV Secret.
We're told things changed when Charlie confided in several friends he thought were confidants … it turned out they weren't, and spread the word he was HIV positive.

That led to several of Charlie's former partners contacting him and threatening a lawsuit because they were unaware of his status when they had interaction with him. Our sources say Charlie settled several of the cases and, in return for money, got confidentiality agreements.

We're told one of the settlements occurred late last month.
FORMER US SENATOR FRED THOMPSON HAS PASSED AWAY.
Former U.S. Senator from Tennessee Fred Dalton Thompson has passed away at the age of 73 in Nashville, TN. The former Senator, Republican presidential candidate, and actor who starred in the TV series "Law and Order," and movies "The Hunt for Red October," "In the Line of Fire," "Die Hard II" and "Secretariat" passed away on Sunday in Nashville, TN from lymphoma. According to accounts Thompson died peacefully surrounded by his family.
As Hot Air remembers Fred Thompson, in 1994, Thompson parlayed that familiarity to a seat in the US Senate, taking Al Gore's seat in a special election. He won again in 1996 for a full term, but retired from the Senate in 2002 to return to his acting career. In 2007, though, with the Republican presidential field wide open, Thompson decided to run for the nomination, only to find that he'd gotten in too late to have an impact.
Fred Thompson – 1942 – 2015, Rest in Peace
Fred Thompson, a former U.S. senator from Tennessee, GOP presidential candidate, Watergate attorney and actor who starred on the television drama "Law and Order," died on Sunday in Nashville. He was 73.

Mr. Thompson died after a recurrence of lymphoma, according to a prepared statement issued by the Thompson family. Mr Thompson, who had recently purchased a house in Nashville to return to Tennessee, was first diagnosed with cancer in 2004.

"It is with a heavy heart and a deep sense of grief that we share the passing of our brother, husband, father, and grandfather who died peacefully in Nashville surrounded by his family," the Thompson family's statement reads.

"Fred once said that the experiences he had growing up in small-town Tennessee formed the prism through which he viewed the world and shaped the way he dealt with life," his family said. "Fred stood on principle and common sense, and had a deep love for and connection with the people across Tennessee whom he had the privilege to serve in the United States Senate. He enjoyed a hearty laugh, a strong handshake, a good cigar, and a healthy dose of humility. Fred was the same man on the floor of the Senate, the movie studio, or the town square of Lawrenceburg, his home."
Fred Thompson Talks about the Reagan Revolution in 2008 and the battle for the hearts and minds of the GOP
Variety Obit – Fred Thompson, 'Law & Order' Actor and Former Senator, Dies at 73.
Thompson was also a GOP presidential candidate in 2008, as well as a Watergate attorney. He played D.A. Arthur Branch on "Law & Order" for five years, and also appeared on the show's spinoffs "Special Victims Unit" and "Trial by Jury" as the character.

Thompson, who was born in Sheffield, Ala., shifted between politics and acting frequently throughout his life, but he gained a degree of visibility in 1973, when he served as minority counsel to the Senate Watergate Committee, after having managed the reelection campaign of Sen. Howard Baker (R-Tenn.), the top Republican on the committee.

At one hearing, he asked former White House aide Alexander Butterfield, "Mr. Butterfield, are you aware of the installation of any listening devices in the Oval Office of the president?" Butterfield's confirmation of a secret recording system was a key turning point in the scandal that eventually led to President Richard M. Nixon's resignation.

Four years later, when Thompson was working in private practice in Tennessee, Thompson represented Marie Ragghianti, former chair of the Tennessee Parole Board, in a wrongful termination case against the state's governor. The trial exposed a scandal in which cash payments were being given to state officials in exchange for clemency.

The case was the subject of a book and a 1985 movie, "Marie," and started Thompson's acting career when he was offered the part of playing himself.

After enjoying a number of character parts, Thompson ran for Senate in a 1994 special election, in a campaign in which he drove around in a red pickup truck to try to show his populist appeal. He was reelected in 1996, but declined to run for reelection in 2002.

In 2007, he was viewed as a leading contender for the GOP presidential nomination in the months before he officially announced his candidacy on "The Tonight Show with Jay Leno." But his campaign sputtered, and he dropped out after just a few primaries.
One of my Favorite Fred Thompson moments … Thompson responds to Michael Moore
WE HAVE LOST ANOTHER GIANT FROM THE GOLDEN AGE OF HOLLYWOOD …
It is a sad day for those of us who love classic movies from the Golden Age of Hollywood and movies actually worth watching. Irish born actress Maureen O'Hara has passed away at age 95. One of my all-time favorite actresses and a classic beauty that represents Hollywood gone by, Maureen O'Hara, died on Saturday at her home in Boise, Idaho. Her family confirmed in a statement that she passed away from natural causes peacefully in her sleep at her on home Saturday morning surrounded by family. Maureen O'Hara is to be buried at Arlington National Cemetery in Arlington, VA next to her husband, US Navy pilot General Charles Blair who died in a plane crash in 1978.
She was born Maureen FitzSimons on August 17, 1920, in Ranelagh, Ireland, on the outskirts of Dublin and was the second of six children of Charles FitzSimons. But we knew her best for her tremendous acting roles in movies like "The Hunchback of Notre Dame" (1939), "How Green Was My Valley" (1941), "The Black Swan" (1942), "This Land Is Mine" (1943),"The Quiet Man" (1952) and "McLintock!" (1963). However, my favorite is the timeless holiday classic, "A Miracle on 34th Street" (1947).
One of my favorite stories of Maureen O'Hara was the one where John Wayne, The Duke, paid her one of his highest complaints. John Wayne said, "I've had many friends, and I prefer the company of men, except for Maureen O'Hara," he said. "She is a great guy."
 Maureen O'Hara, Rest in Peace
New York Times: Maureen O'Hara, Irish-Born Actress Known as Queen of Technicolor, Dies at 95.
Maureen O'Hara, the spirited Irish-born actress who played strong-willed, tempestuous beauties opposite all manner of adventurers in escapist movies of the 1940s and '50s, died on Saturday at her home in Boise, Idaho. She was 95.

Johnny Nicoletti, her longtime manager, confirmed her death.

Ms. O'Hara was called the Queen of Technicolor, because when that film process first came into use, nothing seemed to show off its splendor better than her rich red hair, bright green eyes and flawless peaches-and-cream complexion. One critic praised her in an otherwise negative review of the 1950 film "Comanche Territory" with the sentiment "Framed in Technicolor, Miss O'Hara somehow seems more significant than a setting sun." Even the creators of the process claimed her as its best advertisement.
Miracle of 34th Street, (Maureen O'Hara, Edmund Gwenn and a young Natalie Wood)
Yet many of the films that made the young Ms. O'Hara a star were in black and white. They included her first Hollywood movie, "The Hunchback of Notre Dame" (1939), in which she played the haunted Gypsy girl Esmeralda to Charles Laughton's Quasimodo; the Oscar-winning "How Green Was My Valley" (1941), in which she was memorable as a Welsh mining family's beautiful daughter who marries the wrong man; "This Land Is Mine" (1943), a war drama in which she was directed by Jean Renoir; and "Miracle on 34th Street" (1947), the holiday classic in which she played a cynical, modern Macy's executive who tries to prevent her daughter from believing in Santa Claus.
The Quiet Man (Maureen O'Hara & John Wayne) – The Kiss scene
I am in 100% agreement with the PJ Tatler, in they just don't make movies like this anymore like the ones that Maureen O'Hara acted in. Imagine a movie with a plot, movies that set up the dramatic scenes, rather than just using special HD effects. Imagine a movie where the sexual tension is set up between a man and a woman rather than they just jump each others bones in two seconds and leaving a woman's beauty to the imagination rather than a gratuitous nude scene. If you have never seen any of Maureen O'Hara's movies, take this moment and do so.
The Hunchback of Notre Dame
The Irish Times: Actor Maureen O'Hara dies aged 95.
"It is with a sad heart that we share the news that Maureen O'Hara passed away today in her sleep of natural causes," a statement from the Fitzsimons family read.

"Maureen was our loving mother, grandmother, great-grandmother and friend. She passed peacefully surrounded by her loving family as they celebrated her life listening to music from her favourite movie, The Quiet Man."

"While we mourn the loss of a very wonderful woman, we also celebrate her remarkable life and hope that it serves as an example to young people around the world, especially in Ireland, to work hard to make their dreams come true and to always have the courage to stand up for themselves.

"For those who may ask what they can do to honour Maureen, we have a simple request: visit Ireland one day and think of her."

Her manager said that Ms O'Hara had "a wicked sense of humour and never took her good fortunes for granted."

"She was a classy, warm, feisty, funny woman and she was always so proudly Irish," he said.
I always thought Lamar was more normal than the publicity seeking Kardashians
Daily Commentary – Monday, October 19, 2015 Download
BIZARRE, JUST BIZARRE …
Randy Quaid and his wife Evi were arrested as "fugitives from justice" Friday night at the Vermont and Canada border in an apparent attempt to leave Canada before Quaid's deportation back to the United States. The two were detained by U.S. Customs and Border Protection agents at the Vermont point of entry in Highgate at about 8 p.m. Quaid and his wife were taken into custody by troopers, where a judge set bail at $500,000 each. Randy Quaid had previously been denied permanent residency in Canada.
Randy Quaid was being held at the North West State Correctional Center and Evi Quaid at the Chittenden Regional Correctional Facility. According to an interview with the AP, the 65-year-old actor said from a detention center in Laval, Quebec, on Wednesday that he would like to resolve his legal issues in California and "move on with my life." Quaid and his wife fled to Canada because Quaid is wanted in Santa Barbara, California, to face felony vandalism charges filed in 2010 after he and his wife, Evi, were found squatting in a guesthouse of a home they previously owned.
Who knew Quaid's role as Cousin Eddie from the Vacation films was spot on to his real life persona as a wing-nut?
Randy Quaid and his wife were arrested as "fugitives from justice" Friday night at the border between Vermont and Canada, apparently attempting to leave Canada days before Quaid's deportation back to the United States, PEOPLE has confirmed.

U.S. Customs and Border Protection agents detained Quaid and his wife, Evi, at the Vermont point of entry in Highgate at about 8 p.m. local time, according to a press release from state police.

Agents determined the Quaids were "fugitives from justice" from California, where they are wanted in connection with a felony vandalism case.
Who finds it rather ironic that Border patrol is able to arrest these two on the US-Canadian Border but some how agents cannot seem to do the same on the United States-Mexico? Maybe Quaid and his wife should have crossed the Southern border instead.
BILL MAHER GETS IT RIGHT ON AHMED'S HOME MADE CLOCK …
Uber-lib Bill Maher gets it wrong on many things, but the one thing he consistently gets it right on is radical Islam, terrorism, Islamist's and home land security. Such was the case on this week's HBO's Real Time with Bill Maher when he discussed the recent controversy of a Texas student who was arrested for bringing a homemade clock to school that looked like a bomb. And yes, the student was Muslim. Sorry Ahmed Mohamed, what the hell did you think was going to happen in a post-911 world? Are you kidding that it didn't look like a bomb? Kids are getting arrested and suspended from school for pointing their finger and thumb like a gun and bring pop tarts to school that look like a hand gun and you think this home made contraption didn't look like a bomb, get real.
Maher said during the segment that the "people at the school thought it might be a bomb, perhaps because it looks exactly like a f*cking bomb." Maher went on to say, can we have a little perspective on this? The Texas school teacher did nothing wrong. What were they supposed to do, nothing and this device goes off and kills people?
There is zero tolerance in schools when it comes to this kind of stuff so enough of this he only got arrested because he was Muslim. Although, Maher said, gee isn't it just one culture that has been blowing sh*t up for the past 30 years. This is why teachers were erring on the side of caution.
RUMOR HAS IT THE BADDEST BABE ON THE PLANET TO STAR IN REMAKE OF THE CLASSIC MOVIE, ROAD HOUSE …
This is a remake I would definitely watch. The original 1980′s 'Road House' movie was a cult classic as the late Patrick Swayze kicked some serious butt while being the cooler at the Double Deuce. Selecting Ronda Rousey in the starring role in a remake of 'Road House' would be perfect and completely believable. Ronda Rousey may not only be the baddest babe on the planet, she also is very kind on the eyes. But this 5 foot 4 inch little dynamo packs a mean punch and when that fails will put you in a submission hold that will be making you beg to tap out in seconds. Never has a girl gone from gorgeous to focused mean face like Ronda. She is the best in the business and personally, I'd rather see her fight than most any men's boxing match. A remake of Road House would not work if the role of Dalton was cast as another male, but re-imaging the movie with a female and one like Ronda works. This has the possibilities of being a very good remake.
UFC fighter Ronda Rousey is starring in MGM's reboot of the 1980s cult classic "Road House." Rousey will step into the role Patrick Swayze made famous.

Sources say MGM is currently meeting with screenwriters, with production set to begin in 2016.

Released in 1989, the original film starred Swayze as a bouncer hired to clean up one of the rowdiest, loudest bars in Missouri, The Double Deuce. Swayze's character is put to the test when he needs to protect the town from a corrupt businessman.

The movie became a breakout hit and still has reached cult status today. This follows MGM's reboot of another classic; the "Rocky" spinoff "Creed" hits theaters in November.

Rousey embraced the idea of starring in a remake, but wanted to be respectful when pursuing the project. Sources say Rousey recently reached out to Swayze's widow, Lisa Niemi, to ask for her blessing, which Niemi gladly gave.
Twitchy: Ronda Rousey to star in 'reimagining' of hit film 'Road House.
Daily Commentary – Tuesday, September 1, 2015 Download
FAMED HORROR MOVIE MASTER HAS DIED …
If its a horror movie that made you lose sleep, or be afraid to be in a home alone or have to check the closet, beneath the bed or under the stairs, then most likely you had just seen a horror movie made by Wes Craven. Wes (Wesley) Earl Craven, the master of the horror film genre died on Sunday after his battle with brain cancer at the age of 76. Craven is survived by his third wife, Iya Labunka, also his sister Carol, son Jonathan, daughter Jessica, grandchildren Miles, Max and Myra-Jean and stepdaughter Nina.
Craven is the man who wrote and directed such horror classics as A Nightmare on Elm Street and Freddie Kruger, The Hills Have Eyes, The People Under the Stairs and directed the Scream movies. Then there was his first movie, The Last House on the Left, which may have been his most disturbing of all. Why that film was suggested as a date movie is a an entire story for another day. Wes Craven truly pushed the limits of the horror film genre to the disturbing and yet had it not been for Craven, so many other classic cult horror flicks may not been possible.
Rest in Peace
Wes Craven, the famed maestro of horror known for the Nightmare on Elm Street and Scream franchises, died Sunday after a battle with brain cancer. He was 76.

Craven, whose iconic Freddy Krueger character horrified viewers for years, died at his home in Los Angeles, his family announced. Survivors include his wife, producer and former Disney Studios vice president Iya Labunka.

Craven was a longtime summer resident of Martha's Vineyard, where he moved permanently three years ago before returning to L.A. for work and health reasons.
Craven claimed to have gotten the idea for Elm Street from living next to a cemetery on a street of that name in the suburbs of Cleveland. The five Nightmare on Elm Street films were released from 1984-89 and drew big crowds.

Similarly, Craven's Scream series was a box-office sensation. In those scare-'em-ups, he spoofed the teen horror genre and frequently referenced other horror movies.

Craven's first feature film was The Last House on the Left, which he wrote, directed and edited in 1972. A rape-revenge movie, it appalled some viewers but generated big box office. Next came another film he wrote and helmed, The Hills Have Eyes (1977).
Wes Craven's New Nightmare trailer (1994)
Wes Craven reinvented horror three times: cinema looks scary without him.
Wesley Earl Craven was born Aug. 2, 1939 in Cleveland. His father died when he was 5. Raised in a strict Baptist household, he graduated from Wheaton College with degrees in English and psychology, then earned a master's in philosophy and writing from Johns Hopkins.

If you can judge a film-maker's influence by how many copycats they inspire, then Wes Craven has to be seen as one of the most influential. Three times he changed his mind about what horror movies should be, and three times we were promptly flooded with all manner of dodgy knock-offs.

And yet The Last House on the Left captured the public mood. It was released into a world reeling from the Manson murders, Vietnam, Altamont and Nixon, and it hit all its marks perfectly. The fact that it was made for less than $90,000, which gave it a rough-and-ready vérité look that just made the horrors seem more real, only magnified its impact. Without The Last House on the Left, there'd be no Texas Chainsaw Massacre, no I Spit on Your Grave, no Halloween. Its advertising campaign ("It's only a movie, it's only a movie") handed more power to marketers and films as varied as Fargo and Paranormal Activity owe a lot to its "The following is based on a true story" misdirect.