He claims it included actual images of naked celebrities. Are we really supposed to believe that?
Daily Commentary – Wednesday, June 29, 2016
Download
26 year old Army Reserve officer Deshauna Barber from the District of Columbia was crowned last night … Miss USA 2016
An Army Reserve officer and IT analyst from the District of Columbia has been crowned Miss USA 2016 after mounting a strong defense of women in combat roles in the military.

Deshauna Barber, a 26-year-old from the nation's capital, gave the answer during the interview section of the pageant in Las Vegas on Sunday.

When asked by judge Joe Zee whether the Pentagon's decision to open up all combat roles to women had "put political correctness over our military's ability to perform," 1st Lt. Barber responded:

"As a woman in the United States Army, I think it was an amazing job by our government to allow women to integrate into every branch of the military."
She continued: "We are just as tough as men. As a commander of my unit, I'm powerful, I am dedicated and it is important that we recognize that gender does not limit us in the United States."
Muhammad Ali dead at age 74 …
The "Greatest" boxing icon of all-time, Muhammad Ali, has dies at the age of 74. The former 3-time heavy weight champion of the world died Friday at a Phoenix-area hospital, where he had spent the past few days being treated for respiratory complications. The once silver tongued boxer, who brought the art of the verbal jab and trash talking to his opponents inside and onside the ring has battled with Parkinson's for the past three decades. As great as a boxer that Ali was in a time in which boxing was actually relevant, I can't say that I agreed with all of his verbal tactics, but he was entertaining for the sport. Who could ever forget the "Thrilla in Manilla" with Ali and Smoking Joe Frazier.
Mohammed Ali, Rest in Peace.
Muhammad Ali, the silver-tongued boxer and civil rights champion who famously proclaimed himself "The Greatest" and then spent a lifetime living up to the billing, is dead.

Ali died Friday at a Phoenix-area hospital, where he had spent the past few days being treated for respiratory complications, a family spokesman confirmed to NBC News. He was 74.

"After a 32-year battle with Parkinson's disease, Muhammad Ali has passed away at the age of 74. The three-time World Heavyweight Champion boxer died this evening," Bob Gunnell, a family spokesman, told NBC News.

Ali had suffered for three decades from Parkinson's, a progressive neurological condition that slowly robbed him of both his verbal grace and his physical dexterity. A funeral service is planned in his hometown of Louisville, Kentucky.
More on the Life of Mohammed Ali … "Float like a butterfly, sting like a bee."
He was b orn Cassius Marcellus Clay on January 17, 1942 in Louisville, Kentucky, to middle-class parents. He started boxing when he was 12, winning Golden Gloves titles before heading to the 1960 Olympics in Rome, where he won a gold medal as a light heavyweight. He would change his name to Muhammad Ali and the rest is history.
Muhammad Ali vs Sonny Liston from Lewiston, Maine
After 33 years of marriage, Ozzy Osbourne and Sharon Osbourne are divorcing.  According to reports, the couple has ended their relationship and have mutually agreed for Ozzy to temporarily move out of their Beverly Hills home. TMZ is reporting that the split does not appear to be because of drugs like in 2013 after Ozzy's drug and alcohol addictions spun out of control.
The 67-year-old heavy metal rocker and the 63-year-old co-host of The Talk have broken up after more than 33 years of marriage, E! News has learned.

A source tells E! News that the couple mutually agreed that Ozzy would move out of the house temporarily. In addition, the split has nothing to do with Ozzy's sobriety. Our insider shared that the rocker has been sober for three and a quarter years and has not touched drugs or alcohol in that time.
Michael Strahan's sudden announcement that he was leaving Kelly and moving to Good Morning America full time, took Kelly Rippa by surprise. She took a couple days to "think" then returned last Tuesday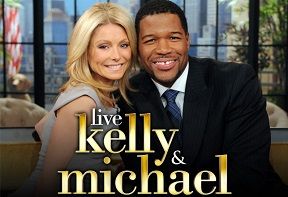 Daily Commentary – Thursday, April 28, 2016 Download