She and her friend drove their SUV over a pile of leaves killing two children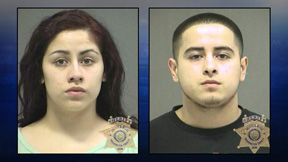 Daily Commentary – Thursday, February 6, 2014
Download
ARE YOU KIDDING ME!!!
How on earth are these illegal sex offenders afforded rights under the US Constitution, when it seems like law abiding, actual citizens of the US are having theirs taken away every single day? ICE has released 2,837 illegal alien sex offenders from detention and back into the US population. UNREAL!!! Has the SCOTUS lost their collective minds? So now illegal sex offender have rights. Maybe we can get them drivers licenses too.
Who honestly thinks that this could be a good idea? I have to 100% agree with the minority decent, Justice Antonin Scalia, who said: "Insofar as a claimed legal right to release into this country is concerned, an alien under final order of removal stands on an equal footing with an inadmissible alien at the threshold of entry: He has no such right."
The 2,837 sex offenders represented five percent of the 59,347 deportable aliens that have been released from detention under the supervision of U.S. Immigration and Customs Enforcement (ICE), according to the GAO report, which was released Thursday.

"There are circumstances in which criminal aliens who have been ordered removed from the United States – including those convicted of a sex offense – cannot be removed," the report states. "For example, a criminal alien may not be removed because the designated country will not accept the alien's return."

The GAO report refers to the 2001 Supreme Court case Zadvydas v. Davis to explain why ICE is required to release foreigners who have been convicted of sex crimes. In its 5-4 decision, the court ruled that the indefinite detention of removable aliens for greater than six months is unconstitutional unless there is "significant likelihood of removal in the reasonably foreseeable future."

"Freedom from imprisonment lies at the heart of the liberty protected by the Due Process Clause," Associate Justice Stephen Breyer wrote in the majority opinion. Breyer was joined in this opinion by J.P. Stevens (a Gerald Ford apppointee), Sandra Day O'Connor (a Reagan appointee), Ruth Bader Ginsburg (a Clinton appointee), and David Souter (a George H.W. Bush appointee).
Posted September 14, 2013 by

Scared Monkeys Crime

,

Government

,

ICE

,

Illegal Immigration

,

molestation

,

Rape

,

sex crimes

,

Sex Offender

,

Sexual Assault

,

Sexual Battery

,

Sexual Harassment

|

2 comments
HOPE AND CHANGE, OBAMA VINDICTIVE STYLE …
First Arizona Jan Governor responds to the US Supreme Court 's ruling on Arizona's Immigration Law S.S. 1070, then 3 hours later Brewer and the citizens of Arizona were presented with the Obama White House and Homeland's Security's vindictive reprisal. Homeland Security and Janet Napalitano suspended the seven 287(g) task force agreements with Arizona law enforcement officials.
In an exclusive interview with Breitbart News today, Gov. Jan Brewer (R-AZ), the woman who signed into law SB 1070, the controversial bill dealing with illegal immigration upheld in part by the Supreme Court today, called the ruling a "victory" but added that the federal government was continuing to place Arizona "under assault."

"I believe that this Supreme Court unanimously upheld the section that it is the heart of the bill," she said. "It's a victory for the rule of law and the 10th amendment."
See VIDEO HERE.
No sooner did the SCOTUS make their decision and the Obama Administration attacked in only the vindictive nature that they know how suspended the 287(g) agreements with Arizona that allowed state and federal authorities to work together in battling illegal immigration. Wow, the Obama Administration just declared war on Arizona. Feds set up a hotline for people to nark on the state officials for so-called civil rights violations. This is the equivalence to a 'wanted poster' for state authorities doing their job as voted unanimously bt the SCOTUS. What on earth is going on?
DROP DEAD ARIZONA
Video Hat Tip: Mediaite
Following the Supreme Court decision about Arizona's immigration law, Greta Van Susteren spoke with Arizona Governor Jan Brewer, who wasn't sky in holding back her feelings about the decision. Brewer — who you may recall had a brief, finger-wagging encounter with President Obama — criticized the current administration for abandoning Arizona, and not letting her protect her state's citizens.

"This is politics at its best," Brewer said of the decision, expressing the rescinding of 287(g) privileges, which would allow law enforcement to use a database system to verify citizenship status. From the beginning, she said, the Obama administration has "downplayed the border situation Arizona" faces daily. And they sued the state "for trying to protect the citizens."
It is obvious that Barack Obama must go. No one will be able to deal with a President who will not enforce the rule of law in America when he decides as a King that he does not want to. It is impossible to deal with the obstruction of the Obama Administration and Attorney general Eric Holder with regards to 'Fast and Furious' and now when they do not get their way, they try and punish a state. There must be comprehensive immigration reform in the US; however, Obama is hardly the honest broker to have as President to ever attempt such a change. Obama changed immigration law last week by executive fiat in stating that only a certain group of people will be granted amnesty. Even though he had previously stated he did not have the authority.
Barack Obama can kiss the state of Arizona goodbye in the 2012 Presidential election.
UPDATE I: More from AZ Gov. Jan Brewer and Obama says Drop Dead Arizona from the Politico. Also, the commentary from Rush Limbaugh regarding 'The Regime Refuses to Enforce the Border and Tells the State of Arizona to Go to Hell'. Limbaugh went on to say, "He has written off the state of Texas. He's written off white, working families. He's now written off the state of Arizona. Arizona was a state that was in play. I don't even understand why, but it was a state that was in play according to all the experts and all the presidential polling data. Well, not any longer! Arizona is… He doesn't care."
"It just is incomprehensible to think that this has all taken place today. And it ticks me off. I think that it should tick the people of America off," she added. "And it's almost become apparent that they can do whatever they darn well want! They don't want to enforce their laws. They won't let us help them enforce their laws." [...]

Brewer also criticized the policy shift in an interview with John King of CNN.

"They arbitrarily single out Arizona and sent a bomb, if you will, across our bow and made Arizona once again a target," she said. "The people of America ought to be outraged. This is absolutely an assault."
Talk about vindictive … Once again King Obama speaks and disregards the US Constitution, the US Supreme Court and his Oath of office … How's that "hopey, changey" thing working out for you America?
In yet another act of Executive defiance, Barack Obama's Homeland Security suspends Immigration agreements with Arizona police over enforcement of federal immigration laws. They have issued a a directive telling federal authorities to decline many of the calls reporting cases of illegal immigration.  The following is an act of a sore loser President. On Monday the administration officials also said they are ending the seven 287(g) task force agreements with Arizona law enforcement officials, which proactively had granted some local police the powers to enforce immigration laws. UNREAL. So much for the rule of law and separation of powers. We have a President who thinks he is King.
The Obama administration said Monday it is suspending existing agreements with Arizona police over enforcement of federal immigration laws, and said it has issued a directive telling federal authorities to decline many of the calls reporting illegal immigrants that the Homeland Security Department may get from Arizona police.

Administration officials, speaking on condition they not be named, told reporters they expect to see an increase in the number of calls they get from Arizona police — but that won't change President Obama's decision to limit whom the government actually tries to detain and deport.

"We will not be issuing detainers on individuals unless they clearly meet our defined priorities," one official said in a telephone briefing.

The official said that despite the increased number of calls, which presumably means more illegal immigrants being reported, the Homeland Security Department is unlikely to detain a significantly higher number of people and won't be boosting personnel to handle the new calls.
The Lonely Conservative says, why should we be surprised by the actions of the Obama Administration. If this is how they act, when the SCOTUS rules, could you imagine what Obama and his henchman will do of the Court strikes down Obamacare?
So this is what you get when you dare go against Barack Obama, you wind up on his enemies list. As stated at the PJ Tatler, This is a political maneuver designed to punish Arizona. Barack Obama congratulates the Muslim Brotherhood on their victory in the Egyptian Presidency, yet attack a US State and tries to make an example out of them because they dare defy der Obama on enforcing illegal immigration. Obama must be voted out in 2012, can you only imagine the disregard of the people and the US Constitution with a lame duck President?
It also tells us that the administration has given up on winning Arizona, which until recently was considered a swing state, this fall. Obama has written it off, and is now going Soviet on it to make it an example to others. He is essentially kicking Arizona out of whatever is left of the federal government's border enforcement, declaring to smugglers and traffickers that Arizona is very much on its own.
Posted June 25, 2012 by

Scared Monkeys Barack Obama

,

Home Land Security

,

Hope and Change

,

ICE

,

Illegal Immigration

,

Janet Napolitano

,

Law Enforcement

,

Mexican Border Security

,

Mexico

,

Obamanation

,

Politics

,

Supreme Court

,

US Constitution

,

US National Security

,

WTF

|

4 comments
Some stories you just can't make up and just write themselves … Obama's illegal immigrant uncle goes to the top of that list.
It was reported over the weekend that 67  year old Onyango Obama was charged with operating under the influence of alcohol, negligent operation of a motor vehicle and failure to yield the right of way. Forget the fact that he was in the US illegally. Kind of makes Billy Carter look like the model relative of a politician.
President Barack Obama's uncle was stopped on suspicion of drunken driving, told police he planned to arrange bail through the White House and was being held without bail on an immigration detainer, authorities said Monday.

Onyango Obama was arrested last week in Framingham, about 20 miles (32 kilometers) west of Boston, after police said he made a rolling stop through a stop sign and nearly caused a cruiser to strike his sport utility vehicle.

Police said that after being booked at the police station, Obama was asked whether he wanted to make a telephone call to arrange for bail.

"I think I will call the White House," he stated, according to a police report filed in Framingham District Court.
Onyango Obama is currently being held by ICE and is denying that DUI charges even though his blood-alcohol was twice the legal limit.  What, an Obama spin the fact … NEVER! Just curious, what is the over/under on Obama's uncle being deported from the US for being in the country illegally?
According to a a federal law enforcement source who spoke on condition of not being identified, Onyango Obama was not legally in the United States and has been previously ordered removed from the country. His case is now going through the immigration process, the source said.
Isn't this special? As reported at the Gateway Pundit via Howie Carr, Obama's illegal alien uncle has a valid driver's license and SS number. What a metaphor for the Obama Administration and their policies on illegals. Let's repeat that little tid bit, the liberal MSM might have missed it … the uncle of the President of the United States had a social security card. Who finds this beyond amazing that Barack Obama, a sitting US President had not one illegal relative, but two. The latter committing a federal offense in having federal a federal doc illegally. That would be grounds to deport Uncle Omar even under Obama's policies.
The president's 67-year-old uncle, Obama Onyango, has had a valid Massachusetts driver's license and Social Security number since at least 1992, said Registry of Motor Vehicles spokesman Michael Verseckes.
So how did Uncle Omar get a SS numbers, the National Review attempts to explain. When Massachusetts Gov. Devall Patrick was asked for a statement he replied, "You know my stance: Illegal is illegal. We need comprehensive immigration reform." What?
EXIT QUESTION: How many illegal alien fugitive could one US President possibly have?
More Hope & Change courtesy of the Obama family … Does anything surprise us any more from these folks?

President Obama's illegal immigrant uncle from Kenya, Onyango Obama was arrested last week for DUI and nearly crashing into a police car with his SUV. Where do we even start? Illegal immigrant, DUI and driving an SUV? I am guess that Barack Obama would be most concerned that his uncle was not being "green" and dare drive an SUV. Way to go liberal MSM, where is any of your coverage on this story, see Google search.
A number of media outlets have already reported that an illegal immigrant from Kenya by the name of Onyango Obama, 67, was arrested last week on Wednesday after he nearly rammed his SUV into a police car in Framingham, Massachusetts.

He was later charged with DUI among other violations. I spoke to Framingham Public Information Officer Lieutenant Delaney who told me that when Onyango Obama was asked at booking if he wanted to make a telephone call to arrange for bail, the Kenyan immigrant replied: "I think I will call the White House."

It should be noted that the Times of London, highlighted an Onyango Obama during the 2008 presidential campaign, when the British daily found President Barack Obama's "Aunt Zeituni" living in Boston illegally.:
What are the adds the following occurs and he is deported. Don't hold your breath. The Gateway Pundit reminds us of Obama's last known illegal alien relative , African aunt Zeituni Onyango – was granted asylum in 2010. PJ Media asks a valid question, "did President Obama enacted his amnesty by fiat in order to keep his welfare queen aunt and drunk driving uncle from having to face deportation?" Seems perfectly fine to ask, wonder if the White House Press core will do so, waiting, waiting, still waiting.
ICE, ICE BABY … UNREAL!
And we wonder why so many Americans are in favor of Arizona Governor Jan Brewer and the Arizona Immigration law and against Obama suing the state? we need to look no further than the following statistics  and ICE's "catch and release" illegal immigration policy. According to CNS, ICE says its caught and  released 506,232 Illegal Aliens w as fate would have it are presently fugitives.
The U.S. Immigration and Customs Enforcement agency (ICE) says that as of Sunday, Sept. 5, it had caught-and-released 506,232 illegal aliens who are now fugitives. That is more than the population of Sacramento, California, which currently numbers 486,189.
 
Fugitive illegal aliens are individuals who were apprehended ICE for being in the United States illegally and then were released ahead of their court proceedings and deemed fugitive when they failed to appear in court.
It is the issue that is simmering under the surface and is upsetting individuals from all demographics and just what might be the deciding factor in this Novembers midterm elections. We the People are tired of an unprotected border. Any one who dare actually enforce the illegal immigrations laws like Jan Brewer or Sheriff Joe Arpaio winds up an enemy of the Obama Administration.
Is it any wonder why Arizona Governor Jan Brewer is as popular as she is, why the Arizona immigration law is favored by 55% of Americans and why 59% of Americans support passing a similar law in their own state. Americans know that the federal government has no intention of protecting the borders or dealing with the issue of illegal immigration.
ICE agents … vote of no confidence to ICE Director John Morton and Assistant Director Phyllis Coven.
Will the liberal MSM report on this little uprising among the ranks of ICE, Immigration and Customs Enforcement? It would appear that the rank and file agents are fed up with the leadership of ICE and their lack of enforcing immigration law in the United States. The National Immigration and Customs Enforcement Council cast a unanimous vote of no confidence in ICE Director John Morton and Assistant Director Phyllis Coven, on behalf of their 7,000 ICE agents.
According to the letter Obama's senior ICE leadership have been actively pushing a political agenda which would lead to an immigration reform bill centered around large scale amnesty, while at the same time failing to inform congress and the American people of the imminent dangers and severity of the illegal immigration crisis. At present the understaffed ERO has been overrun to the extent that large numbers of criminal aliens have been released back into their unsuspecting communities.
Read the letter in its entirety of the Vote of No Confidence.
Posted August 6, 2010 by

Scared Monkeys Amnesty

,

Bizarre

,

Government

,

ICE

,

Illegal Immigration

,

Mexico

,

Obamanation

,

Politics

,

We the People

,

WTF

|

3 comments