Now that he has been suspended for 6 months without pay, in the fallout over an exaggerated story, from an incident in 2003 while covering Iraq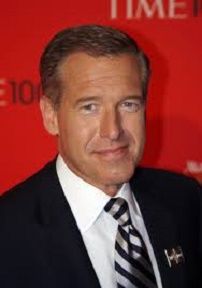 Daily Commentary – Friday, February 13, 2015
Download
NBC NEWS MOTTO: IT AIN'T A LIE UNLESS YOU GET CAUGHT … BRIAN WILLIAMS SUSPENDED.
The Politico is reporting that effective immediately NBC Nightly News anchor Brian Williams has been suspended for six months without pay for his faux Iraq war news story in 2003. Gee, it only took over 10 years for NBC to act against Williams, even though it was known by many at NBC that it was a false story. Not until Iraq war vets finally called Williams on his BS did NBC finally act. That, and a bad attempt at an apology. NBC suit, Steve Burke, the CEO of NBC Universal, stated that his actions "are inexcusable and this suspension is severe and appropriate." REALLY? This is a PR nightmare for NBC and they are just looking to make this story go away. Is Williams finished at NBC News? Many think so and that this is just a behind the scene way to do so. What happens when Williams stories of seeing floating bodies in the French Quarter from his hotel following Hurricane Katrina and him looking down the tube of an RPG are investigated?
NBC Nightly News anchor Brian Williams has been suspended for six months without pay following his false claims about an experience he had during the Iraq war, NBC News president Deborah Turness announced Tuesday night.

"We have decided today to suspend Brian Williams as Managing Editor and Anchor of NBC Nightly News for six months. The suspension will be without pay and is effective immediately," Turness wrote in a memo to staff. "We let Brian know of our decision earlier today. Lester Holt will continue to substitute Anchor the NBC Nightly News."

In addition to Williams' false claims about Iraq, Turness said she the Comcast/NBCUniversal brass had "concerns about comments that occurred outside NBC News while Brian was talking about his experiences in the field."
NBC Universal CEO Steve Burke released the following statement:
"This has been a painful period for all concerned and we appreciate your patience while we gathered the available facts. By his actions, Brian has jeopardized the trust millions of Americans place in NBC News. His actions are inexcusable and this suspension is severe and appropriate. Brian's life's work is delivering the news. I know Brian loves his country, NBC News and his colleagues. He deserves a second chance and we are rooting for him. Brian has shared his deep remorse with me and he is committed to winning back everyone's trust."
CNN's Dan Abrams: 'They are worried about other stuff coming out and this is their way of punting."
FUNNY WHAT HAPPENS WHEN THE TRUTH IS MADE PUBLIC …
In the wake of the scandal and contravention that surrounds NBC News nightly news anchor Brian Williams, he has canceled his scheduled appearance with David Letterman. So, not only is Brian Willaims taking a hiadeous away from NBC News, he is also going into hiding from all public appearance. What's the matter Lyin' Brian Williams, you mean you are not going to appear on Letterman's show and rehash the lie of your Iraq helicopter experience to make you look all big and important? You mean you are not going to interject yourself into the story as if you were ever in danger? Sorry, but in my eyes and to many, what you did in lying about what happened to have people think you were brave, is no different that someone wearing a military uniform and medals who have never served in the military just trying to get attention.
Brian Williams is backing out of his scheduled appearance on CBS's "Late Show with David Letterman," citing the uncertainty about when he'll be back at his anchor desk.

But until Sunday afternoon he was still scheduled to show up for his date with Letterman on Thursday.

The sudden change reflects the chaotic situation behind the scenes at NBC News and among Williams' representatives.

On Sunday morning, a spokeswoman for the "Late Show" said there had been no change to the plans for Williams to appear on Letterman's show.
WOW, this might be a first in all my years of blogging, never has Hot Air been more wrong and have I disagreed more … 'Should we really be happy to see Brian Williams go'? The answer is "YES!!!" Sorry, when one steals honor from others, that is a big deal. When some one puts them-self falsely in the same danger as those who actually are put in danger, that is a big deal. And when it looks like Williams lied too about Hurricane Katrina, which was a concerted effort to make the GWB administration response look bad, that too is an issue. Williams was tasked with reporting the news, not making it up!
In the end, Williams' lies seem to be more along the lines of your crazy, drunken Uncle Mel who shows up for holiday dinners and tells vastly expanded fishing tales. [...]

I'm not excusing what Williams did in any fashion. And if he falls, he clearly brought it on himself. I suppose all I'm saying here is that the mistakes Brian Williams made are more along the lines of self aggrandizement than some nefarious effort to hide or distort the actual news. It's a human trait which more of us can likely relate to than other crimes, and I guess I'm just feeling a bit of sympathy for him this morning.
EXIT QUESTION: Over/Under … how many days does Brian Williams have left as Nightly News anchor at NBC News?
 THE END MAY BE NEAR … NBC NEWS ANCHOR BRIAN WILLIAMS STEPPING ASIDE TEMPORARILY FROM NBC NIGHTLY NEWS …
Lying Brian Williams is said to be stepping aside from his anchor position at NBC's Nightly News, but is this really just the beginning of the end? Williams' fabricated and continually embellished Iraq helicopter story has gotten him in a world of trouble. even though he had been told to stop telling the faux news account by people who knew the story was made up and false, he did not. Williams wrote a memo to the NBC News staff, "As managing editor of NBC Nightly News, I have decided to take myself off of my daily broadcast for the next several days, and Lester Holt has kindly agreed to sit in for me to allow us to adequately deal with this issue.  Upon my return, I will continue my career-long effort to be worthy of the trust of those who place their trust in us."
UPON YOUR RETURN? Don't count on it. It is beginning to sound like all Brian Williams does is make stuff up to a made for TV movie, rather than the truth of what actually happened. Helicopter hard landings in Iraq, taking enemy fire,  looking down the very tube of an RPG and even seeing floating bodies post Katrina, Williams may want to write Hollywood movie scripts, rather than report the news, because it would appear he had an issue reporting facts.
Brian Williams said Saturday that he will step aside as anchor of his nightly NBC News broadcast for "several days" as a result of the controversy generated by his comments about his reporting during the Iraq war and Hurricane Katrina.

With his troubles mounting by the day, Williams said he had decided to take himself off his signature newscast, "Nightly News with Brian Williams," while NBC looks into statements he has made about his work in interviews stretching back more than a decade.

"As managing editor of NBC Nightly News, I have decided to take myself off of my daily broadcast for the next several days, and Lester Holt has kindly agreed to sit in for me to allow us to adequately deal with this issue," Williams wrote in a memo to the NBC News staff that was made public by the network. "Upon my return, I will continue my career-long effort to be worthy of the trust of those who place their trust in us."

Williams, 55, has been under fire since Wednesday after he apologized to a group of Iraq war veterans for apparently exaggerating the danger he and an NBC News crew faced while covering the start of the war in 2003. Williams had described coming under rocket and gunfire while traveling with U.S. soldiers in a military helicopter that was damaged and forced to land. The soldiers disputed Williams's account, saying his aircraft had not been fired upon, prompting Williams to recant the story.
From Ace of Spades comes the below VIDEO, Midnight Brian Williams Update: Williams Claimed to Have Looked Down the Very Tube of the RPG That Shot Down the Lead Copter in 2007. Williams may want to remember stories of credibility, not ones that make him sound like he is some brave soul that has escaped death. In the video below he goes on to spew more BS about all these people who died in the Super Dome following Hurricane Katrina. Hmm, I guess we can't interview those folks to see if Williams is telling the truth, they are dead. Or so he says. Williams says, "We don't have problems going to dangerous places, a lot of us consider that our jobs." There lies the lie.
"It gets me to thinking, I've been very lucky the way my life has turned out, I've been very lucky to have survived a few things that I've been involved in, at a perception a few minutes ago, I was remembering something I tend to forget, the war with Hezballah in Israel, a few years back, where there were Katuyshka rockets passing just beneath the helicopter I was riding in. A few years before that, you go back to Iraq, and I looked down the tube of an RPG that had been fired at us and it hit the chopper in front of ours."
Best article name, from the NY Times, 'Anchors Aweigh'.
UPDATE I: Good grief, now there are questions whether Brian Williams reported stories following Hurricane Katrina truthfully. On Friday, NBC network officials said an internal review had been launched to vet Williams's statements.  His comments about his work covering Hurricane Katrina in 2005 are also part of the review. It would appear Brian Williams was full of crap in his reporting on Katrina as well.
NBC News launched an internal investigation Friday into statements made by its lead anchor, Brian Williams, about his reporting from Iraq in 2003, as well as stories he told about his award-winning coverage of Hurricane Katrina in 2005.

The investigation, confirmed by NBC officials, represents a change in the network's attitude toward its popular anchor only a day after senior managers appeared to have accepted his apology for misstating the facts surrounding his excursion on a military helicopter while reporting on the start of the Iraq war nearly 12 years ago.

Williams and NBC won a Peabody Award for reporting on Katrina's impact on New Orleans and its surroundings. Williams had recently ascended to anchor, and he flew to report live on the Category 5 storm a few days before it struck Louisiana on Aug. 29, 2005. Williams reported daily from the city's French Quarter and its convention center and Superdome, where residents sought shelter.
Posted February 8, 2015 by

Scared Monkeys Brian Williams

,

Hurricane

,

Iraq

,

Liars

,

Media

,

Media Bias

,

Military

,

Natural Disaster

,

NBC

,

WTF

,

You Tube - VIDEO

|

2 comments
Can Lyin' Brian survive?
As reported at the New York Post, the former NBC nightly news anchor who was at the helm when Brian Williams originally reported the fictions helicopter story taking fire, wants lying Brian Williams fired. Brian Williams was forced to apologize, but may have matters worse. According to accounts, Tom Brokaw and former NBC News President Steve Capus knew this was a false story for a long time and have been extremely uncomfortable with it. Obviously, Williams did not heed their warning and never stopped telling the lie as the fish tale got bigger and bigger. So let's understand this, the media knew all along that Brian Williams lied about this story and did not do a damn thing? Is it any wonder why the MSM has zero credibility. Will NBC do anything to Williams, who knows? This is the same media company that has no issue hiring the likes of Al. Sharpton.
Just curious, how does some one sit at the NBC nightly news desk and have no credibility?
You know you're in trouble when Tom Brokaw is out for your blood.

NBC's most revered journalist is furious that Brian Williams is still in the anchor chair after he sheepishly admitted he hadn't traveled on a helicopter hit by enemy fire.

"Brokaw wants Williams' head on a platter," an NBC source said. "He is making a lot of noise at NBC that a lesser journalist or producer would have been immediately fired or suspended for a false report."
According to the insider source, NBC brass hasn't been talking to lower-level employees about the situation, leaving people in a panic.
NBC bosses don't understand how serious this is. Nobody in a leadership position is talking to the troops. Nobody has addressed it," the source said.

One longtime NBC employee who has worked with Williams on several occasions had a few dirty words to describe the celebrated anchor, calling him a "real pompous piece of s–t."

"He's an a–hole," he fumed. "He's not a journalist. He's a reader."

"Oh, the fireworks that are going off inside," he said. "It's embarrassing. He's the face on NBC. He's a liar.

"Everyone knew it."

On Friday, Brokaw responded to reports that he wanted Williams axed.
UPDATE I: Tom Brokaw claims he did not call for Williams' head.
Brokaw pushed back against a New York Post story claiming he wanted Williams fired, but notably didn't offer his own statement of support.

"I have neither demanded nor suggested Brian be fired," Brokaw said in an email to The Huffington Post. "His future is up to Brian and NBC News executive
Posted February 7, 2015 by

Scared Monkeys Epic Fail

,

Iraq

,

Liars

,

Media

,

Media Bias

,

Military

,

Misrepresentation

,

NBC

,

WTF

,

You Tube - VIDEO

|

3 comments
Brian Williams, LIAR: THINGS YOU DON'T MISREMEMBER … YOUR WEDDING DAY, THE BIRTH OF A CHILD AND BEING SHOT DOWN IN IRAQ AFTER TAKING FIRE AND BEING HIT BY AN RPG …
NBC News anchor Brian Williams has egg on his face and lost much credibility after he was forced to recant his story that he'd been on a helicopter that was "forced down in Iraq after being hit by an RPG." The incident was supposed to have happened on March 24, 2003. A Chinook helicopter was forced down by enemy fire. But one important fact was not true, Williams was not aboard. For years you have told this lie to make it appear like you were some brave individual who took fire in a time of war. I am sure Mr. Williams that it was great conversation at cocktail parties.
But servicemen who met Williams that day remember a completely different story.
They claim that Williams' helicopter arrived an hour after a different Chinook helicopter was shot down by enemy fire. They confirm that NBC News' helicopter was forced to land, but only because of an impending sandstorm.

Mike O'Keeffe, the door gunner on the downed helicopter, told military newspaper Stars and Stripes he remembered seeing Williams tell the false version of the story as far back in 2003. "Over the years it faded, and then to see it last week it was — I can't believe he is still telling this false narrative."
click HERE or on pic to watch VIDEO
NBC Nightly News anchor Brian Williams admitted Wednesday he was not aboard a helicopter hit and forced down by RPG fire during the invasion of Iraq in 2003, a false claim that has been repeated by the network for years.

Williams repeated the claim Friday during NBC's coverage of a public tribute at a New York Rangers hockey game for a retired soldier that had provided ground security for the grounded helicopters, a game to which Williams accompanied him. In an interview with Stars and Stripes, he said he had misremembered the events and was sorry.

The admission came after crew members on the 159th Aviation Regiment's Chinook that was hit by two rockets and small arms fire told Stars and Stripes that the NBC anchor was nowhere near that aircraft or two other Chinooks flying in the formation that took fire. Williams arrived in the area about an hour later on another helicopter after the other three had made an emergency landing, the crew members said.

"I would not have chosen to make this mistake," Williams said. "I don't know what screwed up in my mind that caused me to conflate one aircraft with another."

Williams told his Nightly News audience that the erroneous claim was part of a "bungled attempt" to thank soldiers who helped protect him in Iraq in 2003. "I made a mistake in recalling the events of 12 years ago," Williams said. "I want to apologize."
The sick and pathetic aspect of this entire story is that individuals Command Sgt. Major Tim Terpak are heroes, not for fictitiously, saving the lives of liars like Brian Williams and the MSM who feel the need to interject themselves in war, when they were not. No one needs to embellish what men and women did and still do in our military who served in war wherever they may have served. Command Sgt. Major Tim Terpak is a hero, you Brian Williams are a zero. Idiots like Brian Williams do a disservice to our brave military.
WATCH BELOW THE BRIAN WILLIAMS LIE
UPDATE I: NBC News' Brian Williams admits he wasn't on aircraft in Iraq.
In a comment on NBC Nightly News' Facebook page, under the video of Williams' coverage of the tribute, Flight Engineer Lance Reynolds wrote "Sorry dude, I don't remember you being on my aircraft. I do remember you walking up about an hour after we had landed to ask me what had happened. Then I remember you guys taking back off in a different flight of Chinooks from another unit and heading to Kuwait to report your 'war story' to the Nightly News. The whole time we were still stuck in Iraq trying to repair the aircraft and pulling our own Security."

Reynolds told Stars and Stripes, "It was something personal for us that was kind of life-changing for me. I've know how lucky I was to survive it. It felt like a personal experience that someone else wanted to participate in and didn't deserve to participate in."
UPDATE II: It would appear that even in his apology, Brian Williams is Still lying.
HEY AMERICA, HOW'S THAT HOPEY-CHANGEY STUFF WORKING OUT FOR YA?
According to the most recent WAPO-ABC News poll, Barack Obama has hit an all-time low with an approval rating at 40% and a 51% disapproval. Actually, it is curious as to why it is not even lower. Among Independents, Obama only has a 33% approval. Under Obama's watch, everything is a colossal disaster. Nothing is going good in the United States or around the world.
The US economy is a floundering mess, illegal immigration, ISIS is on the rise and now we have the October surprise of Ebola in the United States. Barack Obama polls poorly on all major political issues as we are week's ahead of the November midterm elections and early voting has begun  in some states.
Can you say EPIC FAILURE!!!
Heading into the final weeks of the midterm campaign, the political landscape continues to tilt in favor of the Republican Party, with President Obama's overall approval rating at the lowest level of his presidency and GOP voters signaling greater likelihood than Democrats that they will cast ballots, according to a new Washington Post-ABC News poll.

Americans are looking to November and beyond with dissatisfaction about the state of the country and the political leadership in Washington. Two-thirds say the country is seriously off-track. And while more than 6 in 10 say the president lacks a clear plan for governing, …
See all polling data HERE.
The overall job approval rating average is not much better for Obama. According to RCP, only 42.0% approve, while 52.4% disapprove.
UPDATE I: Trouble Looms for Obama, Democrats with Election Day 2014 Approaching.
Barack Obama and his political party are heading into the midterm elections in trouble. The president's 40 percent job approval rating in a new ABC News/Washington Post poll is the lowest of his career – and the Democratic Party's popularity is its weakest in polling back 30 years, with more than half of Americans seeing the party unfavorably for the first time.

The Republican Party is even more unpopular. But benefitting from their supporters' greater likelihood of voting, GOP candidates nonetheless hold a 50-43 percent lead among likely voters for U.S. House seats in the Nov. 4 election.
Posted October 16, 2014 by

Scared Monkeys Approval Rating

,

Barack Obama

,

Community Agitator

,

Epic Fail

,

Iraq

,

Islamist

,

Jihad

,

Leading from Behind

,

Lost in Smallness

,

Mexico

,

Misleader

,

Polls

,

Russia

,

Scandal

,

Terrorism

,

The Lying King

,

US National Security

,

WAPO-ABC News

,

War on Terror

,

West Africa

|

5 comments
YOU KNOW YOU HAVE HIT ROCK BOTTOM WHEN JIMMY CARTER CRITICIZES YOUR FOREIGN POLICY!!!
It does not get much worse than this for a sitting president, Jimmy "Peanuts" Carter criticizing your foreign policy in the Middle East. OUCH! Jimmy Carter, the president who brought us the rise of radical Islam in Iran in the 1970′s and the  Ayatollah Khomeini, ripping Obama on his Middle East policy in dealing with ISIS. Carter stated, "[W]e waited too long. You know your presidency has hit rock bottom when Jimmy Carter calls you a failure.
Former President Jimmy Carter is criticizing President Barack Obama's Middle East policy, saying he has shifting policies and waited too long to take action against the Islamic State of Iraq and the Levant.

In an interviewed published Tuesday in the Fort Worth Star-Telegram, the 39th president said the Obama administration, by not acting sooner, allowed ISIL to build up its strength.

"[W]e waited too long. We let the Islamic State build up its money, capability and strength and weapons while it was still in Syria," he said, using an alternate name for the terrorist group. "Then when [ISIL] moved into Iraq, the Sunni Muslims didn't object to their being there and about a third of the territory in Iraq was abandoned."

Carter said Obama's air campaign against ISIL in Iraq has "a possibility of success," provided that some troops are available on the ground. He did not specify whether he meant U.S. or other ground forces.

The former Democratic president and Georgia governor also said the president has shifted his Middle East policy on several occasions.
Posted October 8, 2014 by

Scared Monkeys Barack Obama

,

Epic Fail

,

Former Presidents

,

Iraq

,

ISIS

,

Jimmy Carter

,

Middle East

,

Misleader

,

Radical Islam

,

Syria

,

War on Terror

|

one comment
Saturday Night Live mocked Barack Obama's handling of ISIS and the continual Secret Service screw ups at the White House. After throwing James Clapper under the bus, in the spoof, Obama then went on to inform Steve Kroft what the "I" in ISIS stood for. They always say that there has to be a little truth in humor to make it funny. The reality is in the SNL skit below, the entire thing is pretty much a rehashing of what actually happened and people in the audience laughed. Guess what America, the joke has been on you.
Steve Kroft: You made the point  that ISIS and the Islamic faith are in no way connected. Do you still believe that?

Barack Obama: Actually, I am beginning to think there is some connection. For example, did you know that the first "I" in ISIS stands for Islamic, I mean who knew?
Posted October 6, 2014 by

Scared Monkeys Barack Obama

,

Epic Fail

,

Humor

,

Iraq

,

ISIS

,

Islam/Muslims

,

Islamofascist

,

Liberals

,

Misleader

,

Obamanation

,

Progressives

,

SNL

,

War on Terror

,

You Tube - VIDEO

|

no comments
BARACK OBAMA, THE LIAR IN CHIEF IN HIS OWN WORDS …
State Department spokesperson Jen Psaki at a loss for words when confronted with Obama's own words in what he stated during the 2012 Presidential debates against Mitt Romney vs. his comments now. Presented with the facts from Megyn Kelly and the comments from or Leon Panetta, former Defense and CIA director, that "those on our side viewed the White House as so eager to rid itself of Iraq that it was willing to withdraw rather than lock in arrangements that would preserve our influence and interests."
Mitt Romney: With regards to Iraq, you and I agreed, I believe that there should have been a status of forces agreement… Oh, you didn't want a status of forces agreement.

Barack Obama: No, what I would not have done was left 10,000 troops in Iraq that would tie us down. That certainly would not help us in the Middle East.
VIDEO – Via the Kelly File from The Gateway Pundit
Now we get Barack Obama only blaming Iraq's  Maliki, claiming it was bit his decision.
Posted October 5, 2014 by

Scared Monkeys al-Qaeda

,

Barack Obama

,

CIA

,

Epic Fail

,

Iraq

,

ISIS

,

Misleader

,

State Department

,

The Lying King

,

War on Terror

,

You Tube - VIDEO

|

one comment