In my opinion, it wouldn't have mattered what the verdict was. Criminals and opportunists were going to cause trouble no matter what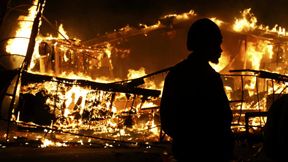 Daily Commentary – Wednesday, November 26, 2014
Download
Posted November 26, 2014 by

Klaasend Al Sharpton

,

Black America

,

Dana Pretzer

,

Discrimination

,

Ferguson

,

Jesse Jackson

,

NAACP

,

No Justice

,

No Peace

,

Race Card

,

Racism

,

Scared Monkeys Radio

|

no comments
As the grand jury deliberates on a decision whether or not to indict officer Darren Wilson in the shooting death of 18 year old Michael Brown, the protest pressure cooker is close to blowing …
Ahead of the grand jury decision in Ferguson, Missouri in the shooting death of Michael Brown by police officer Darren Wilson, local, state and federal authorities have beefed up their forces to prepare for the reaction. They have asked for calm. However, the protesters leading up to the eventual grand jury decision have been anything but. Friday night was no different as protesters responded to police by chanting "F*ck the police" and shouting "We don't give a f*ck about your laws like you don't give a f*ck about our lives."
This is going to get ugly, really ugly.
Warning: Adult language
The protests in Ferguson, Mo., on Friday night grew larger than previous days' gatherings of protesters, despite the rain and cold weather. Police officers used a megaphone to ask protesters to leave the street outside the Ferguson Police Department or they would be arrested. In this video, protesters responded by chanting "F— the police" and shouting "We don't give a f— about your laws like you don't give a f— about our lives."
Meanwhile, U.S. Attorney General Eric Holder is still agitating until the very end. Holder urged police to show restraint in handling any protests that flare after the grand jury's decision. REALLY? ARE YOU KIDDING? All hell is going to break loose in Ferguson if the grand jury does not come back with a murder indictment. Even with that, there will probably still be protests and riots. Just curious, how about telling the agitators to do the same?
U.S. Attorney General Eric Holder urged police to show restraint in handling any protests that flare after the grand jury's decision as tensions simmered in Ferguson, Missouri, over a case that has become a flashpoint for U.S. race relations.
Posted November 22, 2014 by

Scared Monkeys Discrimination

,

Ferguson

,

Law Enforcement

,

MO

,

No Justice

,

No Peace

,

Race Card

,

Racism

,

Strike/Protest

,

WTF

,

You Tube - VIDEO

|

one comment
A note to the family and friends of the departed, do not disgrace his memory with a Jesse Jackson shakedown …
10  days after he was admitted to a Texas hospital, Thomas Eric Duncan died Wednesday from Ebola. Duncan became the first diagnosed case of Ebola when he traveled from Liberia to the United States to visit family and friends, departing Liberia on September 19 and became sick with the disease while in Dallas, Texas. Ebola has a 50% mortality rate and to date there is no known cure. Death is never easy to deal with, but lets keep this specific incident in perspective. Louise Troh, Duncan's longtime partner, said through a public relations firm that she believes "a thorough examination will take place regarding all aspects of his care." Enter Jesse Jackson, race-baiter, opportunist, shakedown artist and family spokesman said, "He got sick and went to the hospital and was turned away, and that's the turning point here." Hmm, is Jackson blaming Obamacare? What Jackson is looking to do is go for the out of court settlement with the hospital and get his stipend.
Let's look and examine just how Thomas Eric Duncan came to find himself in Dallas, Texas. Duncan came to the United States after having lied on his exit documents in leaving West Africa that he'd had contact with the virus, even though he had direct contact an Ebola-stricken pregnant woman, who later died. Thomas Eric Duncan answered "no" to questions about whether he'd cared for someone with the virus. Let us also examine how he put so many unsuspecting individuals at risk because of this lie.
Several Ebola patients treated in the United States have survived, but the first person ever diagnosed with the deadly virus on American soil didn't.

Thomas Eric Duncan died Wednesday at a Texas hospital, 10 days after he was admitted.

"Mr. Duncan succumbed to an insidious disease, Ebola. He fought courageously in this battle. Our professionals, the doctors and nurses in the unit, as well as the entire Texas Health Presbyterian Hospital Dallas community, are also grieving his passing," hospital spokesman Wendell Watson said in a statement.

Duncan's family is devastated, their pastor told reporters. And the woman he had planned to marry is haunted by "what ifs" about his care.

One question family members have asked repeatedly: Would the outcome have been different if doctors had admitted Duncan to hospital on September 25, the first time he showed up with a fever and stomach pain?

"What if they had taken him right away? And what if they had been able to get treatment to him earlier?" Pastor George Mason of Wilshire Baptist Church in Dallas told reporters.

"He got sick and went to the hospital and was turned away, and that's the turning point here," the Rev. Jesse Jackson, a spokesman for the family, told CNN's Wolf Blitzer.
UPDATE I: At a news conference following the vigil, Jackson was asked if he thought there was an issue of racism at play.
Without coming out and saying it was racism, Jesse Jackson said that the treatment of Thomas Eric Duncan was racism. Good grief. I guess Jackson believes that Ebola is racist too.
"I don't want to say that, only because that could become the headline," he said. "Whether you are white in Atlanta or whether you are white in Nebraska or black in Dallas — we know there's different treatment among blacks in this country."

But his tone had changed since the morning. Before he left the city, Jackson spoke highly of Duncan's care.

"I think they've done a marvelous recovery, and we want to embrace the hospital staff and work with them on his recovery," he said.

However, Jackson added that he remains concerned that Duncan was sent home from the hospital the first time he sought help there.
UPDATE II: Nephew of Thomas Duncan Decries 'Unfair' Treatment.
Yup, here it comes … call the "wahmbulance … the Ebola patient who should never have been allowed in the United States, had he told the truth and received medical care received "unfair" treatment. UNREAL.
Ebola patient Thomas Duncan died in the hospital in Dallas Wednesday, after weeks of being treated for the virus, and just hours later his nephew, Joe Weeks, spoke out against the "unfair" way he believes his uncle was being treated by the hospital.

In comments to ABC News, Weeks says his uncle did not receive the same level of care as Ashoka Mukpo, the NBC freelance cameraman who returned to the U.S. for treatment after being stricken with Ebola. He questions why his uncle wasn't moved to a hospital where two other Ebola patients were successfully treated.
WHO DIDN'T SEE THIS COMING FROM A COMMUNITY AGITATOR …
Wasn't the election of Barack Obama supposed to make everything better in the United States, including race relation? Wasn't the election of the first black president supposed to bridge the divide between races? Well a recent Pew Research/USA Today poll says, not so much, especially among blacks. The poll shows that blacks have a 64% positive view of relations between the races, down 12 points from 76% in 2009.  Hmm, I guess an Obama administration of perpetual dividing and race baiting would do that.
The new national survey by the Pew Research Center and USA TODAY, conducted August 20 -24 among 1, 501 adults, finds that overall perceptions of relations between blacks and
whites are only modestly changed from five years ago.

Currently, 69% of the public, including majorities of both whites (75%) and blacks (64%), say blacks and whites in this country get along "very well" or "pretty well." Since
2009, the share of blacks with a positive view of relations between the races has fallen 12 points (from 76% to 64%) while remaining largely unchanged among whites (80% in 2009).
Full poll can be read HERE.
From the WAPO: Blacks give police lower marks than whites.
Posted August 27, 2014 by

Scared Monkeys Barack Obama

,

Black America

,

Blacks

,

Community Agitator

,

Discrimination

,

Divider in Chief

,

Epic Fail

,

First Black President

,

Misleader

,

Race Card

,

Racism

|

3 comments
AL SHARPTON MAKING MATTERS WORSE IN FERGUSON, MO …
Peaceful protest? Can it really be called a peaceful protest when its intent is to fire up the division between blacks and the police? Al Sharpton spoke during a rally at Greater Grace Church, Sunday, Aug. 17, 2014, and did what Sharton does best … fan the flames of racism and division. Sharpton said that the police chief had the audacity to release a tape trying to disparage Michael Brown's name by releasing a tape of Brown robbing a convenience store earlier the same say he was shot and killed by police officer, Darren Wilson. Some how it is okay to paint police officer Wilson and the entire Ferguson police as racists, but to put forth a video of the so-called "Gentle Giant" strong-armed robbing a store is evil. In Al's world, race-baiting good, facts bad.
Sad, this is hardly the way to calm Ferguson.
Rev. Al Sharpton, left, speaks with parents of Michael Brown, Michael Brown Sr. and Lesley McSpadden, right, during a rally at Greater Grace Church, Sunday, Aug. 17, 2014, for their son who was killed by police last Saturday in Ferguson, Mo. Sharpton told the rally Brown's death was a "defining moment for this country."
The situation in Ferguson, Missouri escalated Sunday night as police moved in on protesters hours before a state-imposed curfew was set to go into effect.

Police fired tear gas at protesters as some ran through the streets with their hands up, CBS 2's Jessica Schneider reported.

Video has also surfaced of protesters throwing items at police, Schneider reported.

The chaos comes on the same day Rev. Al Sharpton lead a peaceful rally in the town.

Addressing a congregation in Ferguson on Sunday, Rev. Sharpton blasted the release by police of a video purportedly showing Michael Brown robbing a store shortly before the unarmed man was shot and killed by a police officer.

The remarks came one day after another standoff between police and protesters.
Here is the VIDEO of suspect Michael Brown strong-arm robbing a convenience store in Ferguson, MO of cigars that Sharpton was complaining about. Disparage Michael Brown's name? It would appear that Brown is doing a good job of that himself. Who just walks into a store and out with anything they damn well please without paying? Of course this does not mean that it is a justification for police to shoot Brown, but it does give some factual perspective as to what Brown was all about.
Posted August 18, 2014 by

Scared Monkeys Al Sharpton

,

Blacks

,

Discrimination

,

Ferguson

,

Law Enforcement

,

Minorities

,

No Justice

,

No Peace

,

Race Card

,

Racism

,

You Tube - VIDEO

|

10 comments
It was one year ago on July 13, 2013 that George Zimmerman was found not guilty in the death of Trayvon Martin and the defense's star witness, let's rephrase that, train wreck witness Rachel Jeantel speaks out. In an interview with CNN, Jeantel discusses her regrets that she could have said things and acted differently while on the witness stand. She played the victim and blamed the jury for not taking her seriously. Jeantel said, "they judge how they talk, how they look, how they dress." Jeantel was upset because she felt like she was being judged. ARE YOU KIDDING? Rachel dear, you were a witness in a murder trial. It was the jury's job to determine whether you were telling the truth and your combative actions and the testimony that Martin told her he was being chased by a "creepy-ass cracker"  was judged. Rachel, here is a free life lesson … we are all judged by our actions every day.
Jeantel was the prosecution's star witness, yet her testimony was a combative, profanity-laced "train wreck" that likely contributed to Zimmerman's acquittal.

Jeantel's curt, colloquial language prompted attorneys to ask her to speak up and repeat herself time and again during the trial, eventually eliciting an exasperated, "Are you listening?" from Jeantel.

She told CNN this week that she wishes she had "acted different" on the witness stand.
We do hope that the experiences that Rachel Jeantel went through during the Zimmerman trial does turn her life around and makes her a better person. As stated in the video above, no one knew it at the time of her testimony, but "she was barely able to read and write at the level of a third grader. Whose fault is that exactly? We can blame public school and Rachel Jeantel as she resisted any efforts of tutoring because it took too long.  However, it appears that she is trying to get her life together and has graduated high school. Good for her!
What happened to Rachel Jeantel was not a matter of a jury falsely judging a book by it's cover. In 2013 when she took the witness stand Rachel's book was her cover, no more, no less. Was she smart, no. Was she well versed, not on your life.
'Creepy a** cracker is following me'
Rachel Jeantel Can't Read Letter She 'Wrote' About Shooting: 'I don't read cursive'
Trayvon Trainwreck – Star Prosecuting Witness Implodes on the Stand – Rachel Jeantel
That is obvious, otherwise she would not have felt the need to change and better herself. People criticized her for her actions and the way she talked because they were horrified by your actions and speech that you thought nothing of. Personally, I blamed at the time the prosecutors more than I did Jeantel because I could never have imagined anyone thinking that she would be a good witness. More so, did they do any coaching?
We can only hope that something good comes from the George Zimmerman murder trail and maybe that is that Rachel Jeantel woke up, grew up and got her life on track.
Posted July 14, 2014 by

Scared Monkeys Crime

,

Discrimination

,

Education

,

George Zimmerman

,

High School

,

Legal - Court Room - Trial

,

Race Card

,

Racism

,

Trayvon Martin

,

You Tube - VIDEO

|

2 comments
NAACP was for giving a racist NBA Basketball owner a Lifetime Achievement Award, before they were against it … WHERE WERE THEY BEFORE WITH HIS PREVIOUS RACIST ACTS?
The L.A. Clippers owner Donald Sterling was supposed to receive a Lifetime Achievement Award next month from the NAACP's Los Angeles chapter. However, that was before Sterling was caught on an audio tape making racist and disgusting comments to his girlfriend regarding minorities. The award was supposed to be given on May 15, 2014. Upon the surfacing of the explosive and highly racial audio, the NAACP urged the chapter to withdraw Sterling from its honoree list and suggests that "African Americans and Latinos should honor his request and not attend the games."
Sorry, my question is not that the NAACP is rescinding this Lifetime Achievement Award, it is why the so-called civil rights group ever gave it to him in the first place? Hey NAACP, Why so Silent?
But that was then, this is now, NAACP Interim President Lorraine Miller said Sunday on NBC's 'Meet the Press' that the NAACP will not go forward with plans to give a lifetime achievement award to Los Angeles Clippers owner Donald Sterling. She went on to say, "If you're silent about this, then you're accepting this. People have got to say that this is not good and do something about it." Um, who was being silent? One would say the hypocritical NAACP. Did they forget above his previous racist behavior, or were they just being silent? And guess who has joined the act and is calling for a boycott of Clippers games, why the Rev. Jessee Jackson of course.
Appearing on NBC's "Meet the Press," Miller condemned the racist remarks allegedly made by Sterling that were caught on audio recording and leaked over the weekend. The NAACP's Los Angeles chapter was scheduled to give Sterling a lifetime achievement award at its 100th anniversary celebration next month.

"He is not receiving a lifetime achievement award from the NAACP," Miller said.
HEY NAACP … WHY SO SILENT?
The NAACP must have missed the documented history of allegedly racist behavior where Sterling had been sued twice by the federal government for allegedly refusing to rent apartments to Blacks and Latinos. Oops, hey NAACP … why so silent? Maybe they might want to read about the case below?  I guess the NAACP was also remaining silent when former Clippers exec and NBA great Elgin Baylor sued Sterling  for racial discrimination. A jury was ultimately not convinced and shot down Baylor's case.  But when has that ever stopped the NAACP, can you say Trayvon Martin.
United States v. Donald Sterling, et al. (C.D. Cal.)
On November 12, 2009, the court entered a consent order resolving a pattern or practice lawsuit in United States v. Sterling (C.D. Cal.). The complaint, filed on August 7, 2006, alleged that Donald Sterling, Rochelle Sterling, the Sterling Family Trust, and the Korean Land Company, L.L.C. violated the Fair Housing Act on the basis of race, national origin and familial status by refusing to rent to non-Korean prospective tenants, misrepresenting the availability of apartment units to non-Korean prospective tenants, and providing inferior treatment to non-Korean tenants in the Koreatown section of Los Angeles. The complaint also alleged that the Sterling Defendants refused to rent to African-American prospective tenants and misrepresented the availability of apartment units to African-American prospective tenants in the Beverly Hills section of Los Angeles. In addition, the complaint alleged that the Sterling Defendants refused to rent to families with children and misrepresented the availability of apartment units to families with children throughout the buildings that they own or manage in Los Angeles County. The United States also alleged that the Sterling Defendants made statements and published notices or advertisements in connection with the rental of apartment units that expressed a preference for Korean tenants in the Koreatown section of Los Angeles and expressed discrimination against African-Americans and families with children in Los Angeles County.

The consent order requires the Defendants to: (1) pay a total of $2.725 million in monetary damages and civil penalties; (2) implement a self-testing program over the next three years to monitor their employees' compliance with fair housing laws at their Los Angeles County properties; (3) maintain non-discriminatory practices and procedures; and (4) obtain fair housing training for their employees who participate in renting, showing, or managing apartments at the Los Angeles County properties. The order settles the claims of the United States and the private plaintiffs.
Bias law suit: Baylor v. National Basketball Association et al., case number BC407604, in the Superior Court of the State of California for the County of Los Angeles, Central District.
The former general manager of the Los Angeles Clippers has slammed the National Basketball Association, the team, Clippers owner Donald Sterling and management agent Richard Andy Roeser with a lawsuit, accusing the parties of race and age discrimination and unlawful retaliation. On Thursday, Elgin Baylor filed suit in the Los Angeles division of California Superior Court, accusing his former team and colleagues of a slew of employment-related misdeeds.
"Elgin Baylor, a former NBA executive vice president and general manager, charges that he has suffered severe and continuing injury, including severe economic and noneconomic injuries as a result of unlawful and wrongful conduct engaged in by the defendants, individually and/or corporately," the complaint said. "Consequently, in this action, Mr. Baylor seeks an award of economic, noneconomic and punitive damages, as well as an award of reasonable attorneys' fees."
WOW, finally some truth from the liberal MSM admitting there is a bias for Barack Obama.
CNN's Don Lemon admitted that "as a journalist, you weigh how much you should criticize the president because he's black." Really, the color of one's skin determines whether you should criticize Barack Obama, or not? It's not bad or failed policy? So by the converse, it id AOK to criticize a white president? Lemon went on to say, "then you have to do it, because you are a journalist." Um, since when have the journalist of America truly criticized Barack Obama? Am I missing something? Never has a president got more of a pass from the media ever. Had Obama been criticized and vetted as a candidate by the media, he would never have been elected president. But the MSM was all too consumed with have a black man elected. Had the MSM criticized and thoroughly reported on the failures and scandals from Obama's first term like the economy, disastrous job growth, out of control debt and the truth of Obamacare, he would never have been reelected in 2012. However, they were more concerned with no criticizing a black man.
Wasn't it Martin Luther King Jr. who said, "I have a dream that my four children will one day live in a nation where they will not be judged by the color of their skin but by the content of their character." So how come the media can't seem to abide by the words of MLK?
Just a heads up, how do you think the MSM is going to cover Hillary Clinton, the potential first female president? I think we already know the answer.
"As a journalist, you weigh how much you should criticize the president because he's black."
Transcript from Real Clear Politics:
DON LEMON: But, Jake, he is the African-American president. He's an African-American president. He's a president of all people but, again, he has a responsibility as president to help everyone but he is a black man.

And as I said, he understands the issues that we as African-Americans face more than any other president that we have had. You know, we used to call Bill Clinton the first black president, but I mean, in reality, we know that — we know that was just sort of fun.

But, yes, I think he has more of a freedom. And his — listen, in his first term he didn't do that much about, you know, gay rights, about gay marriage, whatever, and it started happening in the second term. I said in the beginning that that issue would be a second term issue.

He had to prove himself in the beginning. He had probably more criticism than most presidents because when you are the first of anything, there is a bigger responsibility put on you. He's a spectacle in a way.

Everyone is being looking to hit him and everyone is looking to punch him, and I understand that, and as a journalist you weigh how much you should criticize the president, because he's black, what have you, but then you have to do it because ultimately you're a journalist. Journalists have to, black people have to, white people, Hispanic. We all must hold him to this because, as he said, it is an issue for the country, not just for one demographic.
EXIT QUESTION: President Barack Obama has proved himself? Really? Proved himself to be what, a socialist, authoritarian, imperial president hell-bent on destroying the United States and shredding the US Constitution?
Posted February 28, 2014 by

Scared Monkeys Barack Obama

,

Blacks

,

CNN

,

Community Agitator

,

Democrat/Obama Propaganda

,

Discrimination

,

Epic Fail

,

Gutter Politics

,

Media

,

Media Bias

,

Minorities

,

Misleader

,

Obamacare

,

Obamanation

,

Partisan hack

,

Political Correctness

,

Politics

,

Race Card

,

Racism

,

Socialist in Chief

,

WTF

,

You Tube - VIDEO

|

3 comments
How much longer is FOX News going to keep Geraldo Rivera on the payroll … he has become pretty much more of a joke than ever before …
On Friday night Geraldo Rivera and Bill O'Reilly went at it on The Factor over the notion that the "Fidel Castro"looking Geraldo accused O'Reilly of taking part in racist, demeaning and disrespectful interview of President Barack Obama in their pre-Super Bowl interview. Geraldo was more concerned that O'Reilly so-called stripped Obama "of his majesty."  HIS WHAT, ARE YOU KIDDING ME? This is what liberals think, that Barack Obama should have majesty. UNREAL. Obama is not a King, as much as he thinks he is. We found a Revolutionary War and a War for Independence in this country against the British Crown to get away from central leaders who thought they had majesty.
"What we had here with you and President Obama was a culture class… It was the president of most of the white guys of America, that's you. And, Barack Obama the president of almost everybody else. And the discussion was at that level… To watch it was some ways unsettling to me … What you did was strip him of his majesty."
Clueless and misinformed individuals like Geraldo are more concerned with Obama's majesty than they are about a government of, by and for the people. This is exactly what is so totally wrong with our country today. Barack Obama works for us, "We the People," and they are supposed to be responsible and accountable to us. It is the media's job to question those in power, no matter what party is in office. However, Geraldo and fools of his ilk are more concerned that we coddle to Obama and any president who is destroying America.
Geraldo Rivera was so out to lunch in this argument. The fact that all Geraldo go out of this interview was that O'Reilly called Obama a "community organizer" just shows the ridiculousness of liberals today looking for anything to attack those who would dare question Obama and any of his failed policies. Geraldo said during the segment that I don't want to bring up race, which is code for, I am going to bring up race and use the race card. Personally, I could care less if one is black, brown, white, pink orange or blue … if Americans want their government to work for them and not be a Monarchy, then every single politician better be held accountable and have to answer OUR questions no matter how UNCOMFORTABLE they might feel.
Posted February 9, 2014 by

Scared Monkeys America - United States

,

Barack Obama

,

Bill O'Reilly

,

Discrimination

,

Divider in Chief

,

FOX NEWS

,

Geraldo Rivera

,

Government

,

Imperial President

,

Media

,

Obamamessiah

,

Obamanation

,

Politics

,

Race Card

,

Racism

,

Restoring America

,

Voting Blocks

,

We the People

,

WTF

,

You Tube - VIDEO

|

3 comments
ARE YOU KIDDING ME … JUST HOW FRIGGIN OFFENSIVE COULD THESE PEOPLE POSSIBLY BE?
The Claremont United Methodist Church, about 30 miles east of Los Angeles, California, and John Zachary, the individual behind the "artistic interpretation,"  has managed to infuriate many with their depiction of the Nativity scene this Christmas season by replacing the baby Jesus with Trayvon Martin. Yup … because some how I get the two of them confused all off the time. I just have two words, "Sacrilege" and an "Abomination"!!! All in the name of "artistic interpretation" these fools have managed to desecrate the Birth of Christ by replacing the innocence of the Baby Jesus, the son of God, Our Savior with the hoody-wearing, Trayvon Martin, slumped over, shot in the chest with blood pouring out on to the ground. UNREAL. Wow, because some how Trayvon Martin is supposed to symbolize the innocence of a child, really? Who knew the drug using, pot smoking, middle finger displaying, gun carrying, school skipping, gangsta fightin' thug was so innocent. Oh that's right, those pics were not immiscible.
One does not even know where to begin here. In the name of "social justice" they would do such sacrilege. But such things are perfectly okay, because while defaming the birth of Christ, there is a liberal message. You can poke others in the eye, but then cry foul when there is an overwhelming negative response. In the past,  Zachary has depicted Mary and Joseph as a modern-day homeless couple; as Mexicans stopped by the U.S.-Mexico border fence; as Iraq War refugees; and in 2010, just Mary by herself, as a black woman in prison with her baby. What, you mean that they have not portrayed Mary and Joseph as Michelle and Barack Obama? Or is that next year?
On the lawn of a Claremont church, just like at many churches at this time of year, cutouts of wise men on camelback head toward a makeshift stable, a meager wooden structure where Mary and Joseph have huddled inside.

But instead of an infant Jesus cradled in his mother's arms, the Nativity at Claremont United Methodist Church — the creation of congregant and artist John Zachary — features a depiction of Trayvon Martin slumped over in his hoodie, a pool of his blood spreading over a bed of straw.

For several years, Zachary has brought his artistic interpretations of the Nativity — as well as the occasional controversy — to the church, as he used a scene that traditionally conveys themes of joy and innocence to spread messages of social justice. Over the last few years, his installations have touched on homelessness, poverty and acceptance of gay families.

He decided over the summer that this year's scene would include the Florida teenager whose shooting death captured the nation's attention. Zachary said he wanted to draw a parallel between rampant gun violence and the dark time in which Jesus was born.

"He was, in my view, an innocent child like the innocent children killed by King Herod," Zachary, 57, said of Martin. "I think the Nativity has to be relevant to our time. I think Jesus is a symbol of hope and I think he has to be seen in today's context."
Want to get even more outraged, watch the VIDEO below of John Zachary attempted to explain his twisted and deranged logic of his interpretation meant to shock people. Sorry, but this is not supposed to be thought provoking, it is just meant to be PROVOKING! Just curious, why is innocent gun violence depicted as Trayvon Martin? If one is going to go this route, wouldn't true innocent lives lost at the hands of gun violence be the 20 children that were killed at Sandy Hook Elementary School?
In the VIDEO below check out the shirt that John Zachary is wearing … Islam convert Mohammed Ali, hmm, I think some one just lost a bit of credibility.
Zachary,57, told media he added the slain teenager's likeness this year to show the parallel between rampant gun violence and the dark time Jesus was born in.

"He was, in my view, an innocent child like the innocent children killed by King Herod," Zachary told the Los Angeles Times. "I think the Nativity has to be relevant to our time. I think Jesus is a symbol of hope and I think he has to be seen in today's context."
Check Out their Facebook page with comments of individuals who are outraged and disgusted. But what else should we expect from a Hollywood production designer? Next year I guess the Baby Jesus will be replaced with Mohammed. I can't wait until 2016 when Mary and Joseph will be Bill and Hillary Clinton and the baby Jesus will be the Obamamessiah. According to accounts, Zachary's 2011 Nativity display included depictions of gay couples and was vandalized and investigated by police as a hate crime. Imagine that … because there is nothing hateful about depicting Mary and Joseph as a gay couple, now is there?
UPDATE I: Just how irresponsible and factually incorrect is it to some how portray Trayvon Martin as the symbol of innocence lost at the hands of gun violence when a the VIDEO below shows, Trayvon was no stranger to guns, fighting and drugs.
The text messages include a conversation from November 2011 in which he appears to say his mother has kicked him out of the house after "da police caught me outta skool."

"So you just turning into a lil hoodlum," the person with whom he is texting says.

"Naw, I'm a gangsta," the text message read.

In other messages, text message exchanges appear to be discussing guns.

"U wanna share a .380 w/ (blacked out)," one text message sent from Martin's phone reads.
Posted December 30, 2013 by

Scared Monkeys Black America

,

Child Welfare

,

Christians

,

Crime

,

Deceased

,

Discrimination

,

God

,

Jesus Christ

,

Liberals

,

Misrepresentation

,

Moonbats

,

Murder

,

Progressives

,

Radicals

,

Religion

,

Sandy Hook Elementary School Massacre

,

Trayvon Martin

,

WTF

,

You Tube - VIDEO

|

6 comments