The Federal Agents showed up unannounced on Sunday to inspect NFL medical staffs for prescription drug abuse by players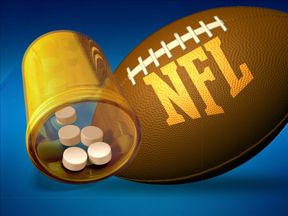 Daily Commentary – Tuesday, November 18, 2014 Download
22 year old  Carlesha Freeland-Gaither is missing after her apparent abduction that was caught on surveillance video. Carlesha Freeland-Gaither was last seen around 9:40 p.m. Sunday, November 2, 2014 in the 100 block of West Coulter Street in the Germantown section of Philadelphia, Pennsylvania. Freeland-Gaither is described as a black female, five feet, three inches tall, 125 pounds with brown eyes. Police say she has braided hair and has a tattoo on her lower back, and was last seen wearing a light blue jean jacket, a gray and white sweater, carrying a black backpack.
Police in Philadelphia have released dramatic video of a suspect apparently abducting a woman in the city's Germantown section Sunday night.

Twenty-two-year-old Carlesha Freeland-Gaither was last seen around 9:40 p.m. Sunday in the 100 block of West Coulter Street, reports CBS Philly. A witness said the woman was yelling for help as a man forced her into a dark-colored sedan.

Surveillance video released Monday by Philadelphia police shows a man driving down a street, parking his car and walking a short distance out of the camera's view, back towards the direction from which he came. He's then seen apparently chasing a woman across the street before grabbing her and forcing her down the block and into the car.
UPDATE I: Surveillance Video Shows Struggle as Woman Abducted Off Germantown Street.
Freeland-Gaither tries to break free as the man works to open the rear driver's side door on a 2000 model dark gray metallic Ford Taurus with missing inspection stickers. They both tumble onto the sidewalk, but the woman is unable to get away.

She's thrown into the back of the car and the vehicle rocks back-and-forth for about 30 seconds before it pulls away. During that time, police said the woman broke out the both rear windows of the car trying to escape.

Another car can be seen driving up the street as the struggle takes place, but eventually backs out of the street.

A witness told NBC10 he walked past the woman shortly before hearing her scream. He then ran back to find her being forced into the sedan.
UPDATE II: $15,000 reward offered in the search for Carlesha Freeland-Gaither.
There is now a $15,000 reward offered in the search for Carlesha Freeland-Gaither.

The Fraternal Order of Police put an additional $5,000 Tuesday saying if an arrest is made today, they will pay up immediately.

Philadelphia Police have launched a full-scale investigation into the abduction on West Coulter Street in Germantown.

"Just let my daughter go. Whatever it takes, I don't care. Just let her go," father Carl Freeland said.
UPDATE III: Missing Woman, Carlesha Freeland-Gaither Found Safe in Maryland.
Authorities have found the woman abducted in Philadelphia alive in Maryland, and they have arrested a man in connection with the investigation, police and the FBI announced Wednesday evening.

FBI Philadelphia Special Agent in Charge Ed Hanko announced at 7 p.m. Wednesday that a tip to their Richmond office led investigators to identify an individual and his car, which they tracked to the 7200 block of Waterloo Road in Jessup.

The Bureau of Alcohol, Tobacco, Firearms and Explosives went to the location, which was a shopping center parking lot, and said agents immediately recognized the car as the one for which they'd been looking.

"It did have the right rear window kicked out of it, which was similar to the information that we received from the Philadelphia Police Department," said ATF agent Timothy Jones.
UPDATE IV: Delvin Barnes Arrested and will be charged with Federal kidnapping.
"Tonight, the FBI and Philadelphia Police Department have great news that Carlesha Freeland has been rescued, her abductor has been arrested in Maryland," Special Agent Hanko said.

The suspect is identified as 37-year-old Delvin Barnes.

Barnes is currently being held on a warrant based out of Charles City County, Virginia sheriff's office for attempted capital murder, assault, malicious injury with acid, explosive, or fire.

Hanko says he will then be charged federally with crimes in Philadelphia
Anyone with information is asked to call the Philadelphia Police. Tipsters in Philadelphia should call 911, and those outside of the city should call 215-686-TIPS.
Posted November 4, 2014 by

Scared Monkeys Arrest

,

Crime

,

DEA

,

FBI

,

FBI

,

Found Safe

,

Kidnapping/Abduction

,

Law Enforcement

,

Missing Persons

,

You Tube - VIDEO

|

3 comments
Mexican drug lord, Joaquin "El Chapo" Guzman, was arrested Saturday morning at 6:40 am, February 22, 2014 at a resort in the port of Mazatlan, Sinaloa, Mexico. Guzman is the head of the  Sinaloa Cartel and one of the #1 drug kingpins in Mexico.  Attorney General Jesus Murillo Karam said the arrest occurred without a shot being fired. He was caught with an unidentified woman. The 56 year old Guzman had been eluding capture for more than a dozen years. Mexican Marines, the U.S. Drug Enforcement Administration and the US Marshals Service carried out the joint operation.
The Mexican drug lord Joaquin "El Chapo" Guzman, head of the  Sinaloa cartel, was arrested on Saturday February 22nd at 6 am, inside a resort in the port of Mazatlan, Sinaloa, Mexico. His capture was the result of an operation coordinated by Mexican and U.S. authorities, as it was informed this morning by The Associated Press.

A senior U.S. official said Guzman was captured alive in the city of Mazatlán, a tourist destination on the Pacific coast of Mexico. The official, who was not authorized to speak about the arrest, gave information on condition of anonymity.
Guzman was arrested overnight in a hotel in the Pacific beach town of Mazatlan, in his home state of Sinaloa.
He had been on the lam since escaping from prison in 2001, and no one — that we know of — came close to catching the drug lord who regularly appears on Forbes magazine list of most powerful people.

The rumor was that with that kind of money, he could be hiding anywhere in the world.

In the end, he was caught just 140 miles from the city of Culiacan, the home base for his Sinaloa drug cartel.
Joaquin "El Chapo" Guzman wanted in both Mexico and the United States.
In Chicago, where the city's crime commission last year named Guzman its Public Enemy No. 1 — a designation originally crafted for Al Capone — authorities praised the arrest. Chicago is among the major destinations of the cartel's drug flow.

"The arrest of Chapo Guzman is significant," police Superintendent Garry McCarthy said in a statement. "This is a victory, but we know the tentacles of his cartel still exist and much more work remains to be done. Demand for narcotics will still remain, so we will continue to partner with the DEA as they fight international drug trade, and we will remain focused on our efforts to eliminate the factors that drive violence in our city."

From New York to Chicago, Texas to San Diego, Guzman and his lieutenants are named in indictments for marijuana, cocaine and heroin trafficking, as well as racketeering, money laundering, kidnapping and conspiracy to commit murder.
Posted February 22, 2014 by

Scared Monkeys America - United States

,

Arrest

,

Crack - Cocaine

,

Crime

,

DEA

,

Drug Cartels

,

Drugs

,

Law Enforcement

,

Marijuana - Pot - Grass

,

Mexico

,

Murder

,

United States

,

You Tube - VIDEO

|

2 comments