HE'S BACK … AND WE ARE SO GLAAD GLAD!!!
Less than two weeks after Robertson was put on "indefinite hiatus" for his remarks than angered GLAAD, the 'Duck Dynasty' patriarch is back on D2 as A&E has caved due to a backlash like they have never seen. This represents another reversal of fortune as related to Phil Robertson as it was just last Sunday that Cracker Barrel learned the errors of their ways and had to put back Robertson's merchandise on the shelves after they had a knee-jerk reaction the previous Friday and removed it. I am starting to sense a trend here. It is a victory for free speech, it is a victory for freedom of religion and a victory against the Gestapo PC police. 
Oh what a lesson this is to the liberal media and the intolerant LEFT … Take notice how one stands up to a bully.
BOYCOTT AGAINST A&E VICTORY … MISSION ACCOMPLISHED!!!
An A&E statement to The Hollywood Reporter read:
As a global media content company, A+E Networks' core values are centered around creativity, inclusion and mutual respect. We believe it is a privilege for our brands to be invited into people's homes, and we operate with a strong sense of integrity and deep commitment to these principles.

That is why we reacted so quickly and strongly to a recent interview with Phil Robertson. While Phil's comments made in the interview reflect his personal views based on his own beliefs and his own personal journey, he and his family have publicly stated they regret the "coarse language" he used and the misinterpretation of his core beliefs based only on the article. He also made it clear he would "never incite or encourage hate." We at A+E Networks expressed our disappointment with his statements in the article and reiterate that they are not views we hold.

But Duck Dynasty is not a show about one man's views. It resonates with a large audience because it is a show about family … a family that America has come to love. As you might have seen in many episodes, they come together to reflect and pray for unity, tolerance and forgiveness. These are three values that we at A+E Networks also feel strongly about.

So after discussions with the Robertson family, as well as consulting with numerous advocacy groups, A&E has decided to resume filming Duck Dynasty later this spring with the entire Robertson family. (Read the rest HERE)
Oh I cannot wait for the GLAAD meltdown. Careful, they may actually cause Global Warming it is going to be so intense.
A note to the tolerant LEFT and GLAAD who may not agree with another individuals personal and religious beliefs … turn the channel!!! One of my favorite tag lines for A&E's decision reversal from Legal Insurrection … A&E Admits it Ducked Up – will bring back Duck Dynasty Star. Ha, yes they did!
UPDATE I: Oh so many Tweets at TWITCHY.
UPDATE II: Duck Dynasty star Phil Robertson reinstated after zero-day suspension.
The length of an "indefinite" ban from filming for an outspoken star of the hit reality series Duck Dynasty has been revealed, and it is zero days.

The A&E Networks on Friday announced a decision to reinstate Phil Robertson, the patriarch of its runaway hit guns 'n' god series, just one week after suspending him for controversial remarks he made in a GQ interview.

Earlier this month, Robertson told GQ he thought "homosexual behavior" was sinful and led to bestiality. A&E promptly declared itself "extremely disappointed" with the viewpoint and said "the network has placed Phil under hiatus from filming indefinitely."

Following a ratings-threatening backlash from hundreds of thousands of Duck Dynasty fans, A&E on Friday issued a groveling retraction of that stand.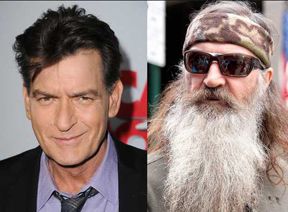 Daily Commentary – Thursday, December 26, 2013
Download
Some will do anything to keep races at each others throats and make a buck in the process …
Late to the game but never wanting to miss a chance to miss the media attention, Rev. Jesse Jackson of the Rainbow PUSH Coalition condemned Phil Robertson's, the 'Duck Dynasty' patriarch, comment African Americans and gays and compared them to the comments made by Rosa Parks' bus driver. HUH? So let's understand this, Jackson thinks that Robertson's comments are more offensive than telling Rosa Parks to get to the back of the bus? Good grief, could Jackson possibly marginalize Rosa Parks anymore? Jackson stated that the Rainbow PUSH Coalition  is demanding to meet with network execs, along with Cracker Barrel's CEO, to discuss the future of all "Duck Dynasty" memorabilia or content. Yea, no shakedown here.
If Jackson was intellectually honest here, he would see who's civil rights were actually violated. I guess the Reverend Jackson does not care about Freedom of Speak and Freedom of Religion when it does not go along with his liberal agenda.
Duck Dynasty makes how much in merchandise, I need me some of that …
Jesse Jackson Sr. has jumped into the controversy surrounding comments by Phil Robertson, star of A&E's backwoods reality TV show, "Duck Dynasty."

In an announcement sent out Tuesday, Jackson Sr. compared Robertson's recent comments about African-Americans, gay people and women to comments made by the driver of Rosa Parks' bus.

"At least the bus driver, who ordered Rosa Parks to surrender her seat to a white person, was following state law," he said in the release. "Robertson's statements were uttered freely and openly without cover of the law, within a context of what he seemed to believe was 'white privilege.'"

Jackson's human rights group, the Rainbow PUSH Coalition, has demanded meetings with A&E and with Cracker Barrel regarding the two companies' treatment of Robertson, who stars in the show as the head of a Louisiana family that makes duck calls.
The Gateway Pundit reminds us that he who cast stones, best check out if the house they live in is made of glass as the it was the Reverend  Jackson "who once said he wanted to cut Barack Obama's penis off and who fathered a love child out of wedlock." Oh yea, and lest we forget that the Rev. Jesse Jackson was accused of harassment by a gay male  staffer two years ago. But all this does not matter for when one brings  this up, we are accused of judging Mr. Jackson.
UPDATE I: This is classic as reported at The Raw Story … Because it is perfectly acceptable for Jessee Jackson and hid personality and large platform to benefit from race baiting. Judge not lest ye be judged.
Jackson's statement also called for executives at A&E Network, which airs Robertson's show, and Cracker Barrel, which sells Duck Dynasty-related merchandise, to meet with himself and representatives from not only his organization, the Rainbow PUSH Coalition, but the Gay & Lesbian Alliance Against Defamation and the National Organization for Women.

"It is unacceptable that a personality who has been given such a large platform would benefit from racist and anti-gay comments," the statement read.
Posted December 26, 2013 by

Scared Monkeys Civil Rights

,

collusion

,

Conspiracy

,

Cracker Barrel

,

cronyism

,

Discrimination

,

Faith

,

First Amendment

,

Fraud

,

Freedom of Religion

,

Freedom of Speech

,

God

,

Jesse Jackson

,

Jesus Christ

,

Liberals

,

Moonbats

,

Phil Robertson

,

Progressives

,

Race Card

,

Racism

,

Religion

,

US Constitution

,

WTF

|

5 comments