Even though they claimed to have been caught off guard, they had already predicted an increase and expect there to be 127,000 this year many of which are juveniles
Daily Commentary – Tuesday, June 30, 2015
Download
HEY JEB BUSH, ILLEGAL IMMIGRANTS COME TO THE US OUT OF AN ACT OF LOVE, EH? YOU MIGHT WANT TO RE-ACCESS THAT ONE.
19 year old Cristian Alexander Magana was arrested and charged with the distribution and possession of child pornography in Hagerstown, MD. Magana was arrested on June 22 and taken to the Washington County Detention Center. Cristian Alexander Magana is an illegal alien from El Salvador whose public defender stated that the defendant has lived in Hagerstown for about a year (ILLEGALLY) with an aunt who depends on his financial support. Hmm, which makes the following even more interesting when the defendant Magana said to the judge, "just deport me". Why, because he knows it is easy as uno, dos, tres to get back into the United States?  The maximum penalty for distribution of child pornography is 10 years.
Just another case of doing the jobs Americans don't want to do. We have enough dirt bags in this country who are predators, we certainly do not need ones coming into the US illegally.
An illegal immigrant charged with distribution and possession of child pornography told a district court commissioner this week to "just deport me" following his arrest, according to information revealed during his bond-review hearing Wednesday in Washington County Circuit Court.

Cristian Alexander Magana, 19, of Beachley Drive, Hagerstown, is charged with six counts of promoting or distributing child pornography and 15 counts of possession of child pornography, court records said.

District Judge Terry Myers kept his bond at $100,000 at 10 percent, meaning he can post bail with $10,000.

"The defendant is an illegal alien from El Salvador," Assistant State's Attorney Arthur Rozes told the judge.

He said Magana was able to repeat — in English — "Just deport me" when he was arraigned before the commissioner.
AND THESE ARE THE FOLKS THAT ARE SUPPOSED TO HOST A PRESIDENTIAL FORUM?
The President of Programming and Content at Univision compared GOP Presidential candidate Donald Trump to racist murderer Dylann Roff today on Instagram. REALLY? Could you imagine what the outrage would be if Obama was compared to a murderer? It wasn't long before the pics were taken down, but the damage had been done. How irresponsible could one be who claims to be in the media?
How do you say media bias in Spanish?
"I think he should be ashamed of himself. He deleted it. And the lawyers are going to have a field day. As you know they broke a contract… In my opinion a tremendous amount of pressure was put on, frankly by Mexico, by the leaders of Mexico put on Univision because they didn't like what I was saying about trade… Frankly, a tremendous amount of people are coming in. We have some horrible people coming in, not just from Mexico but from all over. And they are killers and they are people we don't want in this country… Everybody knows what I'm saying is true, Mexico knows what I'm saying is true."
UPDATE I: Further attacks and backlash against The Donald … Chilean actor Cristian de la Fuente resigned as host of the Miss USA pageant, Calls Trump a Clown.
The Chilean actor who was slated to host the Miss USA pageant pulled out even before Univision pulled the plug, saying Donald Trump was "ignorant" and a "clown."

Cristian de la Fuente, who stars in "Devious Maids," went nuts on Trump for calling Mexicans drug dealers and rapists.

Cristian is not alone in his disdain. Roselyn Sanchez, his "Devious Maids" co-star, also pulled out and Univision officially pulled the plug Thursday morning.
UPDATE II: Univision dumps Trump, cancels Miss USA over his comments about Mexicans.
Univision is the biggest Spanish-language broadcaster in the United States, so its decision is a blow to the Miss Universe Organization, a joint venture of Trump and Comcast's NBCUniversal division.

Last week, in his speech announcing a run for president, Trump deplored immigrants from Mexico who "have lots of problems" and are "bringing those problems to us."

"They're bringing drugs, they're bringing crime, they're rapists," he said, adding, "and some, I assume, are good people."
UPDATE II: Trump Sues Univision.
Donald Trump intends to sue Univision for breach of contract and defamation after the media company announced it would renege on a five-year contract for broadcast rights to the Miss Universe and Miss USA pageants, his lawyer said Thursday.

The announcement comes hours after Trump told the On Media blog that Univision was defaulting on an "iron-clad" $13.5 million contract, which he said it had no right to terminate
Posted June 26, 2015 by

Scared Monkeys Donald Trump

,

Donald Trump

,

Illegal Immigration

,

Media

,

Media Bias

,

Mexican Border Security

,

Mexico

,

Open Borders - Border Security

,

Presidential Contenders

,

Univision

,

WTF

,

You Tube - VIDEO

|

no comments
We found out last week that she would create a path to citizenship and that she was ready to use executive action to shield many more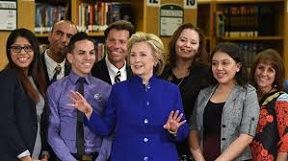 Daily Commentary – Tuesday, May 12, 2015 Download
Posted May 12, 2015 by

Klaasend Amnesty

,

Anchor Babies

,

Dana Pretzer

,

Deportation

,

DREAM Act

,

Hillary Clinton

,

Illegal Immigration

,

Main

,

Open Borders - Border Security

,

Scared Monkeys Radio

|

3 comments
Hey Jeb Bush, remember when you defended illegal immigration an "act of love" …
25 year old illegal immigrant Hermes Rivera has been arrested and charged with 3 counts of aggravated rape against a 10 year old girl. Hermes Rivera, the undocumented child rapist and sex offender was the boyfriend of the 10 year old girl's mother. The girl's mother discovered a video on her daughter's cell phone claiming they "made love." Um, made love with a 10 year old? The police said the acquaintance confronted Rivera, who admitted to engaging in sex acts with the young girl because she had asked him to do so. Really, sure she did. A 10 year old asked him to do so and he obliged? What a sick SOB. Hermes Rivera remained in custody Monday; no bond has been set.
Does this mean he is now a documented illegal as he is a child sex rapist? What are the odds that this heinous act will not even get him deported.
undocumented sex offender
A man living in Kenner has been charged with three counts of aggravated rape against a 10-year-old girl after the victim was seen in a video claiming they "made love," police said.

The mother of the girl found the cell phone video on Thursday, April 16, 2015. It was recorded by her daughter. On it, the victim alleged that she and her mother's boyfriend had "made love" three times.

After confronting her daughter, police said the 10-year-old victim told her mother it happened in their bedroom.

25-year-old Hermes Rivera admitted to police that he had sex with the victim three times between March and April 3, 2015.
Kenner Police Chief Michael J. Glaser urges anyone with information concerning Hermes Rivera, to call the Kenner Police Detective Joseph McRae at (504) 712-2330 or Crimestoppers at (504) 822-1111.
Posted April 22, 2015 by

Scared Monkeys child abuse

,

Child Endangerment

,

Child Welfare

,

Crime

,

Felony

,

Illegal Immigration

,

Lewd & Lascivious conduct

,

molestation

,

Open Borders - Border Security

,

Rape

,

Sexual Assault

,

WTF

|

one comment
Donald Trump at NRA-ILA Leadership Forum … I promise you one thing, if I run for president and I win, the Second Amendment will be totally protected."
During Trump's speech before the NRA, The Donald called Barack Obama completely incompetent and doesn't know what he is doing and he said that we have negotiators dealing with the Iran nuclear deal that have no clue. Donald Trump said that the negotiators should read his book, 'The Art of the Deal'. We have people who don't know what they are doing. Trump said we need a new president, we need new leadership, we need strength, and we need people who are respected.
Donald Trump went on to say, "I don't know if he [Obama] has the interest of the country, he probably does, but as I said, I think the whole group lead by the leader is grossly, grossly incompetent." Trump also went on to talk about the US economy, illegal immigration and jobs being sent to Mexico.
I would actually have to disagree with Donald Trump, I don't think Obama is incompetent at all, I think he is purposely trying to destroy America from within. One does not spit on your allies and shake hands with dictators and make deals with countries who want to see your annihilation, unless you mean to.
Posted April 12, 2015 by

Scared Monkeys 2nd Amendment

,

Donald Trump

,

Economy

,

Illegal Immigration

,

Jobs

,

NRA

,

Open Borders - Border Security

,

Second Amendment

,

US Constitution

,

You Tube - VIDEO

|

no comments
FANTASTIC, NOW OUR POROUS SOUTHERN BORDER IS ALLOWING SEX OFFENDERS TO SNEAK INTO THE UNITED STATES.
When is the United States government actually going to care enough to actually prevent illegals for entering into the United States unlawfully? Now we have the US Border Patrol reporting that we have a spike in sex offenders entering illegally into the United States through Mexico. But I guess this is just more of those folks that Jeb Bush says come to America as an "act of love."  I guess this is a special kind of love, Jeb. The Border Patrol is discussing the sex offenders that have been apprehended, imagine the number of the ones that have not? When will we ever wake up and protect our borders? We are supposed to be a sovereign nation with laws and borders, yet we act as if we do not care. First illegals. now sexual predators and coming soon … ISIS.
When is our government ever going to protect We the People? It is bad enough we let illegals into the country for political purposes in an effort to bolster the Democrat vote and to create low wager earners by the Corporate capitalists. Now we let sexual predators in to rape and sexually assault women and children. WHEN DOES IT END!!!
The Border Patrol is reporting a severe spike in sex offenders sneaking into the U.S.

According to the feds, illegal immigrant sex offenders have been caught in every corner of the Rio Grande Valley.

Border Patrol agents are running into more sex offenders this year than last year.

Within the last five months, 144 apprehended.

During the same time last year, 93 sex offenders were caught trying to fly under the radar.

In December, a woman from El Salvador was picked up, who was convicted of child sex assault back in 2009. It reportedly happened in Dallas County.

Later that month, three Mexican nationals were caught near Harlingen.

In February, seven sex offenders were rounded up near McAllen, Harlingen, Falfurrias and Kingsville.

Less than a week later, another two Mexican nationals were caught. Two days ago, two Guatemalan men were arrested.

The sex offenders go to great lengths to avoid capture. Agents said they often travel through South Texas brush and try to blend in with large groups of illegal immigrants.
LOOK HOW THEY TREATED AN ILLEGAL ALIEN RAPIST IN INDIA ….
A mob consisting of thousands stormed a jail in the northeastern Indian city of Dimapur, seized the accused rapist, marched him through the streets and then lynched him. Syed Sirf Khan, accused by locals of being an illegal migrant from Bangladesh, was arrested on February 24 on suspicion of raping a woman from a Naga tribal community. It would appear that the Dimapur saved the formalities of a trial or incarceration by using mob justice and taking care of the matter themselves.
After the rape accused was caught, he was stripped naked, paraded and beaten up by a mob while the police personnel remained silent spectators, security sources said. The accused later died of severe beatings after being paraded naked from Central Jail to the Clock Tower Junction in the heart of Dimapur.

The body was dragged and later strung on the fencing under the Clock Tower Junction where armed personnel were seen standing with the crowd, security sources pointed out while clarifying that a total of 186 prisoners were lodged in the prison. Three convicts among the prisoners also tried to escape, taking advantage of the melee, but were later caught by the prison personnel, security sources said.
Here is an interesting back story of the events in how it relates to illegals.  The local residents told this newspaper that the incident was a manifestation of the prevailing tension between the suspected illegal immigrants and local Naga residents of the area. Pointing out that large number minority youths, who came in search of jobs and livelihood to the state, got married to Naga girls and settled in the area, they said this creating a fear of demographic invasion among the tribal population of the state. But I guess if this same illegal came to the United States, he would have been provided a drivers license, pathway to citizenship, amnesty and income tax refunds all at the expense of John Q. Public. Also, had he raped some one in America, Obama's policies would have just have allowed him to remain here and not be deported.  The point here is not to justify mob rule, although dealing with a rapist like this was swift justice. The point is that don't ever let anyone tell you that the US treats illegals poorly. If anything, these days they are treated better than American, law abiding citizens.
Click HERE or on PIC to watch VIDEO via NDTV
A mob of thousands stormed a jail in the northeastern Indian city of Dimapur, seized a prisoner accused of rape, paraded him through the streets and beat him to death before they could be stopped by police gunfire, a police official said on Friday.

The dead man, identified by the authorities as Syed Sirf Khan, was accused by locals of being an illegal migrant from Bangladesh and had been arrested on Feb. 24 on suspicion of raping a woman from a Naga tribal community the day before.

How the mob was able to overcome armed police officers on Thursday at the jail in Dimapur, the commercial hub of Nagaland State, was not clear on Friday. The top police official in Nagaland, L. L. Doungel, said that because there were a number of students wearing uniforms in the crowd, the police did not want to resort to violence.

"There would have been a lot of casualties," Mr. Doungel said. "That was one reason. The mob was in the thousands."
JAMIEL SHAW ASKS A VERY IMPORTANT QUESTION THAT BARACK OBAMA AND ERIC HOLDER NEED TO ANSWER … "DO BLACK LIVES MATTER, OR DOES IT MATTER ONLY IF YOU ARE SHOT BY A WHITE PERSON OR A WHITE POLICE OFFICER?
Jamiel Shaw Sr. testified in front of a subcommittee Wednesday, chaired by Rep. Ron DeSantis (R-FL). All should watch and take notice of what happened to Mr. Shaw's son, 17 year old Jamiel Shaw II, who was violently gunned down by Pedro Espinoza in 2008. Pedro Espinoza is a member of the 18th Street gang,  a DREAMer, a DACA recipient, and a child brought to this country by no fault of his own. Hardly the harmless and innocent people that Obama, Democrats and gutless Republicans have told us what DREAMer's are. Espinoza was convicted and sentenced to death in November 2012.
However, this is greater than just a senseless killing. Below is a must watch VIDEO … Do black lives matter? Well, for Barack Obama, only when it fits his political agenda. If a black person is killed by another black person, and especially an illegal, even a gang banger with multiple arrests, the answer is probably not.
"My son, Jamiel Andre Shaw II, was murdered by a DREAMer, a DACA recipient, a child brought to this country by no fault of his own. My family's peace and freedom was stolen by an illegal alien from Mexico. He was brought here by his illegal alien parents and allowed to grow up as a wild animal.

He continued: "Some people believe that if you are brought over by no fault of your own that it makes you a good person. They want you to believe that DREAM Act kids don't murder. I am here to debunk that myth."
THIS IS A MUST WATCH VIDEO … DO BLACK LIVES MATTER? DO AMERICAN LIVES MATTER?
Jurors deliberated for less than 4 hours on May 2, before finding Pedro Espinoza, 23, guilty of 1st degree murder for the 2008 shooting death of 17-yaer-old football star Jamiel Shaw Jr. in Los Angeles. They have suggested that he receive the death penalty, reports NBC Los Angeles.
Posted March 2, 2015 by

Scared Monkeys Aggrevated Murder

,

Amnesty

,

Barack Obama

,

Black Vote

,

Blacks

,

Chicago-Style Politics

,

Class Warfare

,

class warfare

,

Community Agitator

,

Crime

,

Divider in Chief

,

DREAM Act

,

Epic Fail

,

Gang Violence

,

Illegal Immigration

,

Latinos/Hispanic

,

Latinos/Hispanics

,

Mexican Border Security

,

Minorities

,

Misleader

,

Open Borders - Border Security

,

Politics of Fear

,

Saul Alinsky

,

The Lying King

,

US National Security

,

You Tube - VIDEO

|

one comment
IMAGINE THAT, A FEDERAL COURT RULES THAT IT IS UNCONSTITUTIONAL FOR OBAMA TO BE AN EMPEROR …
U.S. District Court Judge Arthur Schwab has ruled that parts of Barack Obama's executive actions on immigration policy unconstitutional. It's a start, even though any one with any common sense or grasp of the Constitution knows Obama's executive order was Unconstitutional. Although this decision was part of a criminal case, look for this case to make it's way through the federal court system and ultimately to the Supreme Court.
Earlier Tuesday, a federal court in Pennsylvania declared aspects of President Obama's executive actions on immigration policy unconstitutional.

According to the opinion by Judge Arthur Schwab, the president's policy goes "beyond prosecutorial discretion" in that it provides a relatively rigid framework for considering applications for deferred action, thus obviating any meaningful case-by-case determination as prosecutorial discretion requires, and provides substantive rights to applicable individuals.  As a consequence,  Schwab concluded, the action exceeds the scope of executive authority.
The full opinion can be read HERE.
Judge Arthur Schwab stated that Obama's executive order violated separation of powers.
"President Obama's unilateral legislative action violates the separation of powers provided for in the United States Constitution as well as the Take Care Clause, and therefore, is unconstitutional," Schwab wrote in his 38-page opinion (posted here). "President Obama's November 20, 2014 Executive Action goes beyond prosecutorial discretion because: (a) it provides for a systematic and rigid process by which a broad group of individuals will be treated differently than others based upon arbitrary classifications, rather than case-by-case examination; and (b) it allows undocumented immigrants, who fall within these broad categories, to obtain substantive rights."

The Pittsburgh-based judge rejected a Justice Department legal opinion arguing that Obama's actions fall within the traditional realm of the executive's  discretion about which cases to pursue and which to overlook. Schwab, a George W. Bush appointee, also quoted in detail from a series of public statements Obama made in recent years about the limits on his executive authority to make sweeping changes in immigration enforcement.
As Q and A opines, if this case goes to the SCOTUS, will the "ObamaCare is a tax" court manage to actually rule as this judge has, that the executive has unconstitutionally exceeded his power? Who knows anymore at this point. After Justice Roberts bent over backwards for Obamacare, one can only wonder whether the SCOTUS will get this one right.