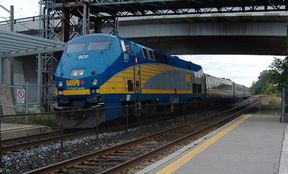 Daily Commentary – Wednesday, April 24, 2013
Download
EVIL TWARTED AGAIN,  THIS TIME NORTH OF THE BORDER IN CANADA …
Two men have been arrested and are accused of conspiring to carry out an "al-Qaeda supported" attack targeting a Via passenger train in the Greater Toronto Area. The two would be terrorists are Chiheb Esseghaier, 30, of Montreal, and Raed Jaser, 35, from Toronto. RCMP officials said the two accused were plotting to derail a Via passenger train. VIA is Canada's equivalent of Amtrak and operates passenger rail services on track owned primarily by Canadian National Railway Co. According to a Reuters report, U.S. law enforcement and national security sources said the alleged plot targeted a rail line between Toronto and New York.
Police say they have arrested two men accused of conspiring to carry out an "al-Qaeda supported" attack targeting a Via passenger train in the Greater Toronto Area, following a cross-border investigation that involved Canadian and American law enforcement.

In a press conference that followed a report by CBC's Greg Weston, police named the two accused as Chiheb Esseghaier, 30, of Montreal, and Raed Jaser, 35, from Toronto. They have been charged with conspiracy to carry out a terrorist attack and "conspiring to murder persons unknown for the benefit of, at the direction of, or in association with a terrorist group."

RCMP officials said the two accused were plotting to derail a passenger train. Jennifer Strachan, chief superintendent of RCMP criminal operations in the province of Ontario, said the two suspects watched trains and railways in the Greater Toronto Area.

"We are alleging that these two individuals took steps and conducted activities to initiate a terrorist attack," she told reporters.
Statement From RCMP On Canadian Terror Arrest:
Today, the RCMP arrested two individuals and charged them with conspiring to carry out a terrorist attack against a VIA passenger train. The accused have been charged under sections 248, 235 (1), 83.2, 83.18, 83.21 of the Criminal Code of Canada. As a result of extensive collaborative efforts, the RCMP was able to disrupt the threat early. While the RCMP believed that these individuals had the capacity and intent to carry out these criminal acts, there was no imminent threat to the general public, rail employees, train passengers or infrastructure.

The two accused, Chiheb ESSEGHAIER and Raed JASER, who live in the Montreal and Toronto area were conspiring to carry out a terrorist attack against a VIA passenger train. Charges include conspiring to carry out an attack against, and conspiring to murder persons unknown for the benefit of, at the direction of, or in association with a terrorist group.
As Legal Insurrection reminds us of President Barack Obama's false rhetoric … I guess it depends on what the meaning of "decimated" is. Where is the Obama propaganda media criticizing him for his "declaring victory" over 'al-Qaeda, when its obvious nothing could be further from the truth.
Good grief, these friggin Islamist terrorist are like cockroaches.
International Base Brawl …
So much for these games don't matter as a brawl broke out during the World Baseball Classic between Canada and Mexico. Hardly two teams one would think would get into a bench clearing brawl, but the game got a bit chippy. There is nothing like a bunt single in the 9th inning when you are up by 6 to get the Latin American blood boiling. The result, a subsequent throwing at a batter and a bench clearing melee. How many GM's and MLB owners must have had their hearts in their mouth when they saw this happened fearing an injury of one of their key players or superstars. If more of this happens, look for MLB to restrict players from taking part in the World Baseball Classic.
The seven ejected players … Team Mexico's Arnold Leon, Oliver Perez, Eduardo Arredondo, Andrew Albers and Alfredo Aceves and Canada's Pete Orr, Rene Tosoni and Jay Johnson. The players will not face discipline beyond the ejections, according to a statement released by the World Baseball Classic, Inc.
From the Yard Barker:
In a chippy game that had previously involved a late takeout slide and a collision at home plate, Canadian Chris Robinson bunted to lead off the ninth inning with Canada holding a 9-3 lead. Mexico pitcher Arnold Leon responded by throwing at Rene Tosoni and missing as both teams were warned by the umpire. Then, Leon hit Tosoni on the next pitch and the benches emptied.

Red Sox pitcher Alfredo Aceves was heavily involved in the fray, seen wrestling with Tyson Gillies and appearing to suffer a blow to the head. Aceves' Red Sox teammates were reported to have cheered at the sight of their pitcher fighting.
A 47 year old Canadian woman is missing aboard a Celebration Cruise Line cruise ship.  The unnamed woman went missing between the Grand Bahamas and the Florida coast.  She was last seen Tuesday evening on the boat's return voyage from Freeport, Bahamas. According to accounts, they are pretty sure that the woman was on board when the ship left Grand Bahama Island at 8 pm because "every person has to swipe a card" to go on and off the ship, and she hadn't swiped her card to leave.
Federal and local authorities are investigating a missing female passenger from a Celebration Cruise Line ship at the Port of Palm Beach this afternoon.

The 47-year-old woman, who is identified only as " a resident of Canada," was reported missing by her boyfriend at 8 a.m. today after he had not seen her since "1 a.m.," said Charles Kinnear, president of the cruise line.

Kinnear said the man, who also has not been named, said he left the woman at the gift shop while he went to the casino late last night. He then went back to the cabin to sleep.

When he woke up, the man said, he noticed that she still had not returned. He walked around the ship to see if she had gone to breakfast or something, Kinnear said.

When the man couldn't locate her, he notified the ship's crew.
From ABC News, the boyfriend has stated the following regarding the missing woman.Presently the FBI is in charge of the investigation of the missing woman.
The boyfriend told authorities he'd last seen the missing woman at the ship's gift shop before heading to the casino at around 1 a.m. Tired, he then decided to go to sleep.

The ship docked at the Port of Palm Beach in Riviera Beach, Fla., at 7 a.m.

When the boyfriend awoke, he searched the ship. At around 8 a.m., he alerted the ship's crew, which along with the Coast Guard launched a full search of the ship for the woman.

No trace of the missing woman has been found.
UPDATE I: Search called off for missing Canadian Woman.
The Coast Guard has called off its search for a woman believed to have gone overboard on a Bahamas cruise.

Search and rescue crews trolled the waters between Freeport, Bahamas, and the Port of Palm Beach in Florida for about 84 hours, covering an area of nearly 7,300 square miles. They also did air searches to try and spot the woman from above.
CANADA NOT HAPPY WITH OBAMA AND HIS FALSE CAMPAIGN PROMISES … THE LYING KING!
Thanks Barack Hussein Obama for dissing our friend to the North, Canada, and going with Opec Saudi oil. Oh yea, and going with our other friend Hugo Chavez and Venezuelan oil. That's it Barack, way to piss off our friends and allies. Here it from the mouths of Canadians. Sorry Mr. President, Ain't no way to treat a friend". What ever ahppened to to those shovel ready jobs that Obama was so keen on when it came to wasting American tax payer dollars?
Obama chose America's enemies over America's closed friend and ally
Remember when Obama promised to get off Mideast and Venezuela oil in 10 years time? America … did you forget that campaign promise? When Obama told you what you wanted to hear? Guess what … OBAMA LIED! Imagine an American President justifying going with Middle East OPEC oil and Venezuelan and slapping Canada in the face when he claimed he was going to rid America of Middle East oil. Mmm, mmm, mmm … Barack Hussein Obama.
Posted January 23, 2012 by

Scared Monkeys Barack Obama

,

Canada

,

Energy

,

Jobs

,

Keystone XL Pipeline

,

Middle East

,

Obamanation

,

Saudi Arabia

,

US National Security

,

Venezuela

,

War on Terror

,

WTF

,

You Tube - VIDEO

|

7 comments
Canada and its Conservative government to pull out of the Kyoto Protocol, eh.  With as hypocritical as the Kyoto Protocol is in not applying any standards to China, India and Brazil, how could anyone with a straight face think that Kyoto is beneficial?
Canada will announce next month that it will formally withdraw from the Kyoto Protocol, CTV News has learned.

The Harper government has tentatively planned an announcement for a few days before Christmas, CTV's Roger Smith reported Sunday evening.

The developments come as Environment Minister Peter Kent prepares for a climate conference in Durban, South Africa that opens on Monday, with delegates from 190 countries seeking a new international agreement for cutting emissions.
The Greenies and environmental critics in the Great White North go mental …
Green Party Leader Elizabeth May called the move "a very damaging act of sabotage."

"It will reverberate around the world," May told CTV. "Canada will be a pariah globally if it goes through with this."

The accord is set to expire next year.