Death toll reaches 141, mostly children, in the aftermath of the Pakistani Taliban attack on a school run by the military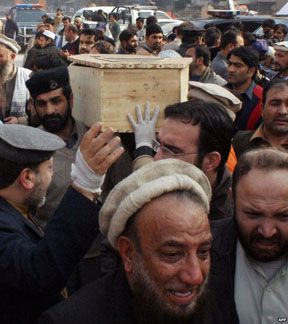 Daily Commentary – Wednesday, December 17, 2014 Play
Download
Posted December 17, 2014 by

Klaasend Child Welfare

,

Dana Pretzer

,

Deceased

,

Education

,

Islamist

,

Jihad

,

Pakistan

,

Radical Islam

,

Scared Monkeys Radio

,

School Shooting

,

School Violence

,

Taliban

,

Terrorism

|

no comments
Yup, you got terrorism is on the run President Obama …
Bahramand Khan, director of information for the regional Chief Minister's Secretariat, said at least 126 people were killed and 122 wounded. A group of Taliban gunman attacked the school and murdered children in response to the Pakistan military launching a military offense against them. This is their justification, slaughtering children?
 At least 126 people, most of them children, were killed on Tuesday when Taliban gunmen stormed a school in the Pakistani city of Peshawar, taking hundreds of students hostage in the bloodiest insurgent attack in the country in years.

Troops surrounded the building and an operation was underway to rescue children still trapped inside, the army said.

Hours into the siege, three explosions were heard inside the military-run high school, and a Reuters journalist at the scene said he heard heavy gunfire.

Outside, as helicopters rumbled overhead, police struggled to hold back distraught parents who were trying to break past a security cordon and get into the school.

Bahramand Khan, director of information for the regional Chief Minister's Secretariat, said at least 126 people were killed and 122 wounded.
BBC – Pakistan Taliban: Peshawar school attack leaves 135 dead.
All six attackers are said by officials to have been killed but the security forces are still checking for bombs they may have left.

Scores of survivors are being treated in hospitals as frantic parents search for news of their children.

The attack is the deadliest ever by the Taliban in Pakistan.

The BBC's Shahzeb Jillani in Karachi says the militants appear to have been intent on killing as many students as possible – rather than taking hostages, as initially thought.
VIDEO – CNN
UPDATE I: Taliban-led attack on Pakistan school leaves 141 dead.
An assault led by the Taliban on a Pakistan military-run school Tuesday left 141 people dead, 132 of which were children, officials say, in the worst attack to hit the country in years.

The horrific attack in Peshawar, carried out by a relatively small number of militants from the Tehreek-e-Taliban group, a Pakistani militant group trying to overthrow the government, also sent dozens of wounded flooding into local hospitals as terrified parents searched for their children.

Pakistani military spokesman Asim Bajwa told a news conference Tuesday that 132 of the dead were children and another nine were staff members.

He said there were seven attackers, who all wore explosive vests.
UPDATE II: Country shuts down today to mourn deaths.
President Mamnoon Hussain and Prime Minister Mian Muhammad Nawaz Sharif and other political leaders and people from all walks of life Tuesday strongly condemned the cowardly terrorist attack on Army Public School in Peshawar in which many precious human lives were lost.

They expressed sorrow and grief over the loss of precious human lives in the attack. They also expressed deep sympathies with the bereaved families and directed the authorities concerned to provide the best medical assistance to the injured. They also reiterated that such coward attacks cannot deter the resolve and morale of Pakistani nation, adding that operation against militants would continue till the elimination of last terrorist.

The prime minister and Khyber Pakhtunkhwa chief minister announced the three-day mourning over the tragedy.The prime minister also called a meeting of all the parliamentary parties at Governor's House today (Wednesday) at 11.00 am to discuss the situation arising out of the terrorist attack at the Army Public School and College.
Posted December 16, 2014 by

Scared Monkeys Child Endangerment

,

Child Welfare

,

Deceased

,

High School

,

Islamist

,

Jihad

,

Pakistan

,

Taliban

,

Terrorism

,

War on Terror

,

You Tube - VIDEO

|

5 comments
Multiple hostages have been held in a Sydney, Australia cafe by a gunman in what appears to be an Islamist-linked attack.
VIDEO – CNN: Hostage situation inside a Sydney cafe
Australian police locked down the center of the country's biggest city on Monday after an armed man walked into a busy downtown Sydney cafe, took hostages and forced them to display an Islamic flag, igniting fears of a jihadist attack.

Police said they knew of one armed assailant involved in the incident at the Lindt chocolate cafe in the heart of Sydney's financial district, but there could be more.
A gunman is holding staff and customers hostage at a cafe in Sydney, Australia.

The Lindt cafe in the city centre is surrounded by armed police. Officers have made contact with the gunman.

Five people have been seen running from the building. It is not clear how many remain inside. A black Islamic flag has been displayed at the window.

Prime Minister Tony Abbott said it was "profoundly shocking" that people were being "held hostage by an armed person claiming political motivation".

He was speaking after chairing a meeting of the national security committee in Canberra.

Earlier Mr Abbott said: "Australia is a peaceful, open and generous society – nothing should ever change that and that's why I would urge all Australians today to go about their business as usual."

Senior police officers say they are on a footing "consistent with a terrorist event".
UPDATE I: ABC – Australia.
Key Points:
An armed offender is holding an "undisclosed number" of hostages inside the Lindt cafe in central Sydney, police say
Almost seven hours into the siege, three people were seen running out of the cafe. An hour later another two emerged
New South Wales Deputy Commissioner Catherine Burn could not confirm how many people were being held hostage, but police believed it was fewer than 30
Police are working to determine the motivation of the offender and have moved to a footing consistent with a terrorism event
A black flag with white Arabic writing reading "There is no God but Allah" and "Mohammed is the messenger of God" was waved behind the hostages
UPDATE II: Five people flee from Sydney cafe amid hostage drama.
VIDEO – Watch ABC News 24 Live
UPDATE III: Australia's Prime Minister Tony Abbott said the gunman was "claiming political motivation."
Australia's Prime Minister Tony Abbott said the gunman was "claiming political motivation" but after more than 15 hours had yet to declare the siege a terrorist event. However, police said they were "operating according to our counter-terrorism protocols" and NBC News analyst, ex-FBI-agent Don Borelli, told TODAY that the suspect appeared to be inspired by ISIS.

Chris Reason, a journalist with NBC News' Australian partner Channel 7, said the hostage-taker was "forcing them to stand against windows, sometimes two hours at a time." He added that the suspect seemed to be "getting extremely agitated" after the five hostages left.

Police would not confirm how many were still being held inside the Lindt cafe — where a black flag used by Islamist groups in the Middle East has been shown in the window.
UPDATE IV: Sydney siege: Gunman issued demands, threats.
UPDATE V: Sydney siege: Three dead after commandos storm cafe.
Two people died, along with an Islamist gunman, after commandos stormed a cafe in Sydney, Australia, to bring to an end a 16-hour siege.

Local media have named those who died as Lindt cafe manager Tori Johnson, 34 and lawyer Katrina Dawson, 38.

Four people were injured, including a policeman hit by shotgun pellets.

Central Sydney was put in lockdown as the gunman, identified as an Iranian refugee, seized dozens of hostages early on Monday.

The Lindt Chocolat Cafe is located in Martin Place, a busy shopping area in Sydney's financial district.

The gunman, named as Man Haron Monis, forced some of the hostages to hold up a black Islamic banner at the window of the cafe.
Former Vice-President Dick Cheney did not hold back in his interview with  Bret Baier on FOX News regarding what he thought of the Senate report on CIA interrogation techniques released by Sen. Dianne Feinstein. Cheney called the report a "terrible piece of work," "deeply flawed," and full of bovine scatology. These interrogation methods were not done to punish the enemy combatants, they were performed to extract information so to prevent further attacks following 9-11.
Former Vice President Dick Cheney says a declassified Senate report on the controversial post-9/11 CIA interrogation program is "full of crap."

"I think it is a terrible report, deeply flawed," Cheney said on Fox News, his first televised interview since the report's release. "It's a classic example of where politicians get together and throw professionals under the bus."

Cheney said he had not read the entire 6,000-page classified document, drafted by Democrats and their staffs on the Senate Intelligence Committee, or the 500-page declassified and redacted executive summary. But he unequivocally said its findings were flawed and an affront to members of the CIA.

"The notion that the agency was operating on a rogue basis was just a flat out lie," Cheney said.

He insisted the so-called enhanced interrogation techniques were all legally justified and inconsistent with "torture," though he conceded that the practice of "rectal rehydration" mentioned in the report, "was not one of the authorized or approved techniques."
On a personal note, sorry if I don't lose any sleep over a terrorist was given an enema.
Click HERE to watch VIDEO via FOX News
BRET BAIER, FOX NEWS: Sir, did the ends justify the means?

FORMER VICE PRESIDENT DICK CHENEY: Absolutely.

BRET BAIER: No doubt in your mind?

DICK CHENEY: No doubt in my mind, i'm totally comfortable with it. Bret, I think you've got to remember partly what was going on as well too during that period of time, we had reporting that al-Qaeda was trying to get their hands on nuclear weapons, that they had been dealing with Pakistanis who after all had nuclear weapons, we had the anthrax attacks, and we had every reason to expect to have a follow on attack. Our job was to keep the country safe and secure and get those guys who hit us on 9/11. That's exactly what we did, and the professionals int he intelligence community, especially at the CIA did one hell of a job.
Legal Insurrection opines, "Pity they were too incapacitated by an enema to kill more Americans". Amen brother!
Posted December 11, 2014 by

Scared Monkeys al-Qaeda

,

CIA

,

Democrats

,

FOX NEWS

,

Islamist

,

Jihad

,

Terrorism

,

United States

,

War on Terror

,

Waterboarding

,

You Tube - VIDEO

|

7 comments
THE IDIOCY OF THE LIBERAL MSM …
UNBELIEVABLY, NBC's Brian Williams actually asked former CIA Director Michael Hayden, following the release of the partisan Democrat Senate Intelligence Committee report on the CIA's  enhanced interrogation techniques under the Bush administration, "How are we better than our enemies morally in light of what we all read about today?" Seriously folks, the liberal MSM actually asked how we are morally better than those who rape and kill women and children, and those who take pleasure in cutting people's heads off.
Williams then went on to smugly ask, "how he'd feel about the techniques he supported if they were done to his family?" Hayden then put the liberal hack and those of his ilk in their place by responding, "I actually think that my outrage, if that were ever done to one of my family members, would be somewhat muted if my family member had just killed 3,000 of my citizens."
Transcript:
Brian Williams: How are we better than our enemies morally in light of what we all read about today?

Michael Hayden: Well, let me give you a startling statement, Brian. And look, everyone knows these things were very tough. I got involved in this very late in the program. I endorsed their use going forward in a very minimized form. So these decisions aren't taken lightly by anyone, believe me…. As bad as some people think the CIA behavior was with regard to these 100 or so detainees, if everyone on the planet used CIA behavior as the model the world would actually improve.
Hey Brian William, do you remember these terrorist stories?
Posted December 11, 2014 by

Scared Monkeys al-Qaeda

,

CIA

,

ISIS

,

Islamist

,

Jihad

,

Media

,

Media Bias

,

NBC

,

Radical Islam

,

Terrorism

,

War on Terror

,

Waterboarding

,

WTF

,

You Tube - VIDEO

|

5 comments
Thirty-three year old Luke Somers, the American photojournalist held hostage in Yemen, was killed by al-Qaeda terrorists during a failed rescue operation overnight. According to reports, at least 10 AQAP terrorists holding Somers were killed in the mission.  A South African teacher from the Relief group Gift of the Givers, Pierre Korkie, also being held by al Qaeda terrorists was killed. Outgoing Defense Secretary Chuck Hagel said the attempt to free the captives was justified; "There were compelling reasons to believe Mr. Somers' life was in imminent danger."  Earlier this week,  a video was posted by al Qaeda in the Arabian Peninsula (AQAP) of Somers and threatened to kill him if unspecified demands were not met. Somers was kidnapped in Yemen in September 2013.
Luke Somers
American hostage Luke Somers was killed in a rescue attempt by the U.S. and Yemen Saturday.

A Yemeni national security official told Fox News Somers was still alive, but badly injured when U.S. special operation forces reached him in the rescue mission.

He had been injured by Al Qaeda militants during the raid. He would later die being transported to a U.S. Navy ship of Yemen.

Numerous AQAP terrorists holding the hostages captive were killed in the mission.

President Obama released a statement early Saturday morning condemning the "barbaric murder" of Somers by the Al Qaeda terrorists.

Obama said he ordered the rescue mission attempt Friday.

Obama, Defense Secretary Chuck Hagel and Secretary of State John Kerry all expressed their condolences to Somers' family.
Reuters – U.S., South African hostages in Yemen killed in rescue attempt:
Major General Ali al-Ahmadi, chief of the national security bureau in Yemen, said Somers was killed during the raid and other hostages held by the group had been taken to field hospitals, but gave no details about them or their condition.

Somers was removed from the scene but died later from a wound he suffered during the rescue attempt, a senior official in the Yemeni president's office said.

Relief group Gift of the Givers said teacher Pierre Korkie was also killed.
Posted December 6, 2014 by

Scared Monkeys al-Qaeda

,

Deceased

,

Hostages

,

Islam/Muslims

,

Islamist

,

Islamofascist

,

Jihad

,

Radical Islam

,

Terrorism

,

War on Terror

,

Yemen

|

no comments
AMERICA, IS THIS WHAT YOU REALLY WANT AS COMMANDER IN CHIEF?
Former Secretary of State, former US Senator of New York and former First Lady Hillary Clinton says that "Smart power" also includes "showing respect even for one's enemies. Trying to understand … empathize with their perspective and point of view."  What Hillary Clinton calls smart power, others who actually like America and its freedoms and liberties call ignorant, foolish and naive utopian liberal BS. It is no wonder that Hillary accomplished nothing as Secretary of State except get frequent flier miles.
Former Secretary of State Hillary Rodham Clinton said Wednesday that women should play larger roles in conflict resolution and military efforts around the globe and that "smart power" includes empathizing and showing respect, even for one's enemies, as the United States confronts a host of challenges on the world stage.
Lt. Col. Oliver North appeared 'On the Record' with Greta Van Susteran said oh Hillary's comments, "those words coming out of some one who intends to be commander and chief are not just naive and utopian, it's irrational." As Col. North pointed out when Greta tried to make excuses for Hillary about being taken  out of context, Hillary was looking down at her notes and reading, not making an off the cuff comment. This is the underlying belief of progressives and liberals, we must understand why and empathize with our enemies because we must be to blame.  Case in point, Obama apology tour when he first became president.
Transcript from The Weekly Standard:
"This is what we call smart power," Clinton said to a small audience at Georgetown. "Using every possible tool and partner to advance peace and security. Leaving no one on the sidelines. Showing respect even for one's enemies. Trying to understand, in so far as psychologically possible, empathize with their perspective and point of view. Helping to define the problems, determine the solutions. That is what we believe in the 21st century will change — change the prospects for peace.
So are we supposed to respect and empathize with ISIS, al-Qaeda, the Taliban, Muslim Brotherhood and maybe Boko Haram? How about the terrorists who attacked the Libyan consulate in Benghazi and murdered Ambassador Stevens? How about those that would chop off the heads of innocents? Maybe Hillary would like to explain herself? But in the end, what difference would it make?
Posted December 5, 2014 by

Scared Monkeys 2016 Elections

,

al-Qaeda

,

Beheading

,

Boko Haram

,

Domestic Terrorism

,

Epic Fail

,

Hamas

,

Hezbollah

,

Hillary Clinton

,

Home Land Security

,

ISIS

,

Islamist

,

Jihad

,

Lone Wolf Terrorism

,

Muslim Brotherhood

,

Radical Islam

,

State Sponsored Terrorism

,

Suicide Bombers

,

Taliban

,

Terrorism

,

United States

,

US National Security

,

War on Terror

,

World

,

WTF

,

You Tube - VIDEO

|

5 comments
An amazing exchange yesterday between Rep. Jason  Chaffetz (R-UT) and Homeland Security Secretary Jeh Johnson discussing whether President Barack Obama had the Constitutional authority to change immigration law and what happened to the four terrorists who snuck into the United States illegally. Were they deported? The responses from Johnson were startling, but not unexpected from this corrupt, lawless and lying administration. Jeh Johnson actually had the audacity to call the exert from Obama's speech suspicious. REALLY SIR? The Obama administration might want to look in the mirror. And you wonder why no one can work with Obama or his administration, their word means nothing.
REP. JASON CHAFFETZ (R-Utah): What do you say to someone who believes the president took action to change the law?
JEH JOHNSON, DHS SECRETARY: We do not change the law, we act within the law.
CHAFFETZ: Can you play the clip? This is from Nov. 25. This is the president in Nevada talking about this (VIDEO).
BARACK OBAMA audio clip: But what you're not paying attention to is the fact that I just took an action to change the law.
CHAFFETZ: So you say you didn't change the law, but the president said he changed the law.
JOHNSON: We acted within existing law. We acted within our existing legal authority. Listen, I've been a lawyer 30 years, somebody plays me an eight word excerpt from a larger speech, I know to be suspicious. That was very nice.
CHAFFETZ: I'm going to read it back: "Now you're absolutely right that there have been a significant number of deportations that's true, but what you're not paying attention to is the fact I just took action to change the law, so that's point number one. Point number two: The way the change in the law works…" and he goes on. He's pretty clear and he is the president of the United States. This is why we have a hard time believing that Homeland Security is doing the right thing.
Rep. Jason Chaffetz (R-Utah.) grilled Homeland Security Secretary Jeh Johnson over his department's failure to deport four members of a terrorist organization who were captured crossing illegally into the U.S.

During a Tuesday hearing, Chaffetz recalled that Johnson had previously promised four men nabbed crossing the Southern border in early September would be deported. The individuals were thought to have ties to the Kurdistan Workers' Party, an organization designated as a terrorist group by the State Department.

"Did you deport them?" the Utah representative asked Johnson.

"Uh, no. Not at this point," Johnson answered.

"What is the disposition of those four people," Chaffetz pressed.

"Two are detained, the two others were released by the judge — uh, not my preference — they were released by the judge and they fled to Canada and they are seeking asylum in Canada," the homeland secretary responded, before placing blame on an immigration judge for releasing two of the four men.
Posted December 3, 2014 by

Scared Monkeys Amnesty

,

Congress

,

Conspiracy

,

Corruption

,

cronyism

,

Illegal Immigration

,

Islamist

,

Jihad

,

Open Borders - Border Security

,

Radical Islam

,

Separation of Powers

,

Terrorism

,

United States

,

US Constitution

,

War on Terror

,

WTF

,

You Tube - VIDEO

|

3 comments
Al Qaeda Terrorists Plot Christmas 'Spectacular' …
As reported at the New York Post, Al Qaeda terrorists are plotting to blow up five passenger planes flying between European cities as part of a Christmas "spectacular," in a 9-11 like attack. According to credible sources, the threat is aimed at Europe," adding, "The US has improved their security over the summer, but we have not.'' because of the threat, British airport officials may require devices such as smartphones and iPads to be placed in checked luggage. May? Also, the threat has been deemed so seriously that officials may have an outright ban on all hand luggage. The fear is also that the future terrorism could be carried out by sleepers or western converts who could very likely have blue eyes and blonde hair as opposed to dark skin and beards.
Terrorists are plotting to blow up five passenger planes flying between European cities as part of a Christmas "spectacular," according to a British newspaper report.

"Everyone is expecting something catastrophic very soon," a source told the Sunday Express. "We've been told that five planes are being targeted in a high-profile hit before Christmas. They've been waiting for the big one."

London authorities were the first to uncover the threat, which would involve midair bombings, a source told The Post.

"There is a credible threat that they're concerned about,'' another source said. "They've known about it for a while."
UK Express - EXCLUSIVE: Al Qaeda plot to blow up 5 passenger planes in Christmas 'spectacular':
The plot, which has been known about for the past two months, is thought to involve Islamists smuggling bombs on to planes bound for major European destinations before Christmas.

The well-placed security insider said talks had been held about how to deal with it, with suggestions made to ban hand luggage.

The source said: "High level negotiations are continuing at Governmental level but at the moment there has been little done to respond.

"There is paralysis because of the difficulty of banning hand luggage which is one of the strongest weapons we have against the new threats.

"All electronics may be banned from hand luggage and placed in the hold, that has been considered, and there has been behavior analysis training at airports but while it's effective, it's difficult to roll out quickly and is not a sufficient safety net.
Posted December 1, 2014 by

Scared Monkeys al-Qaeda

,

Aviation-Airplane

,

Bomb Threat

,

Europe

,

Great Britain

,

Hijack

,

Islamist

,

Jihad

,

Radical Islam

,

Suicide Bombers

,

Terrorism

,

War on Terror

|

no comments
SICK … Queens, NY New Black Panther Party leader calls ax wielding police attacker a "Crusader Seeking Justice."
Frank Sha Francois, the  Queens chapter leader of the New Black Panther Party says that Zale Thomspon, the jihadist sympathizer who hated cops and white people, "a crusader seeking justice."  Frank Sha Francois stated that "it probably won't be the last [attack on police] because you have a lot of frustrated people out here." Although, Francois insisted he didn't agree with Thompson's methods. Sure he didn't, that's why he makes such a claim that there will be more attacks on police? The NBPP leader said that Zale Thompson was not a member of the Queens chapter, but he did show up to meetings and focused on the topic of police brutality.
Crusader for justice, eh … sounds for like a radical jihadist, reverse racism and a hate crime. Thankfully, Zale Thompson was shot dead by police before he could cause more harm.
The Muslim extremist who attacked rookie cops with a hatchet last week was "a crusader seeking justice'' — and more assaults will likely follow, the head of his local New Black Panther Party warned.

"It probably won't be the last [attack on police] because you have a lot of frustrated people out here," Queens chapter leader Frank Sha Francois told The Post.

Francois said ax-wielding Zale Thompson wasn't officially a member of his group, but he came to meetings and they talked about "police brutality" cases such as Eric Garner and Michael Brown.

"I don't condone violence, but something needs to be done," Francois said. "We need to have some type of deterrent and real oversight to deter the police from violating the laws and to know they are not above the laws."

While he hailed the ax man as a "crusader," Francois insisted he didn't agree with Thompson's methods.