But unlike in the case of Hillary, CIA Director John Deutch's entire server was immediately confiscated by the Feds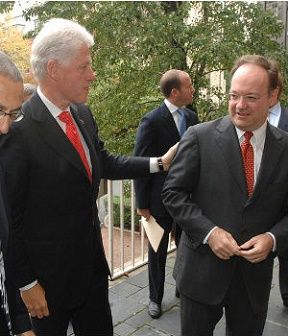 Daily Commentary – Wednesday, September 2, 2015
Download
This is what happens when you have a liberal media that does not punish their own for liberal media bias …
In the wake of the media bias scandal where ABC's George Stephanopoulos failed to make it known that he had donated $75,000 to the Clinton Foundation and at the same time running cover for the Clinton Foundation amidst its own scandal of taking foreign money as she was Secretary of State, Georgy Porgy decided to apologize for his actions. If you call it an apology. But it was not just that George Stephanopoulos, a former Clinton White House political operative, donated money to the Clinton Foundation, Stephanopoulos acted as the Clinton defender when interviewing Peter Schweitzer on his book Clinton Cash and went after the author claiming that he was bias.
But check out the VIDEO below and the less than sincere apology. Listen to his snarky and elitist tone when he says, "Even though I made them strictly to support work done to stop the spread of AIDS, help children and protect the environment in poor countries, I should have gone the extra mile to avoid even the appearance of a conflict." In his effort to make an apology he basically says, but look at me, I am great, because even though I made these donations to save the word, no the planet … I should have gone the extra mile. PLEASE GEORGY, SPARE US THE DRAMA. You knew damn well, being a former Clinton operative and a political news correspondent that the Clinton Foundation was nothing more than a slush fund. Would it really have been that difficult to do some research and investigation to find what were the best charities for Aids, helping children or the environment, if you were actually being sincere? After all, you are supposed to be some kind of correspondent for the media, is it that difficult to do a Google search of best charities?
But when you have a news organization like ABC News defending such actions of bias and a lack of transparency to protect their own agenda of liberal bias in the media, what would one expect from an ex-Clintonista but a hollow apology.
STEPHANOPOULOS: Now, I want to address some news you may have seen about me. Over the last several years, I have made substantial donations to dozens of charities, including the Clinton Global Foundation. Those donations were a matter of public record. But I should have made additional disclosures on-air when we covered the foundation and I now believe directing personal donations to that foundation was a mistake. Even though I made them strictly to support work done to stop the spread of AIDS, help children and protect the environment in poor countries, I should have gone the extra mile to avoid even the appearance of a conflict. I apologize to all of you for failing to do that.
Posted May 17, 2015 by

Scared Monkeys ABC News

,

Bill Clinton

,

Bill Clinton

,

Clinton Foundation

,

collusion

,

Corruption

,

Cover-Up

,

cronyism

,

Democrat-Media Complex

,

Ethics

,

George Stephanopoulos

,

Hillary Clinton

,

Media

,

Media Bias

,

Quid Pro Quo

,

Scandal

,

WTF

,

You Tube - VIDEO

|

one comment
Peter Schweizer, author of the book,"Clinton Cash: The Untold Story of How and Why Foreign Governments and Businesses Helped Make Bill and Hillary Rich," appeared on Fox News Sunday with Chris Wallace. So the Clinton's  want us to believe it is all just one big coincidence. PLEASE!!!
Transcript from Fox News Sunday – 4/25/15:
WALLACE: And hello again from Fox News in Washington.  Well, it's the old adage — follow the money. And in the case of Hillary Clinton, who just launched her presidential campaign, following the money has led to some troubling questions. Today, we want to drill down into the controversy with Peter Schweizer, author of the new book, "Clinton Cash," here for his first live interview.  But first, "Special Report" anchor Bret Baier, who's been leading Fox News reporting on the book, has the highlights — Bret.  (BEGIN VIDEOTAPE)

BRET BAIER, SPECIAL REPORT ANCHOR: Chris, the dealings of Bill and Hillary Clinton are part of what "Clinton Cash" author Peter Schweizer calls the Clinton blur, a mix of money and politics, diplomacy and personal interests all so interconnected that it's pretty easy to get lost. From lucrative construction deals given to Hillary friends and family after the earthquake in Haiti to $500,000 and $750,000 speeches for Bill Clinton paid for by countries or foreign companies with some action or policy in front of his then-secretary of state wife, to a major uranium mining deal for Clinton friend Frank Giustra, a deal with the country Kazakhstan that is finalized during a Giustra trip with former President Clinton.

JO BECKER, THE NEW YORK TIMES: And then soon after that, Bill Clinton got a huge donation, $31 million from Frank Giustra, to his charitable foundation, followed by a pledge to donate $100 million more.  BAIER: The company became Uranium One, and was eventually sold to a Russian company that is essentially controlled by Vladimir Putin. They now also control more than 20 percent of American uranium.  Officials with Uranium One and investors who profited from that deal donated more than $140 million to the Clinton Foundation. But millions of dollars of those donations were never disclosed, flying in the face of a deal the Clintons struck with the Obama administration.  Again, and all of this does not fit on a bumper sticker, but from the book and various media organizations like The New York Times, The Washington Post and Fox News, connecting some of the dots here, most political watchers will tell you, this is, at best for Hillary Clinton, a serious political issue for her campaign — Chris.

(END VIDEOTAPE) WALLACE: Brett, thank you.  Now, let's bring in the man whose team spent 10 years on the Clinton money trail, Peter Schweizer, author of "Clinton Cash". And welcome to "Fox News Sunday."

SCHWEIZER: Thanks for having me, Chris.

WALLACE: Let's start with the phrase that Bret mentioned you use in the book, the Clinton blur, the mix of private and public, of charity and government action.  What's your point?

SCHWEIZER: The point is basically when former President Clinton travels the world, which he does extensively, he spends time in the developing world, in Europe. When he goes there, he's usually wearing several hats. When his wife was in public office, he's obviously the spouse of a very public figure, he's the head of a charity, he's also giving speeches and he's probably there with an entourage that includes foreign businessmen that have matters before the government, in Colombia, or Kazakhstan, or wherever it may be.  And the problem is, when you have a mix of public and private, profit-making backed by the government power that your spouse has, I think it creates a very dangerous cocktail as far as conflict of interests is concerned.

WALLACE: Well, you have an interesting point that I want to put up on the screen that seems to demonstrate exactly the point you're making. Between 2001 and 2012, Bill Clinton made 13 speeches, 13, for which he was paid, $500,000 or more. Eleven of those 13 speeches were at least eight years after he left the presidency while his wife was secretary of state.  Peter, what do you think that shows?

SCHWEIZER: Well, I think you can only come to one or two conclusions. Either in January of 2009 when Hillary Clinton becomes secretary of state, former President Clinton has become dramatically more eloquent than he ever was. He's a very eloquent man.

WALLACE: Because his speaking fees went dramatically up.

SCHWEIZER: Dramatically. I mean, for example, in the uranium deal, there's a $500,000 speech that he's paid by an investment banking firm that is tied to Putin. He was paid $500,000. He had only given one speech in Russia before that five years earlier, for which he was paid a third of that.  So, the question becomes, why did his speaking fees go up and why did it go up with corporations and with individuals and with people connected to foreign governments who had business before the State Department?

WALLACE: What's your answer?

SCHWEIZER: My answer is that's extremely troubling. The fact you find it's a very extensive pattern. There's not one or two examples. There are 11 instances and I think when you have one or two examples, it's a coincidence. When you have this many, to me it's a trend.

WALLACE: OK, let's go through a timeline, and it's complicated. But a timeline of the uranium deal that you — that Bret mentioned and you reported in the book.  2005, Bill Clinton and Canadian millionaire Frank Giustra fly to Kazakhstan. Giustra lands a big uranium mining deal. Giustra gives the Clinton Foundation $31 million and later pledges $100 million more. 2010, a Russian company wants to buy Uranium One, which has taken over Giustra's company. The new chairman of Uranium One donates $2 million to Clinton foundation, which fails to report that money. In June of 2010, Bill Clinton gets $500,000 for a speech in Moscow. In October, a U.S. government committee approves the sale of Uranium One to the Russian company. Question, is there a connection between always of those millions of dollars that are going to Clinton personally and to the Clinton Foundation and State Department's approval of this uranium deal?

SCHWEIZER: I believe there is. It's not just Frank Giustra. I lay out in the book, there are actually nine, nine major donors to the Clinton Foundation who had written multimillion checks that are tied to this deal. The two financial advisers that arrange for the sale of Uranium One to the Russian government, they're both major Clinton contributors. The chairman of the company is, some of the key shareholders are.  The question becomes, when CFIUS approved this transfer in October, what role did Hillary Clinton play?
Posted April 27, 2015 by

Scared Monkeys Bill Clinton

,

Bill Clinton

,

Clinton Foundation

,

collusion

,

Corruption

,

Cover-Up

,

cronyism

,

Ethics

,

Former Presidents

,

Hillary Clinton

,

Quid Pro Quo

,

Russia

,

Scandal

,

WTF

,

You Tube - VIDEO

|

no comments
Clinton Foundation acknowledges mistakes after hand caught in the cookie jar …
On Sunday, The Clinton Foundation's acting CEO, Maura Pally admitted to some mistakes in the organization's listing of donations from foreign governments on its tax forms. Imagine that, after all this time they have admitted mistakes after being caught. Peter Schweizer, the author of  "Clinton Cash: The Untold Story of How and Why Foreign Governments and Businesses Helped Make Bill and Hillary Rich," appeared this Sunday on ABC's This Week and on Fox's Fox News Sunday to discuss the  claims in the book of the coincidental Clinton Foundation donations from foreign governments, Bill Clinton's increased speaking fees while Hillary Clinton was Secretary of State and made favorable decisions in regards to those nations.
Looks like some one is admitting wrong-doing. It would appear that Hillary Clinton is trying to do damage control ahead of the release of the Clinton Cash book.
The Clinton Foundation's acting CEO, Maura Pally, on Sunday admitted to some mistakes in the organization's listing of donations from foreign governments on its tax forms.

In a statement, Pally wrote, "Our total revenue was accurately reported on each year's form—our error was that government grants were mistakenly combined with other donations. Those same grants have always been properly listed and broken out and available for anyone to see on our audited financial statements, posted on our website."

The statement comes as Clinton Cash author Peter Schweizer has been delineating claims in his forthcoming book, which he says shows a pattern in which the Clinton Foundation received donations from foreign governments before the U.S., under Clinton's leadership as Secretary of State, made favorable decisions in regards to those nations. Pally's statement also acknowledged that those grants were not always properly reported.

"So yes, we made mistakes, as many organizations of our size do, but we are acting quickly to remedy them, and have taken steps to ensure they don't happen in the future," the statement says. "We are committed to operating the Foundation responsibly and effectively to continue the life-changing work that this philanthropy is doing every day."
WAPO – Clinton Foundation acknowledges 'mistakes,' emphasizes transparency.
Transparency, really? If there was ever a word to never describe Bill and Hillary Clinton it would be transparency. Can you say she scrubbed her private server of all emails she illegally used as Secretary of State to do government business.
With scrutiny of the Clinton Foundation's financial practices threatening to create political problems for Hillary Rodham Clinton's presidential campaign, the organization on Sunday took the unusual step of acknowledging "mistakes," but insisted that it is committed to transparency regarding its donors and operations around the world.

Nevertheless, the foundation explained for the first time publicly that one of its affiliates — a Canada-based charity that bears Bill Clinton's name — would continue to keep its donors secret because of restrictions in Canadian law.

Sunday's blog post also coincided with national television appearances by conservative author Peter Schweizer, whose forthcoming book, "Clinton Cash," charges that the State Department gave preferential treatment to foundation donors while Clinton was secretary of state and that the foundation violated its own promise to disclose all of its donors.

The Clinton campaign spent much of last week blasting the book as a partisan attack. Still, the Sunday statement was a sign that the growing focus on the $2 billion foundation and its relationship with donors may have begun to rattle Clinton's team.
Posted April 26, 2015 by

Scared Monkeys Bill Clinton

,

Clinton Foundation

,

collusion

,

Corruption

,

Cover-Up

,

cronyism

,

Ethics

,

Hillary Clinton

,

Quid Pro Quo

,

Scandal

,

State Department

|

one comment
Retired Air Force Col. Timothy Milbrath and former aide to three US Presidents is under investigation for allegedly bilking investors out of millions of dollars
Daily Commentary – Wednesday, April 15, 2015 Download
Monica Lewinsk's blue dress strikes again …
Hmm, seems that the official presidential portrait of for President William Jefferson Clinton has a cryptically image in it. According to the artist, Nelson Shanks, the painting has a shadow at the left hand side of it that literally represents a shadow from a blue dress that I had on a mannequin. OMG, too funny. All these years and no one ever questioned it? The artist stated that the shadow is a metaphor "in that it represents a shadow on the office he held, or on him." If that's the case, with regards to a shadow of scandal and a metaphor, then Barack Obama's official portrait, with the shadow of lies and scandals might look like Spinal Tap's album cover.
I am no art expert, but who finds this official airport somewhat lacking? Maybe Clinton should have been holding the blue dress, or a cigar in his hand? Remember when this portrait first came out, the uproar was that Clinton was not wearing a wedding ring. Looks like the artist compensated with other things.
An artist who painted a portrait of former President Bill Clinton says there's more to the piece than one might see at first blush.

Pennsylvania artist Nelson Shanks told the Philadelphia Daily News that he included a shadow of a blue dress in the 2006 portrait, which hangs in the National Portrait Gallery. It's an apparent reference to the Monica Lewinsky scandal, with Shanks adding that the 42nd president is "probably the most famous liar of all time."

"If you look at the left-hand side of it," there's a mantel in the Oval Office and "I put a shadow coming into the painting and it does two things," the painter said.

"It actually literally represents a shadow from a blue dress that I had on a mannequin, that I had there while I was painting it, but not when he was there. It is also a bit of a metaphor in that it represents a shadow on the office he held, or on him."
SNL did a skit over the weekend with the ghost of Martin Luther King Jr. visiting a boy who needed to do a report on the Civil Rights leader.
When the boy informed MLK, played by Kenan Thompson, he was not all that impressed with the state of affairs in America. When told that the US elected its first black president, Barack Obama, MLK respoded, you said Barack O-what now … sounds like a Kenyan Muslim. Hmm, I guess it would have sounded more like one if  student, Pete Davidson, had said his full name, Barack Hussein Obama.
Throughout the skit, MLK kept saying … "I guess we're still climbing that mountain".
I guess it would have been asking too much on liberal SNL to say that it was really race hustler Al Sharpton leading the civil rights movement and instead of protesting over the deaths of those like 14 year old Emmett Till, whose only crime was talking to a married,  21 year old white woman in 1955 Money Mississippi, today's civil right movement was all about protesting the death of a black a punk at the hands of a white police officer, who committed a strong arm robbery of a store and then assaulted a police officer trying to take his gun. Yea, I get the two confused myself.
Also, not being told to the ghost of MLK was the division caused by the first elected black president, Barack Obama. Also absent was any reference that black Americans have been worse off under Obama. And I wonder why SNL excluded the fact that Americans believe that race relations are worse under the first elected black president? From the Civil Rights icon who famously made the following statement, "I have a dream that my four children will one day live in a nation where they will not be judged by the color of their skin but by the content of their character" would say about Barack Obama who used skin color and appearances in interjecting himself in the Trayvon Martin case, 'If I Had A Son, He'd Look Like Trayvon.'
The ghost of "Martin Luther King Jr.," played by Kenan Thompson, paid a visit to a boy trying to write a school paper on the upcoming holiday during this week's "Saturday Night Live."

But it was 'MLK,' not the kid, who wound up learning a lot during the sketch — and he didn't like most of what he learned.

When he hears that the first black president is named Barack Obama, 'MLK' blurts out, "Barack O-what now? He sounds like a Kenyan Muslim!"

"MLK" gets hit with a slew of downer news — the boulevards that bear his name aren't in the nicest neighborhoods, "Selma" got snubbed for Oscar consideration, and Macklemore, "like, the whitest dude ever," is the face of American hip-hop.

"We're still climbing that mountain," "MLK" says sadly.
Posted January 19, 2015 by

Scared Monkeys Barack Obama

,

Black America

,

Blacks

,

class warfare

,

Divider in Chief

,

First Black President

,

Government Dependent Class

,

Martin Luther King Jr. Day

,

Obamanation

,

SNL

|

2 comments
WHO DIDN'T SEE THIS COMING FROM A COMMUNITY AGITATOR …
Wasn't the election of Barack Obama supposed to make everything better in the United States, including race relation? Wasn't the election of the first black president supposed to bridge the divide between races? Well a recent Pew Research/USA Today poll says, not so much, especially among blacks. The poll shows that blacks have a 64% positive view of relations between the races, down 12 points from 76% in 2009.  Hmm, I guess an Obama administration of perpetual dividing and race baiting would do that.
The new national survey by the Pew Research Center and USA TODAY, conducted August 20 -24 among 1, 501 adults, finds that overall perceptions of relations between blacks and
whites are only modestly changed from five years ago.

Currently, 69% of the public, including majorities of both whites (75%) and blacks (64%), say blacks and whites in this country get along "very well" or "pretty well." Since
2009, the share of blacks with a positive view of relations between the races has fallen 12 points (from 76% to 64%) while remaining largely unchanged among whites (80% in 2009).
Full poll can be read HERE.
From the WAPO: Blacks give police lower marks than whites.
Posted August 27, 2014 by

Scared Monkeys Barack Obama

,

Black America

,

Blacks

,

Community Agitator

,

Discrimination

,

Divider in Chief

,

Epic Fail

,

First Black President

,

Misleader

,

Race Card

,

Racism

|

3 comments
WHAT DID BILL CLINTON SAY JUST ONE DAY BEFORE SEPTEMBER 11, 2001 …
The day before the September 11, 2001 terrorist attacks on the United States, former President Bill Clinton spoke in Australia to about 30 business leaders during a lunch and stated on having passed on a chance to kill Osama bin Laden. A tape of Clinton's comments were presented to Australia's "Sky News" channel.
"And I'm just saying, you know, if I were Osama bin Laden — he's very smart guy, I've spent a lot of time thinking about him — and I nearly got him once," the former president reportedly says on the tape, to laughs. "I nearly got him. And I could have killed him, but I would have to destroy a little town called Kandahar in Afghanistan and kill 300 innocent women and children, and then I would have been no better than him. And so I didn't do it."
Just a reminder to Bill Clinton, you were the President of the United States and supposed to protect the lives of Americans, not worry about how the world would feel about you had you taken out Bin Laden with possible collateral damage.
Hmm, He would have had to destroy a little town called Kandahar in Afghanistan? You mean the one with a population of  1,151,100? So what would you have had to do again Mr. President? BTW, Clinton did not just have one chance to kill Osama Bin Laden, he had many.
NBC News has obtained, exclusively, extraordinary secret video, shot by the U.S. government.  It illustrates an enormous opportunity the Clinton administration had to kill or capture bin Laden. Critics call it a missed opportunity.

In the fall of 2000, in Afghanistan, unmanned, unarmed spy planes called Predators flew over known al-Qaida training camps.  The pictures that were transmitted live to CIA headquarters show al-Qaida terrorists firing at targets, conducting military drills and then scattering on cue through the desert.

Also, that fall, the Predator captured even more extraordinary pictures — a tall figure in flowing white robes. Many intelligence analysts believed then and now it is bin Laden.
Posted August 1, 2014 by

Scared Monkeys 9/11

,

Act of War

,

al-Qaeda

,

America - United States

,

Bill Clinton

,

Bill Clinton

,

Former Presidents

,

Islamist

,

Jihad

,

Osama bin Laden

,

Radical Islam

,

Taliban

,

Terrorism

,

United States

,

War on Terror

,

You Tube - VIDEO

|

3 comments
The death of "Hope & Change" for Black America … Have Black finally turned on Barack Obama and figured out that they've been played? 
After six disastrous years of the Barack Obama Presidency, the only individuals that truly still back "the worst president" since WWII have been Blacks and liberals. Black Americans may finally be getting a clue and come to the understand that Obama cares little about their plight. Blacks voted for Obama 95% – 4% in 2008 and 93% – 6% in 2012;  however, conditions for blacks under the Obama administration have become worse, not better. In 2008, black unemployment was at 10.1%. In July 2014, the BLS had black unemployment at 10.7%. This is more than double that of Whites. So what happened to that "Hope and Change" that Obama promised? It is even worse for teenage blacks and college graduates. Then there are the "killing fields" of Chicago that Obama has simply ignored.
In the wake of the illegal immigration humanitarian crisis on the US-Mexican border and the so called help that Barack Obama wants to do by throwing billions of dollars at, it would appear that Black America is finally pissed at this president for all of his double speak and failed promises. Has black America figured out that Obama and Democrats care more about Hispanics that they do blacks? What did they expect when they vote as one for one candidate and one party? Their vote is expected, not valued. Legal Insurrection refers to it as, Clash of the Titan special interest groups. Are Hispanics the new black?
BELOW ARE MUST SEE VIDEOS:
It is about time some one in the Black community ripped Obama a new one for his actions. As reported at the Western Journal, Bernadette Lancelin, a Houston resident, is furious that while her kids have gone without any help from anyone and have had nothing for years, illegals pouring into the country on a daily basis have their every need attended to. She does not mince words.
It's not right," Lancelin said. "Now billions of dollars want to be borrowed from the White House to help feed and house them. What about the [expletive deleted] kids here? In our neighborhood, in our country? Not just in this neighborhood but in our country!"

"All these kids: really? Why can't they go back? I'm sorry that their parents are in poor living conditions or surroundings or whatever's going on," she continued. "I don't care. I care about what's going on right here, in my own back yard, my neighborhood."

"Am I the only one in this community that's out here that watches the news every [expletive deleted] morning? Oh my God! I feel alone right now in this, and I'm very saddened by it."

Bernadette Lancelin, Houston Black Woman EPIC Rant on Illegals – "Why Can't They Go Back?"
Chicago Resident: Obama Will Go Down as Worst President Ever
Check out the Chicago – South-side residents ripping Barack Obama a new one in that he cares more about illegals coming into the United States than legal residents in the inner city of Chicago. From the Rebel Pundit, one resident states, "He will probably go down as the worst president ever!"
"With the president setting aside all these funds for immigrants and forsaken African-American community and African-American families, I think that's a disgrace. And Barack is from the heart of 55th in the City of Chicago… He will probably go down as the worst president ever elected. Bill Clinton was the African-American president."

Another compared the current state of Black-American life to that during slavery, saying, "Today, if you look at the time that we were brought here as slaves 400 years ago, we got the same results today."
The disgrace of the Obama years. All those promises, all those votes and the black plight has been made worse.
Posted July 13, 2014 by

Scared Monkeys 2012 Elections

,

Barack Obama

,

Bill Clinton

,

Black America

,

Black Vote

,

Blacks

,

Bystander in Chief

,

Class Warfare

,

Community Agitator

,

Democrats

,

Divider in Chief

,

Economy

,

Epic Fail

,

First Black President

,

Government Dependent Class

,

Gutter Politics

,

Hope and Change

,

Jobs

,

Latinos/Hispanic

,

Liberals

,

Minorities

,

Misleader

,

Obamanation

,

Progressives

,

Scandal

,

The Lying King

,

Unemployment

,

You Tube - VIDEO

|

2 comments