Until he decided to pay it in pennies!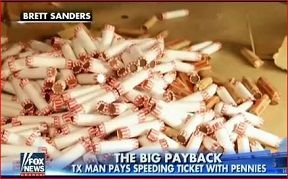 Daily Commentary – Wednesday, June 1, 2016
Download
NOTE TO BEN CARSON, SOME ONE CALLING ANOTHER CA CHILD MOLESTER IS NOT JUST POLITICS …
Wow, former Republican presidential candidate Ben Carson admitted that Trump attacking him and even calling him a child molester worked. Carson stated that the attacks of person distraction did work to an extent and some people must have believed him. Carson also went on to say he chalked it up to politics. REALLY BEN? Sorry, this is not politics, its disgusting. Which makes Ben Carson's endorsement of Trump even more surprising. It was not the Cruz campaign's so-called lies that Carson was getting out of the race that cost Carson votes in Iowa as Trump railed on, it was Trump's viscous attacks on Carson's character. The fact that Carson never fought back on such hideous comments was puzzling. Carson was asked this type of attack should be the political norm. Carson stated no, "but neither should always retaliating." Actually Ben, this was worth fighting back over. Americans did not think that Carson was a child molester as Trump opined. What Americans thought was, if you are not going to defend your self over such vile personal attacks, how were you going to defend them?
I am not sure Mr. Carson if we want this to become the political norm and you just set a precedent for it.
After his surprising endorsement of Donald Trump, former candidate Ben Carson said Wednesday that he understands why Trump attacked him during his campaign, even calling him a child molester, saying "it did work."

Yahoo News and Finance Anchor Bianna Golodryga asked Carson what he thought of some of Trump's more vicious attacks against him during his time in the 2016 race, citing when Trump insulted Carson's intelligence and questioning whether or not he was a child molester. The retired neurosurgeon chalked it up to politics.

"He said it was political, he was concerned about the fact that he couldn't shake me," Carson said. "I understand, you know, politics, and particularly the politics of personal distraction. You have to admit to some degree that it did work. A lot of people believed him."

Golodryga asked if this type of attack should become the norm and if, by Carson's logic, she should teach her son to do the same as Trump did.

"It shouldn't become status quo," Carson said. "But neither should always retaliating."
TAKING SHUT UP AND DANCE TO THE EXTREME …
Just when you had thought you had seen it all, following an pedestrian accident on Highway 290 in Harris County, TX,  a woman climbed on top of a big 18-wheeler rig at Highway 290 at Huffmeister Road and began to dance naked. The  accident and bizarre ordeal caused the freeway to shut down in both directions. Police deputies were alerted to the incident just before 9 a.m. for a psychiatric call. Hmm, ya think!!! When the police arrived a woman was undressing and could be seen on Houston Transtar cameras dancing on top of a tractor trailer. According to Thomas Gilliland, Harris County Sheriff's Office public information officer, "She was talking about all sorts of things: Wall Street, the CIA, aliens."
A woman undressed and climbed on top of a big rig on a major highway in the Houston area Monday.

The incident, which was captured on video, took place after a pedestrian had apparently been struck on Highway 290 in Harris County, local television station KPRC reported.

It was unclear if the woman was involved in the collision, or why she climbed on top of the truck.

Video showed the woman sitting, standing, and even dancing at various times as she remained on the cab of the 18-wheeler.
REAL LIFE FUNERAL CRASHERS,  WHERE'S WILL FERRELL …
Noela Rukundo, an Australian woman, returned to her native Africa to travel to Burundi to attend her attend her stepmother's funeral when she was abducted by a gang of men. They had been ordered by her husband of 10 years to kill her.  The amazing part, she was spared by the hitmen with principles. Hmm, I guess there is sometimes honor among thieves. After having kidnapped her, the men said, they weren't going to kill her, they didn't believe in killing women. Instead, they called the husband and told him the job was done.  According to Australia's The Age newspaper, two days later, they set her free on the side of a road, but not before giving her a cellphone, recordings of their phone conversations with Kalala, and receipts for the $7,000 in Australian dollars they allegedly received in payment.
Noela Rukundo  was presumed dead by her partner and their entire community who held a funeral in her home in Melbourne, Australia, in her memory early last year. Much to all of their surprise, after all of the mourners had left, she approached her former love who was under the impression that his wife was not only dead, but that he had got away with his murderous plan. That's when she approached him and replied, "Surprise! I'm still alive!" Her husband looked like he'd seen a ghost. Eventually, her husband, Balenga Kalala, pleaded guilty and was sentenced to 9 years in prison.
Balenga Kalala, who arrived in Australia in 2004 as a refugee, paid almost $7,000 to a group of kidnappers to kill the mother of his three children, Noela Rukundo, when she was attending her stepmother's funeral in Burundi in early 2015.

The group snatched Ms Rukundo at gunpoint outside her hotel in Bujumbura in February and drove her to a secret location.
Finally, she spotted the man she'd been waiting for. She stepped out of her car, and her husband put his hands on his head in horror.

"Is it my eyes?" she recalled him saying. "Is it a ghost?"

"Surprise! I'm still alive!" she replied.

Far from being elated, the man looked terrified. Five days earlier, he had ordered a team of hit men to kill Rukundo, his partner of 10 years. And they did — well, they told him they did. They even got him to pay an extra few thousand dollars for carrying out the crime.

Now here was his wife, standing before him. In an interview with the BBC on Thursday, Rukundo recalled how he touched her shoulder to find it unnervingly solid. He jumped. Then he started screaming.

"I'm sorry for everything," he wailed.

But it was far too late for apologies; Rukundo called the police. The husband, Balenga Kalala, ultimately pleaded guilty and was sentenced to nine years in prison for incitement to murder, according to the Australian Broadcasting Corp. (the ABC).
OK, WHEN I FIRST READ THIS STORY, I THOUGHT IT WAS FROM THE ONION … Jihadi Schitz, seriously?
The following story is exactly the reason why no state should force individuals to come forward who win the lottery, as there is a crazy ass screwball around every corner looking to get rich off of your new found fortune. Add the Robinson family of Munford, Tennessee to that list. It appears that a prison inmate name Jonathan Lee Riches, also known as Jihadi Schitz, has sued the Multistate Lottery Commission, Powerball and the Robinson family so that he can recoup one-half of the winning prize. Wait a minute, Jihadi Schitz? Are you serious? The lawsuit was filed on January 25, 2016 by Jonathan Lee Riches, AKA Jihadi Schitz, according to court records. According to NBC4, Jihadi Schitz, a former federal prisoner, is notorious for filing thousands of far-fetched lawsuits against public figures. Riches once sued Anne Hathaway for not visiting him in prison. And in 2014, he sued Johnny Manziel for sexual harassment. YIKES!!!
As the Powerball jackpot topped $1 billion, the frenzy grew. It was fun to dream, even if you knew you stood little chance. But often, a winner faces suits by friends, co-workers, even family. Sadly, it has now happened to the winning Robinson family of Munford, Tennessee. Jonathan Lee Riches, also known as Jihadi Schitz, has sued the Multistate Lottery Commission, Powerball and the Robinson family. The suit attempts to halt the payout of their third of the $1.6 billion win, or to recoup Mr. Riches' alleged one-half of the loot.

The lawsuit is homespun and handwritten, hardly legible, much less drafted in the language of lawyers. But the suit is evidently meant to be serious, laying claim to half the winnings. Mr. Riches is the real winner, the home-made lawsuit claims. It goes on to allege that Mr. Riches was incarcerated in a penitentiary for the last several years, during which time Mr. Riches claims he was in frequent written contact with Ms. Tiffany Robinson, the daughter of the putative winners. Mr. Riches claims to have sent Tiffany $20 from his prison trust fund, urging her to give the money to her parents to buy lottery tickets, which the suit alleges they otherwise could not afford.

Mr. Riches goes on to allege that Tiffany was going to "murry him," and that if they won the lottery, they would leave America to live on a remote island full of milk and honey. He is bitter that she and her parents are spending money Mr. Riches claims is half his. His complaint says he is a Muslim and that Tiffany was going to be his Muslim wife.