In a desperate act to rid himself of his addiction. China has a huge "web junkie" problem.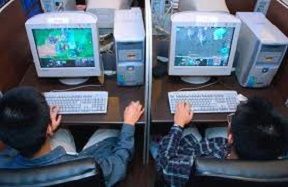 Daily Commentary – Friday, February 6, 2015
Download
BARACK O'BOW"MA: WHAT WOULD YOU EXPECT FROM A COMMUNITY AGITATOR …
Once again Barack Obama bows to the Chinese leader, this time it was Chinese President Xi Jinping and his wife Peng Liyuan at the APEC Economic Leaders' Meeting in China yesterday. GOOD GRIEF. But of course, it is not the first time the President of the United States, Barack Hussein Obama, has bowed to others. Remember this one, and this one, and this one, and this one.  But nothing was quite like his bow, that the WH claims wasn't.
Obama likes embarrassing the United States.
BARACK OBAMA, THE WORST PRESIDENT EVER!!!
According to the most recent Gallup poll, three day rolling average, Barack Obama has tied his all-time low for job approval at 38%. At some point though, Obama's job approval numbers have to sink even lower as we look around and nothing, I mean nothing is positive for the United states or Americans, both in domestic and foreign policy, in the disastrous Obama presidency. As Obama's poll numbers continue to shrink, the MSM-Democrat state run media complex refuses to report the news.
U.S. Economy added a pathetic 142,000 jobs in August, 2014
The July payroll number was revised up from plus 209,000 jobs to plus 212,000 but June's count was revised down from 298,000 jobs added to 267,000. Total employment gains those months were therefore 28,000 lower than what BLS originally reported.
Labor Force; Participation Rate Matches 36-Year Low, 92,269,000 not in work force.
ISIS on the move creating a caliphate, murdering innocents and beheading two Americans with a muddled, dithering and weak response from Obama.
Obama, a disastrous conclusion that ISIS was the Jayvee, turns out it was Obama who is the rank amateur.
Putin on the move … China on the move … ISIS on the move … Iran's nuclear capability on the move  Thanks to a weak Ditherer in Chief and the world no longer fears the US because of Obama.
Obamacare is to a costly joke.
Afghanistan and Iraq all but lost after the loss of so many brave American military souls.
Amnesty for illegals.
The below average polling for Obama's job approval is at 40.25% Approve and 54.25% Disapprove.
Reuters/Ipsos – 8/30 – 9/3:  38% Approve – 56% Disapprove (-18)
Gallup – 9/2 – 9/5 :  38% Approve – 54% Disapprove  (-16)
The Economist/YouGov – 8/30 – 9/1:  41% Approve - 56% Disapprove  (-15)
GWU/Battleground – 8/23 – 8/28: 44% Approve - 51 Disapprove   (-7)
USA Today/Pew Research – 8/20 – 8/24: 42% Approve -  50% Disapprove  (-8)
Posted September 6, 2014 by

Scared Monkeys Act of War

,

Afghanistan

,

Amnesty

,

Barack Obama

,

Benghazi-Gate

,

Blacks

,

Bystander in Chief

,

China

,

Corruption

,

Cover-Up

,

Divider in Chief

,

Economy

,

Epic Fail

,

Foreign Policy

,

Gallup

,

Illegal Immigration

,

Iran

,

IRS-gate

,

ISIS

,

Islamist

,

Jihad

,

Job Approval

,

Jobs

,

Labor Force

,

Latinos/Hispanic

,

Leading from Behind

,

Libya

,

Lost in Smallness

,

Media Bias

,

Middle East

,

Misleader

,

Obamacare

,

Obamanation

,

Obamanomics

,

Polls

,

Radical Islam

,

Russia

,

Scandal

,

Syria

,

Terrorism

,

The Lying King

,

Unemployment

,

Vladimir Putin

,

War on Terror

|

3 comments
Could this finally be the break that searchers needed to find Malaysia Airlines Flight MH370.
A Chinese patrol ship, Haixun 01, searching for the missing Malaysian passenger jet MH370 has detected a pulse signal or ping with a frequency of 37.5kHz per second in southern Indian Ocean waters Saturday. This is the similar frequency to that of the pinging emitted by a planes black box. The black box detector deployed by the Haixun 01 picked up the signal at around 25 degrees south latitude and 101 degrees east longitude. However, it is yet to be verified whether this new discovery is related to missing Malaysia Airlines Flight MH370.
Also on Saturday, a Chinese air force plane searching for missing Malaysian passenger jet MH370 spotted a number of white floating objects in the search area.
In what may turn out to be a major breakthrough in the month long search for Malaysia Airlines flight 370, a Chinese patrol ship searching the southern Indian Ocean discovered Saturday the pulse signal used by so-called black boxes, state news agency Xinhua reported.

But the pulse signal has not been confirmed, China's Maritime Search and Rescue Center reported, according to China Communications News, which is the Ministry of Transport's official newspaper.

Xinhua said a detector deployed by the Haixun 01 patrol ship picked up the signal around 25 degrees south latitude and 101 degrees east longitude. "It is yet to be established whether it is related to the missing jet," it said.

"It's not the prime search area, but it's not out of the question that this could possibly be from the black box," said David Gallo, who is with the Woods Hole Oceanographic Institution.
UPDATE I: Washington Post – Chinese ship hears pulse, possibly from missing Malaysia Airlines flight's black box.
China's state-run Xinhua news agency, which has a reporter aboard the Haixun 01 ship, reported that a black box locator heard the signal Saturday at around 25 degrees south latitude and 101 degrees east longitude — broadly in the same area where the search effort has been concentrated in recent weeks, in the Indian Ocean around 1,000 miles northwest of the Australian city of Perth.

The signal was measured at a frequency of 37.5 kilohertz and was repeating at one-second intervals, Xinhua reported.

Anish Patel, president of Florida-based pinger manufacturer Dukane Seacom, told CNN that was the correct frequency for the two emergency location beacons that are built into the plane's black box flight data recorder and its cockpit voice recorder. He added that it was not a frequency that "readily occurs in nature."
There is so little news as to where Malaysia Airlines Flight MH370 is and what happened to the missing plane that has seemed to have all but disappeared.
However, one of the few pieces of information that came out early into the airliner investigation was the disturbing news that two individuals aboard the plane had boarded it with stolen passports. In a post-911 world, how is something so simple to check on happen? Interpol is now not only reviewing those individuals with the stolen passports, they are probing more suspect passports from individuals used to board the plane.
Authorities later confirmed the two men – Austrian Christian Kozel and Italian Luigi Maraldi – were not on the plane, and their passports had been stolen in Thailand within the last two years.

An Interpol spokeswoman said a check of all documents used to board the plane had revealed more "suspect passports" that were being further investigated.

She was unable to give further information on the number of documents or the country they related to.
ABC News 3 WEAR is now reporting that that Malaysia officials state, the identity of one of the two suspects has been confirmed. Malaysia's Inspector General of Police said, that the identity of one of the two suspects has been confirmed, "He is not a Malaysian, but I cannot divulge which country he is from yet."

ABC Entertainment News | ABC Business News
Two suspects on Malaysia Airlines Flight MH370 who used stolen passports had no record of entering Malaysia legally, officials say.

Malaysia's Inspector General of Police, Tan Sri Khalid Abu Bakar, said Monday that the identity of one of the two suspects has been confirmed.

"He is not a Malaysian, but I cannot divulge which country he is from yet," he said.

Two passengers managed to board the ill-fated aircraft using passports reported stolen in Thailand in recent years, booking their tickets at the same time. The passports belonged to Italian and Austrian residents.