Not sure if Trump or Clinton will make a difference. One thing you can do is VOTE your concious, vote for either the Democrats who were holding the sit in or the Republicans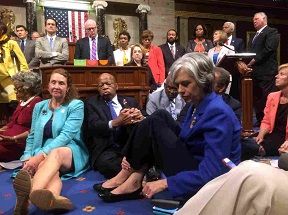 Daily Commentary – Friday, June 24, 2016
Download
THIS CAN'T NE A GOOD THING … Clarence Thomas may be next to leave SCOTUS.
Maybe the reporting that Conservative Constitutionalist Justice Clarence Thomas might be the next to step down from the SCOTUS will make GOP jackasses that are hell bent on going against Trump and all but ensuring a Hillary Clinton victory will wake the hell up. Elections have consequences and the next president of the United States looks like they will be choosing 3 justices.
Justice Clarence Thomas, a reliable conservative vote on the Supreme Court, is mulling retirement after the presidential election, according to court watchers.

Thomas, appointed by former President George H.W. Bush and approved by the Senate after a bitter confirmation, has been considering retirement for a while and never planned to stay until he died, they said. He likes to spend summers in his RV with his wife.

His retirement would have a substantial impact on control of the court. The next president is expected to immediately replace the seat opened by the death of conservative Justice Antonin Scalia, providing a one-vote edge in the court that is currently divided 4-4.

Should Thomas leave, that slight majority would continue if Donald Trump becomes president. If it's Hillary Clinton, then she would get the chance to flip two Republican seats, giving the liberals a 6-3 majority.
However, as per The Right Scoop, his wife has denied this on Facebook.
9th CIRCUS COURT OF APPEALS AT IT AGAIN WITH THEIR LIBERAL BS …
UNBELIEVABLE … Make no mistake about it folks, the liberals want to take away your guns. the 9th U.S. Circuit Court of Appeals in San Francisco ruled Thursday that people do not have a Second Amendment right to carry concealed weapons in public. The Second Amendment clearly states, A well regulated militia, being necessary to the security of a free state, the right of the people to keep and bear arms, shall not be infringed. Seems rather straight-forward, unless you are a liberal activist judge with an agenda.
A federal appeals court in San Francisco ruled Thursday that people do not have a Second Amendment right to carry concealed weapons in public, in a sweeping decision likely to be challenged by gun-rights advocates.

An 11-judge panel of the 9th U.S. Circuit Court of Appeals issued the 7-4 ruling, upholding a state law requiring applicants to show "good cause," such as a fear of personal safety, to carry a concealed firearm.

The judges, further, definitively dismissed the argument that a right to carry a concealed weapon was contained in the Second Amendment.

"We hold that the Second Amendment does not preserve or protect a right of a member of the general public to carry concealed firearms in public," Judge William Fletcher wrote in the majority opinion.

If challenged, it could set up a Supreme Court battle.
This should be more than enough to never vote for Hillary Clinton.
COULD YOU IMAGINE IF THIS NIGHTMARE WAS EVER ELECTED PRESIDENT?
So Michael R. Bloomberg, the billionaire former mayor of New York City, is eyeing a potential run for president as an independent in 2016 because he is galled by billionaire Donald Trump's dominance in GOP polls, Hillary Clinton's ethics issues and the rise of socialist Bernie Sanders for the Democrats. Hmm, I am galled he is actually considering a presidential run. Who knew that running for president required that you be a billionaire?
Just what we need, an anti-2nd Amendment president who thinks his money is greater than the US Constitution
Michael R. Bloomberg has instructed advisers to draw up plans for a potential independent campaign in this year's presidential race. His advisers and associates said he was galled by Donald J. Trump's dominance of the Republican field, and troubled by Hillary Clinton's stumbles and the rise of Senator Bernie Sanders of Vermont on the Democratic side.

Mr. Bloomberg, the billionaire former mayor of New York City, has in the past contemplated running for the White House on a third-party ticket, but always concluded he could not win. A confluence of unlikely events in the 2016 election, however, has given new impetus to his presidential aspirations.

Mr. Bloomberg, 73, has already taken concrete steps toward a possible campaign, and has indicated to friends and allies that he would be willing to spend at least $1 billion of his fortune on it, according to people briefed on his deliberations who spoke on the condition of anonymity because they were not authorized to discuss his plans. He has set a deadline for making a final decision in early March, the latest point at which advisers believe Mr. Bloomberg could enter the race and still qualify to appear as an independent candidate on the ballot in all 50 states.
Taya Kyle, Wife of "American Sniper" Chris Kyle stole the show at Barack Obama's grab all the guns Town Hall …
Watch the VIDEO below from Barack Obama's grab all the guns Town Hall and see Taya Kyle, the widow of "American Sniper" Chris Kyle school Obama on gun rights and the American people's right to defense themselves and right to bear arms. SIMPLY AMAZING!!!
Taya Kyle, the widow of "American Sniper" Chris Kyle, who was shot and killed while helping fellow soldiers readjust to life back home, was the first audience member to be given the microphone, and her question really got to the heart of gun-rights advocates' objections to Obama's efforts.

"We're at an all-time low for murder rate, but I think most of us in this country feel like it could happen at any moment," she said. "It's not necessarily that I think someone's going to come take my gun from me, but I want the hope, the hope that I have the right to protect myself."

Kyle cited declining national murder statistics and asked the president: "Why not celebrate where we are … celebrate that we're good people, and 99.9 percent of us are never going to kill anyone?"

It wasn't just the question – as composed and informed as it was – it was the person asking it. Kyle is the wife of a former U.S. Navy SEAL who is perhaps the most famous American military sharpshooter in history– not to mention a victim of gun violence himself.