And that his cancer has spread to his brain. It's time for the Country and the World to support him in his cause/fight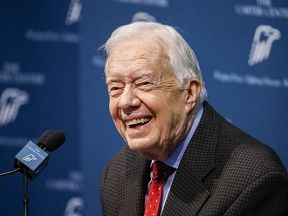 Daily Commentary – Wednesday, August 26, 2015
Download
Jimmy Carter, the former President of the United States, held a press conference yesterday and discussed his bout with cancer, Carter stated, that along with having a cancerous tumor on his liver that has since been operated on, doctors had also found four small spots of melanoma on his brain. The former 90 year old president further went on to detail how the cancer was discovered and his upcoming treatments.
Jimmy Carter spoke plainly when he said Thursday that doctors had found "four spots of melanoma" on his brain. The 90-year-old former president was relaxed and matter-of-fact as he talked about the uncertainty he faces. "I'm perfectly at ease with whatever comes," he said.

Flanked by family members and friends at a news conference at the Carter Center in Atlanta, he detailed the treatments that he has already begun and will continue in coming weeks, including radiation and the IV infusions of a new type of anti-cancer drug that tries to harness the body's immune system to fight the disease.
VIDEO – CNN: Jimmy Carter: Small cancer spots in my brain
All politics aside because trust me, Jimmy Carter was the second worst president in modern times, we with him our prayers and a speedy recovery.
Former President Jimmy Carter has cancer …
90 year old former President of the United States Jimmy Carter has announced that he has cancer. According to a statement from The Carter Center the  disease was discovered during recent liver surgery to remove "a small mass" and that the cancer "is now in other parts of my body." The former 39th president will be undergoing treatment at Emory Healthcare in Atlanta. Although, I may disagree 100% with Carter's politics and would like to forget his disastrous presidency from 1977 to 1981 making him the second worst president in history, however, I commend him for his post presidential work with Habitat for Humanity and wish he well and a fast recovery. Cancer does not discriminate between political ideology, it is a hideous disease that all of us have in one way or another been personally touched by. Get well Mr. President.
Former President Jimmy Carter, who at age 90 still travels the world supporting the humanitarian endeavors that have consumed his time in the decades since he left office, announced Wednesday he has cancer that has spread to other parts of his body

"Recent liver surgery revealed that I have cancer that now is in other parts of my body," Carter said in the statement released by the Carter Center. "I will be rearranging my schedule as necessary so I can undergo treatment by physicians at Emory Healthcare."

The statement makes clear that Carter's cancer is widely spread but not where it originated, or even if that is known at this point. The liver is often a place where cancer spreads and less commonly is the primary source of it. The statement said further information will be provided when more facts are known, "possibly next week."

Carter announced on Aug. 3 that he had surgery to remove a small mass from his liver.

Good wishes poured in on social media after Carter's announcement, while President Barack Obama said he and first lady Michelle Obama wish Carter a fast and full recovery.

"Jimmy, you're as resilient as they come, and along with the rest of America, we are rooting for you," Obama said in a statement.

Carter was the nation's 39th president, defeating Gerald Ford in 1976 with a pledge to always be honest.
SHAMEFUL, HOW CAN THE EDUCATIONAL SYSTEM IN THIS COUNTRY BE SO FRIGGING IGNORANT … MIDDLE SCHOOL DISMISSES CANCER SURVIVOR.
In 2012 Rose McGrath was diagnoses with with acute lymphoblastic leukemia. For 2 1/2 years she has battled the dreaded disease and survived only to have to battle the ignorance of the educational school system in America.  Rose McGrath was dismissed from St. Joseph Middle School, part of the Battle Creek Area Catholic School system, because of attendance and academic performance. UNREAL. How the hell do you dismiss a student when the reason why they have missed school is because of battling cancer, not just skipping school for the sake of doing it? Has the educational system lost its mind in this country? And this isn't not even public school, it is a Catholic school. Have you no shame. no common sense, no compassion?
12 year old Rose McGrath said, "I didn't do anything wrong, but they still got rid of me."
Father John Fleckenstein, with Battle Creek Area Catholic Schools said the following, "These were extraordinary circumstances, but so many accommodations were made we felt eventually it became a point where we really had to help Rose, by being able to make sure that she was getting the assistance that she needed and to learn." The parents disagree and stated that the school failed their child saying, "The accommodations  which were made were woefully inadequate for a child with such a serious diagnosis."
A young girl who has just finished fighting the biggest fight of her life has been dealt another blow.

In August 2012, Rose McGrath, of Battle Creek, was diagnosed with leukemia.

But last week, her family received a letter in the mail that would turn her world upside down.

The letter addressed concerns regarding Rose's attendance and academic performance, and stated that Rose had been dismissed from St. Joseph Middle School.

"I didn't do anything wrong, but they still got rid of me," Rose said.

Rose McGrath is beside herself.

She's been with the Battle Creek Area Catholic Schools all her life, but attending school got difficult when she was diagnosed with acute lymphoblastic leukemia in 2012.

"Even though she's now done with her treatment you still have a very long recovery process because you've basically just put two and a half years of poison into your body. you're not recovering overnight," said Rose's mother Barbara McGrath.

The McGraths say despite all of the obstacles, Rose was on track to pass her core classes.
Father John Fleckenstein and the St. Joseph Middle School should be ashamed of themselves. You call yourselves Christians? How in the hell do you let one of God's children fall through the cracks after she had battled something as vile as acute lymphoblastic leukemia. How can the answer be to dismiss a child from school whose only crime was battling cancer. What kind of low life people are you?
The McGrath parents said they have filed a civil rights complaint on behalf of their daughter. Personally, I hope they sue this school and Father John Fleckenstein personally.
Let's take a look at the St Josephs Middle School website and their mission statement.
Let me just say one thing to Father Fleckenstein, the school board and the Battle Creek area Catholic School system … JESUS CHRIST WOULD HAVE A HUGE ISSUE WITH WHAT YOU HAVE DONE AND I HARDLY BELIEVE THAT DISMISSING A CANCER PATIENT IS IN LINE WITH CHRIST'S VALUES.
High expectations, Christ-centered values and morality are three of many of the characteristics that make the St. Joseph educational experience both unique and rewarding. There are special opportunities for middle-school-aged learners to best prepare them for high school and beyond.

We provide a safe and nurturing environment for your student which fosters life-long learning and faith development. Staff is especially mindful and prepared to meet the academic, social and emotional needs of adolescents. They are committed to cultivating a strong sense of belonging by focusing on academics interwoven with self-respect and acceptance for others. Students experience teachers who truly care for them and their peers.

Beyond academics, emphasis is placed upon technology integration—as technology is no longer an add-on in education; it is now an essential tool in the learning process. A wide variety of extracurricular offerings are offered; allowing each student to discover and develop their talents. Service is paramount at St. Joseph Middle School; with Jesus as our ultimate model of service. Students strive to follow in His footsteps by participation in thoughtful service projects that witness our Christian beliefs.

St. Joseph Middle School provides three years of opportunities to discover your unique academic strengths, explore your spirituality, deepen your commitment to social responsibility and prepare for high school and beyond.
A CHRISTMAS MIRACLE … MAN'S BEST FRIEND CREDITED WITH CURING CANCER,

84 year old  Bill Hogencamp of Phenix, Alabama was diagnosed with incurable cancer of the gall bladder, liver, colon and the lining of his abdomen last May. His doctors told him that he would never see Christmas, December 25,  2014. Mr. Hogencamp had accepted his fate as be believed he had led a full life. However, Bill Hogencamp and his wife, Kathy, made the decision to still try and fight the cancer as well. In October he had surgery to remove three large tumors. Following the surgery is when the miracle began. After the surgery, his wife went to pick up her husband from a rehabilitation center, she noticed a dog dangerously wandering down the road. the dog walked past several cars, before it came up to hers and put his paws up on her door. She opened up the door and took in the stray pup. Initially they were not going to keep the dog; however, after not being able to locate its owner, they became attached to the little  Maltese. They named him Mahjong. The dog fell in love with Bill Hogencamp and rarely left his side. The two became inseparable.  Hogencamp underwent chemotherapy. Just before the holiday he received some miraculous news,  Tests showed that Hogencamp was now cancer free.
Pic – ABC News via Mark Hogencamp
"I hadn't had a dog in twenty years and I had no desire to have a dog," he said. "I kept saying we need to find his owner."

Despite an extensive search and nearly a dozen false leads, the Hogencamp's were never able to track down the dog's owner. They learned from a vet they visited during their search that he was a Maltese, probably around 6 years old, fixed but not chipped.

Besides, the dog very quickly won Hogencamp over. They soon became inseparable.

Whenever Hogencamp sat down, the dog — who they named Mahjong after Kathy's favorite card game — would jump in his lap. Whenever Hogencamp napped, Mahjong would curl up next to him. When Hogencamp returned home after being out, Mahjong would hop onto his hind legs and dance with joy.

As he and his wife settled into life with a dog, Hogencamp underwent chemotherapy. Just before the holiday he received some miraculous news: Tests showed that he was now cancer free.
MIRACLE OR HAPPENSTANCE, YOU MAKE THE CALL, BUT DON'T FORGET THAT DOG IS GOD SPELLED BACKWARDS.
Hogencamp's doctors were at a loss for words to explain his miraculous medical turn of events of now being cancer free. However, the Hogencamp's believe that little Mahjong has played a huge part in Bill  Hogencamp's remarkable and miraculous recovery.
The doctors are at a loss to explain this amazing turn of events, Hogencamp's wife said. But she said the family believes that Mahjong has played a huge part in her husband's recovery.

"The dog seemed to know right away that Bill was sick and it was his job to take care of him — and Bill knew it was his job to take care of the dog," she said.

Hogencamp agreed. He said their relationship gave both him and the dog a sense of purpose. Although he knows he owes much of his cure to great medical care and a lot of luck, he said that he is convinced the little white dog was sent to him to help him get better.