."Does This look like a Crime Scene"? If not, then what is going on here?
Where is Greta Van Susteren? Where is Rita Cosby, Joe Scarborough, Nancy Grace? Hell, where is Bill O'Reilly and Geraldo Rivera? Kimberly Guilfoyle? Anybody? We would ask Dan Abrams but he seems to have a new job.
Media, where are you in all of this? Please ask the questions.
Why has no one in the main stream media asked anyone in Aruba and close to the Natalee Holloway investigation what is going on in these pictures? The painted rock videos were first down loaded to the internet back on June 11, 2005. Why has this story never been discussed by the MSM when everything else has been?
DOES THIS LOOK LIKE A CRIME SCENE?
How will we ever know if you do not ask the question?
It hardly seems possibly that no one knows who he is.
WHY DOES THIS MAN HAVE A WHITE TARP AND WHAT IS HE DOING WITH IT?
The media has covered this story for over a year. These videos have been available since the outset of this case and yet there has not been one TV show that has actually gone on the record and asked anyone in charge what we are looking at. I would like to think that the Holloway and Twitty families have a right to know what this is all about. If it is nothing, just say it. They do deserve an explanation.
The following link provides numerous still photos from the videos of the "painted rocks" and other going-ons.
The painted rocks are in close proximity to the dunes and the California Light House, both areas that have been searched extensively.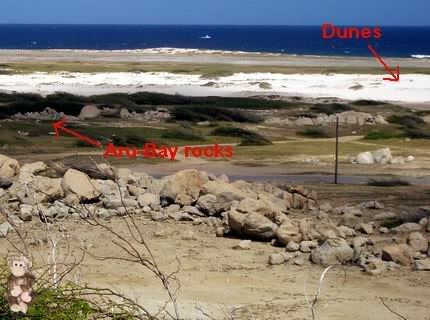 WHILE YOU ARE ASKING QUESTIONS, WHY ARE THERE RENTAL VEHICLES AT IN THESE SCENES?
If it were an Aruban operation wouldn't the vehicles have resident plates?
WHY IS THE VISIBILITY TEAM HERE AND NOT THE ARUBAN POLICE?
Is it a coincidence that Willem van Cromvoirt is a part of the Visibility Team and owns a video surveillance company? And GVC was arrested as a suspect?
MSM, WHILE WE HAVE YOUR ATTENTION … DOESN'T THIS PROFILE LOOK FAMILIAR?
Isn't it worth the question just to ask?
Will someone in the media step up to the plate and simply ask what is going on. It seems rather coincidental that these taped are down-loaded to the internet at the very same time and right after the "something bad happened" "something bad happened" story was reported. Also on June 11, the false rumor was reported that "Police Have Confirmed the Death of Natalee Holloway".
All anyone wants is answers. Of course in order to get answers, questions first need to be asked.
(Hat Tip: Klaasend)
If you liked this post, you may also like these:
Comments