In my opinion, it wouldn't have mattered what the verdict was. Criminals and opportunists were going to cause trouble no matter what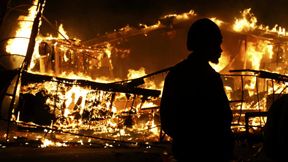 Daily Commentary – Wednesday, November 26, 2014
Download
Posted November 26, 2014 by

Klaasend Al Sharpton

,

Black America

,

Dana Pretzer

,

Discrimination

,

Ferguson

,

Jesse Jackson

,

NAACP

,

No Justice

,

No Peace

,

Race Card

,

Racism

,

Scared Monkeys Radio

|

no comments
THEY DIDN'T LISTEN …
As President Barack Obama spoke to America following the grand jury decision in Ferguson, Missouri not to indict police officer Darren Wilson in the shooting death of Michael Brown, he called for calm. The problem, they didn't listen. Last night the mid-west looked more like the Middle East as protesters burned, looted and completely destroyed numerous businesses and damaged property in their wake. The imagery during Barack Obama's speech was breathtaking. His calls for calm, for peace, to not vandalize property was juxtaposed to riots, looting, fires and complete chaos.
"We are a nation built on the rule of law, so we need to accept that this decision was the grand jury's to make," he said, saying that while he understands some Americans will be "deeply disappointed—even angered," police and communities need to move closer together, and "that won't be done by throwing bottles. That won't be done by smashing car windows. That won't be done by using this as an excuse to vandalize property. It certainly won't be done by hurting anybody."
Look what happened when law enforcement took a kinder, gentler approach to the protesters.
VIDEO – CNN – Riots, bullets, tear gas in Ferguson, Mo
VIDEO – Riots, looting, police response
Posted November 25, 2014 by

Scared Monkeys arson

,

Barack Obama

,

Community Agitator

,

Crime

,

Destruction of Property

,

Ferguson

,

Law Enforcement

,

Misleader

,

MO

,

Strike/Protest

,

WTF

,

You Tube - VIDEO

|

4 comments
Ex-model, Jewel Allison says Cosby is America's greatest serial rapist and that he got away with it by hiding behind his Cliff Huxtable image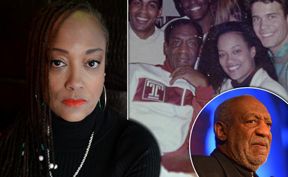 Daily Commentary – Tuesday, November 25, 2014 Download
THAT WAS QUICK …
Barack Obama's Defense Secretary Chuck Hagel is out. Some say he resigned, others say it was a firing. In any event, Hagel has stepped down as Defense Secretary. Talk about a revolving door. On January 7, 2013, President Barack Obama nominated Hagel to serve as Secretary of Defense. On February 12, 2013, the Senate Armed Services Committee approved Hagel's nomination. Now on 11/23/14, Hagel has resigned. The former Senator from Nebraska had many missteps and seemed like he was over his head from the outset. But how should that be any different from others in Obama's inner circle, including Obama himself? However, it was Hagel's criticism of Obama policy that ultimately led to his demise.  Hagel's comment that ISIS is "like beyond anything we have ever seen" might have been the truth, but as we have seen on so many other occasions with the Obama presidency, there is no place for the truth with this administration.
Defense Secretary Chuck Hagel's exit from the Obama administration came after weeks of discussion with President Obama over what role he would play in shaping defense policy over the last two years of his term.

The pair ultimately came to the conclusion that another leader would be better equipped to lead the fight against the Islamic State in Iraq and Syria (ISIS), senior administration and Defense officials said.

While aides described the departure as a mutual decision based on shifting priorities at the Department of Defense, there are signs that tensions between Hagel and the White House contributed to the personnel change.
click HERE or on PIC to watch VIDEO
CHARLES KRAUTHAMMER: Hagel's problems were not institutional, he was over his head from the beginning. Anybody who watched his hearings knew that, he knew that. He was sort of a non-presence for the first year or so. The irony is that he got tossed in the end and thrown under the bus because he actually sort of spoke up, spoke out and spoke the truth on the fact that the Syrian policy was entirely incoherent. He went against the White House and Susan Rice and the NSC, who were trying to manage his department and manage the Department of Defense over his head. And when he said the truth, he criticized the administration. Obama can tolerate a lot — cluelessness, incompetence, laziness — but not criticism; he had to go.
BREAKING NEWS: GRAND JURY DECISION … THEY HAVE DECIDED TO NOT INDICT OFFICER DARREN WILSON.
No indictment against officer Darren Wilson.
ABC NEWS VIDEO – Ferguson Grand Jury Does Not Indict Officer Darren Wilson
At a live press conference tonight from Ferguson. MO, St. Louis County Prosecuting Atty. Bob McCulloch announced that grand jury no indictment for Officer Darren Wilson.  Bob McCulloch said,"They determined that no probable cause exists to file any charge against Officer Wilson, and returned a 'No True Bill' on each of the five indictments."
Live Feed from Streets of Ferguson, Mo
Broadcast live streaming video on Ustream
UPDATE I: ABC News – Ferguson Grand Jury Does Not Indict Officer Darren Wilson in Death of Michael Brown
A Missouri grand jury has decided not to indict Police Officer Darren Wilson for the Aug. 9 shooting of unarmed Ferguson teenager Michael Brown, St. Louis County Prosecuting Attorney Robert McCulloch said tonight.

McCulloch said that the grand jurors ruled that "no probable cause exists" to indict Wilson on any of the five possible charges that they were asked to consider. He said that the jury was "presented with five indictments" ranging from "murder in the first degree to involuntary manslaughter."

The prosecutor repeatedly stressed the physical evidence that the 12 jurors considered, saying that it "tells the accurate and tragic story of what happened."

"All 12 jurors were present for every session and all 12 jurors examined every piece of evidence," MuCulloch said, adding that the jurors are "the only people who have heard and examined every witness."
UPDATE II: Reaction following the no indictment decision.
The decision set off a new wave of anger among hundreds who gathered outside the Ferguson Police Department. Police in riot gear stood in a line as demonstrators chanted and threw signs and other objects toward them as the news spread. One woman said: "The system failed us again."

Mr. Brown's family issued a statement expressing sadness but calling for peaceful protest and a campaign for body cameras on police officers nationwide. "We are profoundly disappointed that the killer of our child will not face the consequence of his actions," the statement said. "While we understand that many others share our pain, we ask that you channel your frustration in ways that will make a positive change. We need to work together to fix the system that allowed this to happen."
UPDATE III: Legal Insurrection has a very good analysis of the reasons why Officer Wilson was not indicted.
As has been widely anticipated for weeks, the Ferguson MO Grand Jury has DECLINED to indict Police Officer Darren Wilson in the shooting death of black adult Michael Brown.
This result has not been unexpected, as the overwhelming weight of both the eye witness and forensic evidence has been entirely consistent with Officer Wilson's narrative of self-defense, including:
Wilson being attacked by Brown and his accomplice Dorian Johnson in his patrol vehicle
a struggle over Wilson's service pistol
shots fired inside the vehicle (which forensic examination confirmed caused a contact gun shot wound to Brown's right hand)
the temporary flight of Brown upon those initial gunshots
the return of the 292 pound Brown re-engage the much smaller officer
the firing of additional defensive rounds as necessary to halt Brown's violence
A white police officer will not face charges for fatally shooting an unarmed black teenager in a case that set off violent protests and racial unrest throughout the nation, an attorney close to the case said Monday night.

A St. Louis County grand jury declined to indict officer Darren Wilson, 28, for firing six shots in an August confrontation that killed 18-year-old Michael Brown, said Benjamin Crump, an attorney for the family. The decision had been long awaited and followed rioting that resembled war-zone news footage in this predominantly black suburb of St. Louis.

"The jury was not inclined to indict on any charges," Crump said after being informed of the decision by authorities. Prosecutors scheduled an news conference to announce the decision.
The fate of officer Darren Wilson to be determined tonight …
LIVE FEED FROM STREETS IN FERGUSON
Broadcast live streaming video on Ustream
A decision by the grand jury in Ferguson, Missouri in the shooting death of Michael Brown has been reached. The announcement of their decision is to be announced tonight at 9 pm ET, 8 pm CT.
 While protesters chanted late Monday for an indictment in the shooting death of Michael Brown, officials called for calm as the world awaits word of the grand jury's decision.

"No matter what is announced, people will be emotional. I want people to think with their heads and not with emotion," said St. Louis County Executive Charlie Dooley. "This is not the time to turn on each other. It is a time to turn to each other."

Protesters were gathering outside the police department in Ferguson. Darren Wilson, a white police officer with the department, shot and killed Brown, a black teenager, on August 9.

The grand jury's decision on whether to indict Wilson will be announced at about 8 p.m. (9 p.m. ET) Monday, according to the Office of the Prosecuting Attorney of St. Louis County.
UPDATE I: Gov. Jay Nixon of Missouri called for "peace, respect and restraint"
Gov. Jay Nixon of Missouri called for "peace, respect and restraint" on Monday as the region nervously awaited an announcement of the grand jury's decision on whether a white police officer should face charges in the fatal shooting of an unarmed black teenager in nearby Ferguson.

Mr. Nixon said that he did not know whether the grand jury had decided to indict the officer, Darren Wilson, for the Aug. 9 shooting of the teenager, Michael Brown, but he and other officials said that peaceful protesters would be respected, and even allowed to potentially slow down traffic on streets.

"Our shared hope and expectation is that regardless of the decision, people on all sides show tolerance, mutual respect and restraint" he said.
UPDATE II: Stores Close Ahead of Announcement.
I wonder whether this is why they delayed the announcement until 9 pm tonight. Was it to make sure businesses could close and commuters could get home from work so that the police and National Guard only had to deal with potential rioters.
Employers, restaurants, retailers, libraries and other venues around the St. Louis area closed early ahead of tonight's grand jury announcement.

Several said they will remain closed Tuesday as a precautionary measure.

Plaza Frontenac and The Galleria both closed their doors at 6 p.m. today. The Galleria usually closes at 10 p.m.; Plaza Frontenac at 9 p.m.

Customers who called the main number at the Macy's at The Galleria Monday afternoon were greeted with this message: "Due to circumstances beyond our control, our store is currently closed." The Galleria 6 motion picture theater also closed at 6 p.m.

QuikTrip and Best Buys are among other major retailers that decided to temporarily close some local stores.
UPDATE III: LIVE FEED FROM COURTROOM FOR DECISION
What makes good humor is it has to contain some truth. What makes great humor is it is 100% the truth …
Last night SNL opened the show with a skit that was fantastically funny and pathetically sad all at the same time. For all those who are old enough to remember the School House Rocks, 'I'm Just a Bill,' completely understood the biting sarcasm and mockery of the political system.  Instead of the way we learned it as kids and the way the US Constitution provides for … "I'm just a bill, yes I'm only a bill, and I'm sitting here on Capitol Hill," Barack Obama decided to change law on his own. The result, SNL's I'm an executive order.
As the immigration bill sings to the young boy explaining how a law is made, Obama tosses the bill down the Capitol Hill steps in lieu of his executive order, "I'm an executive order and I pretty much just happen".
Boy: [After Obama pushes the bill down the Capitol Hill steps] President Obama, what's the big idea, that bill was just trying to become a law.
Obama: I realize that. But you know son there is an even easier way to get things done around here. It's called an executive order.
Executive Order: "I'm an executive order and I pretty much just happen". And that's it.
Boy: Wait a second, don't you have to go through Congress at some point?
Executive Order: Awe, that's adorable. You still think that's how government works. Ha, ha, ha.
Immigration Bill: [After climbing back up the steps] Don't listen to them son. Look at the midterm elections, people clearly don't want this, ahh [Obama pushes the bill down the steps again].
Boy: Mr President, is this Constitutional?
Obama: Of course,  Presidents issue executive orders all the time.
Executive Order: That's right. I could do lots of things.  I'll create national park or a new holiday.
Obama: Or grant legal status to 5 million undocumented immigrants.
Executive Order: Wait, what!!!
Obama: Yup, that's what you are going to do.
Executive Order: Om my God, I didn't have time to read myself. Whoa!!! OK, go big or go home, huh?
Finally, the first biting political spoof from Saturday Night Live in a while: the Bill from Schoolhouse Rock explains to a student how he becomes a law, only to be violently beat up by Barack Obama and his new best friend, "Executive Order."

Even then, the poor Executive Order still thinks he's used for simple things, like declaring holidays and creating national parks, until Obama informs him that he's going to be used to grant amnesty to 5 million undocumented immigrants. His reaction: "Whoa."
Posted November 24, 2014 by

Scared Monkeys 2014 Elections

,

Abuse of Power

,

Amnesty

,

Barack Obama

,

Chicago-Style Politics

,

Community Agitator

,

Congress

,

Deportation

,

Divider in Chief

,

Illegal Immigration

,

Imperial President

,

Law Breaker in Chief

,

Misleader

,

Narcissist in Chief

,

Open Borders - Border Security

,

Saul Alinsky

,

SNL

,

The Lying King

,

Transparency

,

WTF

,

You Tube - VIDEO

|

no comments