After 46 years at CBS, 78 year old Bob Schieffer will retire this summer
Daily Commentary – Thursday, May 28, 2015
Download
BEYOND TRAGIC … MOTHER AND TWO CHILDREN STILL MISSING AND PRESUMED DEAD …
Laura McComb and her two children, 6 year old Andrew McComb and 4 year old Leighton McComb are still missing following the massive floods that hit Texas over the Memorial Day weekend. They were among 12 people who went missing as the vacation home in Wimberly, Texas, was ripped from its foundation in the rapid flood waters of the Blanco River (VIDEO). Jonathan McComb, was pulled from the floodwaters and taken to a San Antonio hospital for treatment. The McCombs were with Ralph and Sue Carey along with their daughter, Michelle Charba, her husband Randy and their 4-year-old son, Will. All are still missing. Say a prayer for the missing and their family.
Jonathan McComb was rescued on the bank of the Blanco River, but his wife, Laura McComb, and two children,
in addition to others who were in a house that was swept away, remain missing. (Image source: KVUE-TV)
UPDATE I: Laura McComb Salled Her Sister and said,  'I Love You, and Pray' While Inside the House Floating Down the Blanco River Called Her Sister Before It Hit Bridge.
Missing mom's sister Julie Shields says, "I think recognizing with what's happening with the weather, we all know and we have accepted that they're gone."
Julie Shields said she was on the phone with her sister, Laura, when their cabin was swept away.

"We are floating in a house that is now floating down the river," Laura told Shields on the phone. "Call mom and dad. I love you, and pray."

Those were the last words Shields had with her sister.

"My sister will always be my sister," Shields added.

The conversation ended when Laura thought she saw a light from a helicopter that was there to rescue them.

"And I just expected to go to Wimberley High School the next day and find her," said Shields. "When she wasn't there, I knew something was very, very wrong."
Sad new in the case of missing 43 year old Michelle Carey-Charba, who was one of 8 people swept away in Central Texas as a result if the raging flood waters over Memorial Day weekend. . A body was identified on Wednesday as Michelle Carey-Charba.
Michelle Carey-Charba and her son, William, went missing during flash flooding in Wimberley, Texas,
over the Memorial Day weekend. Carey-Charba's body was found and identified Wednesday.
A body was identified Wednesday as one of the eight people swept away when their vacation home in Central Texas was lost amid raging floodwaters over the Memorial Day weekend.

The discovery of 43-year-old Michelle Carey-Charba came as her family told NBC News that they were still holding out hope for the safe recovery of all of the missing who had been inside the home.
A ninth person — family friend Jonathan McComb — was found alive Sunday after being carried several miles away from where the house once stood in the small tourist town of Wimberley. He was being treated in the hospital for a collapsed lung, a broken sternum and broken ribs, his family said.

McComb's wife, Laura, and their two children, Andrew, 6, and Leighton, 4, were also in the home and are still missing, along with Carey-Charba's husband, Randy Charba, their 4-year-old son, Will, and her parents, Ralph and Sue Carey.

Searchers made a grim discovery in the Blanco River Wednesday when thebody of a boy was found in the river in Hays County, the city of San Marcos said in a statement Wednesday evening.

The child's age and identity have not been determined, and it is unknown whether he is on a list of those known missing, or another victim not previously reported missing, the city said.

Carey-Charba's brother-in-law, Alan Daniel, said Wednesday that the search isn't over: "We're not going to stop looking until we've found them."

Authorities said at least 23 people were killed and another 11 were missing after a series of storms pummeled Texas and Oklahoma,causing historic flooding in a region that had been crippled by severe drought.

The Careys own the home in Wimberley, where the Blanco River swelled 28 feet in an hour and a half. The McCombs are family friends, and they were all spending the Memorial Day weekend together.
Bill O'Reilly blasted President Barack Obama for his weak foreign policy and the dire consequences it has created in the Middle East, Europe the Far East and across the world. O'Reilly called it a perfect storm of weakness. What happened to Obama's promise to downgrade terrorism as he seems to make climate change a more important topic than terrorism? Obama's lack of leadership, the most reluctant leader this country has ever seen, has been the focal point of why evil has been on the rise. Bill O'Reilly stated, "by withholding American power abroad, the president is plunging the world into a very dark place. When order collapses, so does civilized society."
Bill O'Reilly ended his rant by saying, "God help the next president of the United States." I would go one further and say, God help the citizens of the United States.
War and Peace in the United States
Click HERE or on PIC to Watch VIDEO
He ripped Obama, Harry Reid, and Nancy Pelosi for "saying various thing that make absolutely no sense at all" while ISIS is growing in power in the Middle East.

O'Reilly went through all the unintended consequences of Obama's weak foreign policy, which includes China's expansion and Vladimir Putin feeling he can just walk all over the United States. O'Reilly said he's "simply aghast that American foreign policy is so bad."

"By withholding American power abroad," he concluded, "the president is plunging the world into a very dark place. When order collapses, so does civilized society, and we are seeing that all over this planet."
Posted May 27, 2015 by

Scared Monkeys Afghanistan

,

America - United States

,

Barack Obama

,

Community Agitator

,

Divider in Chief

,

Epic Fail

,

Incompetence

,

Iran

,

Iraq

,

ISIS

,

Islamist

,

Middle East

,

Misleader

,

Radical Islam

,

Restoring America

,

Socialist in Chief

,

Terrorism

,

The Lying King

,

United States

,

War on Terror

,

World

,

WTF

,

Yemen

,

You Tube - VIDEO

|

2 comments
WHAT A SHOCK, FIFA IS CORRUPT …
Seven top FIFA officials were arrested overnight in a posh Zurich hotel. The raid was conducted as a part of a corruption probe allegations of bribery totaling more than £100m over past 25 years.
The most significant arrest was that of Jeffrey Webb, the vice president of the executive committee, who has previously been hailed by Blatter as a potential successor.

Other officials held by Swiss police include Eduardio Li, President of the Costa Rica Football Association, and Rafael Esquivel, President of the Venezuelan Football Federation, Jose Maria Marin, vice-president of the Brazil Football Federation, Costas Takkas, a former general secretary of the Cayman Islands Football Association, and Jose Maria Marin, vice-president of the Brazil Football Federation.
Swiss authorities conducted an extraordinary early-morning operation here Wednesday to arrest several top soccer officials and extradite them to the United States on federal corruption charges.

As leaders of FIFA, soccer's global governing body, gathered for their annual meeting, more than a dozen plain-clothed Swiss law enforcement officials arrived unannounced at the Baur au Lac hotel, an elegant five-star property with views of the Alps and Lake Zurich. They went to the front desk to get room numbers and then proceeded upstairs.

The arrests were carried out peacefully. One FIFA official, Eduardo Li of Costa Rica, was led by the authorities from his room to a side-door exit of the hotel. He was allowed to bring his luggage, which was adorned with FIFA logos.

The arrests were carried out peacefully. One FIFA official, Eduardo Li of Costa Rica, was led by the authorities from his room to a side-door exit of the hotel. He was allowed to bring his luggage, which was adorned with FIFA logos.

The charges, backed by an F.B.I. investigation, allege widespread corruption in FIFA over the past two decades, involving bids for World Cups as well as marketing and broadcast deals.
CNN – U.S. arrests officials, Switzerland opens separate investigation.
Department of Justice announced the unsealing of a 47-count indictment in a federal court in Brooklyn, New York, that detailed charges against 14 people of racketeering, wire fraud and money laundering conspiracy. They include FIFA officials accused of taking bribes totaling more than $150 million and in return provided "lucrative media and marketing rights" to soccer tournaments as kickbacks over the past 24 years.

"The defendants fostered a culture of corruption and greed that created an uneven playing field for the biggest sport in the world," FBI Director James Comey said in a news release. "Undisclosed and illegal payments, kickbacks and bribes became a way of doing business at FIFA."
UPDATE I: Fifa corruption live: David Cameron calls for Sepp Blatter to stand down.
UPDATE II: Sepp Blatter's FIFA Reign of Shame.
It is not true that everything has gotten worse in global soccer under Blatter. Safety has improved and, yes, the World Cup has been held in Africa. But just about everything has. To conclude that Blatter should quit rather than embark on a fifth term as FIFA president (assuming his seemingly inevitable election to a fifth term on Friday) feels so blindingly obvious that it's not worth saying. But then the FIFA president is so thick-skinned it's actually worth saying twice: Mr. Blatter, your time is up.

Why? Because the corruption charges against current and former FIFA vice presidents and others reflect an organization rotten to its core, operating in the absence of any meaningful oversight, without term limits for a president whose salary is of course unknown (but estimated by Bloomberg to be "in the low double-digit" millions), overseeing $5.72 billion in partially unaccounted revenue for the four years to December 2014, governing a sport in which matches and World Cup venues and in fact just about everything appears to have been up for sale, burying a report it commissioned by a former United States attorney into the bidding process for the next two World Cups, and generally operating in a culture of cavalier disdain personified by Blatter, whose big cash awards to soccer federations in poorer countries have turned the delegates from many of FIFA's 209 member associations into his fawning acolytes.
UPDATE III: FIFA Arrests: Meet the 14 People Indicted by the Department of Justice.
The 14 people indicted in the global crackdown of FIFA corruption covers a dozen nationalities, although authorities allege the crimes and payments were carried out in the U.S. via American banks.

Seven were arrested in Zurich by Swiss authorities at the request of the U.S. Four other individuals and corporate defendants Traffic Sports USA Inc., Traffic Sports International Inc. and Brazilian sports marketing conglomerate the Traffic Group have already pleaded guilty, according to an indictment unsealed today.

1. Jeffrey Webb, 50, Cayman Islands:
2. Jack Warner, 72, Trinidad and Tobago:
3. Aaron Davidson, 44, USA:
4. Nicholas Leoz, 86, Paraguay:
5. Eduardo Li, 56, Costa Rica:
6. Alejandro Burzaco, 50, Argentina:
7. Eugenio Figueredo, 83, USA and Uruguay:
8. Jose Maria Marin, 83, Brazil:
9. Julio Rocha, 64, Nicaragua:
10. Rafael Esquivel, 68, Venezuela:
11. Costas Takkas, 58, United Kingdom:
12. Hugo Jinkis, 70, Argentina:
13. Mariano Jinkis, 40, Argentina:
14. José Margulies, 75, Brazil:
Posted May 27, 2015 by

Scared Monkeys Arrest

,

Bribery

,

collusion

,

Conspiracy

,

Corruption

,

Crime

,

cronyism

,

Ethics

,

Indictment

,

Quid Pro Quo

,

Sports

|

no comments
While looking for mushrooms in Western Michigan, Terry Smith found the camera case with the messages after it had traveled 40 miles down the Grand River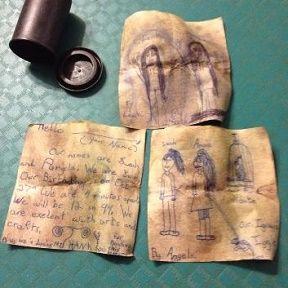 Daily Commentary – Wednesday, May 27, 2015
Download
STRIKE 2: The Fifth Circuit Court of Appeals today told Barack Obama where he can stick his pen …
Today, the Fifth Circuit Court of Appeals of the United States has dealt Barack Obama's Executive order on Amnesty a tremendous blow. Two of three judges on a panel of the United States Court of Appeals for the Fifth Circuit, in New Orleans sided on the rule of law and the US Constitution. Judges Jerry E. Smith and Jennifer Elrod both ruled and refused to lift an injunction against President Obama's deportation amnesty and said the president's new program, known as Deferred Action for Parental Accountability (DAPA), is a binding policy that should have gone through the usual public notice and comment period instead of being announced unilaterally by Mr. Obama and Homeland Security Secretary Jeh Johnson late last year
A federal appeals court on Tuesday denied the Obama administration's request to lift a hold on the president's executive actions on immigration, which would have granted protection from deportation as well as work permits to millions of immigrants in the country illegally.

Two of three judges on a panel of the United States Court of Appeals for the Fifth Circuit, in New Orleans, left in place an injunction by a Federal District Court judge in Brownsville, Tex. The ruling comes in a lawsuit filed by Texas and 25 other states against actions President Obama took in November. Many of the initiatives were scheduled to take effect this month.

The appeals court found that the states had sufficient legal grounds to bring the lawsuit and that the administration had not shown that it would be harmed if the injunction remained in place and the programs were further delayed.

Also denied was a request by the administration to limit the injunction to the states bringing the lawsuit. The ruling is a second setback for programs the president hoped would be a major piece of his legacy, raising new uncertainty about whether they will take effect before the end of his term and casting doubts on the confidence of administration lawyers that their case was very strong.
Remember when Obama said he didn't have the power to pass such amnesty and then did it anyhow?
In this world nothing can be said to be certain, except death and taxes. Scratch that … IRS HACKED.
Reason number one why I would never use the IRS electronic filing system. The IRS is admitting that they were hacked and the E-thieves stole the tax information of over 100,000 taxpayers. According to reports, the hackers used the website app service called "Get Transcript"to gain access. The IRS states that the hackers used this app to download forms full of personal information between February and May of 2015.
It's only a matter of time before the IRS blames this on their budget that was cut.
Sophisticated criminals used an online service run by the IRS to access personal tax information from more than 100,000 taxpayers, part of an elaborate scheme to steal identities and claim fraudulent tax refunds, the IRS said Tuesday.

The thieves accessed a system called "Get Transcript," where taxpayers can get tax returns and other filings from previous years. In order to access the information, the thieves cleared a security screen that required knowledge about the taxpayer, including Social Security number, date of birth, tax filing status and street address, the IRS said.

"We're confident that these are not amateurs," said IRS Commissioner John Koskinen. "These actually are organized crime syndicates that not only we but everybody in the financial industry are dealing with."

Koskinen wouldn't say whether investigators believe the criminals are based overseas — or where they obtained enough personal information about the taxpayers to access their returns. The IRS has launched a criminal investigation. The agency's inspector general is also investigating.
DO POLICE  LIVES MATTER?
A police officer has been shot and killed Monday night in Rio Rancho, New Mexico. Although the name of the deceased has not yet been released, it is reported that he was a four-year veteran of the force and also served in the Air Force.
Police in Rio Rancho, New Mexico, are searching for a man who shot and killed an on-duty officer Monday night.

Chief Michael Geier said the man fled the scene in a Dodge pickup. Authorities are questioning a person in connection with incident.

Elijah Ortiz y Pino heard four gunshots and then came around a corner to see someone giving CPR to an officer.
Police hunt man who killed New Mexico officer.
Police in Rio Rancho, New Mexico, are searching for a man who shot and killed an on-duty officer Monday night.

Chief Michael Geier said the man fled the scene in a Dodge pickup. Authorities are questioning a person in connection with incident.

Elijah Ortiz y Pino heard four gunshots and then came around a corner to see someone giving CPR to an officer.
Tragically, a total of 46 officers have died in the line of duty in 2015. The police officer shooting death in New Mexico comes on the foot-heals of the shooting death of a New Orleans area officer was shot and killed on Sunday as he sat in his car
IDIOTS … YOU HAVE THE RIGHT TO MARKET THIS T-SHIRT AND AMERICA HAS THE SAME RIGHT TO NEVER, EVER SHOP AT PAC SUN EVER AGAIN.
Are you serious? The retailer PacSun thought it in their best interest to display a t-shirt on Memorial Day weekend of an up-side down American flag. Really? This is how you disrespect the memories of those who have made the ultimate sacrifice to keep America free? Just what kind of a bunch of dirt-bags are you? Although, you have every right to market and sell what ever you damn well please, as American men and women have spilled their blood to give you that right, "We the People" also have every to boycott your stores and never, ever, ever buy another thing from you.
And personally, I do not care whether you decide to pull the article of clothing from your stores because of the massive backlash you are about to receive, you have shown exactly what you are. YOU ARE A DISGRACE!!! Is it bad enough that you would disgrace the American flag, but you do so on Memorial Day.
Pic: The Blaze via Facebook
Retailer PacSun is feeling the wrath of customers and military veterans after a photo of a T-shirt on display in one of its stores on Memorial Day weekend went viral.

The shirt features an upside-down American flag, a symbol that U.S. Flag Code makes clear is only to be used "in instances of extreme danger to life or property." The shirt was reportedly first spotted at the store's location at Tanger Outlets in Foley, Alabama.

"Screw you PACSUN," one Facebook user wrote in reply to the company's "buy one, get one 50% off" Memorial Day promotion post. He signed his comment, "veteran."

"As a combat veteran I refuse to step into your store ever again," another apparent veteran wrote.

"Not shopping here anymore," a disgruntled Facebook user added, echoing the sentiment of hundreds of others.
UPDATE I: PacSun removes T-shirt featuring upside-down American flag following controversy.
A $24 T-shirt that was for sale online and at some PacSun stores could now cost the company thousands of dollars in lost sales.

The upside-down American flag upset one shopper in Alabama, who took to social media. Countless other shoppers chimed in tweeting "respect the flag #BoycottPacSun" and "there are repercussions to your free speech. I will never spend another penny there."

On Monday afternoon, PacSun decided to stop selling the T-shirt and released the following statement to Eyewitness News: "As a retailer grounded in youth culture, PacSun values artistic and creative expression though the brands that we sell in our stores. Out of respect for those who have put their lives on the line for our country, we have decided to stop selling the licensed flag T-shirt and are removing it from our stores and website immediately. We thank the men and women in uniform for their extraordinary service."