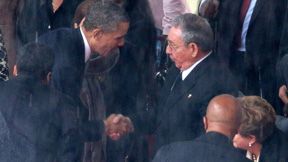 Daily Commentary – Wednesday, December 11, 2013
Download
HOW LOW CAN THE LION LYING KING GO …
According to the UK Daily Mail, a recent Quinnipiac poll has President Barack Obama's job approval rating continuing to fall, down to 38% while a whopping 57% disapprove. Barack Obama's poll numbers are reaching epically bad levels as there is no end in sight for Americans finding out further bad news regarding Obamacare and the 2000 unread pages in how it affects people's lives. Americans continue to find out and realize that they were lied to and the impacts are directly being felt. Obama is seeing lows across the board in handling the economy, healthcare, foreign policy and is seeing support from key groups like Latinos and Millennials completely fall apart. But wait, there is one thing that Obama gets high marks in, 52% polled say that Obama is not honest or trustworthy.
Once a president loses the trust of the people, they are finished, #You Lie!
Barack Obama is facing poll numbers that are now in the same territory as President George W. Bush's following Hurricane Katrina.

The Quinnipiac University Polling Institute released numbers on Tuesday showing that just 38 per cent of registered voters approve of the job Obama is doing as president, with a whopping 56 per cent saying they disapprove.

The president has lost his landslide electoral edge among young voters, too, with a negative 41–49 per cent rating among 18- to 29-year-old voters. His once formidable support among Hispanics has also evaporated: They now support him by an historically small 50–43 per cent margin.

Worse for Obama's fast-approaching legacy-building years, the public believes he is not 'honest and trustworthy,' by a 52–44 per cent score. A smaller majority, 51 per cent, said he lacks 'strong leadership qualities.'
More bad news for Obama from the Quinnipiac poll … (pdf).
Today, Obama gets negative scores of 6 – 92 percent among Republicans, 30 – 62 percent among independent voters, 31 – 64 percent among men, 44 – 49 percent among women and 29 – 65 among white voters. Approval is 76 – 18 percent among Democrats and 85 – 9 percent among black voters.

37 – 59 percent on his handling of the economy
34 – 62 percent on health care
42 – 49 percent on foreign policy
40 – 48 percent approval for his handling of the situation in Iran
49 percent young voters now saying they disapprove of his job performance
43 percent of Hispanics now oppose Obama
Posted December 11, 2013 by

Scared Monkeys #You Lie

,

America - United States

,

Barack Obama

,

Divider in Chief

,

Economy

,

Epic Fail

,

Ethics

,

Foreign Policy

,

Government

,

Gutter Politics

,

Healthcare

,

Healthcare Canceled

,

Independents

,

Insurance Canceled

,

Iran

,

Jobs

,

Lost in Smallness

,

Misleader

,

Obamacare

,

Obamanation

,

Obamanomics

,

Polls

,

Quinnipiac University

,

The Lying King

,

Transparency

,

Unemployment

,

We the People

|

no comments
LISTEN TO THE DANA PRETZER SHOW ON SCARED MONKEYS RADIO AT 9PM ET
Dana welcomes special guests:
LISTEN TONIGHT LIVE AT 9 PM ET
The Dana Pretzer Show – Tuesday, December 10, 2013 Download Podcast
NOTHING SURPRISES ME ANY MORE FROM THE MANCHURIAN CANDIDATE YURI OBAMA …
This morning in Soweto, Johannesburg President Barack Obama shook hands with Cuban leader Raúl Castro at the memorial for the late President Nelson Mandel. Hmm, I am not quite sure why anyone is surprised, this is the man who has embraced America' enemies and made deals with them, bowed to Saudi princes and other foreign leaders, while treating our closest allies like dirt. What's in a hand shake? A lot.
But like I said, what is a handshake among communist comrades, water does seek its own level now, doesn't it? It would appear that Hot Air agrees as they opine, "One's a communist who's reduced his country to ruins, the other's Raul Castro".
But of course CNN was quick to defend and make excuses for Ovama's actions. Hmm, guess it was a good thing Adolf Hitler was not attending.
Obama knew, of course, that Castro would be on stage. But refusing to shake Castro's hand would not have been in keeping with Mandela's legacy of reconciliation. And it was not the first handshake between American-Cuban leaders. In 2000, at the United Nations, then-President Bill Clinton shook hands with Fidel Castro, the leader of the Cuban Revolution, its first revolutionary president, and Raul's brother.

Obama says he wants to improve relations with Cuba, but disagreements over human rights violations and other issues continue to keep the countries apart.

The handshake came before Obama's speech, in which he made remarks about reconciliation.

"It took a man like Madiba to free not just the prisoner, but the jailer as well – (applause) – to show that you must trust others so that they may trust you; to teach that reconciliation is not a matter of ignoring a cruel past, but a means of confronting it with inclusion and generosity and truth," Obama said.

The President also made sure to include a comment about freedom, which seemed directly aimed at dictatorial regimes.
Posted December 10, 2013 by

Scared Monkeys America - United States

,

Barack Obama

,

Communism

,

Community Agitator

,

Cuba

,

Divider in Chief

,

Epic Fail

,

Government

,

Lost in Smallness

,

Misleader

,

Nanny State - Big Government

,

Obamanation

,

Politics

,

Tyranny

,

Welfare State

,

What Happened to the Country I Gre Up In?

,

WTF

,

You Tube - VIDEO

|

one comment
I GUESS THIS WAS PRETTY PREDICTABLE … SOME ONE HAS HAD SOME MIND CHANGING.
27 year old Samantha Scheibe, the girl friend of George Zimmerman, who called 911 and claimed that he was vandalizing her stuff and threatening her with a gun, no longer wants to press charges of domestic violence and aggravated assault against him.Zimmerman was charged with domestic violence after supposedly pointing a gun at his girlfriend, listen to the 911 call.  Zimmerman had posted a $9000 bail, was told to stay away from his girlfriend and no guns.
In fact, she not only does not want to know press charges against him, she wants to be with him. Good grief, here is a match made some where. DA's have to now determine whether they still want to pursue charges against Zimmerman without the cooperation of Scheibe. Mediaite reports, Zimmerman faced charges of aggravated assault after his girlfriend, Samantha Scheibe, requested in writing that the court amend his bail conditions so that he can have contact with her. She wrote that Zimmerman "never pointed a gun at or toward my face in a threatening manner." Scheibe added, "I want to be with George."
George Zimmerman's girlfriend who called Florida police to say he was breaking her stuff and was brandishing a weapon no longer wants to press charges against him and instead wants to get back together with him.

Zimmerman, 30, who faces a felony aggravated assault charge as well as lesser charges stemming from the incident, is asking to have conditions of his bail modified so he can resume contact with Samantha Scheibe.

According to court documents filed by Zimmerman's attorney Jayne Weintraub, Scheibe, 27, gave a sworn statement in which she wrote, "I do not want George Zimmerman charged."
A note to George Zimmerman, go away. Stay out of the media and stop this nonsense.
Democrat Senator in Serious Trouble Because of Barack Obama and Obamacare … Democrats, Be Afraid, Be Very Afraid.

According to a new poll from Citizens United Political Victory Fund by Republican pollster Kellyanne Conway of the polling company, Inc./WomanTrend, shows that incumbent Democrat Senator Mark Pryor is in serious trouble and trails Republican challenger Tom Cotton, 48% to 41%. Many Democrat politicians in "red" states are considered vulnerable because of their support of Obamacare and the disaster and lie that it has turned out to be. Pryor trails badly with Independents, 31%-52%.  Also, Barack Obama and Obamacare have a favorable, unfavorable in Arkansas of 35%-61% and 29%-62%, respectively.
Democratic Sen. Mark Pryor trails his Republican challenger, Rep. Tom Cotton, by seven points among likely voters in Arkansas, 48 percent to 41 percent, according to a new poll from a conservative group that says his support of the health care reform law is costing him.

The survey, shared exclusively with POLITICO, was conducted Friday and Saturday for the Citizens United Political Victory Fund by Republican pollster Kellyanne Conway of the polling company, Inc./WomanTrend.

Cotton is ahead among independents by 21 points and among women by 4 points.

"Mark Pryor is synonymous with Obamacare and Obamacare is synonymous with making life worse for the American people," said David N. Bossie, president of Citizens United. "That's why Pryor is losing to Cotton in the Arkansas Senate race."

Pryor, considered by many to be the most vulnerable of the incumbents running for reelection, is viewed favorably by 44 percent of Arkansas voters and unfavorably by 39 percent. The poll found that only one-third of independents view Pryor favorably and 52 percent see him in a negative light.
Other data from the polland from Hot Air.
I guess Barack Obama must have promised Mark Pryor and the other Democrats who voted for Obamacare against the will of the American people, you can keep your Senate and House seat, if you like your Senate and House seat. We all know how that worked for American insureds.
Posted December 10, 2013 by

Scared Monkeys 2014 Elections

,

AR: Pryor (D) - Cotton (R) 2014

,

Barack Obama

,

Blue Dog Democrats

,

Campaigner in Chief

,

Chicago-Style Politics

,

Community Agitator

,

cronyism

,

Democrats

,

Divider in Chief

,

Epic Fail

,

Government

,

Healthcare

,

Healthcare Canceled

,

Healthcare.gov

,

Insurance Canceled

,

Liars

,

Liberals

,

Misleader

,

Misrepresentation

,

Obamacare

,

Obamanation

,

Politics

,

Polls

,

Progressives

,

Republican

,

Senate

,

Senate Elections

,

The Lying King

,

You Can Keep Your Insurance

|

no comments
GOOD GRIEF, ARE YOU KIDDING ME … I FEEL SO MUCH SAFER … WAR ON TERRORISM SOCK MONKEYS!!!
A TSA agent confiscated "Rooster Monkburn's" six shooter and threaten to call the police on Phyllis May of Redmond, Washington at the St. Louis, Missouri airport. Just one small, actually very small detail, Rooster Monkburn is a sock monkey and the pistol confiscated might be about 2 inches in size. REALLY, you can't make this stuff up. So much for common sense these days.  The TSA agent actually said, she was confiscating the tiny toy because "it looks like a gun." Wow, so does that mean if I pointed my fore finger and thumb like a gun, they would cut my fingers off because they looked like a gun as well?
So instead of racially profiling terrorists, we disarm sock monkeys instead. You know, there is stupid, there is frigging stupid and then there is TSA stupid. When exactly did we lose all semblance of common sense in America?
"His pistol was in there," she says of the sock monkey "Rooster Monkburn," a take-off on John Wayne character "Rooster Cogburn" from the film "True Grit". May and her husband were going through the screening process when she noticed that one of her bags was missing.

"And the (TSA agent) held it up and said 'whose is this?'" she said. "I realized oh, my God this is my bag."

May said the TSA agent went through the bag, through the sewing supplies and found the two-inch long pistol.

"She said 'this is a gun,'" said May. "I said no, it's not a gun it's a prop for my monkey."

"She said 'If I held it up to your neck, you wouldn't know if it was real or not,' and I said 'really?'" said May.

The TSA agent told May she would have to confiscate the tiny gun and was supposed to call the police.

"I said well go ahead," said May. "And I said really? You're kidding me right, and she said no it looks like a gun."

"She took my monkey's gun," said May, who has retained her sense of humor.
No terrorist groups, including the Taliban, Al-Qaeda, Hamas, Hezbollah or the Muslim Brotherhood, have taken credit for "Rooster Monkburn" and his pistol who we all know his real name is Abdul.
Posted December 10, 2013 by

Scared Monkeys al-Qaeda

,

America - United States

,

Bizarre

,

Home Land Security

,

Idiot

,

Jihad

,

Political Correctness

,

Radical Islam

,

Terrorism

,

Travel

,

TSA

,

US National Security

,

War on Terror

,

We the People

,

WTF

|

one comment
Daily Commentary – Tuesday, December 10, 2013
Download
The race is on against snow and cold temperatures to find a family of six who are missing in the Northwest mountains of Nevada.
Rescue teams racing against the clock and the bitter cold to find 34 year old James Glanton, his girlfriend 25 year old Christina McIntee, his two children, Evan Glanton and Chloe Glanton, and Christina's niece and nephew,  Shelby Fitzpatrick and Tate McIntee. The four missing children are ages, a 10 year old, two 4 year olds and a 3 year old. The six disappeared in the Seven Troughs mountain range on a snow outing to play in the snow.
The family has not had any communication with others since they went missing, according to Sheila Reitz of the sheriff's office.

They went to the Seven Troughs area on isolated federal land about noon on Sunday in a silver Jeep with a black top, authorities said. It was unclear what supplies they might have been carrying.

"I'm hoping they all huddled together and stayed in the Jeep," said Nevada Highway Patrol Trooper Chuck Allen, who added that the area has spotty cellular coverage. "That would be a best-case scenario."
Frigid weather gripping much of the United States led to a frenzied search in northwest Nevada, where rescue teams are searching a mountainous area for two adults and four children who went to play in the snow and never returned.

James Glanton, 34, and Christina MacIntee, 25, are missing, along with Glanton's two children and MacIntee's niece and nephew. The children are 3 to 10 years old, the Pershing County Sheriff's Office said.

The group set out Sunday for Seven Troughs mountain range and haven't been seen since.

Fears intensified as the temperature plummeted to below zero.

Amanda Fitzpatrick, mother of 10-year-old Shelby Fitzpatrick, has joined the search in the freezing cold.

"It's been extremely hard, probably the hardest 24 to 36 hours of my life," she told CNN's Piers Morgan. "It's my baby girl."
UPDATE I: Extreme cold raises concerns for missing family in Nevada.
Temperatures in storm-stricken parts of the country were expected to remain 10- to 20 degrees below normal for the remainder of the week, the National Weather Service said.

Overnight temperatures in Lovelock, Nev., near the mountain range were below zero, WeatherUnderground.com indicated.
UPDATE II: FANTASTIC NEWS OUT OF NEVADA … CNN is reporting that all six missing family members have been found alive and well!!!
A family of six survived two days in wintry Nevada mountains by starting a fire and then bringing warm rocks into their overturned Jeep, preventing frostbite to the couple and four small children, local residents said Tuesday.

When three residents finally found the family and their vehicle during a massive search, the family had little food left, so resident Salvador Paredes pulled a candy bar from his pocket and shared it with them, Paredes said.

The group was found safe in an area called Trinity Canyon, according to the Pershing County Sheriff's Office. They were discovered from a distance by a volunteer searcher using binoculars to scan mountainsides, the sheriff's office said. It wasn't immediately clear which of the three residents made the discovery.

All six were in stable condition with "no frostbite, just some exposure issues," said Patty Bianchi, CEO of Pershing General Hospital. The family consists of a man and woman who have two children together; the woman also was traveling with her nephew and niece, the sheriff's office said.
UPDATE III: 6 missing adults, children found alive in Nevada.
"Their father kept them alive and well," said Patty Bianchi, CEO of Pershing General Hospital, where the six were taken. "Everybody is in good shape. There was no frostbite. They are stable. They suffered a little exposure and dehydration, but that is all."

About 100 well-wishers lined the street outside the hospital and broke into cheers when two of the smallest children were taken from an ambulance. The others walked into the hospital on their own.

"The mood where I'm at's ecstatic," said Col. Tim Hahn of the Civil Air Patrol, which used several planes to search for the group. "We are thrilled beyond words."
I guess MSNBC would consider 70% of doctors racists …
From The Washington Times, 70% of doctors in California expected to boycott Obamacare. The dirty little secret is just because you are enrolled in a healthcare plan, does not mean you have access to doctors and hospitals of your choice. Physicians have to belong to the network and accept what looks like Medicaid reimbursements. So much for that Obama promise, that if you like your doctor, you can keep your doctor, PERIOD!
An estimated seven out of every 10 physicians in deep-blue California are rebelling against the state's Obamacare health insurance exchange and won't participate, the head of the state's largest medical association said.

"It doesn't surprise me that there's a high rate of nonparticipation," said Dr. Richard Thorp, president of the California Medical Association.
…

California offers one of the lowest government reimbursement rates in the country — 30 percent lower than federal Medicare payments. And reimbursement rates for some procedures are even lower.
…

"Some physicians have been put in the network and they were included basically without their permission," Lisa Folberg said. She is a CMA's vice president of medical and regulatory Policy.

"They may be listed as actually participating, but not of their own volition,"
…

"This is a dirty little secret that is not really talked about as they promote Covered California," Waters said. He called the exchange's doctors list a "shell game" because "the vast majority" of his doctors are not participating.
But if you want to pay more, you can keep your doctor … so says Obamacare architect. So let's understand this, Obama just created a two tier insurance plan, one for the rich and one for the peasants?
Posted December 9, 2013 by

Scared Monkeys Barack Obama

,

Epic Fail

,

Fraud

,

Healthcare

,

Healthcare Canceled

,

Healthcare.gov

,

Insurance Canceled

,

Misleader

,

Misrepresentation

,

Obamacare

,

Obamanation

,

The Lying King

,

WTF

,

You Can Keep Your Insurance

|

6 comments