Coordinated leaks are starting to come out to the media, and starting to get some of the facts out there in the Michael Brown shooting case.
Daily Commentary – Wednesday, October 22, 2014
Download
37 year old former Harlem Globetrotter Rico Omarr Harris has been missing for several weeks. According to reports, Harris departed from his mother's Alhambra home over a week ago to visit his girlfriend in Seattle. However, his car was discovered three days after he left, abandoned, in Yolo County in Northern California. The vehicle was discovered by the police near the Yolo County Regional State Park on Route 16.  Harris' cell phone and a backpack were also found nearby. The former Globetrotter is said to suffer from bipolar disorder.
Pic: Rico Omarr Harris – Yolo County, CA Sheriff's Office
Rico Harris has been missing for several weeks during a trip between Alhambra and Seattle.

Harris, a former member of the Harlem Globetrotters, reportedly left his mother's home in Southern California on Oct. 10. His car was later found abandoned at Yolo County Regional State Park on Route 16.

The Yolo County Sheriff's Department says there is no indication of anything criminal at this time. No leads were found from inspecting Harris' car, as it looks like the car was just parked in the parking lot and had been left for two days.
Harris set out on road trip from Alhambra, California, to Seattle at 1 am on October 10, 2014. He was last heard from at 9.30am that day when he called his mother from Sacramento. According to Harris' family, the 6-foot-9, 280-pound former Globetrotter was in the process of moving to the northwest to join his long-time girlfriend, Jennifer Song, and start a new job in sales.
About nine hours into the drive, Mr Harris called his mother from the Sacramento area, and just before 11am he called his girlfriend and left her a voice-mail. He has not been heard from since.

On October 13, a sheriff's deputy came upon Harris' vehicle parked at the Yolo County Regional Parks Lower Site near Cache Creek. When officials ran the Nissan's registration, they discovered that the car belonged to the missing man.

A ground search of the surrounding area turned up Rico Harris' cell phone and a backpack with jumper cables. Deputies informed the missing man's family that his car battery has dead.
Did Barack Obama just make "devastating" statements to Democrats on the Al Sharpton radio show, or is he trying to gin up his African-American base? Or is it all about the Narcissist in Chief's "hurt feelings"? Democrats running in red states and in close contests have been trying their best to distance themselves from Obama, including refusing to say whetther they even voted for him. However, he just put himself right in the middle of their campaigns … "These are all folks who vote with me, they have supported my agenda in congress."
But Obama made sure to stress that although Alison Lundergan Grimes, Bruce Braley, and even DNC chairwoman Debbie Wasserman Schultz have all insisted that the president is "not on the ballot," all of them support his agenda and will vote with him.

"These are all folks who vote with me, they have supported my agenda in congress," Obama said. "These are folks who are strong allies and supporters of me."
Describing the "tough map" that Democrats face in this year's midterms, Obama told Sharpton, "A lot of the states that are contested this time are states that I didn't win. And so some of the candidates there — it is difficult for them to have me in the state because the Republicans will use that to try to fan Republican turnout."

"The bottom line though is, these are all folks who vote with me, they have supported my agenda in Congress," Obama added, citing the minimum wage and fair pay as issues on which they all agree. "This isn't about my feelings being hurt, these are folks who are strong allies and supporters of me," the president said.
Posted October 21, 2014 by

Scared Monkeys 2014 Elections

,

Barack Obama

,

Black Vote

,

Campaigner in Chief

,

Democrats

,

Epic Fail

,

Liberals

,

Misleader

,

Narcissist in Chief

,

Progressives

,

WTF

,

You Tube - VIDEO

|

5 comments
THAT'S IT?
Olympic and Paralympic sprinter Oscar Pistorius, the Blade runner was sentenced to 5 years in prison for the death, culpable homicide, of his girlfriend Reeva Steenkamp. But he could be out a lot sooner than that. One has to wonder whether some one not of the blade runner's popularity. Judge Thokozile Masipa said that her sentence to Pistorious was both fair and just to both to society and the accused. I am not too sure about that. Oscar Pistorius was originally charged with the murder of his girlfriend, Reeva Steenkamp, on Valentine's Day 2013. Pistorius may have got a slap on the wrist, however, I am pretty sure his name and brand have been permanently tainted.
Judge Thokozile Masipa said a long-sentence would show a lack of mercy toward Pistorius, known as the "Blade Runner" for racing on prosthetic legs. She suspended a separate three-year sentence for an unrelated firearms charge.

Barry Roux, Pistorius' lawyer, said his client could be released after 10 months to serve the remainder of his sentence under house arrest.
Olympic and Paralympic sprinter Oscar Pistorius started his five-year jail sentence on Tuesday for killing his girlfriend Reeva Steenkamp, marking the end of a trial that has gripped South Africa and millions around the world.

His uncle, Arnold Pistorius, indicated he would not appeal.

As judge Thokozile Masipa gave her decision on the 27-year-old's culpable homicide conviction, Pistorius, whose downfall has been likened to that of American football star O.J. Simpson, stood resolutely in the dock.

His only reaction was to wipe his eyes before two police officers led him to the holding cells beneath the High Court in the heart of the South African capital.
Reeva Steenkamp's mother says, "we're satisfied with Pistorius sentence." Sorry, but I don't believe it. She seems more relieved its over.
The body was found Saturday, October 18th approximately 5 miles from where the body of Morgan Dana Harrington was found. Follow the latest in the case at blinkoncrime.com or in the Scared Monkeys forum.
Daily Commentary – Tuesday, October 21, 2014 Download
RUT-ROH, could we have another case of Ebola?
It is being reported that the boyfriend of Nina Pham, a Dallas nurse that was diagnosed with Ebola, may have contracted the virus from her. The boyfriend's coworkers at Alcon in Fort Worth were sent a letter saying that he was in a hospital isolation unit, suffering from systems that mimic Ebola.
Rumors swirled Sunday that Nina Pham's boyfriend was "secretly" admitted to a hospital with Ebola-like symptoms, though the reports were not officially confirmed. Pham was the first person to contract the deadly virus on U.S. soil after she treated Liberian Ebola patient Thomas Eric Duncan. National fear rose that the Ebola diagnosis rate would grow in the U.S. after Pham contracted the infection, especially if she had spread it to her unidentified boyfriend.

Jeff George, the CEO of Alcon, a Fort Worth, Texas company that specializes in eye care products, sent an email to staff saying someone at the company was hospitalized with Ebola-like symptoms, Got News reported.

In a statement on its website, Alcon said an associate was admitted to Texas Health Presbyterian Hospital on Oct. 12 to monitor for "potential signs" of the infection but did not identify the person.

"This measure was taken due to the fact that the associate was in contact with the Texas Health Presbyterian health care worker who has recently tested positive for the virus," the post reads. "The Alcon associate has not shown any signs or symptoms of the Ebola virus."
YAWN … My how the mighty have fallen, it would appear many folks have lost that Obama Luvin' feeling and are just bored to tears with Him.

Barack Obama made a rare appearance on the campaign trail on Sunday in Upper Marlboro, Maryland, near Washington for Lieutenant Governor Anthony Brown of Maryland, who is running for governor. Ever wonder why President Barack Obama has been AWOL from the campaign trail in 2014, well wonder no more. As Obama begged the audience for their vote, a steady stream of people walked out of the auditorium while he spoke. OUCH, That's going to leave a mark. Walking out on the Obamamessiah, The One? Hmm, weren't there articles just wrote on the importance of the "black" vote in 2014? If energizing the base means the audience leaving as Obama speaks, voting turnout may be a real issue in 2014 for Democrats.
The American Thinker makes a very important point, "There is no recovery possible from boring. Once you are tuned-out, you have lost the possibility of revival." After a while, with the same old false promises, Obama just sounds like Charlie Browns teacher, even to his biggest supporters.
President Barack Obama made a rare appearance on the campaign trail on Sunday with a rally to support the Democratic candidate for governor in Maryland, but early departures of crowd members while he spoke underscored his continuing unpopularity.

With approval levels hovering around record lows, Obama has spent most of his campaign-related efforts this year raising money for struggling Democrats, who risk losing control of the U.S. Senate in the Nov. 4 midterm election.

Most candidates from his party have been wary of appearing with him during their election races because of his sagging popularity.
He claims that Michael Brown pinned him in is vehicle as they were struggling for Wilson's gun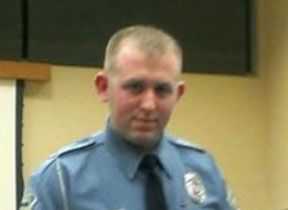 Daily Commentary – Monday, October 20, 2014 Download
Connor W. Trapatsos, an 18 year old, first year student at the College of St Rose has been missing since October 15, 2014 in Albany, New York. Law enforcement officials were told Friday that Connor W. Trapatsos was last seen by his roommate on Wednesday morning. Campus surveillance cameras confirm that Trapatsos left Brubacher Hall at 10 a.m. Wednesday, October 15. A search of the residence hall has be conducted on multiple occasions campus security officers and the Albany Police Department. Police believe Connor Trapatsos may be walking west on Route 5 or Route 20 towards Rochester. The missing freshman's family lives in Fairport, Monroe County. A New York State Missing College Student Notification has been released to police and hospitals, and email and roadside messaging was activated to notify drivers and the public, according to the release. The college has also handed out printed notices to local businesses and residents.
At this time, Police do not suspect foul play and his roommate tells local media that Trapatsos had been very withdrawn in recent weeks.
Missing: Connor W. Trapatsos
Trapatsos, 17, is 5 feet 7 inches tall with a slight build, according to a news release issued by the school. Counselors there have been made available for students or employees seeking emotional support.

The school provided an update on Saturday, adding that Trapatsos left Brubacher Hall at 10 a.m. Wednesday, which was confirmed by campus surveillance cameras. He was wearing a white T-shirt and black hooded sweatshirt with the words "Pilot 21″ on the back. He was wearing blue shorts and blue Nike running shows and carrying a dark-colored backpack.
SAINT ROSE REPORTS MISSING STUDENT.
The College of Saint Rose has reported to law enforcement officials that Connor W. Trapatsos, an 18-year-old first-year student from Fairport, Monroe County, New York, is missing.

Connor, who resides in Brubacher Hall, was last seen by his roommate this past Wednesday morning. The College was informed this afternoon. The residence hall has been searched thoroughly three times by Saint Rose Security officers and the University at Albany Police Department.
Anyone with information regarding Trapatsos' whereabouts is asked to call the University at Albany Police at (518) 442-3130 or Saint Rose Security at (518) 454-5187.
Barack Obama tells America in his weekly Address what you need to know about the Ebola …  "If you like your Ebola, you can keep your Ebola."
This is what happens when you elect a community organizer, a divider and a person who makes everything political, including the safeguarding of America president. Barack Obama has been a failure with the economy, failure with reducing the national debt, failure with Obamacare, failure with foreign policy in the Middle East (Iraq, Libya, Syria, Egypt and Iran to name a few), failure in dealing with Russia, failure in securing our Southern border with Mexico, failure to improve race relations in the US, failure with ISIS and has had so many scandals that Richard Nixon looks like a choir boy. The scandals include Fast and Furious, Benghazi-gate, IRS-gate, AP-gate, James Rosen-gate, Eric Holder perjury. Its reads like an Obama scandal list from A to Z.
Now we are supposed to trust Obama and his cronies with Ebola. Maybe they can do better than the role out of the Healthcare.gov website. During his Weekly Address, this fool actually made the comparison of flu deaths to Ebola. Obama stated, "As our public health experts point out, every year thousands of Americans die from the flu.  Ebola is actually a difficult disease to catch.  It's not transmitted through the air like the flu."  Wow genius, really? You would dare reference Ebola and the flu in the same breath? However, Barack Obama is failing to mention that the death rate in the Ebola epidemic has risen to 70%, up from 50%. But Obama wont talk about those facts.
The World Health Organization (WHO) made the announcement at a news conference in Geneva, where officials said there could be up to 10,000 new cases of the virus every week within two months.
Weekly Address Transcript:  [comments below in blue, editorial notes]
Today, I want to take a few minutes to speak with you-directly and clearly-about Ebola: [From the president who brought us, if you like your doctor and healthcare plan, you can keep your doctor and healthcare plan, period!] what we're doing about it, and what you need to know .  Because meeting a public health challenge like this isn't just a job for government.  All of us-citizens, leaders, the media-have a responsibility and a role to play.  This is a serious disease, but we can't give in to hysteria or fear-because that only makes it harder to get people the accurate information they need.  We have to be guided by the science.  We have to remember the basic facts. [When has the Obama administrations ever cared about the facts?]

First, what we're seeing now is not an "outbreak" or an "epidemic" of Ebola in America. [No, we have two infected nurses and one dead individual from Liberia and too many others who have been exposed to these 3 people]. We're a nation of more than 300 million people.  To date, we've seen three cases of Ebola diagnosed here-the man who contracted the disease in Liberia [and was sent home from the hospital the first time], came here [a Liberian man, Thomas Eric Duncan, who lied on his flight questionnaire and came to the US knowing he had been exposed to Ebola]. and sadly died; the two courageous nurses who were infected  [one was blamed by the CDC director for not following protocol, the other was allowed to get on a plane with a low grade fever by the CDC and thus exposing others to the disease]. while they were treating him.  Our thoughts and our prayers are with them, and we're doing everything we can to give them the best care possible.  Now, even one infection is too many.  At the same time, we have to keep this in perspective.  As our public health experts point out, every year thousands of Americans die from the flu. [Are you kidding that this moron is making comparisons between the flu and Ebola?]

Second, Ebola is actually a difficult disease to catch.  It's not transmitted through the air like the flu.  You cannot get it from just riding on a plane or a bus.  The only way that a person can contract the disease is by coming into direct contact with the bodily fluids of somebody who is already showing symptoms. [BS ... Ebola is not AIDS. You can get Ebola from bodily fluids like sweat and saliva left on a plane or bus seat, railing, surface. Also, if some one coughs, sneezes or slits and fluid comes out]  I've met and hugged some of the doctors and nurses who've treated Ebola patients.  I've met with an Ebola patient who recovered, right in the Oval Office.  And I'm fine. [Obama, you are far from fine, but that is a whole other story. Maybe we should make Barack Obama the official greeter at the airport for all peoples coming from West Africa Ebola riddled countries?]

Third, we know how to fight this disease.  We know the protocols. [Really, then why did the CDC just change the protocols?]  And we know that when they're followed, they work.  So far, five Americans who got infected with Ebola in West Africa have been brought back to the United States-and all five have been treated safely, without infecting healthcare workers.

And this week, at my direction [me, me, me, me], we're stepping up our efforts.  Additional CDC personnel are on the scene in Dallas and Cleveland.  We're working quickly to track and monitor anyone who may have been in close contact with someone showing symptoms.  We're sharing lessons learned [How in the hell did they not have lessons learned from treating Ebola in West Africa?] so other hospitals don't repeat the mistakes that happened in Dallas.  The CDC's new Ebola rapid response teams will deploy quickly [You mean we already did not have one like in the movie, 'Outbreak'?] to help hospitals implement the right protocols.  New screening measures are now in place at airports that receive nearly all passengers arriving from Liberia, Guinea and Sierra Leone [The same similar screenings that would have still allowed Thomas Eric Duncan into the United States].  And we'll continue to constantly review our measures, and update them as needed, to make sure we're doing everything we can to keep Americans safe.
Posted October 19, 2014 by

Scared Monkeys Barack Obama

,

collusion

,

Community Agitator

,

Corruption

,

cronyism

,

Divider in Chief

,

Ebola

,

Epic Fail

,

Ethics

,

Healthcare

,

Misleader

,

The Lying King

,

Transparency

,

WTF

,

You Tube - VIDEO

|

one comment