20 year old Nicole Montez walks away with two broken vertebrae while her passenger is unharmed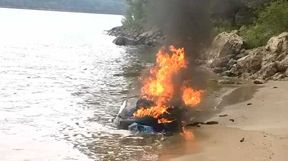 Daily Commentary – Friday, August 22, 2014
Download
Barack Obama, The Law Breaker in Chief …
The GAO, Government Accountability Office, issued a report that concluded that the Obama Administration broke federal law when it released five Taliban prisoners from GITMO in exchange for Bowe Bergdahl without notifying Congress in advance. According to the GAO, the Pentagon "violated" the 2014 Department of Defense Appropriations Act "when it transferred five senior Taliban prisoners to Qatar without providing at least 30 days notice to certain congressional committees. The GAO also found that the DOD violated the "Antideficiency Act," which prevents unauthorized government expenditures. As Hot Air opines, many Democrats in Congress spent much of the summer dismissing Republicans' claims as partisan and even callous, preferring to focus on the return of an American soldier held captive rather than the politically expedient removal of the "Taliban Five" from American custody. Now we know what many had suspected and alleged … The Obama Administration broke the law.
Full GAO report can be read here.
The Obama administration violated federal law when it released five senior Taliban leaders from prison without notifying Congress, as is legally mandated, according to an investigation by the Government Accountability Office (GAO).

The GAO concluded in a report issued Thursday that the Obama administration failed to provide proper notification of the Taliban release and illegally used taxpayer funds that were not appropriated to enable the inmate transfer, according to the report.

The Obama administration in May secretly struck a deal with the Taliban in Afghanistan to free from the Guantanamo Bay prison camp in Cuba five of its top leaders in exchange for the return of captured U.S. soldier Bowe Bergdahl, who was later accused by fellow soldiers of having deserted the Army prior to his capture.

The Pentagon was found to have "violated" the 2014 Department of Defense Appropriations Act "when it transferred five individuals detained at Guantanamo Bay, Cuba, to the nation of Qatar without providing at least 30 days notice to certain congressional committees," according to the report.
Barack Obama 5 for 1 swap was already on the wrong side with the American people and their belief that it was wrong to release 5 senior Taliban individuals in exchange for what many believe to be a military deserter, now we find Obama is on the wrong side of the law as well.
Posted August 22, 2014 by

Scared Monkeys Abuse of Power

,

Barack Obama

,

Chicago-Style Politics

,

Community Agitator

,

Democrats

,

Divider in Chief

,

Epic Fail

,

Government

,

Imperial President

,

Law Breaker in Chief

,

Misleader

,

Obamanation

,

Pentagon

,

Transparency

|

no comments
O'REILLY SLAMS THE FERGUSON, MO OPPORTUNISTS …
Bill O'Reilly returned from vacation to put forth the below 'Talking Point Memo,'  maybe one of his best in a long, long time. O'Reilly discussed the situation in Ferguson, Missouri since the death of Michael Brown on August 9 and blasted the liberal MSM for their bias reporting and ripped the likes of Al Sharpton, calling him a charlatan.
Al Sharpton has the nerve to insult the American police community, men and women risking their lives to protect us. This charlatan has the gall to do that and NBC News is paying him. My god! Why is that acceptable?"
Something Al Sharpton will never give him because Sharpton only cares about his own self-aggrandizement and if he has to stoke racial hatred to get that, that's what Sharpton will do. I know this man. His record defines him. Yet, he has succeeded in bringing his brand of racial grievance to the White House.

[T]o the race hustlers, Officer Wilson is already guilty. They have convicted him. There slogan is no justice, no peace. I guess that's lynch mob justice because if those people will never accept anything other than a conviction of murder in this case. They don't really care what happened. They want Officer Wilson punished and he should be punished if he murdered Michael Brown.

Many of the others are trouble makers who just streamed into town, but the liberal media will never report that. Nor will they report the true picture of criminal justice in the U.S.A.
Posted August 21, 2014 by

Scared Monkeys Al Sharpton

,

Black America

,

Blacks

,

Ferguson

,

Media

,

Media Bias

,

Minorities

,

MO

,

MSNBC

,

No Justice

,

No Peace

,

Race Card

,

Racism

|

3 comments
To the IDIOT teacher that would be so offended by a student saying bless you … Bless your heart.
So much for the Bible belt … Kendra Turner, a  Dyer County High School senior was suspended for saying "bless you" after a fellow classmate sneezed. HUH? Mind you the high school student did not even say God bless you, just bless you. But for this she was told to go to the school administrator and then served the rest of the class period with in-school suspension. According to reports, bless you is on a list of words that this teacher does not allow in her class that include: stupid, dumb, boring, stuff, i don't know, other peer expressions, bless you, hang out and my bad. I am guess they don't teach the US Constitution at Dyer County high School and namely the First Amendment. In this day and age where we yearn for our youth to be responsible and kind to one another and battle school bullying, this is the crime that gets a student suspension? Really, why stop there … had she said God bless you would that have meant being expelled?
KUDOS to Kendra Turner for standing up for her rights.
Action News 5 – Memphis, Tennessee
A young girl, who claims she was standing up for her religious beliefs in the classroom, was suspended after breaking a class rule of saying "bless you" after a classmate sneezed.

When Dyer County High School senior Kendra Turner said bless you to her classmate, she says her teacher told her that was for church.

"She said that we're not going to have godly speaking in her class and that's when I said we have a Constitutional right," said Turner.

Turner said when she defended her actions, she was told to see an administrator. She said she finished the class period in in-school suspension.

Students sent WMC a photo of the teacher's white board that lists 'bless you' and other expressions that are banned as part of class rules.
Pretty amazing how this high school senior is a bigger individual than her teacher. I guess God will do that.  Kendra Turner said she doesn't want trouble for her teacher but says she'll stand up for her faith … "It's alright to defend God and it's our constitutional right because we have a freedom of religion and freedom of speech."
Here is my note to the teacher that would some how think that bless you and stupid would ever be included in the same list. As I was hanging out I came across a teacher that was outraged that a student said bless you.  This educator might be the most stupid and closed minded individual ever that would some how be so dumb that words like boring and stuff would be used in the same sentence as bless you. I guess if I said this in class it would get me suspended or expelled, sorry, my bad!
Daily Commentary – Thursday, August 21, 2014 Download
DRIP, DRIP, DRIP … Information comes out that police officer Darren Wilson was severely beaten prior to shooting.
Fox News is reporting that Ferguson, MO police officer Darren Wilson was badly beaten by Michael Brown during the confrontation prior to the shooting death of Brown. ABC News is reporting that the characterization of Officer Darren Wilson being injured in his confrontation with Michael Brown comes on the day that a grand jury was expected to begin hearing evidence in the shooting. Who wouldn't release such information in a story that has been so one-sided reported and slanted against officer Wilson by the MSM? And a bias governor calling for a "vigorous prosecution"  According to reports, the grand jury will be shown the hospital photo of the office's facial injuries.
Darren Wilson, the Ferguson, Mo., police officer whose fatal shooting of Michael Brown touched off more than a week of demonstrations, suffered severe facial injuries, including an orbital (eye socket) fracture, and was nearly beaten unconscious by Brown moments before firing his gun, a source close to the department's top brass told FoxNews.com.

"The Assistant (Police) Chief took him to the hospital, his face all swollen on one side," said the insider. "He was beaten very severely."

According to the well-placed source, Wilson was coming off another case in the neighborhood on Aug. 9 when he ordered Michael Brown and his friend Dorain Johnson to stop walking in the middle of the road because they were obstructing traffic. However, the confrontation quickly escalated into physical violence, the source said.

"They ignored him and the officer started to get out of the car to tell them to move," the source said. "They shoved him right back in, that's when Michael Brown leans in and starts beating Officer Wilson in the head and the face."

Wilson suffered a fractured eye socket in the fracas, and was left dazed by the initial confrontation, the source said. He is now "traumatized, scared for his life and his family, injured and terrified" that a grand jury, which began hearing evidence on Wednesday, will "make some kind of example out of him," the source said.
What sounds more plausible, the accounts above or that Michael Brown was assassinated by a rogue cop being shot in the back when autopsy images specifically show all shots to the front of Brown?
Legal Insurrection has more as to the possible validity that Darren Wilson was beaten badly. Even the NY Times reported it, albeit buried deep in the article.
Further indicating the story may be true is the fact that even the liberal NY Times reported today that Wilson was injured during the altercation. Allahpundit notes at Hot Air that, although the Times buried the news in the 21st paragraph of its article, it was the first report in a major paper that Wilson was injured at the hands of Brown. Now Fox News has climbed aboard, with more details.

In addition, yesterday blogger Jim Hoft had reported at Gateway Pundit that police sources had informed him that Wilson suffered an "orbital blowout fracture to the eye socket" as a result of his encounter with Brown.
St. Louis County Prosecutor Robert McCulloch said the grand jury investigation will be thorough. I guess this is the reason why so many want him to be removed from this case. Many with an agenda just want Officer Wilson to be indicted, tried, convicted and put to death as fast as possible without looking at all the facts.
 "They will have absolutely everything there is, every piece of paper, every photograph, every bit of physical evidence, all of the forensic information," the district attorney said.

Supporters of Wilson, however, point to a videotape taken by a Ferguson resident showing Brown's body lying in the street. In the background of the video a man's voice can be heard saying, "Police got out and ran after him. The next thing I know he's coming back towards the officer. The police had his gun drawn on him."

That would conflict with witnesses who said Brown was standing still with his hands raised when Wilson shot him.

Antonio French, an alderman in Ferguson, reacted with skepticism to McCullough's announcement that it could be another two weeks before there is a decision on whether to prosecute the police officer.
GOV. JAY NIXON … JUDGE, JURY AND EXECUTIONER … HE SAID WHAT?
Seriously, imagine being a police officer in Ferguson, MO or in the state of Missouri for that matter with a governor that has already prejudged the shooting death of Michael Brown at the hands of officer Darren Wilson? Gov. Nixon (D-MO) stated that a "vigorous prosecution must now be pursued". Not just any prosecution, but a vigorous one.  Actually sir, a vigorous investigation needs to occur to determine what actually happened the day of the shooting and the events that led to it, not a vigorous prosecution so to placate your voting base. Just curious … what is correct justice as defined by this governor? Does Gov. Nixon know something that we don't? Hardly. This political gas bag is only making matters worse. Much can be inferred in the fact that he used the word "correctly" last.  I can't imagine that police officers in Missouri are too enamored with Nixon seeing that he has pre-judged this case and his only idea of justice is for Michael Brown. No one at this point knows exactly what happened, not even Gov. Nixon.  Police officer Darren Wilson may be in the end at fault; however, what if he was not, the fact prove it and a jury finds him not guilty?  Would that be justice as well?
"A vigorous prosecution must now be pursued,"

"The democratically elected St. Louis county prosecutor and the attorney general of the United States each have a job to do."

"Their obligation to achieve justice in the shooting death of Michael Brown must be carried out thoroughly, promptly, and correctly"
Gov. Nixon Calls For 'Vigorous Prosecution' Of Darren Wilson.
Not content with a regular prosecution or a vigorous investigation, Missouri Gov. Jay Nixon said he hopes that Ferguson, Missouri, police officer Darren Wilson will receive a "vigorous prosecution" in the shooting death of Michael Brown on Aug. 9.

"A vigorous prosecution must now be pursued," Nixon said in a five minute video address posted to his website Tuesday.

"The democratically elected St. Louis county prosecutor and the attorney general of the United States each have a job to do," said Nixon, a Democrat.

"Their obligation to achieve justice in the shooting death of Michael Brown must be carried out thoroughly, promptly, and correctly," said Nixon of investigators.

U.S. Attorney General Eric Holder plans to visit Ferguson on Wednesday to meet with federal law enforcement officials and community leaders. Forty FBI investigators traveled to Ferguson over the weekend to interview witnesses.

Nixon has not directly justified his call for a strong prosecution. He has not indicated that he has any information on the shooting that has not been made public.
Posted August 20, 2014 by

Scared Monkeys Black America

,

Deceased

,

Ferguson

,

Governors

,

Justice

,

Law Enforcement

,

MO

,

No Justice

,

No Peace

,

Racism

,

WTF

,

You Tube - VIDEO

|

9 comments
After driving at speeds as high as 130mph, she was found to be under the influence of synthetic marijuana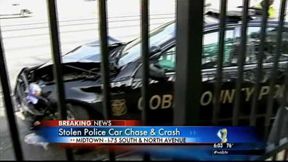 Daily Commentary – Wednesday, August 20, 2014 Download
SAVAGES BEHEAD AMERICAN JOURNALIST …
ISIS has released a video showing the beheading of U.S. journalist James Foley and has threatened the life of another American journalist held hostage if President Barack Obama doesn't end military operations in Iraq. The savage execution just shows how brutal and without conscience these individuals really are.  SM will not post or link out the violent video of Foley's killing out of respect to his family, but as Mediaite reports, the video (edited), entitled "Letter to America," shows ISIS terrorists forcing Foley to read a letter urging Americans to rise up against his "real killer, the U.S. government."Also, Foley is forced to go on and say, the U.S. airstrikes against ISIS "hammered the final nail into [his] coffin." James Foley disappeared on November 22, 2012, in northwest Syria, near the border with Turkey when he was reportedly forced into a vehicle by gunmen.
A video released by ISIS shows the beheading of U.S. journalist James Foley and threatens the life of another American if President Barack Obama doesn't end military operations in Iraq.

In the video posted Tuesday on YouTube, Foley is seen kneeling next to a man dressed in black. Foley reads a message, presumably scripted by his captors, that his "real killer" is America.

"I wish I had more time. I wish I could have the hope for freedom to see my family once again," he can be heard saying in the video.

He is then shown being beheaded.
UPDATE I: ISIS Says They Will MURDER A SECOND JOURNALIST UNLESS OBAMA ACTS.
Islamic State, ISIS, says that another U.S. journalist's fate depends on Barack Obama.
Islamic State militants claimed in a video on Tuesday to be holding U.S. journalist Steven Sotloff and said his life depended on U.S. President Barack Obama's next move.

"The life of this American citizen, Obama, depends on your next decision," said a masked man in the video posted on social media sites, speaking English with a British accent as he held a prisoner the video named as Steven Sotloff.
UPDATE II: A message from Jim's mom, Diane Foley from Facebook.
A message from Jim's mom, Diane Foley:

We have never been prouder of our son Jim. He gave his life trying to expose the world to the suffering of the Syrian people.

We implore the kidnappers to spare the lives of the remaining hostages. Like Jim, they are innocents. They have no control over American government policy in Iraq, Syria or anywhere in the world.

We thank Jim for all the joy he gave us. He was an extraordinary son, brother, journalist and person. Please respect our privacy in the days ahead as we mourn and cherish Jim.
James Foley, RIP
UPDATE III: Rest in Peace James Wright Foley.
Foley, 40, grew up in New Hampshire and was originally a teacher, at one point teaching prison inmates in Arizona, before attending the Medill school of journalism at Northwestern University. After graduation, his first assignment was as an embed with the U.S. Army's 173rd Brigade and 101st Airborne Division in Afghanistan.  Foley had been covering the Syria's civil war for GlobalPost and Agence France-Presse (AFP) when he was allegedly pulled from the car he was traveling in to meet with a colleague and abducted at gunpoint. According to the Columbia Journalism Review, GlobalPost hired an international security firm for a ground level investigation in Northern Syria and along the Turkish border to locate him.

Foley was also detained and held for 44 days in Libya in 2011.
Colleagues remember, post pictures of American journalist James Foley on social media
President Barack Obama heads back to Martha's Vineyard for vacation and not a word regarding this savage beheading at the hands of the jayvee terrorists, ISIS.
Posted August 20, 2014 by

Scared Monkeys Deceased

,

Hostages

,

ISIS

,

Media

,

Murder

,

Radical Islam

,

United States

,

War on Terror

,

WTF

,

You Tube - VIDEO

|

one comment
HMM, More Than a Dozen Witnesses Have Corroborated Officer Darren Wilson's Version of Ferguson Shooting.
Police sources reportedly told St. Louis Post-Dispatch reporter Christine Byers that more than a dozen witnesses backed up the account of Ferguson police officers version of the shooting of Michael Brown.
Twitter – Christine Byers ?@ChristineDByers
More than a dozen witnesses have backed up the account of Ferguson police officer Darren Wilson in the controversial shooting of 18-year-old Michael Brown, police sources reportedly told St. Louis Post-Dispatch reporter Christine Byers.

Byers also reported on Monday that Brown's body was transported from the county medical examiner to a funeral home and then back to the medical examiner for three autopsies.

Though Wilson has not spoken publicly about his side of the story, an alleged friend of the officer, identified only as Josie, shared what she claimed to be Wilson's recollection of events. CNN later confirmed that the woman's account matches Wilson's account of the shooting, according to their law enforcement sources.

The woman called into TheBlaze TV host Dana Loesch's radio show on Friday, claiming that Brown "bum-rushed" Wilson moments after pushing him into his squad car, punching him in the face and trying to grab the cop's gun.