HILLARY CLINTON DOUBLE STANDARD – HYPOCRITE ALERT …
Will "You Got Email-gate" sink Hillary Clinton and her 2016 presidential run? Do we really need this as our next President? We already knew that Hillary Clinton entered the 2016 presidential race with a mountain of baggage that would put an average person broke checking in for a flight at the airport, but now this. Not only does scandal seem to follow Hillary, but so does her previous comments she made. Low and behold we have one of Hillary Clinton, the so-called next Democrat presidential nominee making comments in 2005 saying that the Bush White House shredded the US Constitution by doing what of course … using private email accounts. You just can't make this stuff up, as much as the liberal MSM wishes it was made up.
If a private email account is shredding the Constitution, what is owning their own private server?
Posted March 6, 2015 by

Scared Monkeys Democrats

,

Double Standard

,

Hillary Clinton

,

Hypocrisy

,

Liberals

,

Progressives

,

Scandal

,

WTF

,

You Got Email-gate

,

You Tube - VIDEO

|

no comments
"HANDS UP DON'T SHOOT WAS A LIE" … DOJ WON'T FILE FEDERAL CIVIL RIGHTS CHARGES AGAINST FORMER POLICE OFFICER DARREN WILSON.
Eric Holder's DOJ eats crow again as there will be no civil rights charges brought be the feds against former Ferguson, MO police officer Darren Wilson. The Justice Department report found no evidence that "Wilson's actions violated federal civil rights laws." Of course he didn't. All Officer Wilson did was his job in tying to arrest a punk who strong armed robbed a convenience store. The result was an altercation with a so-called, bias-media driven "gentle giant" who tried to assault officer Wilson and take his gun.  Question, does it really take an investigation from the DOJ to learn the obvious, when a street thug robs a store, assaults a police officer and tries to take their gun, one winds up dead. Police officer Darren Wilson was charged with the murder of Michael Brown and a witch hunt occurred by the liberal media and so-called black activists to get a scalp. Because heaven forbid, officer Wilson was just doing his job, protecting and servicing the public from a punk. In the end, Darren Wilson was 100% exonerated of all criminal and civil rights charges as a grand jury refused to even indict Wilson and not the DOJ knows it has nothing to charge him with either. It was all a show to trump up racial tension, create division and then find a scapegoat. The MSM's, Al Sharpton's and Eric Holder's war on police failed in this case. But their actions have probably harmed him in that he can probably never get another job as a police officer, ever.
A good man and police officer exonerated
Former Ferguson police officer Darren Wilson's attorney is reacting to the findings of the Justice Department investigation saying there will be no federal civil rights charges filed against Wilson.

Attorney Neil Bruntrager says Wilson is pleased with what amounts to an "exoneration" from the DOJ.

"Well, obviously the reaction is one of relief," Bruntrager says. "It's been a long road for him. Now he needs to get on with his life."

The Justice Department report found no evidence that "Wilson's actions violated federal civil rights laws."
86 page DOJ doc into investigation of Officer Wilson to prove what we already knew, he did nothing wrong. There was never any "willful" act on the part of Officer Wilson to violate Michael Brown's civil rights , ever. In fact, one might say that the only "willful" act in all of this was to railroad Officer Wislon in a race-baiting witch hunt. From page 86 below of DOJ's report regarding the criminal investigation into the shooting death of Michael Brown.
As discussed above, Darren Wilson has stated his intent in shooting Michael Brown was
in response to a perceived deadly threat. The only possible basis for prosecuting Wilson under
section 242 would therefore be if the government could prove that his account is not true – i.e.,
that Brown never assaulted Wilson at the SUV, never attempted to gain control of Wilson's gun,
and thereafter clearly surrendered in a way that no reasonable officer could have failed to
perceive. Given that Wilson's account is corroborated by physical evidence and that his
perception of a threat posed by Brown is corroborated by other eyewitnesses, to include aspects
of the testimony of Witness 101, there is no credible evidence that Wilson willfully shot Brown
as he was attempting to surrender or was otherwise not posing a threat. Even if Wilson was
mistaken in his interpretation of Brown's conduct, the fact that others interpreted that conduct
the same way as Wilson precludes a determination that he acted with a bad purpose to disobey
the law. The same is true even if Wilson could be said to have acted with poor judgment in the
manner in which he first interacted with Brown, or in pursuing Brown after the incident at the
SUV. These are matters of policy and procedure that do not rise to the level of a Constitutional
violation and thus cannot support a criminal prosecution. Cf. Gardner v. Howard, 109 F.3d 427,
430–31 (8th Cir. 1997) (violation of internal policies and procedures does not in and of itself rise
to violation of Constitution).
Because Wilson did not act with the requisite criminal intent, it cannot be proven beyond
reasonable doubt to a jury that he violated 18 U.S.C.§ 242 when he fired his weapon at Brown.
VI. Conclusion
For the reasons set forth above, this matter lacks prosecutive merit and should be closed.
Officer Wilson's attorney, Attorney Neil Bruntrager, stated "Well, obviously the reaction is one of relief. It's been a long road for him. Now he needs to get on with his life." Yes he does and that is the question. How does Darren Wilson get on with his life and his life back after the smear merchants in the MSM, the race hustlers like Al Sharpton, Jesse Jackson and the bias and race card playing likes of Attorney General Eric Holder have all but ruined this good man's reputation?
Posted March 5, 2015 by

Scared Monkeys AG Eric Holder

,

Al Sharpton

,

Black America

,

Department of Justice (DOJ)

,

DOJ - Dept of Justice

,

Ferguson

,

Jesse Jackson

,

Law Enforcement

,

Legal - Court Room - Trial

,

MO

,

Not Guilty

,

Race Card

,

Racism

|

no comments
11 year old Anthony Sosa has been missing since Thursday morning, March 5, 2015 in Schertz, Texas. According to police deputies, the boy was last seen at approximately 7:30 a.m. on Hillbrook Road heading towards Schaefer Road. According to Anthony Sosa's mother, the boy ran off following an argument and has not been seen or heard from since.  Sosa left his home wearing green pajamas with dinosaurs on them and was not wearing shoes or a jacket. The 11 year old boy is said to have medical condition and the temperatures in Texas dipped into the 30′s on Thursday.
The search began after a woman flagged down a Bexar County deputy around 8:15 a.m. and told them her son had run away from home following an argument, said deputies.

Deputies said the boy was last seen wearing green pajamas with dinosaurs on them, no shoes and no jacket. The boy is described as a Hispanic male with brown hair and brown eyes, standing approximately 4 feet tall and weighing 60 lbs.
With the cold temperatures and 11 year old Anthony Sosa reportedly leaving home with no coat or shoes, one would think that authorities would have to look in every house, outbuilding, shed, barn, abandoned car in the area. How far could he have gotten on foot?
Map – Google: click HERE for expandable map
UPDATE I: Agencies statewide search for missing Schertz boy.
Bexar County sheriff's deputies and their K-9 units assisted in the search. San Antonio police searched for Anthony using their Eagle helicopter.

"With the weather out here and the fact that he did leave with no shoes and no jacket, it's obviously complicating the search because of the time frame," Correu said. "Anybody in these conditions can only remain out here so long."

Alamo Area Search and Rescue, the Heidi Search Center, College Station Search Dog Network and Travis County Search and Rescue were also called in to use specially-trained dogs to track the boy's scent.
Thursday afternoon, the Texas Game Warden joined the search efforts using their dogs and helicopter. The San Antonio Fire Department also contributed resources.

All-terrain vehicles were also brought in to help comb the area.

Much of the area surrounding Anthony's home is covered in brush and trees.

The Red Cross also arrived at the scene to provide relief to first responders.
The Bexar County Sheriff's Office is assisting the Schertz PD and the San Antonio Police Department launched its helicopter to help with search efforts. If you spot Anthony, call 911. Or If you see Anthony, call the Schertz Police Department at 210-619-1200.
IT LOOKED LIKE A SCENE OUT OF INDIANA JONES, BUT THIS WAS MUCH MORE REAL …
Actor Harrison Ford was involved in a plane crash late this after noon when his single engine, Ryan Aeronautical ST3KR, vintage World War II training plane crash landed on a golf course in Mar Vista, California shortly after takeoff from Santa Monica Airport. The 72-year-old actor, best known for his roles as Indiana Jones and Hans Solo of Star War movie fame, was reported conscious and breathing when rescue crews reached him, was stabilized and taken to a hospital. The plane to crash about 2:20 p.m. (5:20 p.m. ET).
Actor Harrison Ford was "battered but OK" Thursday after his vintage World War II training plane crash landed on a California golf course, authorities and family members said.

The 72-year-old actor, who was conscious and breathing when rescue crews reached him, was stabilized and taken to a hospital, where he was in fair to moderate condition, authorities said. Sources said he sustained cuts to his head. There was no word on other injuries or what caused the plane to crash about 2:20 p.m. (5:20 p.m. ET). It appeared he was flying solo.

The plane, a single-engine Ryan Aeronautical ST3KR, crashed on the golf course shortly after takeoff from Santa Monica Airport, said Patrick Jones, an investigator for the National Transportation Safety Board. The pilot reported a loss of engine power, clipped the top of a tree and was trying to return to the airport, Jones said.
UPDATE I: TMZ – Plane Crashes:[Video Update: Paramedics Treat Harrison]. TMZ has video below of first responders and paramedics ate the scene of the plane crash aiding Harrison Ford.
A witness who was golfing at the time of the crash tells us she heard the engine sputter … and watched the plane do a "nose dive straight on the 8th hole tee box."

The witness adds, "I was one of the first people to run from the hole toward the plane. 4 to 5 men pulled the pilot out of the plane."

"They got him away from the plane. They were concerned it would catch on fire."

"Two doctors were there – and they had a 1st aid box with them. He was conscious, talking a little — a HUGE cut on his head."
UPDATE II: Harrison Ford's son Ben Ford tweeted, 'Dad is ok. Battered, but ok! … "He is every bit the man you would think he is. He is an incredibly strong man."
UPDATE III: CNN is reporting that the plane crash at the golf course happened within a block away from houses in a residential neighborhood.
Actor Harrison Ford was "banged up" and hospitalized Thursday afternoon after a 1940s aircraft he was piloting crashed during a forced landing on a golf course, his publicist said.

"Dad is ok. Battered, but ok! He is every bit the man you would think he is. He is an incredibly strong man," Ben Ford tweeted.

Los Angeles Fire Department Assistant Chief Patrick Butler, who wouldn't identify Ford as the patient, said the pilot suffered moderate trauma and was "alert and conscious" when he was taken to the hospital. He said the pilot, the only person on board, was in fair to moderate condition.
UPDATE IV: Harrison Ford Undergoing Surgery After Venice Plane Crash, Source Close to Family Says.
"We are bound by privacy laws to never discuss … the patient's identity," fire Assistant Chief Patrick Butler said.

But a source close to Ford's family told KTLA: "He's fine, has a few gashes." The individual later said the actor was going into surgery for broken bones.
UPDATE V: Statement from publicist sent out about the crash:
A representative for Ford says, "Harrison was flying a WW2 vintage plane today which stalled upon takeoff." They added, "He had no other choice but to make an emergency landing, which he did safely.  The injuries sustained are not life-threatening, and he is expected to make a full recovery."

The pilot was in fair-to-moderate condition when he was transported, not in critical condition as originally reported, according to Butler.
UPDATE VI: Harrison Ford and Air Traffic Control Audio prior to plane crash via TMZ.
MASTER MISTRESS MANIPULATOR JODI ARIAS ESCAPES DEATH PENALTY …
Jodi Arias will not be put to death. For the second time, Jodi Arias, the Black Widow, has escaped death as a jury of her peers was a hung jury and could not unanimously agree that she should be put to death for the heinous stabbing death of her boyfriend Travis Alexander. By an 11-1 decision, the hung jury spared Arias' life as many of the jurors were angered and hurt that they did not properly do their job as a juror for Travis Alexander  or his family. It would appear that Jodi Arias will be sending a thank you note to the lone juror for the rest of her life. Now that a there has been a second hung jury, according to Arizona law, with the second jury unable to reach a decision on Arias' punishment, the case is no longer eligible for the death penalty. A judge will now sentence Arias on April 13, 2015 to either life in prison or a life term with the possibility of release after 25 years. WHAT? Jodi Arias has lied her way through 3 trial, she violently murdered Travis Alexander stabbed him nearly 30 times, slit his throat so deeply that she nearly decapitated him, and shot him in the forehead. She first denied it, then said she did it in self defense. SELF-DEFENSE? Hell, why didn't she say it was suicide? It would be a travesty of justice if this lying POS is given a sentence of a life term with the possibility of release after 25 years.
A hung jury in Phoenix was unable to decide whether Jodi Arias deserved the death penalty or life in prison for the gruesome murder of her lover Travis Alexander in 2008.

It's the second time in the years since her 2013 conviction that an Arizona jury could not unanimously choose whether to put the murderer to death. This time around, jurors grappled for five days with the decision and couldn't come to an agreement. The jury foreman said everyone had their mind made up and had no plans to budge.

Arias flew off the handle and stabbed Alexander to death nearly seven years ago after he told her he wanted to end their sordid affair and had plans to vacation in Mexico with another woman.
Jodi Arias jurors: 'Penalty should have been death'
 Jurors trash the lone belligerent juror who held out for Jodi Arias. One of the jurors even said that they were angered because this one hold out had her mind made up from the beginning and what angered him was that the juror  said that the death penalty was just a form of revenge. Some of the jurors even stated that they thought the one hold out had an agenda.
The jurors alternately expressed remorse that they were not able to reach a verdict and anger at the woman who held out against the death penalty, saying they suspected she had an "agenda."

"We really feel like we made a huge effort," one juror said. "I could not say how sorry I am that it wasn't enough."

It was the second time a jury was hung on the question of whether to sentence Arias to death or life in prison for the June 4, 2008, slaying of her lover, Travis Alexander.

"The 11 of us strived for justice but to no avail," a juror said. "We absolutely feel the penalty should have been death."
An Amber alert, Endangered Child Alert, has been issued by the Clarksville, TN police department for Middle Tennessee for missing 9 year old Christopher King Ponce, who was abducted by William Allen Borck. Christopher King Ponce was kidnapped by William Allen Borck, also known as William Stanley King, after a custody hearing held on February 27, 2015 in which Borck lost custody of Christopher. Following the hearing, police say that he drove to the child's school and checked him out of class. Also, according to authorities, Borck has a history of being armed and should be approached with caution. William Allen Borck/William Stanley King is currently wanted for custodial interference and filing a false police report.
It would appear that William Allen Borck/William Stanley King is the estranged husband of the child's mother, Yenny Ponce, and the boy's stepfather.
Left to right, Christopher King-Ponce & William Allen Borck, also known as William Stanley King
Christopher is a Hispanic male, 5 feet tall and weighs approximately 80 pounds. He has brown hair and brown eyes. He was last seen wearing a blue, black and white coat, blue jeans, a hooded gray sweatshirt with red, blue and orange writing and tan shoes with red shoe laces. Christopher also wears glasses.

56-year-old William Allen Borck may be driving either a red pick-up truck with a camper or a red 1986 Toyota SUV Disabled TN Tag DD-1841. He stands 5'8″ tall, weighing 130 pounds with graying dark brown hair and brown eyes. He was last seeing wearing a black suit jacket, black dress pants and a black tie. He is currently wanted for Custodial Interference and Filing a False Police Report.
UPDATE I: According to the National Center for Missing and Exploited Children (NCMEC), it is believed they may be traveling from Tennessee to Mexico.
UPDATE II: Mother pleads for safe return of son abducted in Clarksville.
The mother of an abducted boy is pleading for her son's safe return.

Yenny Ponce, who spoke to News 2 via Skype Monday, says her estranged husband took her 9-year-old Christopher King-Ponce and fled.

His mother told News 2 she planned on taking Christopher home with her to South Carolina after the hearing, but she never go the chance.

"When he heard the judge's decision, he just ran out of court and went to the school right away to take Chris," Ponce said. "He doesn't really want Chris. He just wants to hurt me."

She added, "I just want my son back." (VIDEO)

Police have reason to believe the suspect might be taking Christopher from Tennessee to Mexico.
UPDATE III: Mother says boy's stepfather kidnapped him to hurt her.
Yenny Ponce drove nearly 600 miles from South Carolina to Clarksville to persuade a judge to give back her 9-year-old son after the boy's stepfather won temporary custody by making allegations she was trying to prostitute the boy.

She won back custody Friday after police said an investigation proved the stepfather was the one who posted an ad on Craigslist in an attempt to frame her.

But as Ponce of Bluffton, South Carolina, waited for the papers to be processed at the Montgomery County Courts Center, her estranged husband was racing to the boy's school, Byrns Darden Elementary. By the time she arrived to be reunited with her child Friday afternoon, both he and his stepfather were gone.
If you have seen the child, suspect or vehicle, please contact the Clarksville Police Department at 931-648-0656 or TBI at 1-800-TBI-FIND
Officer Terrence Avery Green was shot in the back of the head, minutes after arriving at the location of the disturbance. R.I.P.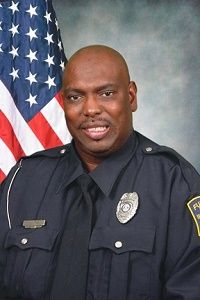 Terence Avery Green
Daily Commentary – Thursday, March 5, 2015 Download
18 year old Anjelica "AJ" Hadsell has been missing since Tuesday, March 3, 2015 in Norfolk, Virginia. She was last seen around 5:30 a.m. at her parent's home in the Tarrallton Area of Norfolk. Her parents reported her missing around 9:15 that evening. Norfolk police said detectives have no indication of foul play; however, they are still looking for the missing 18 year old.
UPDATE I: Missing Norfolk teen may have been seen at VCU.
 A missing Norfolk teenager may have been spotted on the campus of Virginia Commonwealth University, police said Thursday.

They stress the sighting of 18-year-old Anjelica "AJ" Hadsell Wednesday on the Richmond campus has not been confirmed.
UPDATE II: Missing Teens Mother says last conversation with daughter was "kind of off".
She was last heard from via text Tuesday morning around 5:30 a.m. Her parents reported her missing around 9:15 that night.

Her mother, Jennifer Hadsell is desperate to find her daughter. The Longwood University freshman was home for Spring Break.

Police say there is no indication of any foul play at this point, but they are actively searching for her. Her mom says something just doesn't seem right.

"The conversation in my opinion was kind of off. I can't be 100 percent sure I know that was my daughter I was texting. I know how she talks and I know the type of things she says," said Hadsell.
If anyone has any information as to the whereabouts of Anjelica Hadsell, or who have seen her in the last 24 hours, are encouraged to call Norfolk Police Detectives at 757-664-7026 or the Norfolk Crime Line at 1-888-LOCK-U-UP.
OUCH, IF THE TRUTH HURTS …
On Monday's radio show, Conservative talk show host Rush Limbaugh invoked Ferguson to compare Barack Hussein Obama's disdain of Israel Prime Minister Benjamin  Netanyahu to a white police officer from Ferguson, Missouri. And on that note, El Rushbo segwayed to … "and speaking on which, the Department of Justice did announce that they were going to stick it to Ferguson.
You look at how Obama has treated and does treat Netanyahu, you would think that Netanyahu was a white policeman from Ferguson, Missouri. I mean, that's the conclusion that you would come to. Or that he was one of the cops that choked Eric Garner, or he was one of the jurors in the Trayvon Martin case.
NY Times – Ferguson Police Routinely Violate Rights of Blacks, Justice Dept. Finds.
So let's understand this, in order to correct the problem the police in Ferguson need to arrest more white folks who have done nothing? This is Eric Holder's idea of how individuals rights were violated? Did anyone honestly think that Eric Holder was not going to get a scalp for "his people" (VIDEO).
Ferguson, Mo., is a third white, but the crime statistics compiled in the city over the past two years seemed to suggest that only black people were breaking the law. They accounted for 85 percent of traffic stops, 90 percent of tickets and 93 percent of arrests. In cases like jaywalking, which often hinge on police discretion, blacks accounted for 95 percent of all arrests.

The racial disparity in those statistics was so stark that the Justice Department has concluded in a report scheduled for release on Wednesday that there was only one explanation: The Ferguson Police Department was routinely violating the constitutional rights of its black residents.
Posted March 4, 2015 by

Scared Monkeys Barack Obama

,

Chicago-Style Politics

,

Community Agitator

,

Department of Justice (DOJ)

,

Divider in Chief

,

DOJ - Dept of Justice

,

Epic Fail

,

Ferguson

,

Imperial President

,

Israel

,

Misleader

,

MO

,

PM Benjamin Netanyahu

,

Race Card

,

Racism

,

Saul Alinsky

,

Trayvon Martin

,

You Tube - VIDEO

|

one comment
A LONG TIME AGO WE COINED THE PHRASE, "KEY BOARD COWARDS".
ALL-STAR DAD ... Curt Schilling, Boston Red Sox, "bloody sock" baseball pitching great, is doubling down on going Dad protective of his daughter in the face of recent cyber bullying attacks. Take a look at Schilling's blog, 38 Pitches and check out the vile attacks on his daughter and a father's response. Folks, cyber bullying is no laughing matter. There are some true psychos out there and piling on in a form of cyber wilding hardly makes you cool. All of this occurred after Schilling tweeted a congratulatory message about his 17 year old daughter being accepted to Salve Regina University. Then the disgusting, crude and vile tweets came from the underbelly and low-lifes of the internet.
I am all for free speech, sorry, this type of speech should be a crime. The intent is to cause harm. Such cowards need to be prosecuted or better yet, be put in a room for 20 minutes with Curt Schilling and let him dish out some dad justice.
Curt Schilling goes Liam Neeson on Trolls
Ladies? If any of these guys is your boyfriend you're in for a real rude awakening.

Lastly? Not one of these gutless clowns would even think of saying a word of ANY of this in person.

Curt

P.S. Gabby I know you're likely embarrassed and for that I apologize. But as we have talked about, there is no situation ever in your life, where it's ok for any 'man' to talk about you, or any other woman this way (and truth be told no real man would ever talk this way anyway). It truly is time this stopped. I don't know where it started because it sure as hell didn't happen much when we were growing up. Like any dad reading this the only thing I need you to leave this home with when you head to college is the knowledge that I love you more than life itself and there is NOTHING I would not do to protect you. And while it may sound corny, it's nothing I'd ever be shy about saying in public, ever.
Schilling elaborated and doubles down:
Some have told Curt to ignore the tweets and the vile and disgusting comments regarding his daughter. There is a long standing rule on the internet, actually its more of a guideline, don't feed the trolls. However, that rule only goes so far and at some point you have to do what Curt Shilling did and say, HELL NO" … "I CAN AND WILL FIND YOU!!!"
I look at it like this. If someone walked into your house and punched your daughter square in the face, what would your reaction be? You and I probably are thinking the very same thing. How is that different than what happened to my amazing Daughter?

Here's how.

Those bruises on your daughters face? They'll heal over time and go away. My daughter? She was bruised and battered every bit as bad as that punch. Her scars are there forever.

For you "men" trying to somehow side with these guys? Go for it. You don't have far to go in life, in fact you may already be at your finish line.

Ladies? I don't care if you're 7 or 70. There is no time, no place, no reason in your lives ever that anyone, most especially a man, is allowed to talk to you, or treat you, this way.

[...]

I grew up in a world where women were treated with respect and dignity. When did that become out of date? Obsolete? How? Why?
UPDATE I: Yankees fire ticket taker after vulgar tweets about Curt Schilling's daughter.
The other man — the VP of Theta Xi at Montclair State — has since been identified as Sean MacDonald. MacDonald was hired by the Yankees as a part-time ticket taker at the end of January, the team confirmed, and he has since been fired.