The FBI needs help getting into the cell phone. You would think Apple would have no problem helping the FBI as it might help stop more people getting hurt or killed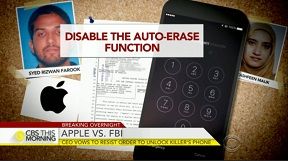 Daily Commentary – Thursday, February 25, 2016
Download
The FBI and US Marshal's Service have joined the search to locate Ethan Couch and his mother. Does the name sound familiar? Ethan Couch was the 16 year old teen who killed 4 people in a drunk driving incident and was given a slap on the wrist by a juvenile court judge of 10 years probation because of his "affluenza" defense. It turns out after a video appeared on Twitter, Couch may have violated the terms of his probation. Couch and his mother would appear to be hiding from authorities and the mother might once again be trying to prevent her son from facing the consequences of his actions.
Tarrant County Sheriff Dee Anderson said Thursday, "You can run, but you're always going to be looking over your shoulder. We're not going to give up. We're going to come after you. We're going to find you, wherever you are."
It is time to jail this punk and put him where he belongs to finally to provide justice the family and loved ones of the four people he killed without a thought or shhred of responsibility in the world. And while you are at it, throe mom in prison too.
The search for Ethan Couch and his mother, Tonya, expanded vastly Thursday as the U.S. Marshal's Service and FBI joined the effort.

Couch became notorious as a 16-year-old when a juvenile court judge gave him 10 years probation after Couch killed four people in a drunk driving crash. His "affluenza" defense and lack of jail time triggered an emotional reaction across the country.

Ethan and Tonya Couch disappeared sometime in early December, about the time a video hit Twitter appearing to show him laughing at a beer pong party. Terms of his probation forbid use of alcohol.
Let's see "affluenza" get you out of this one.
POSSIBLE TIES TO TERRORISM OR OBVIOUS SIGNS OF TERRORISM …
Timeline for San Bernardino mass shooting
More VIDEO
HEAVY POLICE PRESENCE FOR MACY'S DAY PARADE IN WAKE OF ISIS TERROR ATTACKS IN PARIS …
In the wake of the terror attacks in Paris, there is a expected to be a heavy police presence at this years Macy's Thanksgiving Day Parade in New York City. Snoopy, Hello Kitty, SpongeBob and the Kool-Aid dude will be well protected by by a multitude of levels of security . Despite the pre-parade terror jitters, New York officials are expecting huge crows up to 3.5 million spectators in the parades 89th year.
As an expected three million spectators turn their eyes skyward on Thursday morning, police sharpshooters on rooftops will be peering down for any signs of trouble at the Macy's Thanksgiving Day Parade.

In addition to Snoopy and SpongeBob floating overhead, there will be mobile cameras and police helicopters, specially trained police dogs sniffing for traces of explosives and officers patrolling on horseback, said James P. O'Neill, the New York Police Department's chief of department, its highest-ranking uniformed officer.

Observation posts, staffed by officers from the elite Emergency Service Unit, will be watching for suspicious activity; officers will use radiation detectors to seek out evidence of a dirty bomb; and teams of plainclothes officers will mix unobtrusively with revelers spread along the two and a half miles of the Manhattan parade route between 9 a.m. and noon.

"There will be a lot of police presence," said Chief O'Neill, outlining elements of the department's security measures at a briefing this week.

"Things the public will see and, of course, things the public will not see," he said. "All of this will ensure that New York City has a safe and wonderful Thanksgiving, as we do every year."

With a record parade crowd expected, William J. Bratton, the police commissioner, said there would be more officers on duty than in the past. He encouraged people to "come on down" to see the parade, free from the anxieties the Paris attacks have sown, and to pitch in as extra eyes for law enforcement.

"There is no threat being directed against the parade," Mr. Bratton said.

Joshua Campbell, a spokesman for the Federal Bureau of Investigation in Washington, echoed that, saying in an email, "There remains no specific or credible threat to the homeland."
ANOTHER THREAT TO OUR BRAVE MEN AND WOMEN IN BLUE …
The FBI released an alert Monday warning the NYPD and police departments nationwide of a potential threat by an extremist group, known as the National Liberation Militia, who are encouraging supporters to attack the police. The extremist group has recommended that members wear typical Halloween masks and use weapons such as bricks, bottles and firearms.
The FBI released an alert Monday warning the NYPD and police departments nationwide of a potentially dangerous anarchist group that says it plans to ambush cops on Halloween.

The extremist group – known as the National Liberation Militia – has proposed a "Halloween Revolt" that encourages supporters to cause a disturbance to attract police and then viciously attack them, the FBI said.

The group has recommended that members wear typical Halloween masks and use weapons such as bricks, bottles and firearms, according to the release.