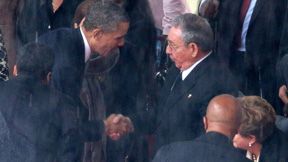 Daily Commentary – Wednesday, December 11, 2013
Download
The father of modern South Africa has passed …
Nelson Mandela, the former President of South Africa and anti-apartheid leader who spent 27 years in a South African prison, , first on Robben Island, and later in Pollsmoor Prison and Victor Verster Prison,has died at the age of 95. Nelson Mandela had been battling several illnesses for quite some time and had been hospitalized. Sadly, current South African President Jacob Zuma announced late Thursday the death of the man who freed his people from an oppressive minority rule and united a country. Nelson Mandela and his one time enemy president F. W. de Klerk, who preceded him, both shared and won the Nobel Peace Prize in 1993.
Mandela is a perfect example that one does not have to be a fan of one's politics in order to admire him as a leader and his leadership skills that brought a completely fragmented and racially divided society back together … ONE TEAM, ONE COUNTRY!!!
Nelson Mandela: July 18, 1918 – December 5, 2013
"I detest racialism, because I regard it as a barbaric thing, whether it comes from a black man or a white man."
"For to be free is not merely to cast off one's chains, but to live in a way that respects and enhances the freedom of others."
Nelson Mandela, the revered statesman who emerged from prison after 27 years to lead South Africa out of decades of apartheid, has died, South African President Jacob Zuma announced late Thursday.

Mandela was 95.

"He is now resting. He is now at peace," Zuma said. "Our nation has lost its greatest son. Our people have lost a father."

"What made Nelson Mandela great was precisely what made him human," the president said in his late-night address. "We saw in him what we seek in ourselves."

Mandela will have a state funeral. Zuma ordered all flags in the nation to be flown at half-staff from Friday through that funeral.

Mandela, a former president, battled health issues in recent months, including a recurring lung infection that led to numerous hospitalizations.

With advancing age and bouts of illness, Mandela retreated to a quiet life at his boyhood home in the nation's Eastern Cape Province, where he said he was most at peace.
Nelson Mandela's Life Story
UPDATE I: NY Times Obit
The question most often asked about Mr. Mandela was how, after whites had systematically humiliated his people, tortured and murdered many of his friends, and cast him into prison for 27 years, he could be so evidently free of spite.

The government he formed when he finally won the chance was an improbable fusion of races and beliefs, including many of his former oppressors. When he became president, he invited one of his white wardens to the inauguration. Mr. Mandela overcame a personal mistrust bordering on loathing to share both power and a Nobel Peace Prize with the white president who preceded him, F. W. de Klerk.

And as president, from 1994 to 1999, he devoted much energy to moderating the bitterness of his black electorate and to reassuring whites against their fears of vengeance.

The explanation for his absence of rancor, at least in part, is that Mr. Mandela was that rarity among revolutionaries and moral dissidents: a capable statesman, comfortable with compromise and impatient with the doctrinaire.

When the question was put to Mr. Mandela in an interview for this obituary in 2007 — after such barbarous torment, how do you keep hatred in check? — his answer was almost dismissive: Hating clouds the mind. It gets in the way of strategy. Leaders cannot afford to hate.
ESPY Awards – Nelson Mandela
A truly amazing video … Like I have previously said, like him or not, Mandela was a leader and knew what it took to bring people together, not tear them further apart.
UPDATE II: NBC News – 7 ways Nelson Mandela changed South Africa.
Mandela's biggest influence on the new South Africa was his personal determination that anger over the crimes of the past, including his 27 years as a political prisoner, should not motivate future laws and actions. Key to this was his 1995 establishment of a Truth and Reconciliation Commission that investigated historic human rights violations and gave vent to grievances.

That same year, South Africa hosted the Rugby World Cup – the first event of its kind to be held there since the end of the apartheid-era sporting boycott. Along with cricket, rugby was a game played and enjoyed almost exclusively by whites, making the event tough for Mandela's fledgling democratic government to "sell" to a wider population.

Despite resistance on both sides, Mandela swung the rainbow nation behind both the team – the Springboks – and the tournament, which South Africa won (VIDEO). That achievement, documented in the 2009 film "Invictus" starring Morgan Freeman and Matt Damon, illustrated the extent of South Africa's rehabilitation and also set the country back on the path of sporting success.
Invictus – Poem That Inspired A Nation
Out of the night that covers me,
Black as the pit from pole to pole,
I thank whatever gods may be
For my unconquerable soul.
In the fell clutch of circumstance
I have not winced nor cried aloud.
Under the bludgeonings of chance
My head is bloody, but unbowed.
Beyond this place of wrath and tears
Looms but the Horror of the shade,
And yet the menace of the years
Finds and shall find me unafraid.
It matters not how strait the gate,
How charged with punishments the scroll,
I am the master of my fate,
I am the captain of my soul.
UPDATE III: Comments from former South African president F.W. de Klerk.
Nelson Mandela's greatest accomplishment was to unify South Africa and push for reconciliation between blacks and whites in the post-apartheid era, F.W. de Klerk, the country's last white president, said on Thursday.

"He was a great unifier and a very, very special man in this regard beyond everything else he did. This emphasis on reconciliation was his biggest legacy," de Klerk said in an interview with CNN after the announcement of Mandela's death.

De Klerk, who released Mandela from prison in 1990 and then negotiated the end of apartheid, called Mandela a "humane" and "compassionate" man who was able to understand the fears of South Africa's white minority in the transition to democracy.
UPDATE IV: South Africans mourn, celebrate life of Nelson Mandela.
As flags were lowered to half mast, people across South Africa commemorated Nelson Mandela with song, tears and prayers on Friday as the government prepared funeral ceremonies that will draw leaders and other dignitaries from around the globe.

A black SUV-type vehicle containing Mandela's coffin, draped in South Africa's flag, pulled away from Mandela's home after midnight, escorted by military motorcycle outriders, to take the body to a military morgue in Pretoria, the capital.

Many South Africans heard the news of his death, which was announced just before midnight, upon waking Friday, and they flocked to his home in Johannesburg's leafy Houghton neighborhood. One woman hugged her two sons over a floral tribute.
End presidential term limits, are you insane? We should implement US House and Senate term limits as well.
In what might be one of the most foolishly thought out premise, NYU history professor Jonathan Zimmerman inked a WAPO oped titled "End presidential term limits," suggesting that the 22nd Amendment limiting presidents to two terms of office should be repealed as a way to assuring a more effective presidency and protecting democracy from a leader without fear of voters' wrath.  Why is it so important now, because Barack Obama is president? Hell, it's not like he follows the US Constitution now, watch him run for a third term anyhow and call those oppose racists.
Sorry, but if our countries first president, George Washington, thought multiple terms was a bad thing, that is good enough for me. As it was Washington had to be talked into a second term. Ending term limits was wrong when it was discussed by Republicans during the presidency of Ronald Reagan, it was wrong when Democrats brought it up with Bill Clinton and it is still wrong with Barack Obama. The office of the President is bigger than any one man, that includes Obama. There is a reason why America fought a War of Independence against King George and it was not to replace one tyrant with another.
In 1947, Sen. Harley Kilgore (D-W.Va.) condemned a proposed constitutional amendment that would restrict presidents to two terms. "The executive's effectiveness will be seriously impaired," Kilgore argued on the Senate floor, " as no one will obey and respect him if he knows that the executive cannot run again."

I've been thinking about Kilgore's comments as I watch President Obama, whose approval rating has dipped to 37  percent in CBS News polling — the lowest ever for him — during the troubled rollout of his health-care reform. Many of Obama's fellow Democrats have distanced themselves from the reform and from the president. Even former president Bill Clinton has said that Americans should be allowed to keep the health insurance they have.

Or consider the reaction to the Iran nuclear deal. Regardless of his political approval ratings, Obama could expect Republican senators such as Lindsey Graham (S.C.) and John McCain (Ariz.) to attack the agreement. But if Obama could run again, would he be facing such fervent objections from Sens. Charles Schumer (D-N.Y.) and Robert Menendez (D-N.J.)?

Probably not. Democratic lawmakers would worry about provoking the wrath of a president who could be reelected. Thanks to term limits, though, they've got little to fear.

Nor does Obama have to fear the voters, which might be the scariest problem of all. If he chooses, he could simply ignore their will. And if the people wanted him to serve another term, why shouldn't they be allowed to award him one?
Nothing to fear eh, what would you call the approval rating in the 30′s and the panic that Democrats are presently experiencing? Also, Zimmerman says, "If he [Obama] chooses, he could simply ignore their will." Just curious, when did Barack Obama or Democrats ever care about the will of the People?
That being said, not only should the 22nd Amendment not be repealed, there should be term limits for Senators and House members as well. As a matter of fact there should be a limit as to how many years that some one can serve in over-all political life. These people need to understand who they work for and the laws they pass will eventually effect them too. That does not happen in today's politics.
Posted November 30, 2013 by

Scared Monkeys 2016 Elections

,

22nd Amendment - Presidential Term Limits

,

Barack Obama

,

Bill Clinton

,

Chicago-Style Politics

,

Democrats

,

Imperial President

,

Obamanation

,

Politics

,

Presidential Election

,

Ronald Wilson Reagan

,

Socialist in Chief

,

United States

,

US Constitution

,

We the People

|

one comment
November 22, 1963 … the day that shook America in Dallas, TX.
For those that were alive on that fateful day, yesterday most Americans remembered where they were the day that President John F. Kennedy was shot and assassinated while traveling in his presidential motorcade in Dallas, Texas. It was the day that shocked America, the world and forever changed the United States with innocence lost. In a time in which few can even conceive or remember when there were three news channels, no-24-7 news, no internet, no social media, no Twitter … the nation was rocked with the unthinkable, the death of a president as all watched in horror.
At 12:29 pm CST, as President Kennedy's uncovered limousine entered Dealey Plaza, Nellie Connally, then the First Lady of Texas, turned around to President Kennedy, who was sitting behind her, and commented, "Mr. President, you can't say Dallas doesn't love you," which President Kennedy acknowledged. Then life changed, everything changed as we knew it. John Fitzgerald Kennedy, the 35th President of the United States, was assassinated at 12:30 pm CST, Friday, November 22, 1963, in Dealey Plaza, Dallas, Texas. JFK was taken to Parkland Hospital, Trauma Room 1 where he was treated for his mortal wounds to his head.
At 1:00 p.m., CST President John F. Kennedy was pronounced dead. As one doctor was reported to say, "We never had any hope of saving his life." And sadly we were presented with another good man who died too young. 

Anybody here seen my old friend John?
Can you tell me where he's gone?
He freed a lot of people,
But it seems the good they die young.
I just looked around and he's gone.
50 years later we remember President John F. Kennedy, a life taken far to soon and his vision for America that was cut short  that Day in Dealey Plaza by an assassins bullet. We remember the man who is frozen in time because of the tragic nature in how he was killed and we can only wonder how things, so many things would have been different in America had he lived. Too many focus on the "conspiracy" theories of how JFK died or his affair with Marilyn Monroe, but there was so much more to a president who captured the imagine of the country. I was not alive the day JFK died, but being a history major I had read much of his life. I have attended the Kennedy Library and been to grave, the "Eternal Flame," at Arlington National Cemetery as well as grew up in New England so was surrounded by the lore of the Kennedy's most of my life. JFK was a unique man, an inspirational individual who knew how to communicate with people, bring them together and make people feel good about themselves. But he was much more than that, he was a leader, a man who had big goals as seen by is efforts to get the US into space and he was the one who asked us,"ask not what your country can do for you can do for your country" (VIDEO). Where are those leaders today?
'Abraham, Martin and John' - Dion
U.S. President John F. Kennedy was remembered as a transcendent leader of a rising nation at a ceremony in Dallas on Friday, the 50th anniversary of his assassination, while bitterness remained for many who disbelieve the official story of how he died.

"Our collective hearts were broken," Dallas Mayor Mike Rawlings told a crowd of about 5,000 who came to a frigid Dealey Plaza, near where Kennedy was slain, for a commemoration marked with prayer, song and tears.

Remembered fondly for his youthful vigor and his glamorous wife, Kennedy remains one of Americans' favorite presidents for his handling of the Cuban missile crisis, his call to public service with programs such as the Peace Corps and a promise – later fulfilled – to land an American on the moon before the end of the 1960s.

"A new era dawned and another waned a half century ago when hope and hatred collided right here in Dallas," Rawlings said.

The assassination cut short "Camelot," as the 1,000 days of the Kennedy presidency became known. He was 46 when he died
This is how I remember John F. Kennedy, as a leader, a unifier and a man with a vision of big ideas and one's that made America better, not just a political party. Take a good listen to what a true leader sounds like. I hear an awful lot of "WE", not me or I. JFK wanted the United States to be a leader in the world, number one, not a follower. Where has my old friend John gone, it is true that the good so die young.
"The exploration of space will go ahead, whether we join it or not. And it is one of the greatest adventures of all times. And no nation which expects to be the leaders of other nations can expect to stay behind in this race for space".
"We Choose to go to the moon, not because they are easy, because they are hard"
Posted November 23, 2013 by

Scared Monkeys America - United States

,

Deceased

,

Democrats

,

heroes

,

John F. Kennedy (JFK)

,

Patriotism

,

Personal

,

Restoring America

,

United States

,

We the People

,

You Tube - VIDEO

|

one comment
The former president looked good, relaxed and he's not a bad artist!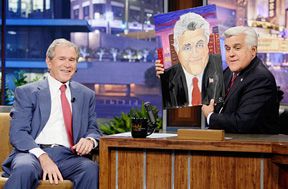 Daily Commentary – Friday, November 22, 2013
Download
UPDATE I: Check out the VIDEO below of what Dana is referencing in his daily commentary. Leno brought up GWB's recent health scare. Laura Bush responded that she was scared; however, W said that he was not. Leno then hit him with the money line and asked, "You got Obamacare?" and the audience erupted in laughter. The best part is that W and J actually got a good, honest chuckle out of it. GWB had some interesting things to say about dealing with the tough times.
Why should anyone be surprised at anything he does anymore?
As if it was not bad enough that President Barack Obama did not attend the 150th anniversary of the Gettysburg Address, even though Obama claims that Lincoln is one of his heroes. A snub was not enough for this president, in a he managed to leave the word "under God" out of his reading of Lincoln's great speech.  From NRO, in a recorded recitation uploaded to YouTube on November 9, President Obama read the address in its entirety. However, when it came to the line "that this nation, under God, shall have a new birth of freedom," the President left out the words "under God." Of course he did. Because this is what community agitators do, cause division, chaos and turmoil at every turn.
One nation under God?  Under President Obama, maybe not so much.

As first reported on WMAL's Chris Plante Show Tuesday, the Commander-in-Chief joined a cast of 61 other noted lawmakers, politicians, news anchors and celebrities, including every living President, in reciting the Gettysburg Address, which President Abraham Lincoln delivered on November 19, 1863.

The dignitaries all delivered the address as Lincoln had written it, including the phrase, "that this nation, under God, shall have a new birth of freedom." (Click to listen).  Curiously, however, in his version of the address, President Obama omitted the words "under God."

You can see the President's reading of the Gettysburg speech here -  his omission is at the 1:35 mark.
But of course this was probably the first time Barack Obama was made aware that "under God" was actually in the Gettysburg Address. And it makes no matter as he was too busy fixing the Obamacare website to have noticed. Oh, and it was Bush's and the GOP's fault.
The irony of it all is best pointed out by the Heritage Foundation. It is a stretch for a big government, socialist liberal like Barack Obama who believes in the 'nanny state," seems to not have a grasp of the US Constitution, the separation of powers and that Our Government is supposed to be of, by and for the People. However, under Obama, he thinks that the people work for the government. The final line of Lincoln's Gettysburg Address is, "that this nation, under God, shall have a new birth of freedom and that government of the people, by the people, for the people, shall not perish from the earth".
Weasel Zippers has much, much more.
Posted November 20, 2013 by

Scared Monkeys Abraham Lincoln

,

Barack Obama

,

Chicago-Style Politics

,

Community Agitator

,

Divider in Chief

,

God

,

Leading from Behind

,

Lost in Smallness

,

Obamanation

,

Saul Alinsky

,

WTF

,

You Tube - VIDEO

|

16 comments
On November 19, 1863, President Abraham Lincoln commemorated a Civil War battlefield in Gettysburg, Pennsylvania, by vowing that "government of the people, by the people, for the people, shall not perish from the earth." THE GETTYSBURG ADDRESS, is one if not the greatest speeches ever from one of the United States greatest presidents ever. The key word there is "UNITED".  This is what leadership looks like and it is comical if not disrespectful to ever make comparisons to Lincoln and his accomplishments. Never has a US president ever resided over more troubling and divisive times in the United States, NEVER!
Four score and seven years ago our fathers brought forth on this
continent, a new nation, conceived in Liberty, and dedicated to the
proposition that all men are created equal.
Now we are engaged in a great civil war, testing whether that
nation, or any nation so conceived and so dedicated, can long endure.
We are met on a great battle-field of that war. We have come to
dedicate a portion of that field, as a final resting place for those who
here gave their lives that that nation might live. It is altogether
fitting and proper that we should do this.
But, in a larger sense, we can not dedicate— we can not conse-
crate—we can not hallow— this ground. The brave men, living and
dead, who struggled here, have consecrated it, far above our poor
power to add or detract. The world will little note, nor long remem-
ber what we say here, but it can never forget what they did here. It
is for us the living, rather, to be dedicated here to the unfinished
work which they who fought here have thus far so nobly advanced.
It is rather for us to be here dedicated to the great task remaining
before us— that from these honored dead we take increased devotion
to that cause for which they gave the last full measure of devotion—
that we here highly resolve that these dead shall not have died in
vain — that this nation, under God, shall have a new birth of free-
dom—and that government of the people, by the people, for the
people, shall not perish from the earth.
ABRAHAM LINCOLN.
November 19. 1863.
And a small and irrelevant President Barack Obama does not show for the anniversary even though he used references to Lincoln during elections. Obama announced his candidacy in 2007 near Lincoln's law office in Springfield, IL abd tried to tie himself to Abe. In the end, Obama was a no show. Some how Barack Obama can play 150 rounds of golf, but not show up on such an important anniversary of a president he claims to respect. Hmm, think it is because it would make Obama look even smaller than he already is? Did Obama really not go to this event because of the Healthcare.gov debacle?
But Obama, unlike his predecessors, stuck to his decision not to go to such an anniversary commemoration. His decision is doubly surprising because he has so often tied himself to his fellow Illinoisan Lincoln. Obama announced his candidacy in 2007 near Lincoln's law office in Springfield, Ill. Both in 2009 and 2013, he took the oath of office with his hand on Lincoln's Bible. And in 2009, he replicated Lincoln's 1861 route from Philadelphia to Washington for the Inauguration.

"It didn't work schedule-wise," was the explanation tweeted Tuesday morning by Dan Pfeiffer, the president's senior adviser. The schedule released by the White House showed the president at 10 a.m. in the Oval Office receiving his regular daily briefing. Then, at 10:45, he welcomed to the White House a group of senators to brief them on the latest developments in Iran. That briefing was not scheduled until Monday, well after the White House declined the Gettysburg invitation. Later in the day — after he would have been back from the planned ceremony at Gettysburg — he goes to the Four Seasons Hotel to address The Wall Street Journal CEO Council's annual meeting and talk about the economy.
The Obama White House can't like this … Power play and Civil War for the Democrat Party.
Former President and Democrat Grand Puba Bill Clinton has weighed in on the healthcare debate and the millions of Americans who have had their insurance plans canceled because of Obamacare and said that President Barack Obama should honor his promise to the People. Clinton, who favors Obamacare, made by Clinton in an interview with OZY founder Carlos Watson. This is going to be rather hard for the MSM to hide. The heck with the so-called infighting and disagreements between the Tea Party/Conservatives and the establishment GOP, we have a full scale Civil War and mutiny going on in the Democrat party for power.
"So I personally believe, even if it takes a change to the law, the president should honor the commitment the federal government made to those people and let them keep what they got,"
BILL CLINTON: Third problem is for young people mostly, but not all young who are in the individual market whose incomes are above 400 percent of the poverty level. They were the ones who heard the promise, "If you like what you got, you could keep it."

I met a young man this week who has a family, two children, bought in the individual marketplace. His policy was cancelled and one was substituted for it that doubled his premium. Now, I asked him, I said, "Same coverage?" He said, "Yeah." And I said, "But are your copays and deductibles the same?" He said, "No, they're much, much lower." So he said, "In the years when I use healthcare, I might actually save money." But he said, "You know, we're all young and we're all healthy."

So I personally believe, even if it takes a change to the law, the president should honor the commitment the federal government made to those people and let them keep what they got.
Rush Limbaugh: Obama agrees with Clinton that the dude Obama should keep his promise. (VIDEO).  (Oh wait, Obama and the other dude who should keep the promise is the same person)
RUSH:  The president has tasked his team with looking at a range of options.  Why, it's the Limbaugh Theorem.  Obama agrees with Clinton.  He thinks he should keep his promise, too.  "Yeah, I do.  I think that guy who made that promise ought keep it."  This is unreal!  Limbaugh Theorem right in front of your face.  Obama agrees with Clinton, that that guy Obama ought to keep his promise, and he's working real hard to make sure that that guy Obama keeps his promise.
How ironic, or should I say politically calculating. Bill Clinton not only helped sell Obamacare to the American people, but also probably single handed got Barack Obama reelected in 2012 with his Democrat National Convention speech. Don't think that Bubba doesn't have some culpability with inflicting Obamacare on we the People as well.
Let's face it, the only reason Slick Willy has weighed in has nothing to do with telling Obama that he should honor his pledge to the People that if they liked their healthcare plan, they can keep it. After all, it is not as though Bill Clinton never lied, but then again "it all depends on what is, is." ,,,,But as correctly stated at Michelle Malkin, this is the beginning of Operation "Get Hillary as Far Away from This Train Wreck as Possible". Yes it is.
Posted November 12, 2013 by

Scared Monkeys Barack Obama

,

Bill Clinton

,

Chicago-Style Politics

,

Community Agitator

,

Democrats

,

Divider in Chief

,

Epic Fail

,

Former Presidents

,

Government

,

Healthcare

,

Liberals

,

Misleader

,

Misrepresentation

,

Obamacare

,

Obamanation

,

Politics

,

Progressives

,

The Dodger in Chief

,

The Lying King

,

Transparency

,

WTF

,

You Can Keep Your Insurance

,

You Tube - VIDEO

|

5 comments
So much for Obama being like Reagan or Lincoln, the comparisons are more like Richard Nixon … OUCH!!!
On Fox News Sunday during the panel discussion, George Will hammered Barack Obama's first year of his second term as president comparing it to that of Richard Nixon's second term. Will went on to say that he cannot even use the Clinton pandering of "I feel your pain". Will opined, "It's one thing for Bill Clinton to say 'I feel your pain.' It's another thing for Barack Obama to say, 'I feel your pain that I have caused.'"
"It's one thing for Bill Clinton to say "I feel your pain." It's another thing for Barack Obama to say, "I feel your pain that I have caused." … We this week marked the one year anniversary of his reelection. Has there ever, with the exception of Richard Nixon in 1973, been a worse first year of a second term?"
Video Hat Tip: The Gateway Pundit
Note to MSM, Benghazi-gate and IRS-gate are far worse than Watergate. Why don't you actually cover them like you mean it! Hot Air adds to the scandalpalooza that is the Obama presidency.
Posted November 11, 2013 by

Scared Monkeys Abuse of Power

,

Barack Obama

,

Benghazi-Gate

,

collusion

,

Corruption

,

Cover-Up

,

cronyism

,

Democrats

,

Epic Fail

,

Ethics

,

Fast & Furious

,

Government

,

Gutter Politics

,

IRS-gate

,

Misleader

,

Misrepresentation

,

NSA

,

Obamacare

,

Obamanation

,

Politics of Fear

,

Richard Nixon

,

Scandal

,

The Lying King

,

Transparency

,

WTF

,

You Tube - VIDEO

|

one comment
12 years later, in some ways it feels just like 12 hours ago and sometimes just 12 minutes ago. God Bless those who lost their lives that terrible day and a special prayer to the families of those who lost so very much and have overcome.

Have you forgotten that fateful September morning? In many ways it seems that many have. That is until we are attacked again, like in Benghazi, Libya last September 11, 2012. A terror attacked passed off as being blamed on a anti- Islamic video tape by our government and one year later "We the People" have no answers or individuals in custody. But today is meant to honor the memories of those who lost their lives on September 11, 2001 and the heroes that inspired a nation. It has been 12 years to the day of that fateful September morning in 2001 where in an instant our lives and world changed forever. Nearly 3000 people lost their lives in NYC at the World Trade Center, in Washington, DC as flight 77 crashed into the Pentagon and in a field in Shanksville, PA where heroes aboard Flight 93 took matters into their hands and said "NO to terrorism". DO YOU REMEMBER?
We saw pure evil and we saw the best of people. The heroism of those who responded to the terrible terrorist and cowardice acts will never be forgotten as well. Fireman, police, paramedics and first responders running into buildings to help their fellow man, perishing in their efforts. Folks, do not ever forget that feeling you had that day. Do not ever get complacent, do not ever let political correctness make you feel guilty for your actual feelings. For if we forget history and what took place, we are destine to repeat it.
Sorry, love him or hate him, we all owe President George W. Bush for his leadership in the aftermath of 9-11. This is what presidential leadership looks like and thank God we had him to help a nation through the pain and anguish in the days, months and years after. Below is GWB's iconic bullhorn speech in NYC at Ground Hero … "I can hear you …"
First Plane hits the South Tower of the World Trade Center
Second Plane Hits North Tower of World Trade Center
Tower Two collapses
North Tower Collapse
Posted September 11, 2013 by

Scared Monkeys 9-11 Memorial

,

9/11

,

Act of War

,

al-Qaeda

,

America - United States

,

George W. Bush

,

Home Land Security

,

Terrorism

,

US National Security

,

War on Terror

,

We the People

,

You Tube - VIDEO

|

6 comments