Wendy would like everyone to go the the campusaccountability.org web site where you'll learn everything you need to know about harassment and discrimination in education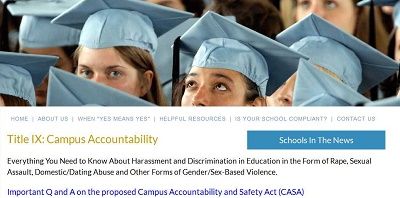 Click on the photo above to go to the website
Daily Commentary – Friday, February 20, 2015  |
Download
19 year old University of Virginia lacrosse player  Mike D'Amario has been missing since February 16, 2015 in Charlottesville, Virginia. D'Amario, a first year LAX player, was last seen on the UVA campus grounds  around 3:45 p.m. on Monday. The University police at this time do not suspect foul play; however,  they would like anyone to contact them if you have seen or spoken to D'Amario since 3:45 p.m. Monday. D'Amario is described as a white male, 5'10" tall, weighing 170 lbs with brown wavy hair and brown eyes.
Press release from University of Virginia Police:
The University of Virginia is investigating a missing person incident involving a UVA student, Mike D'Amario. He was last seen on Grounds at around 3:45p.m. on February 16, 2015. At this time, there is no reason to suspect foul play. However, University Police would like to speak to anyone who has seen or spoken to Mr. D'Amario since 3:45 p.m. on February 16, 2015. Anyone with information related to his whereabouts is encouraged to call 434-924-7166.

Mr. D'Amario is described as a white male, 5'10" tall, weighing 170 lbs. He has brown wavy hair and brown eyes.
UPDATE I: First-year Virginia lacrosse player Mike D'Amario is missing.
The police were unable to confirm to us whether there was any note left behind before he went missing. When asked about some Twitter chatter regarding another woman who, distraught over the news of D'Amario's disappearance, also went missing herself, the police said that they were unaware of any missing woman, and that anybody who has any information at all should contact them immediately.
UPDATE II: Mike D'Amario has been found and is safe.
Anyone with information related to D'Amario's whereabouts are asked to please call (434)924-7166.
20 year old Vicente Mundo has been missing since Sunday, January 25, 2015 in Champaign , Illinois. Vicente Mundo, a junior at the University of Illinois, was last seen on campus, near the corner of Third and Chalmers at about 7:15 pm. on January 25. His roommate told Mundo's family that Vicente left their off-campus apartment to meet someone near his car around 6:45 pm Cell phone records show he made his last call around 7:12 pm Sunday.
Mundo lives in the 300 block of East Chalmers Street, Champaign. He is described as a Hispanic man with black hair and brown eyes, 6-feet-tall and weighing about 165 pounds. He drives a silver Acura TL with Illinois license plate number 2557BD.
Missing: Vicente Mundo
Vicente Mundo is 6 feet tall and 140 pounds with black hair, brown eyes and of Hispanic descent. He was last seen wearing a navy down coat with a Blackhawks baseball hat.

Mundo was last seen 7:15 p.m. Sunday when he left an apartment on the U of I campus and went to his car — a 2006 silver Acura TL with a special edition Bears license plate 2557. Then, he never returned.

His sister tells WGN he went to meet someone there — another student maybe — but they don't know why. Also missing is the college junior's wallet, iPad, phone, and Acura. His sister says his grades are good and she isn't aware of any problems in his life.
UPDATE I: University of Illinois police on Friday announced that his family is offering a $10,000 reward for information leading to his return.
"We figure that money is a good incentive for anything, so we thought maybe that would make people want to tell us anything," his sister said.

Mundo's wallet and phone also are missing, along with his car, a 2006 Acura TL with a special edition Bears license plate No., 2557, according to campus police. Mundo's sister said the car has tinted windows, black tires and black rims.

At 1 p.m. Tuesday, Mundo's phone pinged a cellphone tower near Mahomet, Ill., a town of 7,700 people about 11 miles from Champaign. After that, his cellphone appears to have gone dead, his sister said. The family does not yet have information about which towers the phone may have pinged before Tuesday.

There has been no activity on Mundo's bank account, according to his sister, which makes her suspect he did not disappear voluntarily.

"There's no money withdrawn, there's no stopping for coffee, there's nothing; like he disappeared from the face of the earth," she said. "If someone wants to go missing, that's fine, but they're going to withdraw money."
Anyone with information should contact the University of Illinois Police Department at 217-333-1216 or the Champaign Police Department at 217-351-4545.
UPDATE I: Body of missing U. of I. student from Chicago found in central Illinois.
On Monday, authorities said the death of the U. of I. junior — one of two Hispanic men to go missing in Champaign in the last month — was ruled a homicide by the Champaign County coroner's office.

His body was found about 9 a.m. Saturday along a rural road about 10 miles south of Champaign. The coroner's office declined to comment on the autopsy or cause of death.
16 year old Aysia Monique Lewis has been missing since Monday, January 26, 2015 in Christiansburg, Virginia. Aysia Monique Lewis was last seen at Christiansburg High School after school let out for the day around 2:45 p.m. on Monday and is believed to be in the company of 33 year old Donald "Bruce" Quesenberry. Aysia has been classified as an endangered missing person due to her age, the circumstances surrounding her disappearance and is believed to be in danger of sexual exploitation. The man who police are looking for is Donald Bruce Quesenberry Jr. Police state that Queensberry drove from Normal, Illinois to pick up Lewis.
Aysia Monique Lewis – Donald "Bruce" Quesenberry
Police said Aysia Monique Lewis was last seen at Christiansburg High School around 11:45 a.m. She may be in the company of Donald Quesenberry, 33, who is about 5 feet 7 inches tall and weighs around 200 pounds, according to authorities. He has brown eyes and brown hair and may be driving a 2002 Nissan Altima 4D with Illinois plate V975074.

Officers said in the alert they possibly could be heading south to Florida.

Lewis is 5 feet 3 inches tall with brown eyes and brown hair. She was wearing blue jeans, a black fleece jacket and tan moccasins.
UPDATE I: Parents of missing Christiansburg teen pray for safe return home.
Lewis' parents, Brandon Lewis and Teneara Dial, would like the following message relayed to Aysia: "Aysia, we love you!! We are worried about you! We need to know that you are ok! Please come home. Call us, text us, Facebook us. Get in touch with us however you can. We will come get you no matter what, no matter where, whatever time, it doesn't matter. Unique and Eric miss you. Unique wants to know where you are and when you are coming home."

Her parents also addressed Quesenberry, asking that he "please drop Aysia off somewhere safe."
If you have any information regarding Aysia Monique Lewis, please contact Christiansburg police at 540-382-3131 or state police at 1-800-822-4453.
UPDATE II: Aysia Monique Lewis has been found safe in Little Rock, Arkansas.
Lewis and Donald "Bruce" Quesenberry Jr. were found in Little Rock, Arkansas just after midnight on Friday. Both were taken into police custody without incident.

Additional charges are pending for Quesenberry.
TWO DOWN, TWO TO GO …
Former Vanderbilt University football players, 21 year old Brandon Vandenburg and 20 year old Cory Batey have been found guilty of 16 felonies, including several for aggravated rape in the sexual assault of a female student in a Vanderbilt dorm in June 2013. It took the jury just three hours to return guilty on all charges for both Batey and Vandenburg.  Both individuals were convicted of four counts of aggravated rape, one count of attempted aggravated rape and two counts of aggravated sexual battery.  The trial took 12 days, but the jury deliberations took just a little more than 3 hours. The jury had their minds made up when lawyers were giving closing arguments. Their sentencing is scheduled for March 6, 2015.
These two idiots have ruined their lives with their poor and deviant decisions. They had the opportunity to attend Vanderbilt University, one of the best colleges in America and pissed it all away. Actions have consequences.
Look how the two convicted rapists have been polished up by their attorneys for court
 Two former Vanderbilt football players were convicted on Tuesday of raping a fellow student in 2013 after a jury rejected claims that they were too drunk to know what they were doing and that a college culture of binge drinking and promiscuous sex should be blamed for the attack.

The jury deliberated for three hours before announcing its verdict against the two former players, Brandon Vandenburg and Cory Batey. Mr. Batey was stoic, staring ahead, and Mr. Vandenburg shook his head no, appearing stunned as the verdict was read. His father had an outburst and abruptly left the courtroom.

The victim, who was a 21-year-old neuroscience and economics major at the time of the attack, cried as each guilty verdict was announced.

Both men were convicted of four counts of aggravated rape, one count of attempted aggravated rape and two counts of aggravated sexual battery. They face decades in prison at their sentencing, scheduled for March 6.
Vanderbilt rape victim releases statement:
"Thank you to everyone who has supported me throughout this difficult process. I'm thankful that the criminal justice system will hold the defendants responsible for their violent crimes. The hard work of the law enforcement officers, prosecutors and victims' advocates who dedicated so many months of their lives to this case has made justice possible.

I want to especially thank detective Jason Mayo, Sgt. Mike Shreeve, Detective Chad Gish, Deputy District Attorney Tom Thurman, Assistant District Attorneys Jan Norman and Roger Moore and victims' advocates Wanda Swan, Lt. Rochelle Barrios and Teresa Shearon. You are my heroes and I am so proud of and grateful for each of you.

"I am also hopeful that the publicity this case has received will lead to a discussion of how we can end sexual violence on college campuses. Finally, I want to remind other victims of sexual violence: You are not alone. You are not to blame."
Two other players, Jaborian McKenzie and Brandon Banks, were also accused in the rape. Both have pleaded not guilty and are awaiting trial.
What gives a right for a student to assault a teacher in today's society … taking away their cell phone of course.
Darri Stephens, director of Digital Learning, Common Sense and a former member of Teach for America, appeared on Fox & Friends to discuss the recent attack by a 16 year old punk at JFK High School in Paterson, NJ. What might be as bad as the attack on the innocent teacher, was the fact that the 62 year old educator did not fight back, in fear of losing his job if he did and that no one came to the teachers aide. They all moved away and instead of breaking up the fight, they recorded it on their cell phone to post on YouTube. After Darri Stephens discussed how we change the dynamic of "school culture" in our schools, F&F's host Steve Doocy added, "but we are leaving something out and that is the parents." Steve opined, "the parents in students lives are a big part of the back ground and the character of the students we put in the schools."
"I think is what is more worrisome is the fact that the other students stood back and what we call 'bystanders'. How can we build empathy in kids to stand up and have the confidence to get involved or at least get help. How do we build that positive school culture nowadays in our classrooms?"
Click HERE or on pic to Watch VIDEO via Fox & Friends
Is it really Rev. Al Sharpton against the teleprompter or is it that he just can't read?
From the Washington Free Beacon comes the following best of All Sharpton struggling with the English language. Exactly how does this man have a show on MSNBC? I am not sure which one is my favorite, President Obama holding a "Kolique," Everybody Loves Ray "Morahno," "accidental asphema," or the the massive "manhood" going on in Paris. But perhaps the best is the "use tube" celebrities that Obama met with just just week.
ARE YOU SERIOUS? YOU MEAN REV. AL IS NOT EMBARRASSED JUST A LITTLE?
Just in case you might have missed the previous Al Sharpton vs. the Teleprompter videos, the following are for your viewing entertainment and I mean entertainment. The parent network, NBC, must be so proud. David Brinkley, Chet Huntley,  John Chancellor, Garrick Utley and Tim Russert are all collectively rolling over in their graves.
Al Sharpton VS The Teleprompter #1
Al Sharpton VS The Teleprompter #2
Al Sharpton VS the Teleprompter #3
Posted January 27, 2015 by

Scared Monkeys Al Sharpton

,

Education

,

Epic Fail

,

Fun

,

Gaffe

,

Humor

,

Media

,

MSNBC

,

NBC

,

Racism

,

WTF

,

You Tube - VIDEO

|

no comments
LET ME GUESS, AL SHARPTON WILL SAY THAT THE TEEN WAS PROVOKED TO TAKE THESE ACTIONS …
A black 16 year old thug student attacked a 62 year old teacher at JFK High School in Paterson, New Jersey after the teacher had taken away his cell phone. The teen was charged with third degree aggravated assault charges. The teen punk was arrested and has been suspended from school. Sadly, instead of any brave souls in the room coming to the aid of the teacher, someone in the classroom recorded the assault, which officials say took place at about 1 pm on Tuesday, and the video has been posted on YouTube. You can actually see some students walking away from the attack saying, "I'm out" and that they didn't want any part of this. Profiles in bravery.
This is just another example of the sad state of affairs in our inner city schools. The reason why I say "our" is because I have been in JFK High as well as near by East Side High and many of the apartment complexes in this neighborhood back in the day as a result of work. Those that would call others racist for having an educated opinion. The lack of respect that black males teens show for teachers isjust another example of the lack of respect for authority. What else would you call this but a lack of respect for authority? Who man-handles a teacher? Imagine if the white, 62 year old teacher had made any effort to wrestle or fight with the student, let alone defend himself? Sharpton, Jackson and the NAACP would be marching in the streets of Paterson with the mantra, "Black's cell phones matter" and "Stand up, don't take my cell phone away". (Sarcasm intended)
Aggravated assault charges have been filed against a northern New Jersey high school student who allegedly attacked his 62-year-old teacher in a dispute over a cellphone.

The incident occurred Tuesday at John F. Kennedy High School in Paterson, when the teacher allegedly confiscated a phone from a student.

The phone's owner, another youth identified only as a 16-year-old boy, soon tried to get the phone back.
"He has no respect for anybody. There are rules every where you go."
Paterson freshman charged with assault after classroom attack on teacher:
The district filed a complaint against the student earlier this week, a spokes­woman said, and Paterson police said they arrested him at his home on Friday.

"We took a statement from the teacher today," said Capt. Heriberto Rodriguez. "After that, we went out and found the juvenile and arrested him." The teenager was charged with third-degree aggravated assault, the captain said.

David Cozart, principal of operations at JFK, said the incident happened during a physics class.

He said the teacher apparently confiscated the phone — which belonged to the assailant — from another student. The principal said students are allowed to use cellphones in class for academic purposes, but staff may take the devices and return them at the end of the day if students use them for other reasons.

District officials have not revealed the name of the teacher or student. Peter Tirri, president of the Paterson Education Association, the teachers union, said the teacher has worked in the district since 2003.

"Let me say that this is a very upsetting incident and certainly one that we take seriously as the safety of our students and staff is our top priority," said Terry Corallo, district spokeswoman.

She said the student while on suspension will receive home instruction and a disciplinary hearing will determine "an appropriate, educational placement" for the rest of the school year.

"I'm disappointed I didn't see any other kids in the classroom help [the teacher] out," Tirri said about the events depicted in the short video. "Maybe they were afraid. I don't know."

"What strikes me is that the teacher never even defended himself," said Lee McNulty, a retired JFK teacher who has been vocal recently with criticism about violence and disorder in the high school. "That just shows how much teachers are afraid of losing their job."
CAN YOU SAY IRONY … DARTMOUTH COLLEGE CHEATING SCANDAL IN SPORTS ETHICS CLASS.
You just cant make this stuff up … 64 students at Dartmouth College, including many varsity athletes, have been charged with "Honor Code" violations following a widespread cheating scandal. The course in question that is at the forefront of the cheating scandal, hold it … hold it …. hold it … Sports ethics. UM, REALLY? How bad is it when you have a cheating scandal in a course created at an Ivy League school intended to help student-athletes, who sometimes had trouble with the coursework at Dartmouth. In other words, the course was intended to inflate scholarship athletes grades point averages. Is is a kin to cheating at basket weaving 101. Maybe the professors will give the cheaters an "A" for effort in cheating ingenuity?
Kind of reminds me of the "business ethics" question from the movie 'Billy Madison'.
 Dartmouth College has charged 64 students, many of them varsity athletes, with honor code violations following allegations of widespread cheating in a sports ethics class.

Department of Religion Chairman Randall Balmer, who in November accused some of his students of misrepresenting their class attendance, said that "with a few exceptions, most of the students were suspended for a term."

The college's head of judicial affairs, Leigh Remy, declined to comment, though spokeswoman Diana Lawrence confirmed the number of students facing possible sanctions.

Lawrence said that the college would not make detailed comments on the judicial proceedings until the appeals process ends in mid-January.

According to Balmer, in late October, students who failed to attend class passed off handheld devices known as "clickers" to classmates. Those students then used the gadgets to answer questions on the absent students' behalf to make it appear as though they were present in class, Balmer said.

Though Balmer said that 43 students — less than the total number of students facing sanctions — handed off their clickers to their peers, some others confessed to him that they had helped their friends cheat.

The course in question was originally intended to help student-athletes, who sometimes had trouble with the coursework at Dartmouth, Balmer said. After a popular first run last year, the fall term's class swelled to more than 280 students, and attendance and cheating became a problem.
MEAN GIRLS: Unbelievable, plot to kill school teacher results in no charges against juveniles …
According to the Genesee County Sheriff's Office, three 4th grade girls plotted to kill their teacher at the Elba Elementary school in Elba, NY. The three evil punks planned to put hand sanitizer, some thing that the teacher was highly allergic to, on different items the teacher would touch. Their intent was to get the teacher extremely sick. However, because the plot was caught before it could be implemented the 3 students will not face any charges and the Genesee County Sheriff's Office has closed their case after finding no crime had been committed. UNREAL. So in order to arrest a juvenile and charge them, they needed to kill the teacher. WHAT LOGIC.  The police said the  their of the three was that the girls said the teacher is "mean." What are the odds these three juvenile delinquents will be in trouble in the future? The school district is taking over the investigation.
Deputies with the Genesee County Sheriff's Office say a group of fourth graders planned to kill their teacher at Elba Elementary School.

According to the incident report, the Elba Elementary School principal called authorities after discovering a plot to harm the teacher.

Three students, all girls, are accused of planning to put hand sanitizer on different items the teacher would touch. That teacher is highly allergic to hand sanitizer, and police say the students knew this would hurt the teacher.

Sheriff's deputies and other officials met with the children accused of the plot and their parents. At least one parent said the children knew the teacher could become very sick from contact with hand sanitizer, according to the incident report.

One of the mothers said after learning about the plan, she contacted the school. Another set of parents said they knew about it as well, but did not tell anyone.

The Genesee County Sheriff's Office has closed their case after finding no crime had been committed. Because the plot was never carried out, police say the students are not facing charges.
EXIT QUESTION: SO LET'S UNDERSTAND THIS … THE POLICE GET CALLED TO SCHOOLS AND STUDENTS GET SUSPENDED BECAUSE STUDENTS MAKE A GUN WITH THEIR FINGER AND THUMB OR EAT A POP TART IN THE SHAPE OF A GUN, BUT A BUNCH OF STUDENTS PLOT TO KILL A TEACHER AND THAT GOES UNPUNISHED.
UPDATE I: Two of the student have been suspended. WOW, suspended. What a future these three girls have, there will be plenty of mean people they meet along the way in life, are they going to plot to kill them too? What are the odds that these kids have never been smacked upside their heads for bad behavior?