Seems many are talking about Bob Costa's pink eye which spread from his left eye to his right. Someone even created a Twitter account for Bob Costa's Eyes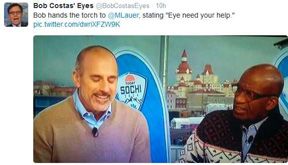 Daily Commentary – Wednesday, February 12, 2014
Download
What was the #1 story leading up to the 2014 Sochi Winter Olympic Games, other than a possible terrorist attack? It was Russia's views and laws that were anti-discriminatory against Gays.
So then why did NBC edit out the one part of the IOC's statement during the opening ceremony that was commenting about Russia's  anti-discrimination" policies? As Buzz Feed reports,  IOC president Thomas Bach made a strong statement against "any form of discrimination" and in favor of tolerance; however, no one in America watching the games saw or heard them because NBC conveniently edited them out. But of course NBC is no stranger to editing out important parts of the news are they (George Zimmerman 911 call). Hmm, why edit something that spoke so directly to what was considered an important part of the games? Please, and I do not want to hear about it being edited for time. There was much more of his speak that could have found it's way onto the editing room floor.
What would the Peacock say?
More from Deadspin more on the edits and both VIDEO's, one edited, the other not.
Good evening, dear Athletes. Mr president of the Russian Federation, Mr Secretary General of the United Nations, Good evening Olympic friends and fans around the world! Welcome to the 22nd Olympic Winter Games! Tonight, we are writing a new page in Olympic history.

What has been achieved in seven years is a remarkable achievement. I would like it thank, in again, the president of the Russian Federation and his Government. The Sochi organizing committee. The Russian Olympic committee. And the IOC members in Russia.

Thank you to all the workers for your great contribution under sometimes difficult circumstances. Thank you to all the people of Sochi and the Krasnodar region. Thank you for your patience, thank you for your understanding during these years of transformation.

Now you are living in an Olympic Region. I am sure you will enjoy the benefits for many, many years to come. Thousands of volunteers have welcomed us with the well-known warm Russian hospitality. Many thanks to all the wonderful volunteers. Bolshoi spasiba, valantyoram! Thank you very much to everyone. Russia and the Russians have set the stage for you, the best winter athletes on our planet. From this moment on you are not only the best athletes, you are Olympic Athletes. You will inspire us with your outstanding sports performances. You have come here for sports. You have come here with your Olympic dream. The International Olympic Committee wants your Olympic Dream to come true. This is why we are investing almost all of our revenues in the development of sports. The universal Olympic rules apply to each and every athlete- no matter where you come from or what your background is. You are living together in the Olympic Village. You will celebrate victory with dignity and accept defeat with dignity. You are bringing the Olympic Values to life. In this way, the Olympic Games, wherever they take place, set an example for a peaceful society. Olympic Sport unites people. This is the Olympic Message the athletes spread to the host country and to the whole world. Yes, it is possible to strive even for the greatest victory with respect for the dignity of your competitors. Yes, Yes, it is possible – even as competitors – to live together under one roof in harmony, with tolerance and without any form of discrimination for whatever reason. Yes, it is possible – even as competitors – to listen, to understand and to give an example for a peaceful society.

Olympic Games are always about building bridges to bring people together. Olympic Games are never about erecting walls to keep people apart. Olympic Games are a sports festival embracing human diversity in great unity. Therefore, I say to the political leaders of the world – thank you for supporting your athletes. They are the best ambassadors of your country. Please respect their Olympic Message of goodwill, of tolerance, of excellence and of peace. Have the courage to address your disagreements in a peaceful, direct political dialogue and not on the backs of the athletes.

To all sports officials and sports fans I say – join and support our fight for fair play, the athletes deserve it. To you – my fellow Olympic Athletes – I say, respect the rules, play fair, be clean, respect your fellow athletes in and out of competition.

We all wish you joy in your Olympic effort and a wonderful Olympic experience. To all of you – Athletes, Officials, Fans and Spectators around our globe – I say, enjoy the Sochi 2014 Olympic Winter Games! And now I have the honour of inviting the president of the Russian Federation, Mister Vladimir Putin, to declare open the 22nd Olympic Winter Games.
UPDATE I: An NBC spokesperson stated "The IOC President's comments were edited for time, as were other speeches, but his message got across very clearly to viewers.
Posted February 9, 2014 by

Scared Monkeys America - United States

,

Bizarre

,

Doctored Tapes

,

Gay-Lesbian

,

Government

,

Media

,

NBC

,

Olympics

,

Russia

,

United States

,

World

,

WTF

|

no comments
Just ahead of the start of the Sochi Winter Olympics and a new terror threat …
The United States Department of Homeland Security has issued a warning to US  and some foreign airlines travelers to Russia for the Sochi Olympic Games to be on the look out for tubes of toothpaste. According to the ABC report, that cited a senior U.S. official, intelligence has indicated that toothpaste tubes can hold ingredients that could be used to construct a bomb aboard a plane. The information "specifically targets flights to Russia." This threat was also linked to the arrests of two women in France.  The women, reportedly 23- and 30-years-old, were of Chechen descent. Leading up to the Olympics in Sochi, there have been many terror attacks in the region, concerns of  black widows already being in the area, and promises by Chechen terrorists of delivering "surprise packages."
 The Department of Homeland Security has issued a warning to U.S. and some foreign airlines traveling to Russia for the Olympic Games to be on the lookout for toothpaste containers, which some intelligence indicates may actually hold ingredients that could be used to construct a bomb aboard a plane, a senior U.S. official told ABC News.

The official did not provide further details about the warning or the intelligence that prompted it, but an official with the Department of Homeland Security, while declining to discuss the specific warning, said the department "regularly shares relevant information with domestic and international partners, including those associated with international events such as the Sochi Olympics."

"While we are not aware of a specific threat to the homeland at this time, this routine communication is an important part of our commitment to making sure we meet that priority," the official said. "As always, our security apparatus includes a number of measures, both seen and unseen, and DHS will continue to adjust security measures to fit an ever evolving threat environment."

A federal law enforcement source said the information is largely intended for foreign carriers and the generic threat is not directed at the U.S. homeland. The Russian government has been informed, the source said.
Going to the Olympics, leave your toothpaste at home.
In an interview with CNN's Jake Tapper last week, U.S. President Barack Obama said that he believes "Sochi is safe." Great, this coming from the man who said, if you like your healthcare plan, you can keep your health care plan. Some how this is hardly a vote of confidence for the Winter Olympic Games.
Posted February 6, 2014 by

Scared Monkeys Bomb Threat

,

Chechen Terrorists

,

Home Land Security

,

Olympics

,

Russia

,

Suicide Bombers

,

Terrorism

,

Travel

,

United States

,

US National Security

,

War on Terror

,

World

|

one comment
Sorry, but if this is what the Olympics has come to, then the terrorists have won …
The Olympic represent the pinnacle of National pride for the host country and for the athletes who represent their own countries competing in the games. But as reported by CBS News, Americans might be hard pressed to find the stars and stripes and team USA logos in Sochi. The Olympic committee told the US athletes not to wear anything that identifies them as American in public. Sadly, the gutless Barack Obama/John Kerry State Department agrees. So athletes and fans are not supposed to show pride and patriotism in the US, they are supposed to cower in fear. Why even go if that is the case? This speaks volumes of our current federal government an namely Barack Obama, doesn't it!!!
It would appear that the motto of the Olympics of Citius, Altius, Fortius  (faster, higher, stronger) has been changed to take part in your sport under the cloak of anonymity and hide from those who would kill you.
So let's understand this, the US is succumbing to the threats of terrorists?  Really? We are allowing terrorists to dictate what we do and how we act? What a gutless government we have.  Sorry, but if the Olympic committee was really serious about any of this they would have never granted the Winter Olympic games to be held in the middle of a terrorist hot bed. How bad is it that athletes who have trained their entire lives for this one moment in time have to ask their families to stay how for safety reasons? What the hell was the IOC thinking in granting these games in the first place? Hey, I say the Summer games should be held in Egypt, Syria or Iran next. It makes about as much sense.
Has anyone ever told the IOC, Barack Obama and the State Department that you do not appease bullies, you stand up to them? Terrorists pride themselves upon fear and sadly Obama is showing that he is just that weak.
Posted January 26, 2014 by

Scared Monkeys America - United States

,

Barack Obama

,

Chechen Terrorists

,

Democrats

,

Epic Fail

,

Freedom - Liberty

,

Good & Evil

,

Islam/Muslims

,

Islamofascist

,

Jihad

,

Lost in Smallness

,

Obamanation

,

Olympics

,

Patriotism

,

Radical Islam

,

Radicals

,

Russia

,

State Department

,

Suicide Bombers

,

Terrorism

,

Travel

,

United States

,

US National Security

,

War on Terror

,

We the People

,

World

,

WTF

,

You Tube - VIDEO

|

2 comments
Will the Sochi Winter Olympics be terror free or are wee about to see terrorism on a world state in real time with social media 24/7?
Ahead of the Sochi Winter Olympics and with previous video threats of terror acts promised to take place and with Russian authorities on high alert, it is now being reported that teams from Germany, Hungary, Italy, Slovakia and Slovenia have received terror threats not to send their athletes to the games. Authorities are already on the look out for "Black Widow's" and other terrorists ahead of the games. Needless to say, talk about a dicey situation.
The Olympic teams of at least five countries said Wednesday that they had received emails threatening attacks at the Winter Games in Sochi, Russia, adding to mounting security fears two weeks before competition begins.

The International Olympic Committee told NBC News that it did not consider the threats credible and said that it appeared to be "a random message from a member of the public."

The Olympic organizing committees of Germany, Hungary, Italy, Slovakia and Slovenia reported getting threats.
According to Zsigmond Nagy, an official of the Hungarian Olympic Committee, he stated the following"I am very pleased to inform everyone that both the IOC and the Sochi organizing committee … declared after the analysis of the letter that this threat is not real,"  "This person has been sending all kinds of messages to many members of the Olympic family." Hmm, not sure how this individual is so sure.
UPDATE I: The International Olympic Committee said Wednesday that the letter sent to the HOC did not represent any threat to athletes. I guess it all depends on how one defines a threat to athletes. However, the German team described the email as a "terror warning" with words to the effect of "be careful out there in Sochi" and the Italian Olympic Committee described the email as containing "terrorist threats." That sounds much different that the IOC looking to present a positive front.
"The IOC treats security issues very seriously and forwards any reliable information to the security services. However, it appears that in this case, the letter sent to the HOC does not contain any threat," an IOC spokesperson told R-Sport.

The Sochi organizing committee also assessed the letter and said there is no real threat, and that the author has also been sending messages to other countries competing in the Olympics, HOC international relations director Zsigmond Nagy told Reuters.
Posted January 22, 2014 by

Scared Monkeys Bomb Threat

,

Chechen Terrorists

,

Germany

,

Italy

,

Olympics

,

Radical Islam

,

Sports

,

Suicide Bombers

,

Terrorism

,

United States

,

War on Terror

,

World

,

You Tube - VIDEO

|

no comments