Then innings later hits a home run in the sixth inning against same Boston Red Sox pitcher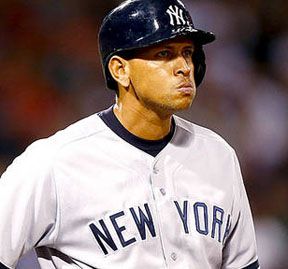 Daily Commentary – Tuesday, August 20, 2013
Download
Chafee said the fall occurred on the stadium's back side. He said witnesses described the fall as accidental, but that police were not releasing other details of what they said.

He said he did not know if wet conditions or alcohol were factors.
A man died after he fell about 65 feet from an upper level of Atlanta's Turner Field during a Braves-Phillies game Monday, police said.

The man fell shortly before 8:55 p.m at the stadium and landed in a secured parking lot.

Atlanta police said the fall appeared to be accidental and added it was too early to tell if alcohol played a factor.
Welcome back Alex Rodriquez … CHEATER!!!
The Chicago White Sox fans booed Alex Rodriquez unmercifully last night  in Chicago in his first plate appearance with the Yankees since the MLB suspended him today for 211 games for PED use. Rodriquez said he would appeal the suspension. All I can say is A-ROD thinks he was booed last night, wait until he takes his first at bat back in Yankee Stadium. He is going to hear more than just Bronx cheers. Yankee fans are going to boo him like has not been heard in years.
Alex Rodriguez stepped up to the plate greeted by a standing boo-vation and blooped a single in his first at-bat of the season.

Hours after Major League Baseball suspended the New York Yankees star through the 2014 season in the Biogenesis drug case, Chicago White Sox fans got their say Monday night.

And, boy, did they let him hear it.

They jeered him during pregame warmups and introductions, and they really tore into him when he walked to the batter's box leading off the second inning.
WHY WE LOVE DAVID ORTIZ AND THE SOX … NEVER HAS AN INAPPROPRIATE WORD BEEN SO APPROPRIATE.
Today at Fenway Park on Yawkey Way, the emotional pre-game ceremonies paid tribute to the victims of last Monday's Boston Marathon. They  honored the first responders, the paramedics, firemen,  the marathon volunteers, the Boston and Watertown police, the FBI and other federal agencies that took part in the bombing investigation, Gov. Patrick and Boston Mayor Thomas Menino. Boston and the surrounding communities have been rocked over the past couple of days since the cowardly, terror acts of two terrorists, Dzhokar Tsarnaev and  Tamerlan Tsarnaev. Yesterday's Red Sox game was actually canceled not due to rain or snow, but because of the manhunt for suspect #2, Dzhokar Tsarnaev. However, all that ended last night in Watertown, MA as Dzhokar was captured alive.
The team replaced the legendary stitching of Red Sox across the front of their jersey's with "Boston".
Today's Red Sox game was a celebration of getting back to normalcy, remembering those innocent people who were senselessly murdered and honoring the heroes who ran toward the bomb blasts to help the 100′s of individuals who were seriously injured. To thank the hard work of the local, state and federal authorities who in less than a week captured one terror bombing suspect alive and sent the other one to Hell. However, to know Boston and it's people's want to show that terrorist acts will never win, Big Papi's inappropriate comments may have been the most appropriate comment to make. To the resounding roar of cheers David Ortiz addressed those in attendance at Fenway Park, to Boston and all of the Bay State … "This is Our F*cking City and No One is Going to Dictate Our Freedom… Stay Strong!"
DAVID ORTIZ … "THIS IS OUR FU@KING CITY AND NO ONE IS GOING TO DICTATE OUR FREEDOM!!!"
Big Papi, David Ortiz's full comments:
"All right," he said. "All right, Boston."

"This jersey that we wear today," he said, "it doesn't say Red Sox. It says Boston. We want to thank you Mayor [Tom] Menino, Gov. [Deval] Patrick, the whole police department for the great job they did this past week.

"This is our f*cking  city and nobody is going to dictate our freedom. Stay strong."
Way to go Big Papi. I can here Joey and Bobby in the North End responding to Ortiz's words, "F'n A, F'n A!!!" In the end, the Sox gave the people of Beantown a 4-3 victory over the Kansas City Royals.
Check out the UK Daily Mail for many pics of the day's pregame ceremonies celebrating the victims and the heroes of the Boston Marathon bombings and the terrorist subsequent being taken down and capture.
UPDATE I: The FCC blesses David Ortiz's "F-Bomb". Finally, some common sense from a government department. As we had stated earlier, never has the an inappropriate word ever been more appropriate for the situation. The only thing missing would have been for Big Papi to say,  … and its our F*cking Country too!" FCC, with FCC Chairman Julius Genachowski tweeting his blessing from the government agency's official Twitter account.
Posted April 20, 2013 by

Scared Monkeys America - United States

,

Boston Marathon Bombing

,

MLB

,

Radical Islam

,

Sports

,

Terrorism

,

Twitter

,

War on Terror

,

We the People

,

You Tube - VIDEO

|

one comment
YOU KNOW TERRORIM HAS LOST WHEN … YANKEES PLAY 'SWEET CAROLINE' AT YANKEE STADIUM.
For those, foreign or domestic, terrorists that would ever thing your cowardly acts can change this great country we call the "UNITED" States … you lose!!! Following the doubling bombing that took place at the finish line of the Boston Marathon where three people were killed and over 170 injured, many sat back in disbelief as to how this could happen. Sadly, there is always EVIL in the world, but the following may be even more shocking. I say this with some levity as being a live long Boston Red Sox fan and having spent many a day and night at Yankee Stadium being harassed by Yankee fans and as we know them, the Evil Empire, today I give them many KUDOS.
Its one thing for 'Sweet Caroline" to be played in tribute to Boston in baseball parks across America, but NYC and the hated rivals, the NY Yankees? That is correct terrorists, that's what you accomplished with your cowardly acts. YOU DID THE IMPOSSIBLE … you brought NYC and Boston together as one. Last night between innings of the game, the NY Yankees played "SWEET CAROLINE", a tradition at every Red Sox home game, Diamond's classic Sweet Caroline is played on the ballpark's speakers before the bottom of the 8th inning. You would actually have to witness in live, see video here, to truly appreciate the experience at Fenway. Who would have ever thought?  Probably the greatest sports rivals in professional baseball and the two fan bases with the most dislike toward one another come together as one against the evils of terrorism. TERRORISTS, YOU LOSE … you have made us stronger, united and more resolved, not weaker or afraid. Never in my lifetime did I ever think 'Sweet Caroline' would ever be played in Yankee Stadium. It took an act of terrorism and people to come together against real EVIL. Thank you New York, much appreciated!
NEW YORK STANDS UNITED WITH BOSTON
Much like after the horrendous act of terrorism on 9-11, following the Boston Marathon bombing, we are all Bostonians today. Hey cowards, You attack one of us, you attack all of us!
International Base Brawl …
So much for these games don't matter as a brawl broke out during the World Baseball Classic between Canada and Mexico. Hardly two teams one would think would get into a bench clearing brawl, but the game got a bit chippy. There is nothing like a bunt single in the 9th inning when you are up by 6 to get the Latin American blood boiling. The result, a subsequent throwing at a batter and a bench clearing melee. How many GM's and MLB owners must have had their hearts in their mouth when they saw this happened fearing an injury of one of their key players or superstars. If more of this happens, look for MLB to restrict players from taking part in the World Baseball Classic.
The seven ejected players … Team Mexico's Arnold Leon, Oliver Perez, Eduardo Arredondo, Andrew Albers and Alfredo Aceves and Canada's Pete Orr, Rene Tosoni and Jay Johnson. The players will not face discipline beyond the ejections, according to a statement released by the World Baseball Classic, Inc.
From the Yard Barker:
In a chippy game that had previously involved a late takeout slide and a collision at home plate, Canadian Chris Robinson bunted to lead off the ninth inning with Canada holding a 9-3 lead. Mexico pitcher Arnold Leon responded by throwing at Rene Tosoni and missing as both teams were warned by the umpire. Then, Leon hit Tosoni on the next pitch and the benches emptied.

Red Sox pitcher Alfredo Aceves was heavily involved in the fray, seen wrestling with Tyson Gillies and appearing to suffer a blow to the head. Aceves' Red Sox teammates were reported to have cheered at the sight of their pitcher fighting.
Don't look now but it appears that Barack Obama went off the teleprompter again, the result … being booed at a Boston fundraiser.
How ignorant could one individual possibly be? President Barack Obama in his less than infinite wisdom was booed at a fund raiser at Symphony Hall when he mocked the crowd by thanking them for former Boston Red Sox 3rd baseman Kevin Youkilis. Brilliant Barack. Youkilis, a Red Sox Nation fan favorite and one the the forever Red Sox heroes that brought Boston and New England a World Series Championship after 86 years, finally breaking the "curse of the Bambino".  Youks was traded following Sunday's baseball game from the Red Sox to the Chicago White Sox leaving only one player left from the 2004 red Sox world champs. Thus, the Ignoramus in Chief thought it cute the maje a joke of it. Dude, let me make one thing perfectly clear, the Red Sox and their fan base take baseball seriously as compared to you and your so-called being a White Sox fan.
Being booed was probably the last thing President Barack Obama expected from the crowd at a Symphony Hall fundraiser Monday night, but that happened when the president "thanked" Boston for Kevin Youkilis, who was just traded to the Chicago White Sox.

"I'm just saying, he's going to have to change the color of his socks," the president said laughing.
This misguided fool actually thought he would not receive boos by his comments. Unreal, who is the one who is out of touch Barack Obama? I guess its good for Obama that he was not running for President in 1920 after Babe Ruth had been traded from the red Sox to the Yankees. I can only imagine the ignorant comment he would have made.
Keep it up Barack and you just may find a way to lose the state of Massachusetts and New England (New Hampshire) while you are at it with ignorant comments regarding Red Sox Nation where baseball is a religion.
UPDATE I: This Administration is nothing more than a bunch of pathetic liars.These idiots cannot even tell the truth when Obama is plainly booed after making a bad joke regarding beloved and recently traded Ken Youkilis. Today White House Press Secretary Jay Carney tried top tell reporters that Obama was not booed, they were saying "YOOOK".
"There has been some really silly reporting about the president's remarks regarding Kevin Youkilis last night. It is highly commendable in my view as a Red Sox fan that the president has always refused to pander on sports," said Carney. "He is a White Sox fan, he owns his fandom of the White Sox. He proved that again last night."

"Anyone who knows Boston, knows the Red Sox and anyone who was in that room last night knows that the preponderance of people shouting in response to what the president said about Kevin Youkilis were saying 'Yoooook' and not 'Booo,' for God's sake," Carney said.
Dude, let me first start by saying this … as a life long Red Sox fan, I think I know the difference between a "BOO" and a YOOOK". You Jay Carney, a hired Obama liar would not. Stick to lying about politics. How sad is it that this Administration cannot even tell the truth when it comes to something as simple as Obama telling a bad joke to the wrong crowd.
STRIKE  I: Watch the following two videos and you can plainly see the difference between a "BOO" and a "YOOOK". In the above video you can hear the crowd boo Obama. In the video below, you can hear the distinct difference of "YOOOOK".
 Hear the crowd start to yell "Yoook" at the 55 second mark
STRIKE II: When Obama actually made the foolish remarks in the above, the egg on his face goof actually says at the 28 second mark, "I didn't think I would get any boos outta here …" Um, Jay … Obama actually admitted he was booed.
STRIKE III: As reported at the Jawa Report, the actual transcript of the event had the audience booing.
I also want to acknowledge former Governor Michael Dukakis, who is here, and his lovely wife Kitty. (Applause.) And finally, Bos, I just want to say thank you for Youkilis.

AUDIENCE: Booo –

THE PRESIDENT: I'm just saying. He's going to have to change the color of his "sox." (Laughter and boos.) I didn't think I'd get any "boos" out of here, but — (laughter) — I guess I shouldn't have — I should not have brought up baseball. I understand. My mistake.

AUDICEN: Booo –
Daily Commentary – Wednesday, June 20, 2012 Download
ROGER CLEMENS … NOT GUILTY … FEDS STRIKE OUT!!!

Major League Baseball great and seven time Cy Young award winner Roger Clemens has been found not guilty  and acquitted on two counts of perjury, obstruction of Congress and three counts of making false statements to Congress in connection with alleged steroid use. GOOD, the case never should have been tried in the first place!!! Following the not guilty jury verdict Clemens thanked his family, lawyers and others who have supported him during the trial where he was accused of using illicit performance enhancing drugs. In the end the jury did not believe the US attorneys made their case, not did they believe Clemens' former personal trainer, Brian McNamee, who the Defense stated had incentive to lie.
Legendary baseball pitcher Roger Clemens was found not guilty Monday of lying to Congress during an investigation of steroid use among major league players.

The case against Clemens involved one count of obstruction of Congress, three counts of making false statements and two counts of perjury. He was not charged with illicit use of performance-enhancing drugs, but his denial of such use was part of the case against him.

A federal jury found him not guilty on all six counts.
Doesn't this President get it that there is a "separation of Baseball and State"?
How bad has it become for President Barack Obama as he seeks reelection in 2012? During Friday night's game between the Boston Red Sox and the NY Yankee's in historic Fenway Park, President Barack Obama delivered a video message recognizing the 100th anniversary of  Fenway Park in Boston, MA. Oh, by the way … Obama's speech was met with boos. Wow, just one more reason to love the Red Sox and Red Sox Nation.
During Friday's Red Sox game, President Obama delivered a video message recognizing the 100th of Fenway Park, in Boston. Several people are reporting that his message was met with booing.
Hey Barack, stick to basketball and leave baseball and such hollowed events like 100 years of baseball to those who actually have followed the sport, not a politician like yourself who is merely pandering. After all Mr. President we have seen you throw a baseball in your mom jeans … you really need to be no part of the game. What's the matter, no NASCAR events on Friday night to attend to try and some how shoe you are the common man?
LOL, as the Gateway Pundit reminds us … the booing of Obama took place in the deep blue city of Boston, Mass. Looks like the folks in Fenway are none too happy with Obama's "hope & change". They must be racists.
BTW, we all know what libs are the owners of the Boston Red Sox. We all remember how peeved Red Sox management got back in 2004 when Curt "the bloody sock" Schilling endorsed GWB on GMA and actually went to a couple of stops stumping with Bush.   However, I actually attended the rally in Portsmouth, NH and BTW, the event was awesome and yes got to shake W's hand. There is nothing like being 50 yards away from Air Force One.
Red Sox pitching ace Curt Schilling will accompany President George W. Bush to his campaign stops in Manchester and Portsmouth on Friday.

The Union Leader has learned Schilling will appear with Bush at rallies at the Verizon Wireless Arena and at the Pease International Tradeport.