Starting a new web based subscription channel at $10 per month. Hopefully hers will have more content than Kim Kardashian's.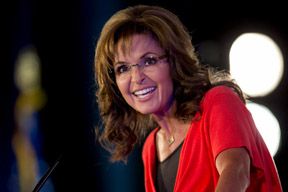 Daily Commentary – Wednesday, July 30, 2014
Download
Former Alaska Governor Sarah Palin challenges the Washington Post to cover Obama's proclamation that absolutely no wrongdoing occurred at the IRS, "not even a smidgen," in the same manner that they did in their tireless and aggressive manner they did President Richard Nixon and the Watergate scandal.
Sorry, I am not sure if MSM, integrity and good journalism can be used in the same sentence anymore.
Sarah Palin's Facebook Challenge to the Washington Post:
To reclaim your credibility (and the mainstream media's, at large), I challenge you to engage in the same aggressive investigative journalism you courageously employed 42 years ago covering President Nixon. The public knows of our current president's incompetence, denials, and cover-ups, but would be well served if we could count on your resources to dig deep for truth in all matters pertaining to Team Obama.

One example: your reporters kept tracking an obscure break-in story and that led to revealing a grave problem in the White House. The Washington Post's reputation soared as the model of good journalism. Today, you've fallen like a lead balloon. Whereas you once doggedly covered the 18.5 minute gap in Nixon's White House communications, you've virtually ignored the Obama Administration's 1.2 million minutes of deleted communications by just one of the agencies under Obama's executive branch. I'm speaking of the Lois Lerner IRS harassment-of-conservatives scandal wherein Lerner "lost" pertinent email communications. You've allowed Obama to skate with his proclamation that absolutely no wrongdoing occurred at the IRS, "not even a smidgen."

The list of Obama abuses and impeachable offenses is long. I challenge you to lift a finger and help protect democracy, allow justice for all, and ensure domestic tranquility by doing your job reporting current corrupt events fairly. If not, you prove yourselves incompetent and in bed with Obama, not caring one iota about media integrity.

Those running the Washington Post's show now, compared to those during the Nixon era, are too afraid of being uninvited to the permanent political class' cocktail parties and petty gossip fests, making you all a bunch of wusses. I challenge you to get to work.

- Sarah Palin
Posted July 28, 2014 by

Scared Monkeys 2012 Elections

,

America - United States

,

Barack Obama

,

Benghazi-Gate

,

Chicago-Style Politics

,

collusion

,

Community Agitator

,

Conspiracy

,

Corruption

,

Cover-Up

,

Crime

,

Democrats

,

Divider in Chief

,

Epic Fail

,

Ethics

,

Fast & Furious

,

Gutter Politics

,

Impeachment

,

Imperial President

,

IRS-gate

,

Liberals

,

Lois Lerner

,

Misleader

,

Obama in Wonderland

,

Obamacare

,

Obamanation

,

Obstruction of Justice

,

Phony Scandals

,

Progressives

,

Restoring America

,

Sarah Palin

,

Scandal

,

The Lying King

,

Transparency

,

United States

,

US Constitution

,

VA Scandal

,

We the People

|

3 comments
SPTV …
Sarah Palin launches her own on-line TV channel to eliminate the liberal media news filter and speak directly to the people. Subscribers to the Sarah Palin Channel will have the ability to post their own videos to the website, submit questions to her and participate in online video chats with her and other subscribers. Palin says, most importantly, I want you to talk directly to me. Palin says, the channel is more than just news, it is a community.
Go to Sarah Palin Channel and check it out for free.
The Sarah Palin Channel, which costs $9.95 per month or $99.95 for a one-year subscription, will feature her commentary on "important issues facing the nation," as well as behind-the-scenes looks into her personal life as "mother, grandmother, wife and neighbor." Palin serves as executive editor, overseeing all content posted to the channel.

"I want to talk directly to you on our channel, on my terms — and no need to please the powers that be," Palin, who is also a Fox News contributor, said in a video announcing the channel. "Together, we'll go beyond the sound bites and cut through the media's politically correct filter."
Posted July 27, 2014 by

Scared Monkeys America - United States

,

American Exceptionalism

,

Conservatives

,

First Amendment

,

Freedom of Speech

,

Freedom of the Press

,

Internet

,

Patriotism

,

Restoring America

,

Sarah Palin

,

Social Media

,

United States

,

US Constitution

,

We the People

,

You Tube - VIDEO

|

no comments
NO MAS  … It is time to impeach Barack Obama.
From Breitbart.com, former Alaska governor and Republicans Vice-Presidential candidate Sarah Palin says, "Enough is enough of the years of abuse from this president." Honestly, I could not agree with Palin more. Obama has been either the most inept president ever or worse, he is intentionally trying to destroy America from within. There have been one too many scandals, one too many purposeful harmful polices and one too many dereliction of Obama's duties. As Sarah Palin wrote, "President Obama's rewarding of lawlessness, including his own, is the foundational problem here." As Palin ended her oped with, "If after all this he's not impeachable, then no one is."
Enough is enough of the years of abuse from this president. His unsecured border crisis is the last straw that makes the battered wife say, "no mas."

Without borders, there is no nation. Obama knows this. Opening our borders to a flood of illegal immigrants is deliberate. This is his fundamental transformation of America. It's the only promise he has kept. Discrediting the price paid for America's exceptionalism over our history, he's given false hope and taxpayer's change to millions of foreign nationals who want to sneak into our country illegally. Because of Obama's purposeful dereliction of duty an untold number of illegal immigrants will kick off their shoes and come on in, competing against Americans for our jobs and limited public services. There is no end in sight as our president prioritizes parties over doing the job he was hired by voters to do. Securing our borders is obviously fundamental here; it goes without saying that it is his job.

The federal government is trillions of dollars in debt; many cities are on the verge of insolvency; our overrun healthcare system, police forces, social services, schools, and our unsustainably generous welfare-state programs are stretched to the max. We average Americans know that. So why has this issue been allowed to be turned upside down with our "leader" creating such unsafe conditions while at the same time obstructing any economic recovery by creating more dependents than he allows producers? His friendly wealthy bipartisan elite, who want cheap foreign labor and can afford for themselves the best "border security" money can buy in their own exclusive communities, do not care that Obama tapped us out.

It's time to impeach; and on behalf of American workers and legal immigrants of all backgrounds, we should vehemently oppose any politician on the left or right who would hesitate in voting for articles of impeachment.

The many impeachable offenses of Barack Obama can no longer be ignored. If after all this he's not impeachable, then no one is.
Sarah Palin reminds us … How's that "Hopey-Changey" stuff workin' out for ya?
Posted July 9, 2014 by

Scared Monkeys American Exceptionalism

,

Barack Obama

,

collusion

,

Community Agitator

,

Conspiracy

,

Corruption

,

cronyism

,

Divider in Chief

,

Epic Fail

,

Hope and Change

,

Illegal Immigration

,

Latinos/Hispanic

,

Law Enforcement

,

Leading from Behind

,

Minorities

,

Misleader

,

Misrepresentation

,

Obamanation

,

Open Borders - Border Security

,

Sarah Palin

,

Socialist in Chief

,

The Dodger in Chief

,

The Lying King

,

United States

,

US Border Patrol

,

You Tube - VIDEO

|

4 comments
Former Alaska Governor and GOP Vice Presidential candidate Sarah Palin reminded the folks at the NRA's 'Stand and Fight Rally' what "They're" trying to do. Palin went on to say, "Let us learn from out Founders … remember back in the day the colonists stood in line to register their muskets. Me either, because they didn't". Palin also went on to hammer the Obama administration and Democrats their lack of understanding of terrorism by saying, "THEY don't know what is right. Not when that evil Muslim terrorist Maj. Hasan massacres his fellow US military soldiers at Fort Hood. His  Allahu Akbar praising jihad … THEY call that workplace violence. What calling that Devil a disgruntled employee and THEY call us the terrorists?"
Maybe one of her best lines of the night was when she mocked VP Biden when he told women before an assault fire a warning shot in the air. Palin said, "that may be fine if your rapist is a bird." But then came the money line … "Gals you know that now a days ammo is expensive, don't wast a bullet on a warming shot."
Palin was a speaker at the group's 'Stand and Fight Rally,' held at Lucas Oil Stadium in Indianapolis.

The Republican former Alaska governor and 2008 vice presidential nominee's remarks followed her criticism of of policies she said were coddling to 'enemies that would annihilate America – they who'd obviously have information on plots to say, carry out jihad.

Palin also criticized an 'intellectual elite in a far-distant capital' that she said wanted Americans to abandon Revolutionary War ideals.

She also implied that the government is trying to control the people.

'Look, if you control oil, you control an economy,' she said. 'If you control money, you control commerce. But if you control arms, you control the people and that is what they're trying.'

Elsewhere in her speech, she called the idea of gun-free zones as 'stupid on steroids' and dismissed the idea of gun stores being linked to crime.
Posted April 28, 2014 by

Scared Monkeys 2nd Amendment

,

Abuse of Power

,

America - United States

,

Barack Obama

,

Chicago-Style Politics

,

Democrats

,

Epic Fail

,

Government

,

Gun Control

,

Jihad

,

Liberals

,

Misleader

,

NRA

,

Patriotism

,

Progressives

,

Restoring America

,

Sarah Palin

,

Second Amendment

,

Terrorism

,

United States

,

US Constitution

,

We the People

,

You Tube - VIDEO

|

one comment