Police have to wonder if the job is worth it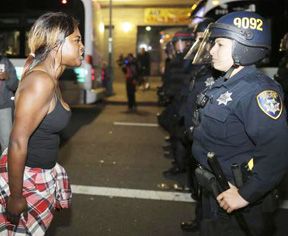 Daily Commentary – Monday, December 29, 2014
Download
So much for the First amendment when you are a police officer … They will get their pound of flesh no matter who it is.
Ferguson police department spokesman, Officer Timothy Zol, has been placed on unpaid leave after calling the damaged Michael Brown memorial, "a pile of trash." The memorial for Michael Brown, which resides in the middle of the road near the Canfield Green apartment complex, where Brown was shot and killed by police officer Darren Wilson, was run over by a car. After first stating that he was misquoted, Zoll admitted that he made the statement. For that he was placed on unpaid leave. WOW, UNREAL. I have just one question, what happens if this memorial cause an accident and someone gets injured or killed? Wouldn't that be ironic. The damn memorial is in the middle of the street, not on the side of it or the sidewalk. How is that even legal?

Most likely the comment, although could have been worded differently, was in reaction to the stupidity of the WAPO to even make this a news worthy issue. With everything else going on in the world that is news, the WAPO wanted to know what the Ferguson police was going to do about a memorial in the middle of the street that was run over by a car. Maybe the officers comment should have been, are you frigging kidding, go report a real story.
Well, at least it is supposed to be …
A Ferguson police spokesman was placed on unpaid leave after acknowledging remarks to a Washington Post blogger in which he called the Michael Brown memorial a "pile of trash," city officials said Saturday.

One day earlier, the city stood behind the spokesman, Officer Timothy Zoll — claiming he had been misquoted — after an inquiry into the damaged memorial in the middle of Canfield Drive. But officials retreated in a one-page statement issued Saturday.

Zoll was "confronted with the results" of a department investigation into the remarks attributed to him, city officials said.

The officer "admitted to department investigators" that he made the statement attributed to him" and had "misled" superiors about the interview.
The scapegoating by Ferguson PD. Who thinks that Zoll will be fired to appease the black community? A more secure location, You mean like out of the frigging street? Negative remarks do not reflect the Michael Brown memorial. HUH? Who actually thinks fellow police officers think that Michael Brown is a hero that deserves to be memorialized after he attacked and had his way would have harmed a police officer?
"The City of Ferguson wants to emphasize that negative remarks about the Michael Brown memorial do not reflect the feelings of the Ferguson Police Department and are in direct contradiction to the efforts of city officials to relocate the memorial to a more secure location," the statement reads. The department noted that even after the officer's initial denial, it "continued the investigation until the truth was discovered."
Just so that we have the facts correct, let's get this correct. So Ferguson protesters can call police officers "pigs,"' they are allowed to taunt the police, and make death threats against them as well as throw bottles and other objects at them. And of course it was perfectly A-O-K for Ferguson protesters to express their First amendment rights of freedom of speech and chant in Ferguson, Missouri after the ambush shooting deaths of two NYPD officers, "Pig's in a blanket, smells like bacon."
But a police officer call the memorial that was run over by a car to a teen who robbed a store, assaulted a store owner, resisted arrest and attacked a police officer threatening to take his gun, a pile of trash is evil. REALLY? Seems like night and day when one compares the two. But only the police are supposed to give in, never the protesters. Hate speech is okay, but not this. How are the police even suppose to do their job when every little thing is going to be examined with a microscope, because one way or another, THEY are going to get a pound of someone's flesh.
Maybe the police in Ferguson should just go on strike and let the citizens fend for themselves.
Go figure, a car ran over stuff that was in the middle of the road …
The WAPO reports that the memorial for Michael Brown was destroyed overnight. Individuals are saying that a car intentionally destroyed it. Really, how would they know that? Are these the same folks that said Brown was a "gentle giant," had his hands up and was shot in the back? The memorial sits in the middle of a street near the Canfield Green apartment complex, where Brown was shot and killed. A note to those who made the memorial, it would have a longer life cycle if maybe you did it on the sidewalk instead of the middle of the road, just a thought. Better hope it doesn't snow, or will they say the snow plow trucks intentionally destroyed the memorial as well?
People hurriedly cleaned and rebuilt a memorial to Michael Brown in Ferguson, Mo., on Friday morning after they said a car intentionally destroyed it.

Flowers, signs and other mementos, left in remembrance of the 18-year-old who was killed in a police shooting in August, were scattered throughout the streets, stirring supporters who saw pictures on social media to gather to restore the makeshift shrine.

Officer Timothy Zoll, the Ferguson Police Department's public relations officer, said that no crime had been reported in connection to the memorial's destruction. He suggested that the department would look at any video of the incident, but he did not specify whether the department would investigate.

"I don't know that a crime has occurred," Zoll said Friday. "But a pile of trash in the middle of the street? The Washington Post is making a call over this?"
The memorial was rebuilt overnight. It is too bad these people were not more concerned with the individual's businesses that were vandalized, looted and burned to the ground following the grand jury decision not to indict police officer Darren Wilson in the shooting death of Michael Brown,as they are a memorial built in the middle of the street.
North Korea can threaten US with nukes and makes no news, but call Obama a monkey and all hell breaks loose.
North Korea calls President Barack Obama an individual who always goes "reckless in words and deeds like a monkey in a tropical forest." North Korea is blaming the United States for their recent internet blackout and blaming Obama of forcing Sony to release "The Interview" . North Korea has done it now, Al Sharpton will be on their tail. 
North Korea called President Barack Obama "a monkey" and blamed the US on Saturday for shutting down its internet services amid the hacking row over The Interview

North Korea has denied involvement in a crippling cyber-attack on Sony Pictures but has expressed fury over the comedy depicting an assassination of its leader Kim Jong-un. After Sony Pictures initially called off the release in a decision criticized by Obama, the movie has opened this week.

On Saturday, the North's powerful National Defense Commission, the country's top governing body led by Kim, said that Obama was behind the release of The Interview. It described the movie as illegal, dishonest and reactionary.

"Obama always goes reckless in words and deeds like a monkey in a tropical forest," an unidentified spokesman at the commission's policy department said in a statement carried by the official Korean Central News Agency.
North Korea compares Obama to 'monkey' for 'The Interview' release.
It wasn't the first time North Korea has used crude insults against Obama and other top U.S. and South Korean officials. Earlier this year, North Korea called U.S. Secretary of State John Kerry a wolf with a "hideous" lantern jaw and South Korean President Park Geun-hye a prostitute. In May, the North's official news agency published a dispatch saying Obama has the "shape of a monkey."

A State Department spokeswoman at the time called the North Korean dispatch "offensive and ridiculous and absurd."
AP has released their TOP 10 stories of 2014. Some I would agree with; however, I think they missed a few glaring oversights, in favor of the cause-celeb issues of the day. At least in the mind of the media and not the common sports fan. AP made the NFL domestic violence issues their top story, which sadly, I do agree with. Although, it is not like domestic violence is something new to the NFL. It has been around for decades, it has just been swept under the carpet, much like the steroids and concussion issues.
Does anyone notice a glaring omission from AP's stories below? With all the clamor about the Washington Redskin's and their offense name, how come that one was no where to be found?
1. NFL DOMESTIC VIOLENCE: Baltimore Ravens star running back Ray Rice knocked his now-wife unconscious in an Atlantic City casino elevator Feb. 15, but it wasn't until July 24 that domestic violence cases spiraled into a crisis roiling the NFL. Commissioner Roger Goodell suspended Rice for just two games, which drew widespread derision. More than a month passed before Goodell admitted he "didn't get it right" and announced harsher sanctions for future domestic violence offenses.

But the NFL's problems were only beginning. On Sept. 8, TMZ Sports released video from inside the elevator that showed Rice punching his then-fiancee; the Ravens responded by releasing him and Goodell suspended him indefinitely. And on Sept. 12, one of the league's biggest stars, Minnesota Vikings running back Adrian Peterson, was indicted on felony child abuse charges for using a wooden switch to discipline his 4-year-old son. The Vikings initially planned to play him just over a week later, reversing course only after the ensuing uproar. [editors note: looks like AP forgot Carolina Panther's DE Greg Hardy, Arizona Cardinals RB Jonathan Dwyer, and San Francisco 49ers defensive lineman Ray McDonald who was just released by the 49ers after another allegation of domestic violence.

The year ends with Rice reinstated by an arbitrator but without a team and Peterson suspended and suing the NFL. Chastened by those and other cases, the league is pushing a new personal conduct policy, but the players' union is balking at Goodell's role in the disciplinary process.

2. CLIPPERS' STERLING BANNED
3. LEBRON GOES HOME:
4. FIRSTS FOR GAY ATHLETES - [editors note: not sure if this story gets top 10, not because of not being important, more so because Michael Sam never made a starting roster and was eventually cut from the Ram's practice squad and never resigned by another team].
5. GIANTS WIN WORLD SERIES
6. COLLEGE FOOTBALL PLAYOFF PAYS OFF – [editors note: This was a huge story for college football; however, it will soon be changed to 8 teams and not 4.]
7. TONY STEWART:
8. WORLD CUP:
9. SEAHAWKS WIN SUPER BOWL – [editors note: Once again QB Peyton Manning choked in the big game as the Legion of Boom and Seattle Seahawks dominated the Denver Broncos 43-8. I am not even sure if the game was that close. The score was 36-0 before Broncos decided to score a meaningless TD.]
10. SOCHI OLYMPICS:
Many of the above stories were covered by Scared Monkeys, I think a couple should be added that are glaring commissions from AP's top 10.
All my life I have been a Boston Red Sox fan and have hated the vile NY Yankees, but I will be the first to admit that the retirement of Derek Jeter should have easily been in the top 10. What about the NCAA College basketball center of the universe being located in Storrs, Connecticut? In 2014 the UCONN Huskies Men's and Women's teams were proved they were both "Best in Show" as they won National Championships. The  men for the 4th time as the #7 seed University of Connecticut Huskies defeat the #8 seed Kentucky Wildcats, 60-54. Then, the following night, Geno Auriemma's (40-0) Lady Huskies routed Notre Dame 79-58  for their 9th title.  This accomplishment had only happened one time before in D1, by the UCONN Huskies in 2004.
Maybe the best sports story of 2014 and maybe the most inspirational of 2014, which was completely missed by all sports pundits, is the story of freshman forward Lauren Hill of the Division III Mount St. Josephs. Lauren is dying of inoperable brain cancer. It is a story that will touch your heart. I will write more about this in a separate post as it is my #1 story of 2014 in a year that had so many negative ones.
Lauren Hill
FOLKS, WHAT PART DON'T YOU UNDERSTAND … IF YOU POINT A GUN, REAL, FAKE OR WHATEVER, AT A POLICE OFFICER AND YOU WILL BE SHOT DEAD.
White police officer shoots and kills unarmed armed black male. Riots broke out last night around 11 pm in Berkeley, Missouri after a police officer shot and killed a black man at the gas station in the 6800 block of N. Hanley Road in Berkeley.  According to reports, the suspect allegedly pointed a gun at police. St. Louis County Police Chief Jon Belmar says the Berkeley shooting victim was black and the officer white. Berkeley is about 2 miles from Ferguson, Missouri. Needless to say, the shooting incident sparked riots from the community.
click HERE to watch VIDEO via KSDK-5
A crowd of about 200-300 people gathered outside of a gas station in north St. Louis County overnight after a Berkeley police officer shot and killed an armed 18-year-old.

According to Sgt. Brian Schellman, a spokesman with the St. Louis County Police Department, the shooting took place at 11:15 p.m. at the Mobil station in the 6800 block of N. Hanley Road.

The officer was responding to a reported theft at the gas station when he noticed two young men along the side of the building. As the officer walked toward the front door, one of those men pulled out a handgun and pointed it at the officer, Schellman said.

The officer opened fire, striking the armed man, who died at the scene. The second man ran off.
The incident is reported by the St. Louis County Police Facebook page:
The St. Louis County Police Department is conducting an investigation into a shooting death involving a Berkeley, Missouri police officer.

At approximately 11:15 PM on December 23, 2014, a police officer with the City of Berkeley was conducting a routine business check at the Mobile Gas Station located at 6800 N. Hanley when he observed two male subjects on the side of the building.

The Berkeley Police Officer exited his vehicle and approached the subjects when one of the men pulled a handgun and pointed it at the officer. Fearing for his life, the Berkeley Officer fired several shots, striking the subject, fatally wounding him. The second subject fled the scene.

The Berkeley Police Department requested the St. Louis County Police Department's Crimes Against Persons Unit to handle the investigation. St. Louis County Police Detectives have recovered the deceased subject's handgun at the scene.

At this time, we cannot confirm the identity of the deceased subject. The investigation is on-going and further details will be provided as the investigation proceeds.
UPDATE I: Officer fatally shoots armed man in town near Ferguson, Missouri
Once again we are presented a picture of an innocent teen, who would never hurt anyone and whose mother said did not even own a gun. Other so-called witnesses on the scene claim he was running away from the police officers. We have heard this song and dance before. It is certain that the gas station had video surveillance so I am sure we will know whether or not the deceased had a gun or not and how it all went down. Get ready for Hands, Part Deux.
An 18-year-old male held a gun "straight out" at a Berkeley, Missouri, police officer before that officer fired "what we think … were three shots," St. Louis County Police Chief Jon Belmar said Thursday. The man — who died after being shot by the officer — is not believed to have fired any shots himself, according to Belmar.

After the officer left his squad car, one of the pair pointed a gun at the officer, who fired multiple times at him, killing him, Schellman said. The second person fled, police said.

The slain man was Antonio Martin, an 18-year-old African-American, his family told CNN.

Police say the officer, whose name wasn't immediately released, shot in self-defense.
UPDATE II: Berkeley officer kills suspect who pulled gun; police say victim was 'known' to police.
Police said they did not know who the second person was, but they called him a "person of interest" and asked for the public's help to find him.

They said two bystanders on the Mobil parking lot were witnesses.

At a news conference later Wednesday morning, Berkeley Mayor Theodore Hoskins said, "You can't compare this to Ferguson or the Garner case in New York." He said the videotape showed the suspect pointing a gun at the officer. He said the city would conduct its own complete investigation, separate from the St. Louis County Police investigation.

"Our overall goal is to project the truth to residents," Hoskins said.

Among the department's 31 officers, the mayor said, 17 or 18 are African-American. About 75 percent of the command staff are black, in addition to the mayor, police chief and other city officials, Hoskins added.

"At this point, our review indicates that the police did not initiate this, like Ferguson," Hoskins said.
PATHETIC LIBERAL, RACE BAITER: HEY AL, YOU CLAIM TO BE A REVEREND … YOU REAP WHAT YOU SOW.
Al Sharpton, after inciting not so peaceful protests and fanning the flames of racism for months following the grand jury decision's not to indict police officers in Ferguson, Missouri and Brooklyn, NY in the deaths of Michael Brown and Eric Garner, it reached critical mass as two on duty police officers where shot and killed at point blank range as they sat in their police car, now claims to be the victim. How typical of this parasite. Sharpton helped create the atmosphere that lead to mob rule, disrespect against police officers and ultimately to the murder of NYPD officers, Wenjian Lu and Rafael Ramos. Because of Sharpton's actions, there have been protesters chanting death to cops. Because of his lies of racism, the police have become marked men. Now that the racism keg has ignited, Sharpton whines that he is getting death threats. Are you kidding me.
After the justice process took place in Ferguson, MO and the grand jury decided not to indict, race-baiter Al Sharpton said the following, "You won the first round, Mr. Prosecutor, but don't take your gloves off. Justice will come to Ferguson." What was Sharpton's definition of justice, revenge, the death of a police officer, what?
Like a typical race-baiting, liberal, now Al wants to play the victim after his rhetoric causes things to get way out of control. Own it Al!
Al Sharpton inspired protests in NYC … "What do we want, Dead Cops. When do we want it, NOW!"
Al Sharpton said Sunday that he's been the victim of racist and violent death threats following the execution-style killings of two NYPD officers.

Critics have accused the reverend and New York City Mayor Bill de Blasio of stoking racial and anti-police tensions in the aftermath of the police-involved death of Eric Garner.

Mr. Sharpton, appearing before reporters alongside Garner's wife and mother, said he has received threats since NYPD Officers Rafael Ramos and Wenjian Liu were gunned down Saturday afternoon as they sat in their patrol car in Brooklyn, the New York Post reported.

The reverend played an expletive-filled voicemail over live television that purported to show someone saying, "Hey [n-word], stop killing innocent people, I'm going to get you!" the Post reported.

"I have several like this," Mr. Sharpton said, the Staten Island Advance reported. "We are now under intense threat from those that are misguided, by those that are trying to blame everyone from civil rights leaders to the mayor rather than deal with an ugly spirit that all of us need to fight."
Al Sharpton helped light the fuse that lead to the chaos and death of two NYPD officers and now he wants to file an insurance claim on the building that he aided in the arson. UNREAL.
The civil rights leader condemned police union leaders for accusing the mayor of inciting violence against cops.
Relations between the Mayor's office and NYPD couldn't be much worse as shown when officers turned their backs on the mayor just before he gave a speech regarding the shooting
Daily Commentary – Tuesday, December 23, 2014
Download
WHEN THE VIEW ATTACKS EACH OTHER … OMG, THIS SHOW HAS GONE IN THE TOILET, NO WONDER BARBARA WALTERS JUMPED SHIP.
There is nothing better than two liberals trying to out-liberal each other. Take a good watch and listen to Whoopi and Rosie go at it when it comes to racism in America. However, what might have been the best exchange was when Rosie O'Donnell tried to compare being gay to being black. Whoopi wanted no part of the comparison. Aren't liberals so tolerant?
 "Listen! You are a white lady telling me what is racist to you," Goldberg said, with O'Donnell shooting back, "I am a gay American."

"It's not the same!" Goldberg said, raising her voice.
"You guys need to know what real racism is … Racism is when someone comes up and says (expletive) and die. That's racist."

Goldberg added that it was "ignorance," and not racism, that caused racial profiling, but Cox disagreed, stating that it was caused by "implicit bias."

"I've been black for 60 years," Goldberg said. "For me, stupidity, dumb folks who just say dumb stuff because they're not looking or paying attention to the person they're talking to, which is why people could walk up to Obama and not look up at him and see that it's the President."
i guess it would be astonishing for blacks and gays to hear that even white folks have been profiled, followed in stores and asked to do things as if they were the hired help.
Posted December 22, 2014 by

Scared Monkeys Black America

,

Blacks

,

Celebrity

,

Gay-Lesbian

,

Liberal Intolerance

,

Liberals

,

Progressives

,

Race Card

,

Racism

,

Rosie O'Donnell

,

Slavery

|

2 comments
Former New York City Mayor Rudy Giuliani speaking the harsh reality of the truth …
"We've had four months of propaganda starting with the President that everybody should hate the police. I don't care how you want to describe it, that is what those protests are all about. The protests are being embraced. The protests are being encouraged.  The protests, even the ones that don't lead to violence, and a lot of them lead to violence, all lead to a conclusion, the police are bad and the police are racist. That is completely wrong. Actually, the people who do the most for the black community in America are the police, NYC and else where. They are the ones, not the Al Sharpton's, they are the ones who put their lives on the line to save black children."
Posted December 21, 2014 by

Scared Monkeys Al Sharpton

,

Barack Obama

,

Community Agitator

,

Democrat/Obama Propaganda

,

Divider in Chief

,

Law Enforcement

,

Misleader

,

Obamanation

,

Race Card

,

Racism

,

Rudy Giuliani

,

Strike/Protest

,

You Tube - VIDEO

|

5 comments