Cleared of criminal charges in the death of 16-year-old Chinese student Ye Mengyuan in responding to plane crash.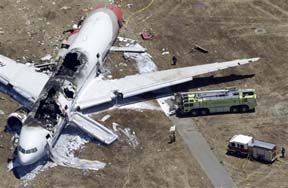 Daily Commentary – Wednesday, October 23, 2013
Download
A UPS cargo plane, A-300 Airbus, tail number N155UP, crashed around 5:00 am just outside the fence of the Birmingham-Shuttlesworth International Airport in Alabama. The flight originated from Louisville, Ky. At this point there has been no word as to the condition of the two crew members aboard, they are considered missing; however, this does not look good.
A UPS cargo plane with at least two people aboard crashed early Wednesday just outside the fence of the Birmingham, Ala., airport, and FAA official confirmed.

A UPS spokesman confirmed to MyFoxAL.com that the plane was a UPS A-300 Airbus, tail number N155UP, with two crew members aboard. The flight originated in Louisville, Ky., and crashed upon its approach in Birmingham. UPS said the crew has not been located.

"Our thoughts and prayers are with the crew," the spokesman said.

Federal Aviation Administration spokeswoman Kathleen Bergen told The Associated Press that the plane crashed before dawn Wednesday.
UPDATE I: Two crew members dead.
Sadly, the two crew members aboard the cargo plane that crashed this morning at dawn are considered dead. The Mayor's office have confirmed that the pilot and co-pilot have been found at the crash scene dead.
The Birmingham Mayor's Office has confirmed that the pilot and copilot of the plane have died in the crash. We'll continue to update this story as information is confirmed.
Are you kidding me that some one actually fell for this prank? And the media criticized blogs for not fact checking and editing … LOL!!!
As reported by Deadspin, San Francisco Bay area Fox affiliate KTVU learned the names of the flight crew of Asiana flight 214, which crashed last Saturday at San Francisco International Airport, killing two, now three. They went on air and stated the four named of the pilots: "Sum Ting Wong," "Wi Tu Lo," "Ho Lee Fuk," and "Bang Ding Ow". HUH?  What made it even worse was the newscaster's serious reading of the names that puts it over the top. Good grief. I am sorry, but how new a news station not get what was a 4th grade telephone prank when I was a kid? How could no one have realized that this was an obvious spoof?
How long will it take for some one to call KTVU and ask whether their refrigerator is running?
KTVU offered an apology after they realized they had been had.
On Friday, July 12, during the KTVU Channel 2 Noon newscast, we misidentified the pilots in the Asiana Airlines crash.

We made several mistakes when we received this information. First, we never read the names out loud, phonetically sounding them out.

Then, during our phone call to the NTSB where the person confirmed the spellings of the names, we never asked that person to give us their position with the agency.

We heard this person verify the information without questioning who they were and then rushed the names on our noon newscast.
The NTSB said late Friday that an intern had confirmed to a California news station the fake names of the pilots aboard the crashed Asiana flight in San Francisco. NTSB Press Release on the incident:
The National Transportation Safety Board apologizes for inaccurate and offensive names that were mistakenly confirmed as those of the pilots of Asiana flight 214, which crashed at San Francisco International Airport on July 6.

Earlier today, in response to an inquiry from a media outlet, a summer intern acted outside the scope of his authority when he erroneously confirmed the names of the flight crew on the aircraft.

The NTSB does not release or confirm the names of crewmembers or people involved in transportation accidents to the media. We work hard to ensure that only appropriate factual information regarding an investigation is released and deeply regret today's incident.

Appropriate actions will be taken to ensure that such a serious error is not repeated.
With the advent of the Internet and technology, in the 21st century, everyone is a journalist.
Check out the amateur raw VIDEO below of  the Asiana Flight 214 plane crash that happened yesterday at the San Francisco International Airport. Fred Hayes was videoing the landing of planes a the San Fransisco International airport when suddenly he noticed one plane was coming in a little different with its nose up and then it crashed … "Oh my God, oh my God, it's an accident … Oh Lord have mercy".
The VIDEO below is of the crash and the CNN interview with the man who video taped the plane crash.
Amateur video obtained exclusively by CNN on Sunday shows the plane approaching the runway and striking what appears to be a seawall before spinning counterclockwise and coming to a stop. Fred Hayes said he shot the video about a mile from the crash scene.
BREAKING NEWS: CBS News is reporting that the FAA has announced that a Boeing 777 Asiana Airlines flight from Seoul, South Korea to San Francisco, CA has crashed while making an emergency landing on the  runway at San Francisco Airport. The airlines stated that 291 people were on board, including a group of vacationing Korean school children, but there was no official word on any casualties. According to reports, witnesses said they heard a loud bang, the tail came apart from the plane and black smoke billowed into the air, visible for miles. According to a witness via PJ Media, around 11:20 a.m. the plane was just about to land — its landing gear had come down — when the tail of the plane came off," San Francisco airport is currently closed, not accepting any inbound planes or allowing outbound traffic.
A federal aviation official says an Asiana Airlines flight has crashed while landing at San Francisco airport. It was not immediately known whether there were any injuries.

Federal Aviation Administration spokeswoman Lynn Lunsford says the Boeing 777 crashed at San Francisco Airport while landing on Saturday.

Asiana Flight 214 was arriving from Seoul.
There has been no official word yet as to the passenger injuries.
Photos and video of the aircraft show fire and smoke from the aircraft
RAW VIDEO can be seen here.

More LIVE VIDEO feed from CNN.
UPDATE I: As reports at KTVU, the San Francisco Fire Dept. indicated it was aware of at least 12 passengers transported to local hospitals.
Meanwhile, according to dispatcher for the San Francisco Fire Department at least 12 people crash victims have been taken to local hospitals. It was not known how many passengers have survived the crash.

Firefighters and emergency crews from San Francisco, Redwood City, San Mateo responded to the airport and dosed the burning plane with foam to extinguished the fully engulfed aircraft.

Meanwhile, officials have closed all access to the airport and arriving flights were being diverted to nearby Oakland International .
UPDATE II: Many more updates and pictures of the accounts at PJ Tatler.
UPDATE III: At least two dead, 12 injured in Boeing 777 crash at SFO. Now being said that up to 48 injured. many have been treated for burns. Has been updated to 61 injured.
UPDATE IV: Two dead, 130 hospitalized, many missing in San Francisco plane crash.
Air Show Tragedy in Ohio.
Two people are dead, the pilot and wing walker Jane Wicker, after their aerial stunt went terribly wrong at the Vectren Dayton Air Show in Ohio. Pilot Charlie Schwenker was also killed in the crash; however, no one on the ground was injured. According to the Dayton Daily News, stunt walker Jane Wicker's 450 HP Stearman plane burst into flames after it hit the ground at about 12:45 p.m. Saturday afternoon.
It is with sad hearts that we announce that Jane Wicker and Charlie Schwenker were tragically killed while performing at the Vectren Dayton Airshow. We ask for your prayers for the families and privacy of all involved and allow them time to grieve and work through these events.

No one else was involved in the accident.
A plane carrying a wing walker crashed at an air show and exploded into flames Saturday, killing the pilot and stunt walker, authorities said.

The crash of the 450 HP Stearman happened at around 12:45 p.m. at the Vectren Air Show near Dayton in front of thousands of horrified spectators. No one else was hurt.

A video from CBS Dayton affiliate WHIO-TV shows the plane turn upside-down as the performer sits on top of the wing. The plane then tilts and crashes to the ground, exploding into flames as spectators screamed.

"All of a sudden I heard screaming and looked up and there was a fireball," Stan Thayer of Wilmington, Ohio, told WHIO-TV.

Shawn Warwick of New Knoxville said he was watching the plane through binoculars.

"I noticed it was upside-down really close to the ground; she was sitting on the bottom of the plane," Warwick told WHIO-TV. "I saw it just go right into the ground and explode."
Mexican authorities are searching for missing Mexican-American singer Jenni Rivera after her plane crashed in Northern Mexico. The plane  lost contact with air traffic controllers in Mexico early Sunday morning. The private LearJet took off from Monterrey, Mexico, at 3:15 a.m. following a concert  and lost contact with air traffic controllers about 10 minutes later. The Ministry of Transportation and Communication released in a statement that a U.S.-registered Learjet 25 with seven individuals aboard was still listed as "missing" as of Sunday afternoon.
Rivera, popularly known as the Diva of the Banda, is a Long Beach, CA native and the mother of five children. The Billboard Mexican Music Awards winner is also an avid actress and businesswoman, appearing in the hit reality shows "I Love Jenni," "Jenni Rivera Presents: Chiquis and Raq-C" and "Chiquis 'n Control" as well as the popular film "Filly Brown.
Rest in Peace: July 2, 1969 – December 9, 2012
Singer Jenni Rivera is missing after a plane she was flying in lost contact with air traffic controllers in Mexico early Sunday morning, officials said.

Two pilots and and four other passengers are also missing in the suspected crash, Mexico's transportation ministry said in a statement.

The private LearJet took off from Monterrey, Mexico, at 3:15 a.m. and lost contact with air traffic controllers about 60 miles away, the statement said. The Mexican-American singer had a concert in the northern Mexican city Saturday night.
43 year old Jenni Rivera, the Mexican-American singer who was born and raised in California, was killed in a plane crash in Northern Mexico. The missing  plane's wreckage carrying the singing superstar best known for her work within the banda and norteña music genres was  found in Nuevo Leon state without any apparent survivors. The US-registered Learjet 25 went missing early Sunday after taking off from the city of Monterrey was carrying Jenni Rivera and six others. Rest in Peace.
MONTERREY, Mexico — Authorities in Mexico say the wreckage of a small plane believed to be carrying singing superstar Jenni Rivera has been found and there are no apparent survivors.

Transportation and communication minister Gerardo Ruiz Esparza tells Mexican television that the plane was found in Nuevo Leon state without survivors.
UPDATE I: According to reports, "There is nothing recognizable, neither material nor human" in the wreckage".
Transportation and Communications Minister Gerardo Ruiz Esparza said that "everything points toward" it being the U.S.-registered Learjet 25 carrying Rivera and six other people from Monterrey en route to Toluca, Mexico. The plane had gone missing after takeoff early Sunday.

"There is nothing recognizable, neither material nor human" in the wreckage," Ruiz Esparza told the Televisa network.

Authorities had not confirmed that Rivera was among the dead.
UPDATE II: Jenni Rivera dead as Authorities notify the families that there were no survivors following the plane crash. Her brother confirmed that all perished in the plane crash.
The news from Rivera's brother confirmed what authorities would only publicly say they suspected earlier in the day.

"The aircraft was destroyed, totally fragmented," Alejandro Argudin, director general of civil aviation, told CNN affiliate Televisa. He said he believed no one survived the crash
To the heroes of Flight 93, we remember you and we shall never forget … LET"S ROLL!!!
"Greater love hath no man than this, that a man lay down his life for his friends"
Former Presidents George W. Bush and Bill Clinton spoke today in an emotional event in Shanksville, PA  at the unveiling of the memorial for victims of United Airlines Flight 93. The heroes of Flighty 93 were remembered today by GWB as he said, " … they left something else, a legacy of bravery and selflessness that will always inspire America. For generations people will study the story of Fight 93.  They will learn that  individual choices make a difference. That love and sacrifice can triumph over evil and hate. And that what happened above this Pennsylvania field ranks among the  most courageous acts in American history."
Today was a day of honoring the 40 heroes of Flight 93 and remembering that your actions and what you do in life can echo an eternity.  The heroes of Flight 93′s names are known to as all as a who's who of what is great about America and her citizens. The heroes of Flight 93  were "We the People" who on the morning of September 1, 2001 became the first counteroffensive against the Muslim extremist terrorist. The heroes of Flight 93 embodied what is great in all of US. Against all odds, they said NO! They refused to be victims, they prevented what all know would have been a plane attack on the White House or the US Capitol. The heroes of Flight 93 gave their lives as they battled to take over the cockpit (VIDEO).
"The most likely target of the plane was the United States Capitol," Bush said. "We'll never know how many innocent people might have been lost, but we do know this: Americans are alive today because the passengers and crew of Flight 93 chose to act, and our nation will be forever grateful."
Each of the 40 heroes names were read, followed by two bell rings. Sadly, even the mention of an unborn child was referenced reminding us of just how many truly innocent lives were lost.  That was  followed by a  bagpipe performance of Amazing Grace and then Grammy-award winning singer Sarah McLachlan sang "I Will Remember You."
Their names are permanently inscribed in our minds forever. Those who fought back against terrorism and foiled their plot of destruction. The gave the ultimate sacrifice and for that we shall always rememner you … GOD BLESS YOU ALL. We remember Todd Beamer, Mark Bingham (VIDEO), Jeremy Glick, Sandra Bradshaw, Tom Burnett and all.
CREW
Lorraine G. Bay, 58, East Windsor, N.J.
Sandra W. Bradshaw, 38, Greensboro, N.C.
Jason Dahl, 43, Denver, Colo.
Wanda Anita Green, 49, Linden, N.J.
Leroy Homer, 36, Marlton, N.J.
CeeCee Lyles, 33, Fort Myers, Fla.
Deborah Welsh, 49, New York, N.Y.

PASSENGERS
Christian Adams, 37, Biebelsheim, Germany
Todd Beamer, 32, Cranbury, N.J.
Alan Beaven, 48, Oakland, CA
Mark K. Bingham, 31, San Francisco, Calif.
Deora Frances Bodley, 20, San Diego, Calif.
Marion Britton, 53, New York, N.Y.
Thomas E. Burnett Jr., 38, San Ramon, Calif.
William Cashman, 57, North Bergen, N.J.
Georgine Rose Corrigan, 56, Honolulu, Hawaii
Patricia Cushing, 69, Bayonne, N.J.
Joseph Deluca, 52, Ledgewood, N.J.
Patrick Joseph Driscoll, 70, Manalapan, N.J.
Edward P. Felt, 41, Matawan, N.J.
Jane C. Folger, 73, Bayonne, N.J.
Colleen Laura Fraser, 51, Elizabeth, N.J.
Andrew Garcia, 62, Portola Valley, Calif.
Jeremy Glick, 31, Hewlett, N.J.
Lauren Grandcolas, 38, San Rafael, Calif.
Donald F. Greene, 52, Greenwich, Conn.
Linda Gronlund, 46, Warwick, N.Y.
Richard Guadagno, 38, of Eureka, Calif.
Toshiya Kuge, 20, Nishimidoriguoska, Japan
Hilda Marcin, 79, Budd Lake, N.J.
Nicole Miller, 21, San Jose, Calif.
Louis J. Nacke, 42, New Hope, Pa.
Donald Arthur Peterson, 66, Spring Lake, N.J.
Jean Hoadley Peterson, 55, Spring Lake, N.J.
Waleska Martinez Rivera, 37, Jersey City, N.J.
Mark Rothenberg, 52, Scotch Plains, N.J.
Christine Snyder, 32, Kailua, Hawaii
John Talignani, 72, New York, N.Y.
Honor Elizabeth Wainio, 27, Watchung, N.J.
Olga Kristin Gould White, 65, New York, N.Y.
KUDOS to former President Bill Clinton and VP Joe Biden for attending and speaking at the event. Clinton praised the passengers of Flight 93. What was most impressive of Clinton and Biden was their honest assessment of former President Bush and his handling of the horrendous events of 9-11 and the days that followed. Biden praised GWB for his bringing of America together on a day that could have divided us.
VP Joe Biden thanks President GWB for Uniting America following 9/11
"There has always been a special place in the common memory for people who deliberately, knowingly, certainly laid down their lives for other people to live," said Former President Bill Clinton. "Ordinary people, given no time to decide, did the right thing…I hope and pray to God that people will remember this."
Posted September 10, 2011 by

Scared Monkeys 9/11

,

al-Qaeda

,

Bill Clinton

,

Bill Clinton

,

Deceased

,

Facebook

,

Former Presidents

,

George W. Bush

,

heroes

,

Home Land Security

,

Joseph Biden

,

Plane Crash

,

US National Security

,

War on Terror

,

You Tube - VIDEO

|

5 comments
Former Alaska US Senator Ted Stevens and four others were killed in a plane crash Monday when their DeHavilland DHC-3 Otter crashed near Dillingham, Alaska. Ted Stevens served as the US Senator from Alaska from 1968 to 2009. Ted Stevens was the longest serving Republican senator in history  Four others of the nine passengers aboard the flight were killed as well,  Terry Smith, 62, of Eagle River, Bill Phillips, Sr., Dana Tindall, 48 of Anchorage and her daughter, Corey Tindall, 16.
Former Sen. Ted Stevens and four other people were killed in a plane crash Monday.
Five of the nine passengers of a DeHavilland DHC-3 Otter were killed. Alaska State Troopers identified all of the victims in the crash Tuesday afternoon.
Dead are Stevens, the plane's pilot Terry Smith, 62, of Eagle River, Bill Phillips, Sr., Dana Tindall, 48 of Anchorage and her daughter, Corey Tindall, 16.
The four survivors were transported to Providence Hospital in Anchorage with varying degrees of injuries – they are William Phillips, Jr., 13,former NASA administrator Sean O'Keefe, 54, his son Kevin O'Keefe, and Jim Morhard of Alexandria, Va.
Hey America, how is that "Hopey, Changey" stuff working out for you? Can Obama be trusted on anything they say?
Me think Obama dost protest too much … Remember when candidate Obama promised America "hope & change" and doing things different in DC? Maybe the Obama Administration would like to explain the following from The Australian reporting that the Obama White House backed release of Lockerbie bomber Abdel Baset al-Megrahi. And we were worried whether BP had anything to do with the release?
THE US government secretly advised Scottish ministers it would be "far preferable" to free the Lockerbie bomber than jail him in Libya.
Correspondence obtained by The Sunday Times reveals the Obama administration considered compassionate release more palatable than locking up Abdel Baset al-Megrahi in a Libyan prison.
The intervention, which has angered US relatives of those who died in the attack, was made by Richard LeBaron, deputy head of the US embassy in London, a week before Megrahiwas freed in August last year on grounds that he had terminal cancer.
The document, acquired by a well-placed US source, threatens to undermine US President Barack Obama's claim last week that all Americans were "surprised, disappointed and angry" to learn of Megrahi's release.
Posted July 25, 2010 by

Scared Monkeys Barack Obama

,

BP Oil Spill

,

Hope and Change

,

Hypocrisy

,

Obama in Wonderland

,

Obamanation

,

Plane Crash

,

US National Security

,

War on Terror

,

WTF

|

7 comments