Criticized for doing a good deed? Saying asking for canned goods is like going back to the 50′s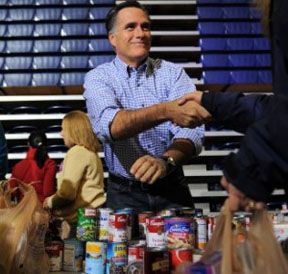 Daily Commentary – Thursday, November 1, 2012
Download
It looks like Obama is taking Rahm Emanuel's advice … "You never want a serious crisis to go to waste."
Democrats and the bias MSM are so quick to accuse Romney of politicizing Hurricane Sandy, but who is really politicizing it? One needs to look no further than Barack Obama and the following comments told his hurricane support team, to "lean forward" in their response to the hurricane cleanup.
Oh, by the way if you did not realize, that is his campaign slogan.
As reported at the Washington Times, 'Forward: Obama gets a little electioneering in during FEMA briefing'.
President Obama may have suspended his campaign rallies due to Hurricane Sandy, but he managed to squeeze in his campaign slogan — intentionally or not — during a briefing Tuesday with federal emergency officials.

"The president made clear that he expects his team to remain focused as the immediate impacts of Hurricane Sandy continue and lean forward in their response," the White House said in a statement about Mr. Obama's video-teleconference that he conducted from the White House Situation Room. "Forward" is the slogan of his re-election campaign.
Posted October 31, 2012 by

Scared Monkeys 2012 Elections

,

Barack Obama

,

Campaigner in Chief

,

Hurricane

,

Hurricane Sandy

,

Mitt Romney - Paul Ryan 2012

,

Obamanation

,

Partisan hack

,

Politics

,

Presidential Election

,

WTF

,

You Tube - VIDEO

|

8 comments
Can MSNBC really be considered a news network anymore? So now Romney is considered evil for helping people?

The bias, in the tank for Barack Obama MSNBC bashed Republican presidential candidate Mitt Romney for collecting food and supplies for Hurricane Sandy victims at an Ohio event. It was initially supposed to be a campaign event; however, due to the sever death, damage and destruction of Sandy, Romney changed the event as a way to help victims. That did not stop MSNBC in trashing and criticizing Romney.
Transcript from NewsBusters:
ANA MARIE COX: I found that sort of fake relief rally, whatever it is, to be pretty offensive and also wrong-headed. You know, the Red Cross is put in this awkward position of saying, you know, "We don't need canned goods, thank you very much, Mr. 1950s. You know, like we need money, we need people to donate blood." And I think that sort of is Mitt Romney sort of writ small as it were, right? Like to not only do something so craven, but to do it in a way that's not even helpful on a small scale.

MARTIN BASHIR: So Ana Marie, was it purely a photo opportunity? Was it purely for the sake of having people walk past him, hand him cans, and be on television?

COX: Well, it almost has to be seeing as how the thing he was doing was not something that the Red Cross actually needed. And so it almost has to be purely for politics purely as a photo-op. I mean, that's his entire campaign, purely a photo-op really.

BASHIR: Karen, you wanted to add something to that.

KAREN FINNEY: Well, I was just going to say, you know, Martin, the thing is like when you have a platform or an opportunity to communicate a message particularly in a time like this, I think it's incumbent on you to make sure that you're communicating what is the most effective, helpful thing. And as a former governor, I would think that he would know that what the Red Cross needs in times like this is money and blood. Of course, it is human nature to want to help your fellow American that's in trouble and to think "Oh, I'll buy food or I'll buy clothes." But again, as we've been doing here on MSNBC and I hope other networks are doing, sort of helping, being a part of helping direct people to websites where they can donate or find out exactly what's needed. I mean, that really should be the role. If they wanted to do something helpful, that would actually be the thing they could have been doing that would be helpful.
Nice Deb has the Democrat/Obama/MSM meme that Romney committed gaffes by helping people. Really folks, is this how low you have sunk?
Democrats play politics as well with Hurricane Sandy as Ohio Democratic Party Chairman Chris Redfernsaid, "Look, I'm a partisan. I'll let others judge this. But I think someone of Gov. Romney's wealth could have just written a check for $10 million to the American Red Cross." Let's face it, the bias MSM and Democrats would have found fault in anything that Romney did. As Redfern said above, he is partisan.
These people are just sick and show exactly what Obama's "Hope and Change" has become.
Posted October 31, 2012 by

Scared Monkeys 2012 Elections

,

Barack Obama

,

Hurricane

,

Hurricane Sandy

,

Media Bias

,

Mitt Romney - Paul Ryan 2012

,

Moonbats

,

MSNBC

,

Obamanation

,

Partisan hack

,

Politics

,

Presidential Election

,

WTF

,

You Tube - VIDEO

|

4 comments
Millions without power, dozens dead, unimaginable damage
Daily Commentary – Wednesday, October 31, 2012 Download
Our prayers go out to those affected by the massive storm that engulfed the Mid-Atlantic, Ohio Valley, NY-NJ area and New England states.
It was a storm like that had never been seen before as Hurricane Sandy left death and destruction in her wake. At least 17 people so far have been confirmed dead; however, it is hard to believe that this number will not rise. Power is out across the east coast from the Carolina's to Ohio to NY and NJ to New England. Levees are reported to have broke in northern New Jersey and flooded the town of Moonachie. Yesterday a 13 foot surge of seawater, 3 feet above the previous record, gushed into NYC, flooding tunnels, subway stations, homes and business. system t
A terrible fire ignited in Breezy Point, Queens in New York City that destroyed at least 50 homes.So far no casualties have been reported; however, due to power outages and darkness, communication is at a minimum.
The neighborhood, Breezy Point in the borough of Queens, had been extensively flooded by Sandy's record storm surge, and firefighters were hampered in their efforts to bring the blaze under control, a spokesman for the New York Fire Department said.

No casualties were immediately reported and the cause of the fire was under investigation.
Fire rips through Breezy Point, Queens, NY, 50 houses destroyed
The Weather Channel: Superstorm Sandy: Status and Impact Maps
Numerous towns along the New Jersey shore, Delaware, Maryland, Virginia, Long Island, Connecticut, Rhode Island, flooded with Monday's morning high tide. The Monday evening high tide brought historic storm surge flooding to the New York City metro area.

Monday night, all-time record tide levels were set at The Battery in Lower Manhattan, breaking a record from 1821, as well as Sandy Hook, N.J., shattering the previous record from the Dec. 1992 Nor'easter and Hurricane Donna in 1960.

It should be noted…another high tide Tuesday morning will feature additional coastal flooding, particularly along southern Long Island, New York Harbor, the Jersey shore, the Delmarva Peninsula, and southern New England, as southerly winds continue to keep water levels higher than normal. Current indications suggest the flooding will not be as severe as it was Monday night.
VIDEO OF FLOODING IN NJ
UPDATE I: CNN – Sandy's impact: State by state
The devastation from rain, wind snow and flooding could be felt from the Carolina's to NY/NY and New England.