Hoping 2013 was a banner year for you!
Daily Commentary – Wednesday, December 25, 2013
Download

So much for Santa Claus using the chimney to deliver presents when he can use the front door to rob a bank …
The Orlando Sentinel is reporting that a man wearing a Santa hat, beard and long white wig walked into the Volusia County SunTrust Bank in Port Orange, Florida with a wrapped package and demanded money telling the bank teller that the package was dangerous. So what happens when Santa makes his own naughty list?  The bad, robber  Santa was described as about 6 feet tall and in his 30s or early 40′s. The bank was later evacuated; however the package was found to be harmless. The incident took place on December 23, 2013.
Bad Santa robbing Bank – pic: Port Orange Police Department
The man, wearing a Santa hat, beard and long white wig walked into the bank in Port Orange about 3:15 p.m., two days before Christmas, with a package wrapped in red patterned holiday wrap, a picture released by police shows.

The robber placed the box on the counter in front of a teller, implied that the package was dangerous and demanded money, said Lt. John Jakovenko, a police spokesman. He did not have a weapon.

The fake Santa, who also wore sunglasses, walked out with an undetermined amount of cash and left the package behind.
Move over Philly Eagle fans, you have nothing with throwing snow balls at Santa, DC just trumped you and shot Santa with a pellet gun.
As reported at WUSA-9,  (VIDEO)Santa Claus suit was shot with a pellet gun Tuesday morning at a toy giveaway in Southeast Washington, DC  at the 22nd annual Barry Farm toy drive. Good grief, who knew Santa did not need Rudolph and his shiny red nose leading the way through the snow and fog, but instead a bullet proof Kevlar vest? Santa was shot in the shoulder and was sent off to the hospital in an ambulance, rather than his sleigh. Amazingly enough, the shooting got caught live on video as WJLA was interviewing Santa at the time.
Honestly, what the hell is this world coming to when Santa has to worry about being shot? You can rest assured, the punk who did this was put on Santa's permanent naught list. Making matters even worse in the story is that police were called to the scene, but could not really do anything because they could not enter any homes to find the punk(s) responsible because they had no search warrants.
If you can make it thru the below VIDEO without shedding a tear, you may want to check to see if you have a pulse … A Christmas Wish You Will Never Forget.
Brenda Schmitz's Christmas Wish: One month before Brenda Schmitz died from ovarian cancer she wrote a letter to her family and gave to her friend to be made public at the right moment.  For more than 20 years,  KSTZ – 102.5 FM has been granting Christmas wishes, none as moving and touching as this.
Brenda Schmitz, a wife and mother of four boys, died of ovarian cancer at 46-years-old in September 2011 — but what she left behind is undoubtedly generating tears around the world today.

One month before passing, Brenda wrote a letter to her husband David and had it sent to Des Moines radio station KSTZ "Star" 102.5 FM. Each year the station takes submissions and grants Christmas wishes.

"About a week and half ago we got a letter in the mail," radio host Scott Allen explained. "We've been doing the Christmas wish program for 20-plus years. We've never received a wish like this — ever."
MUST SEE VIDEO
THE WAR ON CHRISTMAS CONTINUES WITH POLITICAL CORRECTNESS NONSENSE …
At Kings Point Intermediate School on Long Island, NY it was ok for the liberal school edumacators thought it was perfectly okay to offend Christians by sanitizing the Christmas song 'Silent Night' of all references to God so they did not offend others. Yup, because the birth of Jesus, the son of God is just of darn offensive. ARE YOU KIDDING ME!!! What kind of IDIOTS do we have running schools these days? Turns out they did offend many people, the parents that were wondering what song they were listening to their kids butcher.
There is anger at a Long Island school because they changed the words to the song "Silent Night."

The district says it was to avoid offending people but it seems like it did the opposite.

Parents are so confused that 5th graders at RJO Intermediate School in Kings Park recently performed the song "Silent Night" with all religious words like Christ, God and Jesus taken out.

Dan Gallo, a parent of one of the students was completely offended by it.

"There is so many Christmas songs. Why would you change the lyrics to something that is very near and dear to so many people?" said Gallo.

Another parent, Tina Byrne, doesn't have a problem with what the school did.

The school district says the school principal and the choral director decided to teach the students the altered version.
Watch the VIDEO below and try to figure out just what song these kids are singing.
Silent night, Holy night
All is calm, all is bright
'Round yon virgin , mother and child
Holy infant so, tender and mild
Sleep in heavenly peace,
Sleep in heavenly peace.
Silent night, Holy night
Shepherds quake, at the sight
Glory streams from heaven afar
Heavenly, hosts sings Hallelujah.
Christ the Savior is born,
Christ the Savior is born.
Silent night, Holy night
Son of God, love's pure light
Radiant beams from thy holy face
With the dawn of redeeming grace,
Jesus, Lord at thy birth,
Jesus, Lord at thy birth.
I sense a pendulum swing back the other direction of people are getting real sick and tired of this PC nonsense.
Posted December 20, 2013 by

Scared Monkeys America - United States

,

Bizarre

,

Child Welfare

,

Christians

,

Christmas

,

Education

,

God

,

Jesus Christ

,

Liberals

,

Middle School

,

Progressives

,

Religion

,

Restoring America

,

War on Christmas

,

We the People

,

WTF

,

You Tube - VIDEO

|

2 comments
Was caught giving the sweatshirt off his back to a homeless man. Now that's the spirit of Christmas!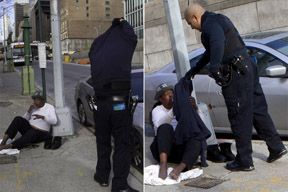 Daily Commentary – Wednesday, December 18, 2013 Download
He's a black Santa amongst mostly white and for nearly a decade has been the main attraction at this South Los Angeles mall at Christmas time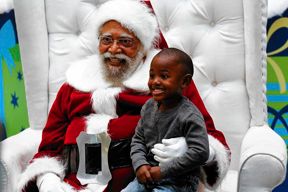 Daily Commentary – Tuesday, December 17, 2013 Download
Maybe the $39, 997.99 Samsung UN85S9 85-Inch 4K Ultra HD 120Hz 3D Smart LED TV is the one for you?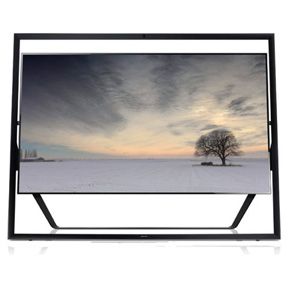 Daily Commentary – Friday, December 13, 2013 Download
A special Happy Thanksgiving wish from Scared Monkeys …
As you spend time today with family, friends and loved ones while feasting on turkey, mashed potatoes, dressing, cranberry and maybe watching some football, please take the time to remember what you are thankful for and give thanks. We all have something to be thankful for, sometimes we just all too soon forget.  As President Ronald Reagan said on Thanksgiving Day 1986, "Perhaps no custom reveals our character as a Nation so clearly as our celebration of Thanksgiving Day. Rooted deeply in our Judeo-Christian heritage, the practice of offering thanksgiving underscores our unshakable belief in God as the foundation of our Nation and our firm reliance upon Him from Whom all blessings flow."
Let us truly be thankful …
I would be remiss if I did not say thanks to the many readers of Scared Monkeys both on the front page and in the forum who make it a joyous adventure. We do not all have to agree, that would make life pretty boring. But we do have to find a way to agree  to make America work. I am so thankful to the moderators, past & present, in the Monkey cage at Scared Monkeys.net, San, CBB, Bearlyhere and Nut44x4, who volunteer their time who keep the peace and add their incite to so many stories going on in the news. And MuffyBee, who although is no longer a mod, adds much content and comments to the conversation.  Thank you to Blink, at Blink on Crime who does such excellent and tireless work and crime sleuthing. I don't say it enough Blink, but thanks for all you do and giving me a smack upside the head every so often. A special shout out and thanks to Dana Pretzer of the 'Dana Pretzer Radio Show' who brings us some of they best crime guests, and pundits in the game today and provides us with fantastic interview of crime and missing persons cases that is second to none! Even the 'Elvis' cup
. And a special thanks to Klaas, the oil that makes the engine work. Her hard work and caring of crime and missing persons cases is only outdone by here work behind the scenes. You are a treasure, thank you. THANK YOU TO ALL!!!
As I have always said, we don't always have to agree, life would be rather boring if we all thought the same. Debate and sharing of ideas is a good thing, but we must try to be respectful.  However, what I have always found amazing is that so many people could come together, with different backgrounds, different thoughts, different ideas and work together toward a common goal on crime stories and missing persons. So many monkeys who truly care.  Have there been disagreements, you bet. Do we discuss things that create passions, you bet. But in the end, we can respect each other and know that we fight for a common cause to be victim rights advocates and demand JUSTICE!!!
A Happy Thanksgiving to All and God Bless!
President Abraham Lincoln's Thanksgiving Proclamation to the United States in 1863:
The year that is drawing toward its close has been filled with the blessings of fruitful years and healthful skies. To these bounties, which are so constantly enjoyed that we are prone to forget the Source from which they come, others have been added which are of so extraordinary a nature that they can not fail to penetrate and soften even the heart which is habitually insensible to the ever-watchful providence of Almighty God.

In the midst of a civil war of unequaled magnitude and severity, which has sometimes seemed to foreign states to invite and to provoke their aggression, peace has been preserved with all nations, order has been maintained, the laws have been respected and obeyed, and harmony has prevailed everywhere, except in the theater of military conflict, while that theater has been greatly contracted by the advancing armies and navies of the Union.

Needful diversions of wealth and of strength from the field of peaceful industry to the national defense have not arrested the plow, the shuttle, or the ship; the ax has enlarged the borders of our settlements, and the mines, as well of iron and coal as of the precious metals, have yielded even more abundantly than theretofore. Population has steadily increased notwithstanding the waste that has been made in the camp, the siege, and the battlefield, and the country, rejoicing in the consciousness of augmented strength and vigor, is permitted to expect continuance of years with large increase of freedom.

No human counsel hath devised nor hath any mortal hand worked out these great things. They are the gracious gifts of the Most High God, who, while dealing with us in anger for our sins, hath nevertheless remembered mercy.

It has seemed to me fit and proper that they should be solemnly, reverently, and gratefully acknowledged, as with one heart and one voice, by the whole American people. I do therefore invite my fellow-citizens in every part of the United States, and also those who are at sea and those who are sojourning in foreign lands, to set apart and observe the last Thursday of November next as a day of thanksgiving and praise to our beneficent Father who dwelleth in the heavens. And I recommend to them that while offering up the ascriptions justly due to Him for such singular deliverance's and blessings they do also, with humble penitence for our national perverseness and disobedience, commend to His tender care all those who have become widows, orphans, mourners, or sufferers in the lamentable civil strife in which we are unavoidably engaged, and fervently implore the interposition of the Almighty Hand to heal the wounds of the nation and to restore it, as soon as may be consistent with the Divine purposes, to the full enjoyment of peace, harmony, tranquility, and union.

In testimony whereof I have hereunto set my hand and caused the seal of the United States to be affixed.

Abraham Lincoln
OH CHRISTMAS TREE …  Here is something to be THANKFUL for … Christmas trees!!!
O Christmas Tree! O Christmas Tree!
How richly God has decked thee!
O Christmas Tree! O Christmas Tree!
How richly God has decked thee!
Thou bidst us true and faithful be,
And trust in God unchangingly.
O Christmas Tree! O Christmas Tree!
How richly God has decked thee!
Tuesday night around 10:30, the silence  in a Westmoreland County neighborhood on North First Street in Jeannette, PA decorated for the Christmas season, came to an end as  gun shots rang out in a drive by shooting.  According to police, 35 year old Dionne Lee McKelvin is accused of shooting a woman in the arm and chest. The thug was  arrested and charged with attempted homicide and illegal possession of a firearm by a convicted felon. What a shock, he has a record.  He is in Westmoreland County Prison under $500,000 bond.
However, the greater story here is the fact that when Dionne Lee McKelvin did his drive by shooting, shots sprayed everywhere including into the home of Tina Smorey. The bullet went through the front of the house and into her living room wall and hitting the Christmas tree.
Tina Smorey's house was hit by a stray bullet.

It went through the front of the house, coming out in her living room wall and hitting the Christmas tree.

She told KDKA's Brenda Waters: "I was sitting on my couch and I heard six to eight loud pops. If the tree wasn't there, we would have had that couch right under the windows; but ironically, we put the tree up early this year.
Hmm, another case of a convicted criminal abiding by gun laws.