Angry over the honorary award Woody Allen was given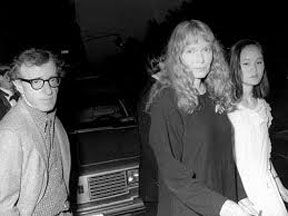 Daily Commentary – Friday, January 17, 2014 Download
Finally, a judge with some common sense hands down a sentence where the sex predator will never touch another innocent child again.
The following sex crimes case might be one of the sick and most egregious ever seen in the Sunshine state. A father who, along with his wife, planned before the they were born to sexually abuse their children
26 year old Jonathan Adleta, a sex predator and deviant like we hope we never see again, was sentenced to two life terms in prison in Orlando, Florida federal court for the unthinkable and "heinous" sex crime against his two children and the child of another woman. Jonathan Adleta had been convicted in September 2013 of transporting minors across a state line to engage in a sex act and conspiracy. Upon handing down the sentence ti this monster, U.S. District Judge Roy B. Dalton Jr. said of  Jonathan Adleta, "this defendant is guilty of … the destruction and scarring of his own children." His wife. 29 year old Sarah Adleta, who took part in the sexual abuse, was sentenced to 54 years in prison. She pleaded guilty to producing child pornography with her children as subjects.
Parents Plan Sexual Abuse – Most Vile Story Ever
An Orlando jury convicted Adleta on Sept. 12 of two charges: transporting minors across a state line to engage in a sex act and conspiracy.
On Monday, Dalton handed down two life sentences. He could have given Adleta as little as five years. Instead, he went with the government's recommendation.

Assistant U.S. Attorney Karen Gable described Adleta's acts as "despicable and egregious. … The defendant is a grave danger to children."
The judge agreed, saying he chose two life terms, in part, because he believes Adleta would offend again.

"This defendant is guilty of the sexual exploitation of his own children," Dalton said.

Evidence at Adleta's trial showed that he abused his son and daughter and the child of another woman, children who ranged in age from 1 to 4.
To make matters worse, if possible after the hideous crimes of this scum bag, after the Adletas' marriage ended, Jonathan found a new girlfriend, Samantha Bryant, who also had a daughter. Samantha Bryant told jurors at Adleta's trial that she let him molest her daughter, too. OMG, HOW DOES A MOTHER LET A MAN MOLEST THEIR CHILDREN!!! Bryant was also charged with and pleaded guilty to sexually assaulting her daughter and allowing him to abuse the girl.
Former Marine Officer to Face Sex Abuse Sentencing.
A man whose parenting plan was detailed during a graphic child-sex trial in Orlando federal court this year will soon learn how much prison time he will serve for his crimes.

His ex-wife, 29-year-old Sarah Adleta, served as a key witness for prosecutors, explaining how having sex with their two children was part of their family parenting plan — even after they divorced.

Prosecutors said Jonathan Adleta had a "sexual appetite" for his own daughter and dreamed of the day when he could have "daddy-daughter sex."
Posted January 7, 2014 by

Scared Monkeys child abuse

,

Child Endangerment

,

child porn

,

Child Welfare

,

Crime

,

endangering the welfare of a child

,

Felony

,

Incest

,

Legal - Court Room - Trial

,

molestation

,

Pedophilia

,

Pornograpghy

,

Rape

,

sex crimes

,

sexual abuse

,

Sexual Assault

,

WTF

,

You Tube - VIDEO

|

no comments
Why can't these people just sing and not sell us about their bizarro social politics that just makes us despise them? As Laura Ingram writes, 'SHUT UP AND SING'.
Looks like I will be putting all my Morrissey and Smith CD's on Ebay. 1980′s English rock star Morrissey said in an interview, "I see no difference between eating animals and pedophilia." Um seriously dude? Damn, and I used to actually love his music. But once again we are witness to another "tolerant" liberal who actually makes such a nonsensical statement that the killing of an animal for a food source is the same as the rape of a child. What is wrong with these people? This fool went on to say, "If I'm introduced to anyone who eats beings, I walk away." Isn't it amazing that we can respect him for his choices and life style, but Morrissey cannot seem to provide the same courtesy to others. Oh those tolerant moonbats.
A note to the misguided singer, eating animals is legal, pedophilia is a crime. They are hardly the same you moron.
Hey Morrissey, Carrots are People Too
1980?s English rock star Steven Morrissey said in an online interview this week that he doesn't see a difference between eating meat and pedophilia.

"I see no difference between eating animals and paedophilia (sic)," he said, responding to a question about what's motivated him to be a vegetarian. "They are both rape, violence, murder."

"If I'm introduced to anyone who eats beings, I walk away," the former frontman for The Smiths continued. Imagine, for example, if you were in a nightclub and someone said to you 'Hello, I enjoy bloodshed, throat-slitting and the destruction of life,' well, I doubt if you'd want to exchange phone numbers."
Posted January 5, 2014 by

Scared Monkeys Bizarre

,

Child Endangerment

,

child porn

,

Child Welfare

,

Crime

,

Felony

,

Liberals

,

Moonbats

,

Murder

,

Pedophilia

,

Progressives

,

Radicals

,

sex crimes

,

WTF

|

2 comments