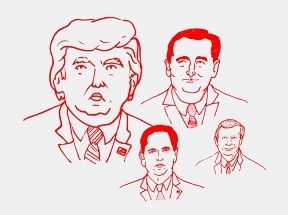 Daily Commentary – Tuesday, March 15, 2016
Download
Ahead of the all important Republican primaries in Florida and Ohio come the following polls. All of them have Donald Trump either leading, tied or a strong second. Marco Rubio is looking at a potential disastrous Tuesday night where he may get shut out of all of the delegates and even finish third in Florida.
The Florida primaries can be followed HERE. Illinois, Ohio, North Carolina and Missouri.
MARIST POLL – FLORIDA
Donald Trump appears way out a head in Florida of Marco Rubio in the latest Marist poll. Rubio's main concern should not be whether he can win his own home Senate state of Florida, but whether Ted Cruz will beat him out for second place.
Donald Trump 43%
Marco Rubio 22%
Ted Cruz 21%
John Kasich 9%
If Marco Rubio finished third in Florida, how could he ever justify continuing his campaign? The RCP average of polling as Trump way out ahead. It would seem that the Florida primary will be called shortly after all the polls close and the only thing in doubt is whether Rubio will suffer the humiliation of a third place finish in his own state.
Donald Trump 44%
Ted Cruz 24%
Marco Rubio 21%
John Kasich 9%
NBC-MARIST POLL – OHIO
Kasish hold a 6 point lead over Trump; however, that was before all hell took place on Friday and over the weekend in Chicago and Ohio at Trump rallies where the LEFT tried to shut down Trumps free speech. There is no way to know how that type of bullying will play with the voters.
John Kasish 39%
Donald Trump 33%
Ted Cruz 19%
Marco Rubio 6%
Donald Trump 33% (tie)
John Kasish 33% (tie)
Ted Cruz 27%
Marco Rubio 5%
The polls in Illinois, Missouri and North Carolina all have either Trump in first place or a strong second. In Illinois, Donald Trump leads with 38% as Ted Cruz is a close second with 34%. Trump is also way out ahead in the polls in North Carolina and Missouri. In the Show Me state its a two team race between Trump and Cruz. Which begs the question following Super Tuesday, Part Deux … Rubio and Kasich need to drop out and make this a final table pairing of two of GOP political presidential game of Texas Hold Em.
Posted March 13, 2016 by

Scared Monkeys 2016 Elections

,

Donald Trump

,

Donald Trump

,

Florida

,

Marco Rubio (R-FL)

,

Ohio

,

Presidential Contenders

,

Primaries

,

Republican

,

Ted Cruz (TX-R)

|

no comments
SORRY RUBIO AND KASICH, IF YOU CAN'T WIN YOUR OWN HOME STATE, GET OUT!!!
According to a recent CNN poll Donald Trump is beating Rubio in Florida and Kasich in Ohio. In Ohio, Trump is ahead with 41% to Kasich's 35%, with Texas Sen. Ted Cruz in third at 15% and Rubio in fourth with 7%. And in Florida, Trump holds and even bigger lead with 40% to Rubio's 24%, with Cruz at 19% and Kasich at 5%.
Donald Trump is leading two of his Republican presidential rivals in their home states, topping Sen. Marco Rubio in Florida and Gov. John Kasich in Ohio, new CNN/ORC polls show.

Hillary Clinton, meanwhile, is far ahead of Vermont Sen. Bernie Sanders in both states.

In Ohio, Trump holds 41% to Kasich's 35%, with Texas Sen. Ted Cruz in third at 15% and Rubio in fourth with 7%.

And in Florida, Trump holds 40% to Rubio's 24%, with Cruz at 19% and Kasich at 5%.

The results come less than a week from the March 15 contests in Florida and Ohio, as well as Illinois, North Carolina and Missouri. The primaries in 99-delegate Florida and 66-delegate Ohio are particularly critical for Republicans, since both are winner-take-all.

In both states, large majorities say that if their home-state candidate doesn't win, he should drop out: 71% say Kasich should exit if he loses Ohio, while 66% say Rubio should depart if he loses Florida.
WHAT THE HELL HAPPENED TO THIS COUNTRY … ITS NOW ILLEGAL TO GRILL IN AMERICA!!!
This country is truly lost its way when it is the governments business and its against the law to grill in your back yard on your own private property. WATCH the VIDEO below and you will be stunned that a Florida government official actually had the audacity to cite a resident for get this, allowing the smoke from his grill as he was barbequing to go onto his neighbors property. Yes, you read that correctly. It is actually illegal and a stupid Pinellas County, Florida code to allow the smoke from your grill to waft into the wind and flow over to your neighbors property. WTF!!! One would think that this was an episode of 'Candid Camera' or 'Punked,' but sadly this was not the case. The county official actually said with a straight face, "You're allowed to have it smell on your property. So that doesn't count but when I'm on the street that's when it counts."
The official says: 'I'm only here because of the odour, I'm only here because of the smoke.'

The jobsworth then says he has taken pictures of the barbecue smoke: 'I can smell it, I can smell it right now, but I'm on your property.

'You're allowed to have it smell on your property. So that doesn't count but when I'm on the street that's when it counts.'
I am starting a new movement, BLACK BARBEQUERS MATTER, sarcasm intended. Although this is not racism that has caused this ridiculous situation, it is the result of an over-intrusive, out of control government that thinks they have the right to pass BS ordinances like this and individuals in this country that are just nothing more than a pain in the ass that will find a reason to bitch, moan and complain about anything. What's the matter, wasn't there a 6 year old child selling lemonade from their driveway available to harass?
'I'm only here because of the odor, I'm only here because of the smoke,' the official says the clip.

The resident tells the official that it's only a barbecue and that most residents in the street 'cook out'.

The official alludes to the fact one of the man's neighbors had complained about the smell he was producing.

Then the official says: 'Frankly, today, I can smell it, I can smell it again right now, but I'm on your property.

'You're allowed to have it smell on your property, so that doesn't count, but when I'm on the street, that's when it counts.'

The official finishes up by saying that the barbecue smoke, by a rule in force in Pinellas County, cannot cross their property line, Opposing Views reported.

The Pinellas County website states in its environmental section: 'Commercial barbecue cookers are not exempt from causing a nuisance odor. If a sufficient number of complaints, representing different households, are reported and an Inspector witnesses the problem, they can issue a Warning Letter.'
Our Founding Fathers were unavailable for comment.
MISSING AT SEA …
14 year old Austin Stephanos and Perry Cohen of Tequesta, Florida have been missing since Friday, July 24, 2015 off the Florida coast. The boys left the Jupiter Inlet about 1:30 p.m. after buying $110 worth of fuel for their 19-foot, white single-engine vessel. It is reported that they were headed east, toward the Bahamas on a fishing trip. After the Coast Guard had searched more than 7,100 miles of ocean waters from Jupiter to Melbourne, they still have not found the missing boys.
Missing Boys: Perry Cohen (left) – Austin Stephanos (right)
UPDATE I: Teens' missing boat found overturned, no one on board.
It is being reported that the Coast Guard has located the missing boys 19 foot boat capsized boat that was spotted by a C-130 aircraft at 11 a.m. The Coast Guard stated that the C-130 spotted the overturned vessel at the edge of the search pattern. A helicopter from Air Station Clearwater was dispatched and lowered a rescue swimmer, who was able to confirm the registration numbers of the boat. The capsized boat was found on Sunday, 67 miles off Daytona Beach.
The U.S. Coast Guard said the boat was found 67 miles off Ponce de Leon Inlet in Volusia County.

The boat cover and one personal flotation device was missing.

The boat will be anchored in place while search and rescue efforts continue.
Coast Guard confirms that boat belonging to missing boys found
UPDATE II: Continued updates of the Coast Guard  search for the missing teens.
UPDATE III: Families hold out hope for Florida teens missing at sea.
Rescuers endured a fourth night of an anxious search for two young Floridians born and bred as boaters who vanished on the high seas.

The Coast Guard scoured an area the size of West Virginia with no sign of the boaters by early Tuesday. The 14-year-old boys' vessel was found capsized two days earlier. But relatives and friends of the teens were clinging to hope that the expertise they acquired boating and fishing in their short lives was enough to keep them alive while apparently lost in the Atlantic.

"This isn't something that he's new at," said Carly Black, the mother of Austin Stephanos, in an interview with television station WPBF. "I think they feel better on the boat than they do on land."
UPDATE IV: Coast Guard Continues to Search for Missing Boys … Teen's capsized boat found 70 miles off shore.
In the warm waters off the Florida coast this time of year, the Coast Guard says, someone can survive four, maybe five days.

Florida teens Perry Cohen and Austin Stephanos have been missing since Friday — four days and counting.

"People can survive in the water," said Capt. Mark Fedor, chief of response for the Coast Guard 7th District. "It's relatively warm, but, again, it's a dangerous environment, and there's only so long you could stay in the water."

The day-and-night search is focused 60 to 70 miles (97 to 113 kilometers) off Jacksonville, north of where the boys' capsized boat was found Sunday. Fedor said search conditions were good, but the situation is dire.

The Coast Guard says five cutters, a Navy ship and multiple planes are involved in the search.
UPDATE V: Family calls off private search for missing Florida boys.
The families of two Florida teens who went missing at sea called off their private search Sunday after weeks of trying to find them.

The private efforts began after the Coast Guard called off the search for Perry Cohen and Austin Stephanos, who went missing on July 24 after launching a fishing trip off the Florida coast.

"We love our boys and want them home," the families said in a joint statement. "Today, our hope becomes our prayer — that one day Perry and Austin will be returned to us. We thank everyone for their dedicated efforts and support."

After over a week of raising funds and calling on volunteers to help the effort, the family called it off due to no credible evidence found to help find the boys.