Violent night as 13 are shot Saturday night in NY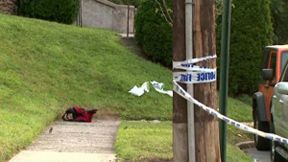 Daily Commentary – Monday, June 30, 2014
Download
Violent Weekend Leaves 13, make that 21 Shot Across The Five Boroughs:
New York is considered #4 on the list of most strict state gun laws. So how many of the guns used in the commission of these crimes were actually legally attained? One would probably suspect few to none. The NRO brings up an interesting coincidence ... "Weird. It's almost as if some said this would happen if NYC ended its effective stop-question-and frisk policing. . . – Greg Pollowitz."
It was a violent night in New York City after at least 21 people were shot in incidents spanning each of the five boroughs.

As CBS 2?s Janelle Burrell reported, one of the shootings happened on Staten Island, where a man is fighting for his life after being shot in the face.

The incident happened at around 3:30 a.m. on Amboy Road in the New Dorp section of Staten Island.

Police were still on the scene Sunday morning collecting and processing evidence, including a backpack that belonged to the 42-year-old victim.
If you liked this post, you may also like these:
Comments