Another Masterpiece by The Gateway Pundit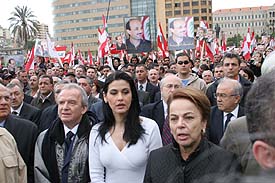 Thousands of Aoun Supporters Rallied this week in Beirut for the release of Samir Geagea.
Lebanese officials cleared the way this week for the exiled political leader Michael Aoun to return to Lebanon. The Marionite Christian, Aoun, has been in exile in France for 15 years and is planning on returning before the May Parliamentary elections:
The Lebanese government has dropped charges against an anti-Syria former general accused of seizing power and imposing military rule, days before his scheduled return from exile.
Michel Aoun, a Maronite Christian and staunch foe of Syria, was charged in 1990 with assaulting state security, national unity and the constitution, as well as embezzling state funds.

Thousands rallied this week in Beirut for the release of Christian political prisoner Samir Geagea.
This week thousands rallied in Beirut for the release of imprisoned Samir Geagea another Christian political leader:
Thousands of opposition supporters gathered in downtown Beirut Wednesday to call for the release of Samir Geagea, leader of the disbanded Lebanese Forces (LF), who has been in jail for the past 11 years. Gathering near Parliament in Beirut, at least 3,000 flag-waving protesters urged MPs and the Parliament Speaker Nabih Berri to act on an amnesty bill that would end Geagea's life term in prison.
Update: Aoun arrived in Lebanon today at 17:03 Lebanon time:
"This is a day of happiness," Aoun said in a news conference at the airport's VIP lounge. "I have returned looking to the future so that all of us in Lebanon will build the new Lebanon."
Aoun said he had forgiven the Syrian-controlled regimes that were unjust toward him during the past 14 years but said he would not extend any formal gratitude, ruling out a meeting with President Lahoud.
Aoun said he would certainly visit Bkirki to see Patriarch Sfeir and he would also visit LF commander Samir Geagea "at the first adequate opportunity."
If you liked this post, you may also like these:
Comments