Eletto il nuovo Papa. Piazza San Pietro, invasa da fedeli (e non), aspetta di conoscere il nome del successore di Karol Wojtyla. UPDATE. E' Ratzinger!!! UPDATE (2). Il nuovo Papa ha scelto il nome di Benedetto XVI. UPDATE (3). Breve biografia di
Joseph Ratzinger
. Lo speciale sul conclave di
Rai.it
.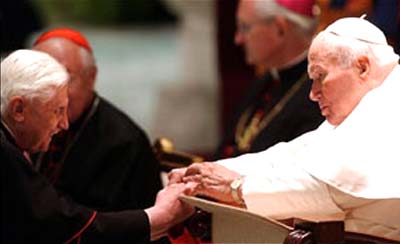 Benedetto XVI saluta la folla dei fedeli
LA FUMATA BIANCA ALLE 17.50
Dopo un niente di fatto nelle due tornate di voto mattutine, à ¨ stato il voto pomeridiano che ha portato all'elezione del nuovo pontefice. Il camino della Sistina ha preso a fumare alle 17.50 e questa volta il fumo era inequivocabilmente bianco. Il nuovo papa à ¨ stato dunque eletto dopo cinque scrutini. Il suono delle campane ha confermato l'elezione
VATICAN CITY (Reuters) – A new pope was elected by Roman Catholic cardinals on Tuesday to succeed John Paul II. The election of the 265th pontiff on only the second day of a conclave in the Vatican's frescoed Sistine Chapel was signaled by white smoke from the chapel chimney and the tolling of the bells of St. Peter's Basilica.
But there were many minutes of confusion over the color of the smoke, which initially seemed gray, before the bells began tolling to signal the successful election.
Even Vatican Radio had initially said the color of the smoke was unclear. Black smoke indicates an inconclusive vote.
Tens of thousands of people in the square cheered when the vote was confirmed.
It was only the third time in a century that a pope had been chosen on the second day of a conclave. The name of the new leader of 1.1 billion Roman Catholics was to be announced shortly.
He was to appear on the main balcony of the basilica to deliver his first public address.
The 115 red-robed cardinals from 52 countries who were eligible to elect a new pontiff started their secret meeting on Monday. Three earlier votes had been inconclusive.
A candidate required a two-thirds majority or at least 77 votes to become pope.
Pope John Paul II died on April 2 after serving as pontiff for 26 years — the third longest papacy in Church history.
NEW POPE FACES DAUNTING CHALLENGES
The new pope will face the daunting task of following one of the most dynamic papacies in history but also one that divided the Church between conservatives and moderates.
The election came more quickly than most Vatican experts had predicted. They expected the new pope to emerge on Wednesday or Thursday. The front-runner going into the conclave was German cardinal Joseph Ratzinger, standard-bearer for the conservative heirs of John Paul and the late pope's doctrinal watchdog.
But earlier on Tuesday both experts and bookmakers had said Ratzinger's candidacy was weakening.
The 20th century's eight conclaves lasted from two to five days, with the average just over three days.
Some 15 cardinals have been touted as potential popes, among them Italy's Dionigi Tettamanzi, Honduran Oscar Andres Rodriguez Maradiaga, India's Ivan Dias and Austria's Christoph Schoenborn.
Before the conclave door shut on Monday, Ratzinger made a final appeal to his fellow electors to protect traditional teachings and to shun the "dictatorship of relativism."